What to Know in Washington: GOP Treads Warily on Roe v. Wade
Republicans are on the cusp of fulfilling a decades-long campaign to install a Supreme Court majority that might overturn abortion rights. But their battle cry has been muted as the GOP moves to confirm President Donald Trump's high court nominee with the election already underway.
Republicans view the quick confirmation of Judge Amy Coney Barrett as an energizer for their party's base heading into the election on Nov. 3. But it also risks motivating the wide swath of voters who back abortion rights against Republicans in a year where the party is struggling to keep its Senate majority.
Barrett enters Monday's Senate Judiciary Committee hearings with the clearest anti-abortion record of any nominee in decades. She signed a 2006 advertisement opposing abortion and wrote in 1998 that the procedure is "always immoral." In a handful of opportunities while on the federal appeals court bench, Barrett consistently landed on the side of restricting abortion rights.
Yet poll after poll shows a solid majority of the public opposes overturning the 1973 Roe v. Wade ruling that legalized abortion rights nationwide. That includes voters in staunchly Republican states such as Georgia and South Carolina, where Republican senators are running neck and neck with Democratic challengers. At least a half dozen other incumbent Republican senators also are in peril of losing on Election Day, with Barrett's confirmation suddenly thrust into the campaign.
It may be with that in mind that Trump and the GOP have had a light touch on the issue that animates the anti-abortion movement, a stalwart constituency of the GOP.
Trump, in formally introducing her, spoke about Barrett's credentials and background and cited gun rights, religious liberty and public safety as among the important issues that will be coming before the court.
In last week's debate with Democratic nominee Joe Biden, Trump denied Barrett's nomination puts abortion on the ballot on Nov. 3. "You don't know her view on Roe v. Wade," he said. During his 2016 campaign, he vowed that Roe would "automatically" be overturned once he had made enough appointments.
And in last night's vice presidential debate, Mike Pence declined to answer a question about whether Indiana, where he was once governor, should outlaw abortion if Roe v. Wade were overturned, though later in the debate he reiterated his anti-abortion credentials. "I would never presume how Judge Amy Coney Barrett would rule on the Supreme Court of the United States, but we'll continue to stand strong for the right to life," he said. Read more from Steven T. Dennis and Greg Stohr.
Barrett Spoke with Democrats: Senate Judiciary Committee ranking member Dianne Feinstein (D-Calif.) and several other Democratic members of the panel spoke yesterday with Barrett, White House spokesman Judd Deere said in a statement. During the calls, Barrett "emphasized the importance of judicial independence and spoke about her judicial philosophy and family," Deere said. Read more from Teaganne Finn.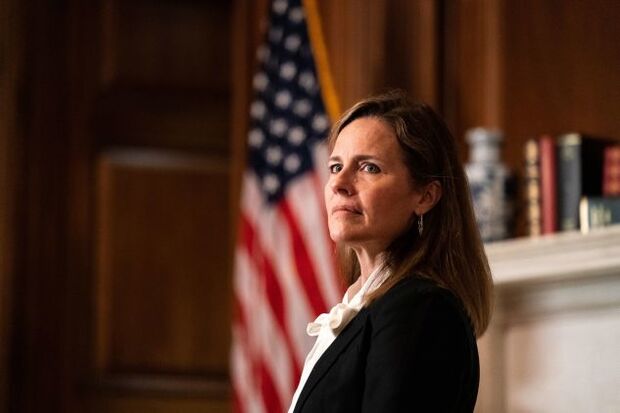 More Elections & Politics
Pence Fails to Knock Harris Off Course: Vice President Mike Pence's job last night was to seem reasonable and reassuring after days of uncertainty stoked by Trump, who shook voters with his own combative debate performance last week and then alarmed the nation with his positive test for coronavirus. By that measure, Pence's debate performance with his Democratic opponent Sen. Kamala Harris (D-Calif.) achieved its goal.
Harris landed her toughest attack of the night in the debate's opening minutes — calling Trump's handling of the virus "the greatest failure of any presidential administration in the history of our country." Pence sought to defend the administration's coronavirus response with a selective retelling of key facts, leaning heavily on Trump's decision to ban travel from China even as the death toll recently hit 212,000. At other key moments through the night, Pence managed to put Harris on defense, and she evaded answering whether Democrats would expand the Supreme Court or implement the so-called Green New Deal climate plan, unlikely to play well in key swing states like Pennsylvania.
But a vice president merely hitting his marks isn't enough to change the dynamic in a race where Republicans trail so badly. Biden's lead has grown to 9 points on average in national polls, and Trump has had to take a hiatus from active campaigning to fight Covid-19, drawing fresh scrutiny to his biggest vulnerability. Read more from Justin Sink.
Pence and Harris engaged in more substantive policy debate than their running mates did last week, sometimes resulting in a dizzying array of policies, positions, facts and figures — often taken out of context. The role of the vice presidential nominee is to support candidates at the top of the ticket and both did their part. Gregory Korte has a rundown of the most hotly contested statements from the debate.
Trump Aims to Return to Campaign Trail: Trump is aiming to return to the campaign trail with an event as early as Monday in Pennsylvania, and trips to Michigan and Florida later in the week, according to people familiar with the matter. It would be Trump's first travel since he was diagnosed with the coronavirus on Oct. 1. The events are just tentative at this point and the plans are subject to change, the people said.
Under the current plan, Trump would travel to Pennsylvania on Monday and Michigan on Tuesday. He's scheduled to have his second debate against Biden in Miami on Oct. 15. He could possibly hold a campaign event in the battleground state on Friday, the people said. Read more from Mario Parker, Jennifer Jacobs and Saleha Mohsin.
Meanwhile, Trump credited Regeneron's experimental monoclonal antibody treatment with his apparent recovery from the coronavirus, and announced yesterday he intends to authorize emergency use of the therapeutic and provide it free to Americans. "I want everybody to be given the same treatment as your president, because I feel great," he said in a video posted on Twitter. "I call that a cure."
Trump also added that he believed his brush with the virus was "a blessing from God" because it gave him first-hand experience with the Regeneron monoclonal antibodies, which he described as "key" to his recovery. The president took the experimental treatment alongside the antiviral drug remdesivir and the steroid dexamethasone. But the president said he specifically asked doctors to give him the Regeneron treatment. Read more from Justin Sink.
Last night, Regeneron said it has asked federal regulators to authorize its antibody treatment for emergency use. The experimental therapy is one of several monoclonal antibody treatments in testing that may help treat patients with Covid-19. Late last month, Regeneron reported preliminary results from a trial showing that the cocktail could reduce virus levels in coronavirus patients outside of the hospital. Read more from Robert Langreth
A top White House security official, Crede Bailey, is gravely ill with Covid-19 and has been hospitalized since September, four people familiar with his condition said. The White House has not publicly disclosed Bailey's illness. He became sick before the Sept. 26 Rose Garden event Trump held to announce Supreme Court nominee Barrett that has been connected to over a dozen cases of the disease. Jennifer Jacobs has more.
Facebook Bans Political Ads After Vote: Facebook is tightening its policies on content concerning the presidential election next month, including instituting a temporary ban on political ads when voting ends, as it braces for a contentious night that may not end with a definitive winner. The internet giant announced a handful of updates yesterday to prepare for the possibility that the final results won't be known immediately on Nov. 3. Kurt Wagner reports.
Happening on the Hill
Stimulus Talks Continue: Speaker Nancy Pelosi (D-Calif.) signaled openness to an airline-relief bill in a call with Treasury Secretary Steven Mnuchin after President Donald Trump pulled his negotiators from broader stimulus talks. Pelosi's receptiveness to stand-alone legislation for airlines doesn't appear to include other elements of what was to have been a comprehensive relief package, however. The two spoke last night for about 20 minutes about airline aid, and Pelosi spokesman Drew Hammill said they agreed to talk again on Thursday. Read more from Erik Wasson and Billy House.
Cicilline Sees Tech Antitrust Legislation By Year End: Democratic lawmakers have begun drafting legislation to curb the power of U.S. technology giants like Amazon and Google, House Antitrust Subcommittee Chairman David Cicilline (D-R.I.) said at virtual event with progressive groups. Cicilline said he expects some tech antitrust measures in 2020 or 2021 and that Google and Facebook are probably engaging in the most anti-competitive behaviors. Read more from Ben Brody.
Wolf Pushes Back on Thompson: Acting Department of Homeland Security Secretary Chad Wolf pushed back over a threat assessment interpretation from House Homeland Security Chairman Bennie Thompson (D-Miss.), taking issue with Thompson's statements about a new DHS report that said domestic violent extremists present the most persistent and lethal terrorism threat to the U.S. Thompson told the New York Times, "This threat assessment confirms two things: that white supremacist extremists are the top domestic threat to the homeland, and they are often inspired by President Trump's rhetoric," Shaun Courtney reports.
A group of civil rights advocacy organizations, including the NAACP Legal Defense and Educational Fund, in a letter asked the Department of Justice to provide a plan to protect voters from the threat of white nationalists, as well as outline how resources are allocated to address the threat.
What Else to Know Today
Fight Over Ending Census Count Early Goes to Supreme Court: Secretary of Commerce Wilbur Ross sought a rescue from the U.S. Supreme Court after two lower courts ordered his department to keep the census count going until the end of the month.
Ross yesterday filed an emergency request with the high court hours after a mid-level appeals panel backed a California federal judge who blocked the Trump administration's plan to curtail the timeline for the once-a-decade nationwide population count. Ross is asking the justices to preserve the administration's schedule while the litigation continues. Read more from Joel Rosenblatt.
U.S. Forces in Afghanistan 'Home by Christmas': Trump said last night he wants all U.S. forces in Afghanistan home by Christmas, a faster timeline than one laid out by his own national security adviser. "We should have the small remaining number of our BRAVE Men and Women serving in Afghanistan home by Christmas!" Trump tweeted. The president has repeatedly pledged to end American involvement in "endless wars" in Afghanistan and the Middle East. Read more from Jordan Fabian.
U.S. to Impose Iran Sanctions: The Trump administration plans to impose sanctions as soon as today on Iran's financial sector to further choke off its economy from the outside world, according to people familiar with the matter. The move would effectively leave Iran isolated from the global financial system, slashing the few remaining legal linkages it has and making it more dependent on informal or illicit trade. Earlier rounds of U.S. sanctions have crushed its economy by curbing oil sales and most other trade. Read more from Saleha Mohsin and Nick Wadhams.
The news came as the U.S. Justice Department yesterday seized 92 websites it said were used by Iran's Islamic Revolutionary Guard Corps to spread disinformation, Kartikay Mehrotra reports.
Google Gets Mixed Reception at SCOTUS: Google got a mixed reception at the U.S. Supreme Court as it sought to overturn a decision that could force it to pay billions of dollars for improperly using Oracle's copyrighted code in the Android operating system. Holding a phone session in one of the biggest software fights in American history, justices questioned Google's contention that it had no way to replicate the code without forcing millions of software developers to learn a new programming language. Read more from Greg Stohr.
San Francisco Sued Over Surveillance of Floyd Protests: San Francisco police violated city policies in using a private network of cameras to conduct mass surveillance of protesters, two civil liberties groups alleged in a civil rights lawsuit filed yesterday on behalf of three activists. Joyce E. Cutler has more.
U.S. Explores Curbs on Ant Group, Tencent Apps: The Trump administration is exploring restrictions on billionaire Jack Ma's Ant Group as well as Tencent's WeChat over concerns that their digital payment platforms threaten American national security, according to people familiar with the matter, a move that risks infuriating China and disrupting what could be the world's largest initial public offering. Read more from Nick Wadhams, Saleha Mohsin, and Jennifer Jacobs.
Flynn Case Takes New Twist With McCabe Claim: The tangled prosecution of former National Security Adviser Michael Flynn took more twists yesterday with his lawyer demanding the judge overseeing the case step down and former FBI Deputy Director Andrew McCabe claiming his personal notes from the agency are being distorted. The case has veered from Flynn's initial guilty pleas to lying to federal agents during the investigation of Russian interference in 2016 to the U.S. government's surprise move in May to drop it. Erik Larson has more.
With assistance from Shaun Courtney
To contact the reporters on this story: Zachary Sherwood in Washington at zsherwood@bgov.com; Brandon Lee in Washington at blee@bgov.com
To contact the editors responsible for this story: Giuseppe Macri at gmacri@bgov.com; Loren Duggan at lduggan@bgov.com; Michaela Ross at mross@bgov.com