What to Know in Washington: GOP to Probe Biden's Covid Response
Republicans will soon set the stage for investigations, legislation
"Onslaught of money" slowing tech antitrust bill, Democrat says
House Republicans aren't waiting for next year to demand documents from the Biden administration about the federal response to the Covid pandemic and the role of key presidential advisers.
Republicans want to use a procedural tool, known as a resolution of inquiry, in the coming weeks to advance investigations into areas ranging from HHS Secretary Xavier Becerra's role as a Covid adviser to oversight of research conducted in China at the start of the pandemic.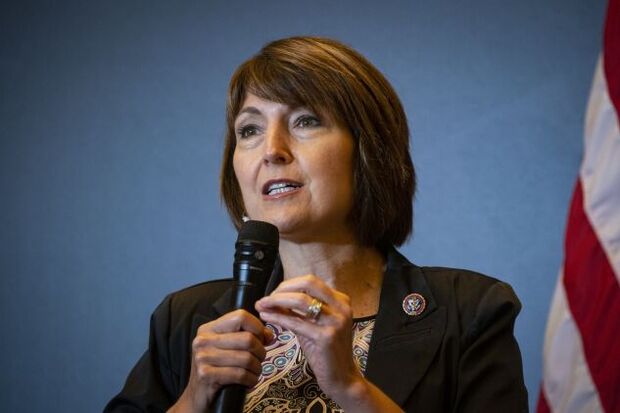 "There are so many questions that need to be answered about the government's response to Covid-19," Rep. Cathy McMorris Rodgers (R-Wash.), ranking member of the House Energy and Commerce Committee, said in an interview. "How the pandemic started, that's probably the most important public health question that needs to be answered."
The resolutions, filed in July, show what information Republicans may seek from President Joe Biden's administration if the party regains control of either chamber of Congress after the November midterms. They will also inform legislation Republicans plan to pursue if in the majority in 2023, McMorris Rodgers said.
They could get special privileged status on the House floor—meaning they could skip typical procedures to get a floor vote— unless their respective committees take action on them by the end of September. The resolutions include demands for:
Whether Republicans' attitudes toward the White House's handling of the pandemic will compromise their support for annual spending increases for federal research programs within the National Institutes of Health remains to be seen. Alex Ruoff and Jeannie Baumann have the story.
Also Happening on the Hill
CONGRESS' SCHEDULE
The Senate meets at 10 a.m. to consider judicial nominations.
An "incredible onslaught of money" against a landmark bill meant to rein in the power of the biggest US technology companies has been an obstacle to passing the legislation, according to Amy Klobuchar (D-Minn.), the primary sponsor of the bill. Those dollars have funded advertisements designed to stir opposition to the American Innovation and Choice Online Act (S. 2992), targeting citizens in both Republican and Democratic states, she said Tuesday at the Code Conference in Los Angeles. Alex Barinka and Mark Gurman have more.
Senator Thom Tillis said he expects there will be enough support from his party to pass a marriage equality bill this month. Democrats have not yet attracted the 10 Republican senators they need to pass the bill in the evenly divided chamber, but negotiators are making progress, Tillis (R-N.C.) said. Read more from Laura Litvan and Jarrell Dillard.
Digital rights advocates are warning that a bill to aid local journalism could force technology platforms to carry and pay for extreme content. The Senate Judiciary Committee is scheduled to consider the bipartisan measure (S. 673) Thursday. It's intended to empower small news organizations to negotiate compensation from technology giants including Meta and Alphabet's Google. Read more from Maria Curi.
Elections, Politics & Influence
In a year when dozens of Democrats are facing potential loses in November, Rep. Matt Cartwright (D-Pa.) is a model for how to win. His district not only supported Donald Trump in 2016 and 2020, but Cartwright won it in 2016, 2018 and 2020 — the only Democratic lawmaker running this year who can make that claim. While other candidates in purple districts look to Cartwright as an example, he isn't taking his past success for granted this year. Read more from Emily Wilkins.
A document describing a foreign government's military defenses, including its nuclear capabilities, was found by FBI agents who searched Trump's Mar-a-Lago residence and private club last month, the Washington Post reported, citing unidentified people familiar with the matter. Only the president, some members of his Cabinet or a near-Cabinet level official could authorize other government officials to know details of these special access programs, according to people familiar with the search, Tim Smith reports.
Former White House strategist Steve Bannon, who was pardoned by Trump on his last day as president, will surrender Thursday to face criminal charges in New York, according to a person familiar with the matter. Bannon has been indicted by the Manhattan district attorney's office, according to the person, who declined to be identified discussing a confidential matter and wasn't able to say what the charges are. Greg Farrell covers the latest.
Colony Capital founder Tom Barrack, a longtime friend of Trump, wants evidence of his wealth, spending and lifestyle to be kept out of his upcoming criminal trial. Barrack argued in a filing on Tuesday in federal court in Brooklyn, New York, that telling jurors about his wealth, "chartered private plane" and multiple luxury homes could prejudice them against him. His lawyers also said such evidence was irrelevant. Read more from Patricia Hurtado.
Around the Administration
PRESIDENT'S SCHEDULE
At 1:30 p.m. Biden and First Lady Jill Biden will host former President Barack Obama and former First Lady Michelle Obama in the White House for a portrait unveiling ceremony.
The US sees its push to cap the price of Russian oil as also damping domestic gasoline prices, a key pocketbook issue heading into the midterm elections. The Russia plan, still being finalized, seeks to cut revenues that fund President Vladimir Putin's war in Ukraine while keeping ample oil supply on the market. While stable prices would aid growth and temper inflation globally, Biden officials are particularly focused on the political benefit of cheaper gas. Christopher Condon and Daniel Flatley have more.
NATO Secretary General Jens Stoltenberg said the war in Ukraine is "entering a critical phase" and warned of a tough winter ahead for members of the military alliance that could include "energy cuts, disruptions and perhaps even civil unrest." Follow Bloomberg's Ukraine update for the latest.
Russia wants to buy millions of rockets and artillery shells from North Korea to use in its war against Ukraine, a sign that Western sanctions on its military and economy are starting to bite, US officials said Tuesday. Read more from Courtney McBride and Roxana Tiron.
Monkeypox patients seeking relief from painful lesions should only consume opioids when alternatives don't work and after an evaluation for their risk of addiction or misuse, public health leaders warn. Monkeypox comes with painful symptoms, not all of which are visible on an initial exam. The CDC's guidelines for the virus include prescription pain suppressants such as opioids. Read more from Jeannie Baumann.
The temporary head of the Justice Department's largest litigating division is outlasting his expected tenure without becoming a target of the left or right while facing off against red states on abortion, guns and immigration. Brian Boynton, who has quietly helmed DOJ's Civil Division since Biden's inauguration, is technically a political appointee. But he's one who earlier colleagues say manages as an institutionalist caretaker, not an advocate. Ben Penn has more.
Juul Labs reached an agreement in principle to pay $438.5 million to 33 states to resolve a two-year probe into the e-cigarette manufacturer's marketing practices, particularly claims that it marketed addictive nicotine products to children. The deal would force Juul to comply with "strict injunctive terms" limiting their marketing practices, Connecticut's Attorney General William Tong said. Erik Larson, Rachel Butt, and Malathi Nayak have more.
Biden spoke to his new UK counterpart Prime Minister Liz Truss Tuesday afternoon. The White House's description of the call alluded to the potential friction between Biden, a Democrat, and Truss, a Conservative who underwent a political transformation and went from being anti-Brexit to one of its most dedicated cheerleaders. Read more from Josh Wingrove and Justin Sink.
Top US officials have told Israel's Prime Minister Yair Lapid that a nuclear deal between Iran and world powers won't be signed in the foreseeable future, The Times of Israel reported. Gwen Ackerman has more.
United Airlines threatened to suspend service at New York's John F. Kennedy International Airport unless federal regulators review runway use and allow the carrier to increase daily operations. Read more from Mary Schlangenstein and Alan Levin.
To contact the reporters on this story: Brandon Lee in Washington at blee@bgov.com; Michaela Ross in Washington at mross@bgov.com
To contact the editors responsible for this story: Giuseppe Macri at gmacri@bgov.com; Loren Duggan at lduggan@bgov.com