What to Know in Washington: GOP Threatens to Delay China Bill
Senate Republicans are threatening to hold up a vote on a sweeping bill to bolster U.S. economic competitiveness and confront China's rise unless Majority Leader Chuck Schumer (R-N.Y.) allows them to offer more changes.
Schumer is pressing to wrap up work this week on the legislation, which would plow more than $100 billion into U.S. research and development and provide $52 billion to foster domestic semiconductor manufacturing. It also includes provisions designed to stem China's reach into U.S. universities and companies.
Sen. Mike Crapo (R-Idaho) was urging his GOP colleagues to vote against moving ahead with the legislation unless a trade amendment he had worked out with Finance Committee Chair Ron Wyden (D-Ore.) was brought up for inclusion in the overall legislation, according to two people familiar with the matter.
The full Senate has been working through a handful of amendments this week and numerous Republican senators have been insisting that Schumer allow votes on some of the changes they want in the legislation, which generally has bipartisan support.
Sen. Marco Rubio (R-Fla.) told his colleagues at a Senate GOP lunch yesterday that he wanted votes on some of the security measures he's proposed to help protect U.S. intellectual property from theft. In addition, Sen. Bernie Sanders (I-Vt.), who caucuses with Democrats, is seeking support for his proposed amendments, including one that would require the U.S. get stakes in semiconductor manufacturers that receive aid.
Schumer has said he wants the bill completed by the weekend, before the start of a week-long Senate break. A vote to end debate and proceed to consideration of the legislation will be held today but requires 60 votes to succeed. In a Senate divided equally by party, that means at least 10 Republicans would have to vote to end debate. Read more from Daniel Flatley and Laura Litvan.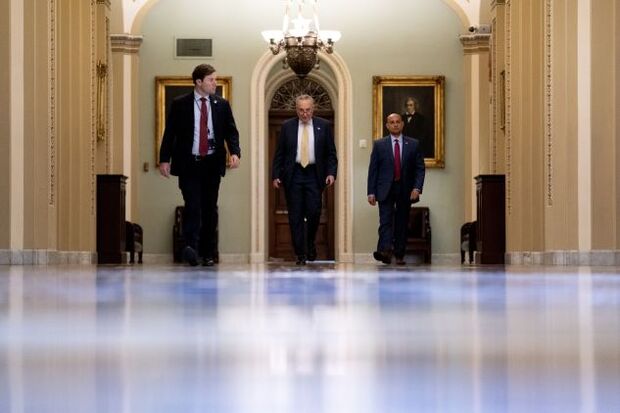 Happening on the Hill
Today's Agenda:
Republican Senators Shelley Moore Capito (R-W.Va.), Pat Toomey (Pa.), John Barrasso (Wyo.), and Roy Blunt (Mo.) will hold a press conference at 9:05 a.m. announcing another infrastructure counteroffer that will have a top-line figure of almost $1 trillion.
Click here for a complete list of today's hearings and markups.
Bank CEOs Face Lawmaker Ire: Sen. Elizabeth Warren (D-Mass.) called JPMorgan Chase's Jamie Dimon "the star of the overdraft show." Her Democratic colleagues pressed him and other CEOs from the biggest U.S. banks to boost lending, raise wages, diversify staff and save the environment. Then there was the warning from Republicans: Stay clear of politics.
In what will likely prove a warm-up to a potentially more raucous hearing in the House today, a panel of six Wall Street chief executive officers took heat from the Senate Banking Committee yesterday. As Democrats tried to extract pledges to help struggling Americans and the environment, lawmakers from the other side of the aisle warned executives not to withdraw support for industries such as fossil fuels and firearms. Read more from Hannah Levitt and Robert Schmidt.
Lawmakers Return to Live Events for Memorial Day: Lawmakers are putting the virtual townhalls that marked last year's Memorial Day holiday on the shelf as parades, fireworks, and veterans ceremonies make a comeback — and with control of Congress on the line next year. Republicans and Democrats alike say they're ready to wade into crowds again for coveted face time with their constituents, marking another step in the country's return to pre-pandemic activities as Covid-19 vaccination rates increase and federal guidelines adjust. But the re-emergence of in-person events brings fresh concerns about lawmaker safety amid heated political tensions. Read more from Nancy Ognanovich.
Democrats to Craft Public Health Insurance Option: Democratic leaders in Congress took the first step toward creating a public health insurance option, soliciting ideas from their colleagues for a government-run insurance plan that could cut Americans' health care costs. A public insurance option was a major plank of President Joe Biden's health agenda during the campaign, though Biden recently has focused on his infrastructure and tax plans, not health care. "This is an opportunity to lower health care costs," Patty Murray (D-Wash.), chair of the Senate Health, Education, Labor and Pensions Committee, told reporters yesterday. Read more from Alex Ruoff.
Democrats Wary to Roll Back Trump-Era Business Write-Off: Democrats who have spent the past four years railing against the 2017 tax code overhaul appear hesitant to roll back one of that law's broad business tax breaks. That reluctance is underlined in the White House's plans to pay for trillions in infrastructure and social spending. Biden has called for sweeping corporate and individual tax changes, but shied away from touching a temporary write-off of up to 20% for partnerships, LLCs, and other entities taxed only at the individual owner level. Read more from Lydia O'Neal and Kaustuv Basu.
Senate Passes Bill to Declassify Wuhan Lab Intelligence: The Senate passed a bill last night that would require the Biden administration to declassify intelligence related to any potential links between the Wuhan Institute of Virology and the origins of the Covid pandemic. The legislation, sponsored by Sens. Josh Hawley (R-Mo.) and Mike Braun (R-Ind.), passed by unanimous consent, Laura Curtis reports.
Around the Administration
Today's Agenda: Biden travels to Cuyahoga Community College in Cleveland, Ohio, where he will discuss the economy at 2:20 p.m.
Fines for Pipelines Shows U.S. Rethinking Cybersecurity: Pipeline operators who fail to report cybersecurity attacks to the Department of Homeland Security could face fines of $7,000 a day or more under regulations being released today in response to the ransomware attack that temporarily paralyzed the nation's biggest fuel pipeline. The so-called security directive being issued by Homeland Security will be followed in the near future by an additional set of rules for pipeline operators, according to senior department officials who asked not to be identified. The new mandates, a shift from a long-held system of voluntary guidelines and self-reporting, is in response to the ransomware attack on Colonial Pipeline. Read more from Ari Natter.
Blinken's Brief Mideast Trip Shows Biden's Focus Is Elsewhere: Secretary of State Antony Blinken visited the Middle East with promises of aid for Palestinians caught up in the latest Israel-Gaza confrontation. What he didn't bring was any U.S. interest in forcing a bigger negotiation to resolve the underlying conflict. Wrapping up a whirlwind two days of meetings in Israel, Egypt, Jordan and the Palestinian territories, his first to the region as secretary of state, Blinken made clear the U.S. doesn't think the time is right to get entrenched in the sort of exhaustive push for a two-state solution that has bogged down American presidents for decades. Read more from Nick Wadhams.
Migrants Have No Time for Biden in Quest for Better Life in U.S.: In Washington, Republican lawmakers accuse the president of fomenting a record wave of migrants, blaming his shift to a more sympathetic tone on immigration from the harsh rhetoric of his predecessor, Donald Trump. Yet in El Salvador, Guatemala and Honduras — the three countries responsible for the majority of people detained on the southern border — crime, economic privation, natural disasters and human smuggling rings are doing far more to fuel the surge than anything said by Biden. Read more from Mario Parker, Maria Eloisa Capurro and Jordan Fabian.
Asia Czar Says Era of Engagement With China Is Over: The U.S. is entering a period of intense competition with China as the government running the world's second-biggest economy becomes ever more tightly controlled by President Xi Jinping, the White House's top official for Asia said yesterday. "The period that was broadly described as engagement has come to an end," Kurt Campbell, the U.S. coordinator for Indo-Pacific affairs on the National Security Council, said at an event hosted by Stanford University. U.S. policy toward China will now operate under a "new set of strategic parameters," Campbell said, adding that "the dominant paradigm is going to be competition." Read more from Peter Martin.
U.S., China Trade Chiefs Hold 'Candid' Talks in First Call: U.S. Trade Representative Katherine Tai and China's Vice Premier Liu He had a "candid" first conversation as the two sides try to resolve some of their differences on trade. The trade chiefs spoke this morning in Beijing, China's Ministry of Commerce said in a statement, and "conducted candid, pragmatic and constructive exchanges in an attitude of equality and mutual respect." In a separate statement, the USTR said "Ambassador Tai discussed the guiding principles of the Biden-Harris administration's worker-centered trade policy and her ongoing review of the U.S.-China trade relationship, while also raising issues of concern." Read more from Bloomberg News.
U.S. Asks WTO to Address Forced Labor in Fishing: The U.S. asked the World Trade Organization's members to address the problem of forced labor on fishing vessels, seeking the issue to form part of ongoing talks to curb subsidies in the industry. The U.S. proposal also calls for WTO members' explicit recognition of the forced-labor problem and proposes additional transparency with respect to those vessels or operators that use forced labor, the U.S. Trade Representative said in a statement yesterday. Read more from Ana Monteiro.
Politics & Influence
Big Business and the GOP Remain at Odds Even With Trump Gone: Big business broke with President Donald Trump over tariffs and immigration and resented his Twitter attacks on various Fortune 500 companies. A wider rift opened in January, when supporters of the then-president invaded the U.S. Capitol and 147 Republicans in Congress refused to certify Joe Biden's Electoral College victory.
Still, it seemed as if corporations and the GOP might patch things up once Trump was out of the White House. If anything, relations are worse now. And the reason is becoming apparent: The animus toward the business establishment emanates not only from Trump but also from the grassroots of the Republican Party. As long as the rank and file is at odds with big business, politicians will be as well, Peter Coy reports.
U.S. Says Wynn Must File as Foreign Agent: The U.S. Justice Department has told former casino magnate Steve Wynn to register as a foreign lobbyist for China and is ready to go to court if he doesn't comply, a person familiar with the matter said. The order stems from allegations that Wynn tried to persuade American officials in the summer of 2017 to send Guo Wengui, a Chinese businessman with ties to Trump, back to his home country, according to the person, who asked not to be identified discussing a pending inquiry. Read more from Ilya Banares.
Oath Keepers Ask to Dismiss Capitol Riot Suit: The far-right Oath Keepers asked a judge in Washington to throw out a lawsuit by members of Congress accusing the group of inciting the Jan. 6 riot at the U.S. Capitol. In a court filing yesterday, a lawyer for the militia group argued that the suit filed in February by Representative Bennie Thompson, a Mississippi Democrat, failed to show that the riot was the result of coordinated activity by militia members. The complaint "lack[s] any allegation that Oath Keepers (as an entity that may sue and be sued), directed or controlled anyone to do anything at any time," the filing said. Read more from David Yaffe-Bellany.
To contact the reporters on this story: Giuseppe Macri in Washington at gmacri@bgov.com; Zachary Sherwood in Washington at zsherwood@bgov.com
To contact the editors responsible for this story: Giuseppe Macri at gmacri@bgov.com; Loren Duggan at zsherwood@bgov.com; Michaela Ross at mross@bgov.com