What to Know in Washington: GOP Takes On SCOTUS Nominee Jackson
Senators to question Ketanji Brown Jackson during second hearing
Republicans to probe past cases, support from outside groups
Ketanji Brown Jackson's toughest questioning during Senate hearings this week will be from Republicans seeking to score political points by implying the Supreme Court nominee is soft on crime while pledging to avoid a repeat of past contentious hearings.
Heading into two days of questioning before the Senate Judiciary Committee, the 51-year-old federal appeals court judge has advantages — nine years on the bench, a Harvard pedigree, and a Democratic Senate majority with the power to confirm her on their own. President Joe Biden wants to see some GOP support for his first Supreme Court pick, and the few Republican votes she might win hinge on how she handles the queries.
On Monday's opening day, Ranking Republican Chuck Grassley (Iowa) vowed that GOP questioning will be respectful even though he and most of the other 10 GOP panel members are hinting they'll oppose her. Sen. Lindsey Graham (R-S.C.) may join them, despite backing every Supreme Court nominee since he came to office in 2003. On the panel are three prospective 2024 GOP presidential candidates — Ted Cruz (Texas), Tom Cotton (Ark.) and Josh Hawley (Mo.) — and each will be looking to use the hearings to polish their appeals to the Republican base.
Laura Litvan and Greg Stohr preview some of the GOP's top lines of attack — read more.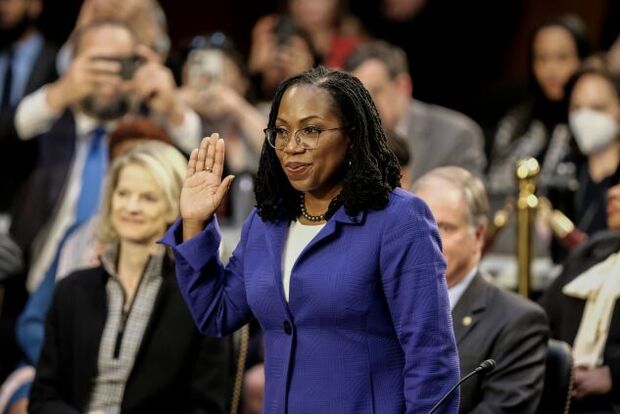 Happening on the Hill
CONGRESSIONAL SCHEDULE:
The Senate meets at 10 a.m. to resume consideration of the House-passed bill focused on competition with China.
The House is not in session.
Commerce Secretary Gina Raimondo led a bipartisan teleconference that included a top official in Donald Trump's administration Monday, showcasing the Biden administration's push for a bill designed to strengthen U.S. competitiveness against China and bolster domestic semiconductor manufacturing. The war in Ukraine has highlighted the importance of rapidly increasing U.S. production of semiconductors, participants on the call said.
Raimondo, former U.S. national security adviser H.R. McMaster and others held the call hours before Senators voted 66-29 on a procedural step to advance consideration of the House-passed bill H.R. 4521, the America COMPETES Act. The Senate reconvenes Tuesday to resume consideration of the bill. A final package is expected to require House-Senate negotiations and unlikely to be finalized before the end of May.
"I shudder to think what would happen to us if other countries did that to America," Raimondo said, referring to the raft of sanctions imposed on Russia over its invasion of Ukraine. Chinese President Xi Jinping is watching Russia's war on Ukraine as he considers his own next steps on Taiwan, McMaster said in an interview, Todd Shields reports.
The Senate Commerce Committee is set to vote on two bills to beef up regulators' power to crack down on ocean shippers that senators say disadvantage U.S. exporters, amid broader efforts to assuage a backlog in the movement of goods. The panel Tuesday will weigh whether to advance bipartisan legislation (S. 3580) to give more authority to the Federal Maritime Commission, which regulates ocean carriers, and a Republican bill (S. 3262) that would add staff to the panel's oversight offices. The bipartisan Senate measure is an alternative to the House's proposal that was passed in December as a standalone bill (H.R. 4996) and as an amendment to legislation (H.R. 4521) advanced in February that aims to bolster competition with China. Read more from Lillianna Byington.
Inmates and their families would pay less for calls from prison under legislation a Senate panel is debating on Tuesday. The Federal Communications Commission would for the first time be empowered to regulate all calls made from prisons, jails, and detention centers under a bill (S. 1541) from Sen. Tammy Duckworth (D-Ill.). Pricey call fees disproportionately harm racial minorities. Black, Latino, and Native American people are all incarcerated at disproportionately high rates, according to a report from the Prison Policy Initiative using U.S. Census Bureau data. The legislation, introduced in May, has one Republican cosponsor — Sen. Rob Portman (Ohio). Read more from Maria Curi.
Young to Lie in State Next Week: The late Rep. Don Young (R-Alaska) will lie in state in the Capitol's Statuary Hall next Tuesday, House Speaker Nancy Pelosi (D-Calif.) announced Monday.
Pro-Democrat Group Using Grants to Fuel Turnout in Battlegrounds
American Bridge, a political organization that supports Democrats, plans to award grants to allied groups in Pennsylvania, Georgia and Arizona, key battleground states, to energize voter turnout in the upcoming midterm elections.
The grants, totaling more than half-million dollars, will go to Philadelphia Lawyers for Social Equity, a group that works with ex-offenders; Arizona AANHPI for Equity Coalition, that advocates for Asian American and Native Hawaiian Pacific Islanders; and Asian Americans Advancing Justice Atlanta, a civil rights group, through its BridgeTogether program, American Bridge said.
Overall, the organization says it intends to put more $100 million toward the 2022 elections that will decide control of the House and Senate.
American Bridge has pledged more than $1 million to support grassroots and organizing in key states during the 2022 election cycle, Jessica Floyd, president of American Bridge, said in an emailed statement.
The moves come as Democrats face steep challenges, including historical headwinds, in holding their congressional majority. Read more from Emma Kinery.
Around the Administration
BIDEN'S SCHEDULE:
Biden has no public events scheduled.
White House Press Secretary Jen Psaki and National Security Adviser Jake Sullivan will give a press briefing at 1 p.m.
Biden said Monday that Russia had used a hypersonic missile against Ukraine, but that it's a sign Vladimir Putin is desperate. The Ukrainians are "wreaking havoc against the Russian military, whether it's their tanks, or their helicopters or their aircraft," Biden said. "And if you notice, they've just launched their hypersonic missile because it's the only thing they can get through with absolute certainty." U.S. Defense Secretary Lloyd Austin declined to confirm that Russia had used a hypersonic weapon in a CBS News interview a day earlier. President Volodymyr Zelenskiy said Ukrainian forces were still holding Russian troops at bay on many fronts and indicated that the nation would hold a referendum on the terms of any potential peace agreement. See the latest in the Bloomberg News Ukraine Update.
Biden's warning of unspecified consequences if China supports Russia has smaller Asian nations worried they'll be subject to similar penalties for maintaining neutrality over Putin's war. Southeast Asia will host two meetings later this year — the Group of 20 summit and the Asia-Pacific Economic Cooperation forum, or APEC — that would normally bring Biden, Putin and Chinese leader Xi Jinping under one roof. And the two countries set to host them, Indonesia and Thailand, are starting to worry about getting caught in the middle, even though the summits are months away and it isn't even clear if Putin would turn up. Read more from Philip J. Heijmans and Yudith Ho.
Xi bet that establishing a "no limits" friendship with Putin could prevent the U.S. from containing China. Now that agreement threatens to leave Beijing more isolated and alone. That dynamic so far appears to be pushing more countries to the U.S. camp, with the European Union set to reinforce the American warning to Beijing at a virtual summit planned for April 1. China, meanwhile, is struggling to convince the world it's a neutral player, as assurances to international audiences are undermined by messages at home affirming the China-Russia partnership. Read more from Bloomberg News.
The State Department imposed visa restrictions on China officials over human rights actions to repress ethnic and religious minority groups, Megan Howard reports, citing a statement. U.S. Secretary of State Antony Blinken called on China to "end its ongoing genocide and crimes against humanity in Xinjiang, repressive policies in Tibet, crackdown on fundamental freedoms in Hong Kong, and human rights violations."
The U.S. Labor Department is sitting on $135 million of leftover emergency funding from the pandemic rescue packages, providing a small lifeline for the agency's enforcement arms after subagencies saw meager funding increases for fiscal 2022. The Senate passed a full year $1.5 trillion federal funding bill earlier this month that provided the Labor Department with $13.2 billion in discretionary funding for the current fiscal year, which officially started on Oct. 1. Beneath the topline, most subagencies saw increases of 3% or less.
The relatively paltry increases amid rising inflation have already triggered calls for more funding ahead of the planned release of the White House budget request for fiscal 2023. The amount appropriated for fiscal 2022 has also raised questions about how the DOL will meet the new oversight demands created by the bipartisan infrastructure law, reverse staff attrition caused by the Trump administration, and achieve the Biden administration's aggressive enforcement goals. Read more from Paige Smith.
An "openly hostile" administration attitude toward oil and gas development stands in the way of boosting U.S. energy production amid the war in Ukraine, small and mid-sized oil and gas producers told Biden in a letter, Jennifer A. Dlouhy reports. The administration's actions have had "a demonstrable chilling effect on energy company business decisions," wrote 10 oil and gas trade groups, including Western Energy Alliance and Independent Petroleum Association of America.
To contact the reporters on this story: Giuseppe Macri in Washington at gmacri@bgov.com; Brandon Lee in Washington at blee@bgov.com
To contact the editors responsible for this story: Loren Duggan at lduggan@bgov.com; Michaela Ross at mross@bgov.com