What to Know in Washington: GOP Seizes on Balloon for War Chests
Bloomberg Government subscribers get the stories like this first. Act now and gain unlimited access to everything you need to know. Learn more.
Republican politicians are stoking outrage and raising cash over the alleged Chinese spy balloon that crossed the US before it was shot down.
In nearly a dozen emails, congressional campaigns cite the incident as they ask recipients for money, to sign petitions or to take surveys. Some strike Cold War themes as they raise the dangers of Chinese espionage, but most take jabs at Joe Biden, who on the advice of the military opted to destroy the craft over the ocean days after a civilian spotted it over Montana. The US says the balloon was part of a global surveillance program.
The first emails hit inboxes on Feb. 3 when the balloon was still airborne, according to Pundit Analytics, which tracks emails, ads and social-media posts of elected officials and candidates. Sen. Kevin Cramer (R-N.D.) sent out an alert to supporters that began by citing Beijing's claim that one of its weather balloons had gone astray. While the email surveyed supporters on whether they trusted China, Cramer made clear where he stood on the issue.
"This is an invasion," the email said. Cramer referenced his recent efforts to thwart a Chinese company's plans to build a corn mill near the Grand Forks Air Force Base on national security grounds. "China cannot be trusted. Period."
The emails demonstrate how quickly candidates can issue rapid-response fundraising appeals to potential donors on the most controversial topics of the day, even with evolving news stories. None of the emails mention the three subsequent incidents in which US military jets shot down as yet unidentified craft over the US and Canada, with the most recent occurring Sunday over Lake Huron.
Some emails have been particularly strong. Sen. Ron Johnson (R-Wis.), sent three of the emails, with the first telling prospective donors that China sent Americans the balloon, in addition to Covid-19. In his most recent email Sunday, Johnson turned to the Biden White House, asking if it "failed America by mishandling the Chinese Spy Balloon disaster?" Bill Allison has more.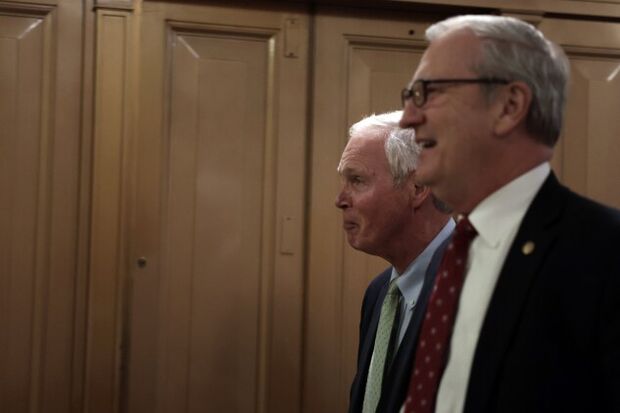 US Navy salvage operations have recovered "significant debris" from the remains of the Chinese surveillance balloon shot down off the coast of South Carolina last week, according to US Northern Command.
Crews found "all of the priority sensor and electronics pieces identified as well as large sections of the structure," the command said in a statement late on Monday night. "Weather permitted crane operations at the site late last week. Underwater recovery activities are limited and weather dependent," according to the statement. The debris will be examined by FBI technicians.
Happening on the Hill
CONGRESS' SCHEDULE
The Senate meets at 11 a.m. for votes on district judge nominations.
The House is scheduled to hold a pro forma session at 10 a.m.
Rep. Jamie Raskin's (D-Md.) newest assignment is defending President Biden. But he'll still be going after Donald Trump.
Raskin is back in the spotlight after rising to prominence as the lead impeachment manager for Trump's role in the Jan. 6 attack, and serving on the high-profile panel digging into the same event. He's now the top Democrat on the Oversight Committee that has promised to be the venue for some of the most explosive and partisan hearings in the next two years as House Republicans investigate Biden, his family's finances and his cabinet members.
Raskin says he wants committee Democrats to serve "as a truth squad, debunking and refuting a lot of the disinformation and propaganda that's coming our way." At the same time, he's said his job is not to be a "pro-bono defense council for this or that president or politician."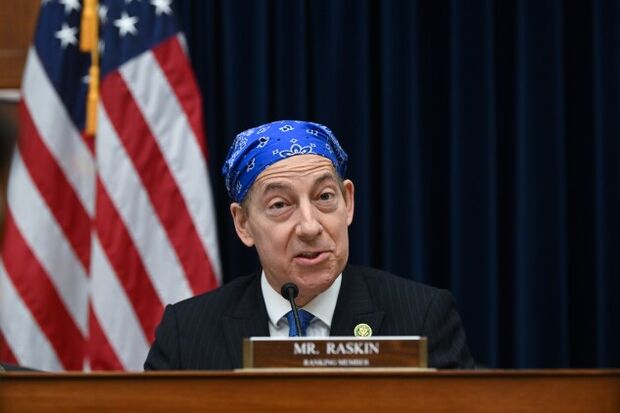 Speaker Kevin McCarthy (R-Calif.) will travel this week to the US southern border with freshmen GOP lawmakers as Republicans continue to hammer the Biden administration on immigration and security.
Cindy Chung, the top federal prosecutor in Pittsburgh, was confirmed on a bipartisan vote to be the first Asian-American judge on the US Court of Appeals for the Third Circuit.
IRS Commissioner nominee Danny Werfel is slated to have his Senate confirmation hearing on Wednesday, facing questions from the Finance Committee at a key time for the agency.
House Freedom Caucus members who secured spots on the Appropriations Committee—empowered by promises from GOP leaders to slash spending—are ready to hit the gas on plans for cuts and clawbacks.
House Republicans began their promised scrutiny of the origins of the coronavirus pandemic, requesting testimony from Anthony Fauci and current Biden administration officials, along with classified briefings and documents from US agencies.
Americans would be able to demand tech companies delete all the personal information collected on them when they were younger than 13 years old under a proposal introduced Monday.
Sen. Ted Cruz (R-Texas) said he's launching an investigation into social media companies' use of algorithms that reduce the distribution of content to their users, in a letter to the chief executives of Meta, Google, Twitter and TikTok.
The EPA's biggest union kicked off a three-day campaign on Monday to alert congressional lawmakers about what they call a staffing crisis and ask for a specific appropriation to fund employee promotions.
Around the Administration
BIDEN'S AGENDA
Biden at 1:15 p.m. delivers a speech to the National Association of Counties meeting in Washington, D.C.
At 2:30 p.m., White House Press Secretary Karine Jean-Pierre gives a briefing.
Biden has decided to name Federal Reserve Vice Chair Lael Brainard as his top economic adviser, with an announcement coming as soon as Tuesday, people familiar with the matter said.
A US law passed after Russia invaded Ukraine has given a boost to a flawed Treasury Department program that lawyers claimed deterred whistleblowers from providing tips on the role of banks in sanctions and anti-money laundering violations.
The cryptocurrency industry's free pass is getting yanked as the most powerful financial regulators in the federal government rapidly close key doors to the country's banking system.
The Interior Department is spending $125 million on an Upper Colorado River Basin water conservation program as Western states await the agency's response to their proposals to deal with the region's historic drought.
Federal Communications Commission Chairwoman Jessica Rosenworcel seeks information from AT&T, DISH, Google Fi, T-Mobile, Verizon and others on how wireless emergency alerts can begin to support more languages, according to a release.
US labor board prosecutors have concluded that Amazon illegally used subpoenas to coerce staff and try to interfere with labor activism at a New York warehouse.
Northvolt joined European companies putting policy makers on notice about the allure of US green tech incentives, calling tax credits tucked in Biden's Inflation Reduction Act impossible to ignore.
The Philippines has protested China's move to aim a military-grade laser at a Philippine ship in the South China Sea which the US said was "provocative and unsafe" and threatens peace and stability in the region.
To contact the reporter on this story: Brandon Lee in Washington at blee@bgov.com
To contact the editors responsible for this story: Giuseppe Macri at gmacri@bgov.com; Michaela Ross at mross@bgov.com
Stay informed with more news like this – from the largest team of reporters on Capitol Hill – subscribe to Bloomberg Government today. Learn more.