What to Know in Washington: GOP Says Gun Bill Must Be Narrow
Sens. Cornyn, Murphy seek deal to get 10 Republicans
Busiest day of primary voting in 2022 Tuesday
Texas Senator John Cornyn (R) said Republicans would only agree to narrowly targeted measures to address gun violence and rejected an end-of-the-week deadline for a deal set by Senate Majority Leader Chuck Schumer (D-N.Y.).
The lead GOP negotiator in talks on a federal response to the mass shooting at a Texas elementary school and other recent massacres said the government should focus on making schools harder targets and keeping weapons out of the hands of those already prohibited from owning firearms — criminals and those with mental health problems.
He said he would not support any provisions that would restrict the rights of existing law-abiding gun owners or ban particular weapons.
"We have to be realistic about what can pass both chambers of Congress and get the president's signature, and we know it's not easy," Cornyn said on the Senate floor.
Cornyn's remarks set down a marker for what it would take to get at least 10 Republicans who will be needed to pass any bill dealing with firearms in the Senate. The Democratic-controlled House is poised to pass a package of gun measures this week, but the only legislation that matters is what comes out of negotiations between Cornyn and Democrat Chris Murphy (Conn.). Read more from Steven. T. Dennis and Jarrell Dillard.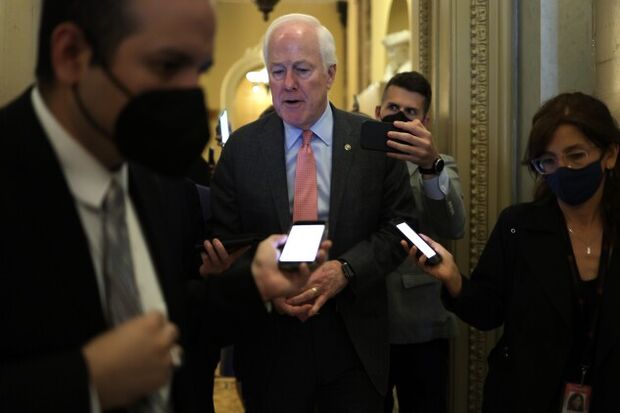 Happening on the Hill
CONGRESSIONAL SCHEDULE:
The House returns at 2 p.m. with votes set for later on bills under expedited floor procedure.
Senators reconvene at 10 a.m. with votes set on executive nominees and a bill to expand VA benefits.
House lawmakers plan to vote this month on a Senate-passed bill that aims to stop ocean carriers from unreasonably refusing US exports, moving forward with senators' version after repeatedly passing their own similar, but meatier bill.
The bipartisan legislation (S. 3580) would update ocean shipping rules in an effort to address supply chain backups after a spike in demand during the pandemic contributed to port congestion and delays. House Majority Leader Steny Hoyer (D-Md.) said last week that the chamber would consider the Senate-passed legislation in June. Read more from Lillianna Byington.
Undecided lawmakers are facing a barrage of lobbying from Alphabet's Google, Amazon, tech trade groups and progressive advocates ahead of a planned vote later this month on antitrust legislation to rein in the largest tech platforms. Schumer has pledged a floor vote this month on legislation sponsored by Sens. Amy Klobuchar (D-Minn), and Chuck Grassley (R-Iowa), to prohibit companies like Apple, Amazon, Google, Microsoft and Facebook parent Meta Platforms from favoring their own products.
The House, which advanced its own package of antitrust measures last summer, is also expected to take up the legislation. Read more from Leah Nylen, Maria Curi and Alicia Diaz.
Elections & Politics
California's primaries Tuesday will set the contenders for several competitive House races, including one on the outskirts of Los Angeles that's divided Democratic officials and lawmakers for months.
Republican Rep. Mike Garcia is running for re-election in a redrawn district that's among a few opportunities for Democrats to flip a seat in California, in a year when they're largely on the defensive. Garcia is almost certain to be one of the two candidates that advances from the all-party primary.
For the other spot, Democrats are split over whether to support Christy Smith, who lost to Garcia in a 2020 special election and then by 333 votes in that November's general election, and Quaye Quartey, a Black veteran and small business owner whose father was an immigrant. Emily Wilkins previews the races to come.
Louisiana's Republican-led Legislature must redraw its new congressional redistricting plan to include an additional majority-Black district in time for the 2022 midterm elections, a federal court ruled Monday. Read more from Jennifer Kay.
US prosecutors amped up charges against five members of the right-wing extremist group the Proud Boys, adding seditious conspiracy for actions they took in advance of the deadly Jan. 6 riot at the US Capitol. Seditious conspiracy charges are the most serious ones the Justice Department has brought in relation to efforts to stop the election certification, amounting to an alleged attack on the country. They carry a potential 20-year prison sentence. Chris Strohm has the latest.
Around the Administration
BIDEN'S AGENDA:
The president at 2:45 p.m. is scheduled to sign into law nine bills to honor veterans and improve care alongside Veterans Affairs Department Secretary Denis McDonough.
Press Secretary Karine Jean-Pierre holds a briefing at 1:45 p.m.
The US, Latin America and Caribbean nations are working on a pact to reduce and manage undocumented migration that they will announce at the Summit of the Americas being held this week. The group is discussing commitments to provide financial support for nations dealing with an influx of migrants, improving cooperation on controlling flows and providing legal jobs, according to a draft of a joint declaration being reviewed by participants and seen by Bloomberg News.
The document is still under negotiation, and it isn't clear if all nations attending the summit will sign on, since not all are affected by migration in the same way, the people said. Read more from Eric Martin.
Vice President Kamala Harris met with executives Monday to discuss efforts to boost investment and growth in central America, as she and President Joe Biden grapple with migration issues that will loom over the Summit of the Americas this week. Josh Wingrove details the meeting.
The US warned North Korea of a strong punishment if it conducts a nuclear test, as Washington and a United Nations' watchdog agency have said signs indicate Pyongyang could soon set off its first atomic device since 2017, Jeong-Ho Lee reports.
To contact the reporter on this story: Giuseppe Macri in Washington at gmacri@bgov.com
To contact the editors responsible for this story: Loren Duggan at lduggan@bgov.com; Andrew Small at asmall@bgov.com