What to Know in Washington: GOP Risks Purging Eligible Voters
Republican lawmakers across the country are proposing an aggressive culling of voter rolls by checking names against other government databases that may be flawed, meaning eligible voters could be swept out and blocked from voting.
Nationally, at least 50 bills have been proposed that would trim voter rolls more vigorously than in previous legislative sessions, and several have already been signed into law, spurred by record turnout in the 2020 election and allegations, led by former President Donald Trump, that the outcome was somehow rigged.
GOP-led state legislatures in Utah, Iowa, Texas and elsewhere want local officials to check voter names against other official sources, including death records, criminal records, lists from state motor vehicle departments and federal immigration records, and remove questionable names.
Yet those records are not structured for identifying voters and when they have been used too broadly to cull rolls in the past, tens of thousands of people were put at risk of being disenfranchised, many of them poor and people of color. Read more from Ryan Teague Beckwith.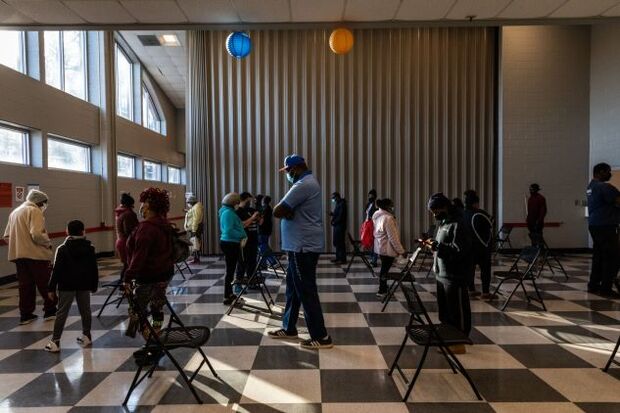 Florida Passes Elections Bill: Florida's Republican-led Legislature agreed on changes to the state's widely praised elections system, sending the legislation to Gov. Ron DeSantis last night. The compromise the Senate and House each approved removed requirements for voters to show identification when returning their own vote-by-mail ballot to a drop box or to show documentation when dropping off someone else's ballot. Vote-by-mail requests would need to be renewed every two years, and existing requests would be grandfathered in until 2022. Voters would have to show additional identification when registering to vote in person or by mail. Read more from Jennifer Kay.
More Politics & Influence
Texas 6th District Special Election Tomorrow: A special election tomorrow in Texas's 6th District should whittle a 23-candidate field to two. No one is favored to win a majority in the Fort Worth-Arlington constituency formerly represented by the late Republican Ron Wright, and the top vote-getters would advance to a runoff. The 11 GOP contenders include Susan Wright, Ron Wright's widow and a political activist Trump endorsed earlier this week. The 10 Democrats include Jana Lynne Sanchez, who lost to Ron Wright in 2018 and is backed by the political arm of the Congressional Hispanic Caucus, Greg Giroux reports.
Explaining Redistricting: The Census Bureau this week announced which states will gain and lose congressional seats in the next decennial redistricting process. In this video, Bloomberg Government talks to former U.S. Attorney General Eric Holder, Loyola Law School Professor Justin Levitt, and BGOV elections reporter Greg Giroux about the long history of the fight over who draws the maps.
Vote-by-Mail Favored by Older, Affluent Voters: Those most likely to vote by mail in 2020 included some demographic groups that voted heavily for Donald Trump, new Census data show, undermining his claims that vote-by-mail only helps Democrats. Older and wealthier voters were especially likely to vote by mail in 2020. Roughly 54% of voters age 65 and older, who supported Trump by 5 percentage points, according to exit surveys, cast votes by mail. Read more from Ryan Teague Beckwith and Gregory Korte.
Giuliani Says Feds Raided His iCloud as Well as Apartment: Rudy Giuliani said federal investigators seized material from his iCloud while he was representing former Trump during his impeachment. Giuliani appeared on Fox News a day after federal agents raided his Manhattan home and office. FBI agents seized the former New York mayor's phone and other electronic devices. Read more from Patricia Hurtado.
Biden's Infrastructure Plan
Lawmakers Fill in Gaps in Infrastructure Plan: Democrats are beginning to lay the legislative groundwork for Biden's infrastructure priorities, flagging their must-haves as the final package is hashed out. The bills Democrats have introduced in recent weeks would expand the low-income housing credit and streamline clean energy incentives. The proposals are seen as negotiating tools, as Biden and his administration work to fine tune his sweeping infrastructure proposal. What makes it into the final package will require careful maneuvering given competing priorities between Congress and the White House, and the narrow majority held by Democrats.
Former Congressman Charles Boustany (R-La.) said that when the president and the administration make a major push, members look to jump on board and act as "policy entrepreneurs" using work they have already done on a particular issue. "In some cases, they've worked on legislation for years, to no avail," said Boustany, now with Capitol Counsel. "In other instances, they just want to jump on the bandwagon and try to get a legislative victory, so that they can go back home and talk about." Read more from Kaustuv Basu.
Biden Defends Tax Hikes on Rich: Biden told voters in an Atlanta suburb that his proposed tax increases on the wealthy would finance tax cuts for many more Americans, as he took to the road to sell his plans to build infrastructure and invest in education, child care and other priorities. "This is a tax cut for more than two million families in Georgia," Biden said of his proposals during a drive-in rally yesterday in Gwinnett County, marking his first 100 days in office. "It's about time the very wealthy and corporations start paying their fair share," he said. "It's about time. Simple as that." Read more from Justin Sink and Mario Parker.
Biden Revives Plan That Fueled Free College Movement: Biden is seeking to bring a free education model to all of the country's community colleges, with a signature higher education proposal in his $1.8 trillion social spending package released this week. The plan to make two years of community college free to students across the country revives a 2015 proposal from then-President Barack Obama in 2015. Obama cited as his model a state-wide free college initiative launched by a GOP governor in Tennessee. His plan went nowhere in a divided Congress thanks in large part to Republican opposition to a new federal program.
Now, Democrats are considering getting some version of Biden's plan through Congress with a procedure that bypasses the need for GOP votes in the Senate. Read more from Andrew Kreighbaum.
Also Around the Administration
On Biden's Agenda: The president today will travel to Philadelphia with First Lady Jill Biden to mark Amtrak's 50th anniversary. Biden will then head to Wilmington, Del., for the weekend.
Regan Says He's Open to Rule Tweaks on Emissions Goal: The EPA is open to reviewing any of its standards to reach the Biden administration's goal of cutting greenhouse gas emissions in half by 2030, EPA Chief Michael Regan told the House Energy and Commerce Environment and Climate Change Subcommittee yesterday. "I'm willing to take a look at any efficiency that we can put in any of our regulations to achieve these goals," he said at a hearing. Read more from Stephen Lee.
Five U.S. Agencies May Have Been Hacked Through Ivanti: The Department of Homeland Security has determined that flaws in Ivanti's products may have allowed hackers to breach at least five federal agencies. The Department's Cybersecurity and Infrastructure Security Agency, known as CISA, has been working with organizations targeted through vulnerabilities in Ivanti's Pulse Connect Secure products and required federal civilian agencies to run a tool designed to find them. Read more from Alyza Sebenius.
Biden to Meet South Korea's Moon in May: Biden will meet South Korean President Moon Jae-in on May 21, the White House said, with Seoul adding North Korea would be high on the agenda. Moon is set to become the second leader of another country to visit the White House since Biden's inauguration and the announcement comes as Biden's administration is reviewing its policy on trying to end North Korea's nuclear ambitions. Biden hosted Japanese Prime Minister Yoshihide Suga earlier this month and his other encounters with foreign leaders have been virtual because of coronavirus precautions. Read more from John Harney and Jeong-Ho Lee.
Attacks Surge as U.S. Troops Prepare to Depart From Afghanistan: Violence surged in war-torn Afghanistan in the first quarter of the year as U.S. forces prepared to leave the country after two decades. Attacks by the Taliban and other militant groups surged 37% in the first quarter from a year earlier, according to a report that cited both U.S. forces and the United Nations. As many as 643 people were killed and 1,395 injured, the U.S. forces reported, while the UN recorded 572 deaths, according to a report by Special Inspector General for Afghanistan Reconstruction, or SIGAR, a Pentagon watchdog. Read more from Eltaf Najafizada.
U.S. Cuts Visa Services in Moscow as Russia Squeezes Embassy: The U.S. Embassy in Moscow said it would slash visa and consular services following a Russian ban on hiring local staff in the latest fallout from tensions between the former Cold War rivals. The Russian hiring restriction will force a 75% cut in the consular work force, the embassy said in a website statement, and services will be restricted to a minimum starting May 12. Read more from Vladimir Kuznetsov.
To contact the reporters on this story: Zachary Sherwood in Washington at zsherwood@bgov.com; Brandon Lee in Washington at blee@bgov.com
To contact the editors responsible for this story: Giuseppe Macri at gmacri@bgov.com; Michaela Ross at mross@bgov.com