What to Know in Washington: GOP Probes Biden Tapping Oil Reserve
House Republicans are launching an investigation into what they say could be the "potential misuse" by the Biden administration of the nation's emergency oil reserves to lower gasoline prices, as well as White House deliberations over a fuel-export ban.
The move by the Republicans on the House Committee on Oversight and Reform previews a more robust probe if the GOP takes control of the chamber after the November midterm elections, a development that would grant them the power to subpoena key administration officials of President Joe Biden.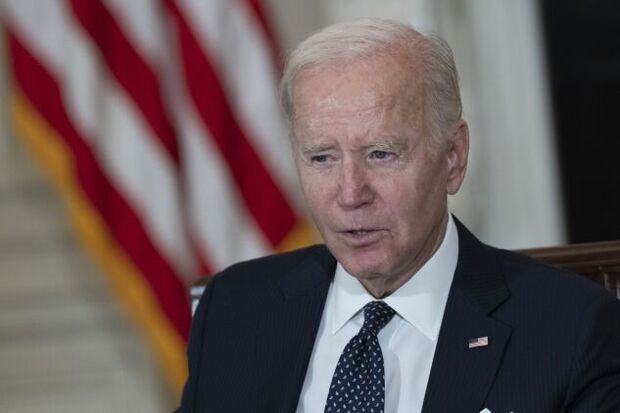 Committee Republicans, in a letter Wednesday, said they were examining the use of the Strategic Petroleum Reserve by the administration amid a historic 180 million barrel release that began in the Spring. The Republicans also said in the letter to Energy Secretary Jennifer Granholm that it was seeking information about a possible export ban of refined petroleum products.
"We are concerned that the president may soon impose an oil and gas export ban that will result in even higher gas prices, supply chain issues, global market upheaval, and reduced energy security for the US and our allies," said the letter which was led by Rep. James Comer (Ky.), the committee's top Republican, and Rep. Nancy Mace (R-S.C.).
The letter comes amid Republican ire over the administration's use of the SPR to tame high gasoline prices ahead of the Nov. 8 midterm elections that will decide control of Congress. The White House announced last week it was offloading 15 million barrels of oil from the reserve, the final tranche of the 180 million barrel release aimed at stemming soaring gasoline and oil prices as a result of Russia's invasion of Ukraine and surging demand as the pandemic came to an end. Biden said further releases from the oil reserve are possible in the months ahead. Ari Natter has the story.
Happening on the Hill
Sen. Robert Menendez (D-N.J.) faces another federal investigation about five years after a trial on federal corruption charges ended in a mistrial, a Menendez adviser confirmed Wednesday.
Rep. Brendan Boyle (D-Pa.) is interested in the top Democratic spot on the House Budget Committee and expects to run for the position, according to a person familiar, as Chair John Yarmuth's (D-Ky.) retirement creates an opening.
Internet service providers are facing scrutiny from the head of the House Energy and Commerce Committee for allegedly engaging in predatory behavior through a government internet subsidy program.
Sen. Elizabeth Warren (D-Mass.) is ratcheting up her campaign against the popular peer-to-peer payments system Zelle. Warren on Wednesday sent a letter to Consumer Financial Protection Bureau Director Rohit Chopra, calling for expanded regulations after she collected private data on rising fraud rates on Zelle from some of the country's largest banks. Warren, a Democrat from Massachusetts, offered to share the data with Chopra, according to the letter obtained by Bloomberg.
Election, Politics & Probes
Join BGOV's Final Pre-Election Webinar: Bloomberg Government's election gurus will provide their outlook for the 2022 midterms on a Nov. 1 webinar. They'll offer their take on the issues driving the battle for control of Congress and the key races to watch in the election's final week. Register here .
Democrat John Fetterman said that his rocky showing at Tuesday night's Pennsylvania Senate debate "wasn't exactly easy" but insisted Wednesday that he got the best of his Republican rival, Mehmet Oz, despite his stumbles.
The court-ordered review of thousands of documents seized from Donald Trump's Florida home by the FBI can be streamlined if five "global issues" are quickly resolved, a judge was told.
Lawyers for Trump have accepted service of the subpoena issued by the House committee investigating the 2021 attack on the US Capitol, a person familiar with the service said.
US Supreme Court Justice Elena Kagan temporarily blocked a subpoena issued by the Jan. 6 congressional committee for phone and text records from Kelli Ward, the chair of the Arizona Republican Party.
Police in Arizona are investigating a burglary at the Phoenix campaign office of Arizona Democratic gubernatorial candidate Katie Hobbs, according to multiple local television station reports.
Iowa's GOP governor will press a trial court on Friday to lift a 2019 order that blocked the state from enforcing its ban on abortions after about the sixth week of pregnancy.
Defenders of affirmative action are emphasizing "text and history" rather than precedent as they face longer odds to win over a majority on a 6-3 conservative-led Supreme Court.
Treasury Secretary Janet Yellen, traveling to the election battleground state of Ohio, will say that the Biden administration's policies to spur electric vehicle manufacturing have begun to create a "battery belt" across the US Midwest.
Around the Administration
PRESIDENT'S SCHEDULE
Biden at 3:30 p.m. will give a speech in Syracuse, New York on Micron's semiconductor manufacturing plans there.
US officials have been forced to scale back a plan to impose a cap on Russian oil prices, following skepticism by investors and growing risk in financial markets brought on by crude volatility and central bank efforts to tame inflation.
The Biden administration is considering ways to expand a little-used emergency fuel reserve in New England as the East Coast grapples with shortages of both gasoline and diesel, according to people familiar with the matter.
No president, let alone one as determined as Biden to create change through regulation, took as long as Biden to nominate someone to run the Office of Information and Regulatory Affairs since the position started requiring Senate confirmation in the late 1980s, according to Senate records. Yet Biden has said little publicly to bolster his nominee, Richard Revesz, since he announced his nomination on the Friday afternoon before Labor Day.
The growth of regional US banks has sparked a policy debate over whether getting bigger means getting riskier.
The Treasury Department's first-ever attempt to pinpoint where property isn't insured against climate risk suggests a potential willingness on the government's part to protect businesses and homeowners from catastrophic losses.
Amazon Chief Executive Officer Andy Jassy violated federal labor laws when he said in television interviews earlier this year that company workers would make greater gains without union representation, a National Labor Relations Board official alleged in a complaint.
US prosecutors are investigating whether Tesla made misleading claims about the capabilities of its Autopilot driver assistance system, according to a person familiar with the matter.
Biden's trade chief defended an economic agreement the US is negotiating with 13 other countries, saying it will build relationships with countries in the Indo-Pacific and address the world's current challenges by strengthening supply chains.
Biden's plans to wipe out up to $10,000 on many individual federal student loans—and in some cases up to $20,000—will be welcomed by close to 40 million Americans who are in line to benefit as soon as this month. But tens of millions will see a return of student debt burdens in the new year, creating more financial headaches and hardship at a time of growing economic uncertainty.
Chinese President Xi Jinping said his nation is willing to work with the US to find ways to cooperate, comments that come before a potential meeting with Biden at a Group of 20 summit next month.
To contact the reporters on this story: Brandon Lee in Washington at blee@bgov.com; Michaela Ross in Washington at mross@bgov.com
To contact the editor responsible for this story: Giuseppe Macri at gmacri@bgov.com