What to Know in Washington: GOP Opposition Risks China Bill
House to start work on China competition bill despite GOP opposition
Biden today to restart 'moonshot initiative' to fight cancer
Growing Republican criticism risks complicating passage of a once-bipartisan bill intended to make the U.S economy more competitive, saying it goes too easy on China even as it aims to aid the domestic semiconductor industry.
House Democrats are planning a vote this week on their version of the legislation, which would then be merged with a bipartisan $250 billion Senate version that passed last June.
While Democrats have the votes to push the legislation through the House, GOP opposition in that chamber is likely to spill over into the Senate, where Republican support is needed for passage, as the two chambers try to merge the two bills into one piece of legislation.
Both bills are meant to address a widely agreed-upon need to bolster U.S manufacturing, research and development and ease the dependence on China for semiconductors.
The House legislation includes $52 billion to support domestic chip research and production amid a global semiconductor shortage, as well as authority for $45 billion to improve the nation's supply chains to prevent shortages of critical goods. It also would set up programs to increase science, technology, engineering, and mathematics education and training. Read more from Billy House and Daniel Flatley.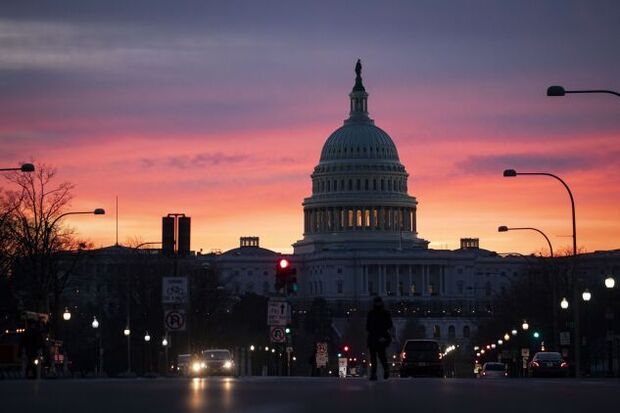 CONGRESS'S SCHEDULE:
The House meets noon to begin work on the China competition legislation.
The Senate is in at 10 a.m. to consider a slate of judicial nominations for the D.C. Court of Appeals and Superior Court.
ALSO HAPPENING ON THE HILL:
Sen. Ben Ray Lujan is in a hospital in New Mexico after surgery for a stroke but is expected to make a full recovery. Lujan (D-N.M.), 49, began experiencing dizziness and fatigue on Thursday and checked himself into Christus St. Vincent Regional Medical Center in Santa Fe. He was transferred to the University of New Mexico Hospital in Albuquerque, diagnosed with a stroke in his cerebellum, affecting his balance. An official statement on his health didn't say how long Lujan would be hospitalized.
His absence from the Capitol comes at a critical time for Democrats. They will need every vote in the coming weeks as the party tries to revive chunks of President Joe Biden's economic agenda and moves to confirm Biden's five nominees to the Federal Reserve as well as his choice to replace retiring Supreme Court Justice Stephen Breyer. Read more from Steven T. Dennis.
The Senate Commerce Committee delayed a vote scheduled for today for Gigi Sohn, a Democratic nominee to the Federal Communications Commission, because of Lujan's illness. Alvaro Bedoya, nominated to be a commissioner of the Federal Trade Commission, also won't get a vote today, according to a revised agenda released last night by the panel. The nominees were seen as requiring the votes of all the committee's Democratic members to advance, Todd Shields reports.
Procedural frustration boiled over on the Senate floor last night, where Sen. Kyrsten Sinema (D-Ariz.) confronted Schumer about the chamber's notoriously slow voting process that sometimes means hours-long votes, Bloomberg News's Steven T. Dennis reports. "Could we have some discipline in the votes, ever?" an exasperated Sinema said to Schumer, audible from the press gallery seating. "You're in charge!"
When Schumer later appeared to try and mollify her, Sinema said "Fine!" before leaving the chamber. It's not the first time senators have complained about the chamber's procedures, which include manually tallying votes rather than the House's streamlined electronic voting. And unlike the House, there are no proxy votes on the Senate floor. Senators often leave the floor during a vote series rather than staying on the floor, which tends to lengthen the process.
Lawmakers are showing renewed interest in regulating automated vehicles as traffic deaths spike and self-driving technology continues to quickly evolve. Automated vehicles could help reduce crashes on roads, but regulators need to "hold industry accountable" on safety promises and give labor a seat at the table, House Transportation and Infrastructure Chair Peter DeFazio (D-Ore.) said in opening remarks ahead of a hearing today on the technology. After legislation to regulate automated vehicles stalled several years ago on pushback from unions and trial lawyers, as well as safety concerns, lawmakers are examining its prospects and hearing from industry, labor, and safety advocates about next steps. Read more from Lillianna Byington.
The FTC needs to do more to penalize promotion of fake Covid-19 tests and other pandemic-related products, Senate leaders said in a hearing yesterday. "There is a glaring lack of enforcement at the federal level," Sen. Richard Blumenthal (D-Conn.), chair of the Senate Subcommittee on Consumer Protection, Product Safety, and Data Security, said. The FTC's warning letters against counterfeit product sellers aren't enough to discourage the fraudulent activity, he said. Read more from Celine Castronuovo.
Elections & Politics
Republicans already have the smallest voice in New York's congressional delegation. In a matter of hours, Democrats will vote on making it even harder for the GOP to be heard by revising district lines, locking in new boundaries for the next decade. The proposed congressional district map would maximize Democratic Party prospects by building in an advantage in as many of 22 of the 26 new districts. The speakership of Nancy Pelosi (D-Calif.), the Democratic Party's five-seat U.S. House majority, and the ability of Biden to get his agenda enacted are at stake in the November election, so both parties have been using their statehouse clout to try to create a national advantage. Read more from Keshia Clukey.
In November, Glenn Youngkin got elected governor of Virginia in part by pledging to "stand up for parents" in fights with educators, inspiring Republicans across the U.S. to introduce legislation that would restrict conversations on gender, sexual orientation, and race in schools. And with an eye to this fall's midterm elections, they're taking a page from a Texas abortion measure that encourages lawsuits against people who help terminate a pregnancy, with provisions that would deputize parents to make sure educators don't step out of line. Lawmakers in at least seven states have introduced such measures, often including provisions allowing parents to stop lessons, suppress books, or sue districts and administrators. Read more from Jonathan Levin and Nic Querolo.
Biden Relaunches Moonshot Effort
Biden will revive his moonshot initiative to expedite progress on cancer treatments, prevention and detection capabilities, bringing back a signature program he led in his final year as vice president.
The 2016 cancer moonshot aimed to "end cancer as we know it" as Biden would often say, by focusing on advancing scientific discovery, improving collaboration and data sharing and setting up a number of public-private partnerships. The new moonshot will focus on reducing the disease's death rate by at least 50% in the next 25 years.
"A lot has changed that makes it possible to set really ambitious goals right now," a senior administration official said at a press briefing for reporters. The mRNA technology used to develop coronavirus vaccines could also stop cancer cells from growing.
The death rate from cancer has fallen by 25% in the last two decades thanks to prevention and new treatments.
Ending cancer as we know it has remained a top priority for Biden since his last tour in the White House. After the end of the President Barack Obama's presidency, he and his wife Jill Biden set up a now-suspended Biden Cancer Initiative and held a cancer summit in 2018. Upon assuming the presidency, Biden held a bipartisan cancer summit March 3, 2021, just six weeks after taking office. Read more from Jeannie Baumann and Allie Reed.
BIDEN'S SCHEDULE:
White House Press Secretary Jen Psaki holds a press briefing at 12:30 p.m.
The Bidens and Vice President Kamala Harris host an event at the White House at 1:30 p.m. to relaunch the Cancer Moonshot initiative.
The White House Covid-19 response team and public health officials plan a briefing at 3 p.m.
MORE HEADLINES:
The fewest number of U.S. workers were laid off in December, highlighting businesses' desperation to retain talent. Just 1.2 million Americans were dismissed from their jobs, the least in data back to 2001, the Department of Labor's Job Openings and Labor Turnover Survey showed yesterday. That translated into a layoffs and discharge rate of 0.8%, also a record low. The data are consistent with a tight labor market in which firms are raising wages and offering attractive benefits in a battle to lure and retain talent. Read more from Raeedah Wahid.
With a Ph.D. in economics and experience working at the U.S. Treasury Department and the White House's Council of Economic Advisers, Lisa Cook through one lens looks like a standard nominee to the Federal Reserve Board. But Cook is not a typical nominee. One of her key pieces of research was on an unusual topic—the role of violence in holding back Black contributions to American innovation—and her career is steeped in first-hand experience in confronting financial and economic breakdowns in emerging markets.
It's the kind of insight that's marked Cook's career and attracted Democrats to her nomination to become the first Black woman on the Fed board in its 108-year history. But without an extensive research record on monetary theory, she is already facing questions from the economic establishment and some members of Congress who fear the Fed will wait too long to lean against inflation that threatens to undermine the recovery and shape calculations about who will control Congress and the White House. Read more from Craig Torres and Daniel Flatley.
The Equal Employment Opportunity Commission has been without a Senate-confirmed top lawyer since March, a vacancy that hurts the workplace civil rights agency's ability to pursue cutting-edge legal strategies in a similar fashion to past general counsels, former agency officials said. During the Obama era, for instance, the EEOC general counsel at the time, David Lopez, used litigation to test an unsettled matter of law, helping to bring about a landmark U.S. Supreme Court ruling that vindicated the agency's legal theory. Read more from Shira Stein and Paige Smith.
A Labor Department watchdog found that over $300 million in Covid-19 disaster training grants issued by the Employment and Training Administration in 2020 didn't get people back to work, and recipients of the disaster relief left millions of unspent funds on the table. The report published by the DOL's Office of Inspector General reviewed $366 million in Disaster National Dislocated Worker Grants that went to 57 recipients over a five-month period in 2020 and concluded that major delays in rolling out training programs meant that the funds failed to help unemployed workers find jobs as intended. Rebecca Rainey has more.
A watchdog supports a move to keep the Social Security Administration's acting leader in her post longer than temporary appointees are typically allowed under federal law. Biden doesn't need to nominate a permanent Social Security commissioner by a Friday deadline because the acting chief, Kilolo Kijakazi, isn't bound by the usual 210-day limit for acting officials, the GAO said. Kijakazi assumed the role July 9 when Biden fired the agency's Trump-appointed commissioner, Andrew Saul. Read more from Ian Killgren.
Vladimir Putin repeated his claim that it's the U.S. and NATO stoking security tensions over Ukraine, while suggesting further talks could help defuse them. "We realize it won't be easy," the Russian president said late yesterday, in his first detailed public comments since December — a month after he again began massing Russian troops near Ukraine.
U.S. and European officials, meanwhile, reiterated they are open to diplomacy and reviving security agreements involving missiles and troop movements on the continent. But they won't agree to stop Ukraine from joining NATO, a key Russian demand. Western officials have warned of punishing economic sanctions if Moscow invades, which the Kremlin denies it plans to do. Read the latest updates from Bloomberg News.
To contact the reporters on this story: Zachary Sherwood in Washington at zsherwood@bgov.com; Brandon Lee in Washington at blee@bgov.com
To contact the editors responsible for this story: Giuseppe Macri at gmacri@bgov.com; Loren Duggan at lduggan@bgov.com; Michaela Ross at mross@bgov.com