What to Know in Washington: GOP Offer Could Split Biden Stimulus
President Joe Bidenand Democratic congressional leaders must decide whether to break the administration's $1.9 trillion Covid-19 relief proposal into pieces after a scaled-down Republican plan emerged.
The $600 billion GOP proposal offered to the president by 10 Republican senators yesterday provides the potential to move a bipartisan bill that includes components from the Biden proposal, including funding for coronavirus vaccines and testing, and unemployment assistance.
Democrats could still aim to enact the president's other items, such as state and local government aid and a minimum-wage increase, separately — although they could lose the leverage that attachment to more direct Covid-19 aid funding would provide.
Biden will meet with the Republican senators at the White House this afternoon to discuss their alternative proposal, asking the group "for a full exchange of views," White House Press Secretary Jen Psaki said in a statement.
The president has hoped for a bipartisan stimulus deal since before taking office. At the same time, the GOP plan is far short of what Biden wants, and Democrats could pursue the rest of the Biden proposal using a partisan budget tool.
House Budget Chair John Yarmuth (D-Ky.) said yesterday he plans to move forward today with introducing a fiscal 2021 budget resolution, the first step toward producing a fast-track reconciliation bill embodying the Biden stimulus. The budget is to be voted on by the House later this week and will contain instructions to other committees to assemble the stimulus bill. Read more from Erik Wasson.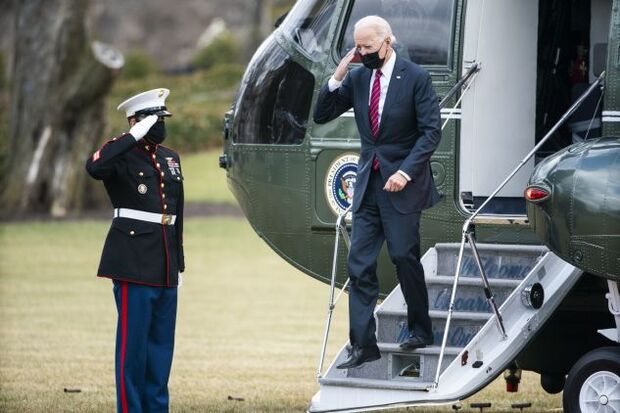 Water Utilities Seek Relief: Struggling public water utilities are launching today a public relations blitz to showcase how they've aided customers during the coronavirus pandemic—and to lobby Congress for relief of their own. The public water sector is being pounded by a global health crisis requiring clean water for handwashing and a cratering economy that makes affording reliable access difficult for many ratepayers. The vast majority of Americans—nearly 90 percent—rely on publicly-owned systems for drinking water and wastewater services. "There is a growing water affordability problem across the country," said Kristina Surfus, managing director of government affairs at theNational Association of Clean Water Agencies, which represents public wastewater and stormwater agencies. Read more from Kellie Lunney.
Checks Amount is Dividing the White House: Even within the White House, there's debate about how to meet his promise to issue Americans another $1,400 each in stimulus checks. At least two of the president's top economic advisers, Heather Boushey and David Kamin, have privately expressed reservations about the size of the checks and at what level they would begin to phase out for higher-income people, according to three people familiar with internal discussions. The aides worry that the checks will cost so much that there won't be enough left over in Biden's proposed pandemic relief bill for other priorities — supplemental unemployment benefits, an expanded child tax credit, or aid to states and local governments, the people said. Read more from Nancy Cook.
Risk of Money for People Who Won't Spend: Biden has said he's open to discussing more-targeted payments after some key Republicans and Democrats raised concerns that funds may go to people who don't need them. Households in greater need are much more likely to spend the money immediately, giving the economy a quicker boost than if the payments were used to boost savings or pay down debt. Read more from Katia Dmitrieva.
Also on Biden's Agenda
Biden to Focus on Trade Enforcement After Years of Trump Tariffs: Biden's administration is setting up its trade policy to prioritize enforcement of existing commitments by the U.S.'s partners over negotiating more deals to open new export markets. Biden's likely strategy for supporting American producers focuses on going after violations via dialogue, work with allies and use of dispute-resolution mechanisms in existing trade agreements rather than following the Trump administration's more blunt unilateral tool of national-security tariffs, according to industry veterans familiar with his incoming team. Read more from Eric Martin.
Biden Withdraws $27.4 Billion in Spending Cuts Proposed by Trump: Biden yesterday withdrew all the spending cuts proposed by former President Donald Trump during his final days in office. Biden said in a letter to Congress that he was reversing all 73 spending cuts that Trump had requested, which touched virtually every cabinet-level agency as well as federal programs such as the National Endowments of the Arts and Humanities. Read more from Jennifer Epstein.
Biden Aides Say Market Oversight of GameStop Frenzy Is Working: Biden's top economic advisers expressed confidence in U.S. market regulators, with one saying they should be concerned less with speculation and volatility than with ensuring that the "underlying plumbing" is sound. That's the job of the Securities and Exchange Commission "and if you read their statements, you'll find that they're very much on that case," Jared Bernstein, a member of Biden's Council of Economic Advisers, said on "Fox News Sunday." Read more from Tony Czuczka and Gregory Calderone.
Myanmar's Army Chief Challenges Biden: By seizing power today, Myanmar's generals are providing Biden with an early test of his efforts to counter the appeal of China's authoritarian model in Asia. Army chief Min Aung Hlaing, who was bumping up against a mandatory retirement age this year, already faces sanctions from the U.S. and U.K. due to a brutal crackdown against Rohingya Muslims that has led to accusations of genocide. Read more from Khine Lin Kyaw and Philip J. Heijmans.
Trump Continues to Cast Shadow
Legal Team Gets Shake-Up: Trump announced that two trial lawyers will take over representing him at his upcoming impeachment trial after parting ways with his previous defense team. Attorneys David Schoen and Bruce L. Castor Jr. will head his impeachment defense, the former president announced last night. His previous attorneys, including Butch Bowers of South Carolina, departed this weekend, leaving the president without representation just over a week before his trial is to start. Read more from Mark Niquette and Jennifer Jacobs.
Officer Killed in Mob Assault to Lie in Honor: The Capitol Police officer who was killed in the Jan. 6 mob attack on the U.S. Capitol will lie in honor in the Rotunda, according to a statement from Senate Majority Leader Chuck Schumer (D-N.Y.) and House Speaker Nancy Pelosi (D-Calif.). Brian Sicknick, who died Jan. 7 from injuries he sustained during the assault, will lie in honor Feb. 2 to 3, Catherine Dodge reports.
Related:
Greene Boasts Trump's Backing: Rep. Marjorie Taylor Greene (R-Ga.) said she has Trump's support as she faces criticism for past social media posts advocating violence against Democrats and falsely claiming school shootings are hoaxes. "I'm so grateful for his support," she tweeted. The posts hint at the sway Trump still has over the GOP. Ros Krasny has more.
Trump Critic Kinzinger Starts PAC to 'Renew' Republican Party: Rep. Adam Kinzinger (R-Ill.), one of the most vocal GOP critics of Trump, has launched a political action committee to challenge the former president's influence on the Republican Party. Kinzinger said on NBC's "Meet the Press" that the goal of the newly launched Country First PAC is to "defend conservative principles," even as members of the party continue to back Trump's brand of politics. Read more from Naomi Nix.
Trump's Post-Election Fundraising Faltered: Trump's torrid post-election fundraising cooled off in the final weeks of the year as his false claims of widespread election fraud suffered setbacks in courts around the country. Trump and the Republican National Committee raised $81 million over the last 38 days of 2020, far less than the $207.5 million received in the 19 days following the Nov. 3 election, according to reports they filed yesterday with the Federal Election Commission. Read more from Bill Allison.
Ex-Trump Law Firm Ordered to Release Records: A law firm that recently cut its ties with Trump's real estate company was ordered to hand over records of communications to New York investigators looking into whether the former president's business manipulated the value of assets for loans and tax breaks. Read more from Erik Larson.
Biden Faces Pandemic Problems
Biden Adviser Warns of Variants, Lockdowns: A top health adviser to Biden warned yesterday that a new variant of the coronavirus circulating in the U.K. will likely become the dominant strain in the U.S. and may lead to future restrictions on in-person gatherings. Michael Osterholm, director of the Center for Infectious Disease Research and Policy at the University of Minnesota, said on NBC's "Meet the Press" that the nation's health care system must prepare for a surge in serious cases such as the one experienced recently in England. "What we have to do now is also anticipate this and understand that we're going to have to change quickly," said Osterholm, who's a member of Biden's Covid-19 advisory board. "As fast as we're opening restaurants, we're likely to be closing them in the near term." Read more from Naomi Nix.
TSA Requires Masks While on Transport: The Department of Homeland Security issued a National Emergency Determination enabling the Transportation Security Administration to implement Biden's executive order on promoting Covid-19 safety in domestic and international travel, Meghan Genovese reports. TSA will require individuals to wear a mask at TSA screening checkpoints and throughout the commercial and public transportation system. The Centers for Disease Control and Prevention also issued a mask-wearing requirement that goes into effect tomorrow for all travelers into, within, or out of the United States, including on airplanes, ships, ferries, trains, subways, buses, taxis, and ride-shares, Chiara Vasarri reports.
Tech Glitches, Swamped Websites Impede Rollout: Across the U.S., a vaccination campaign that was meant to reverse the tide of the pandemic and spur the country's economic recovery is getting bogged down by technical glitches and software woes. Cash-strapped public health departments are trying to keep their websites from crashing while booking millions of vaccine appointments, tracking unpredictable inventory, and logging how many shots they give. Read more from Angelica LaVito and John Tozzi.
Clinical Trial Sites Competing for Patients: Competition over patients and staffers for Covid-19 clinical trials is slowing down large-scale research to figure out the best treatment options for the disease. A surplus of smaller trials in the U.S. are gobbling up the resources needed for studies that have a better chance of yielding meaningful results, according to health officials and some researchers. Read more from Jeannie Baumann.
Surge Appears to Flame Out: A bit of good news for Biden: Even in the most devastated U.S. counties, the latest Covid-19 surge is receding, buying authorities new time as they attempt to vaccinate about 330 million people. Recent hot spots including Webb County, Texas; Maricopa County, Arizona; and Greenville and Spartanburg counties in South Carolina have seen cases trend downward in the last week, according to USAFacts, a nonprofit aggregator used by the CDC. Jonathan Levin has more.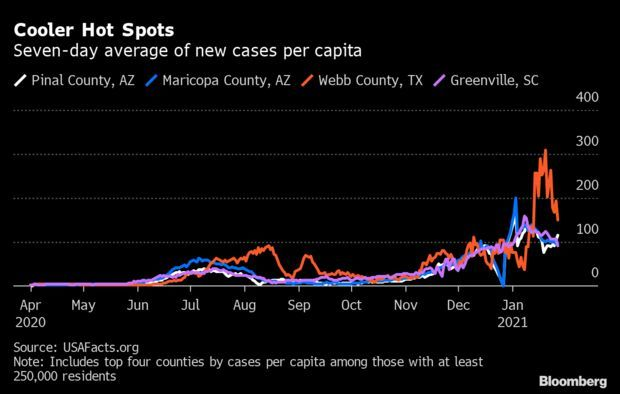 To contact the reporters on this story: Zachary Sherwood in Washington at zsherwood@bgov.com; Brandon Lee in Washington at blee@bgov.com
To contact the editors responsible for this story: Giuseppe Macri at gmacri@bgov.com; Loren Duggan at lduggan@bgov.com; Michaela Ross at mross@bgov.com