What to Know in Washington: GOP Moderates Battle to Hold Center
President Joe Biden will deliver remarks today on two challenges facing the country—supply chain problems at the height of the biggest shopping season of the year, and the rise of a new Covid-19 variant weeks before families plan to travel for the holidays. On Capitol Hill, centrist Republicans are sounding the alarm on extremism in their party. And at the Supreme Court, justices are just days away from taking up a case that could overturn Roe v. Wade.
Here's what Bloomberg Government is tracking today:
Biden's Schedule:
Biden will receive a briefing at 10 a.m. from members of the White House Covid-19 response team on the Omicron variant. He will deliver remarks on the variant from the White House at 11:45 a.m.
The president plans to meet with the CEOs of several companies at 2 p.m. to discuss the supply chain. He'll speak on the topic at 3:45 p.m.
Congressional Agenda:
The Senate returns today to continue work on the annual, must-pass defense policy measure.
The House returns tomorrow.
Click here for a complete list of the week's hearings and markups.
GOP Moderates Struggle to Hold Center as Fringe Grows
Internal blowback and external death threats over supporting the bipartisan infrastructure bill has the most moderate House Republicans sounding the alarm over their future in the conference, as well as the ability to ever work across the aisle.
Tensions between the party's wings were on full display throughout the last year, including an impeachment vote against former President Donald Trump, a vote to remove Rep. Marjorie Taylor Greene (R-Ga.) from her committee assignments, and a vote to launch a Jan. 6 commission. It hit a boiling point this month when 13 Republicans helped Democrats clear the president's major investment in the country's roads and bridges.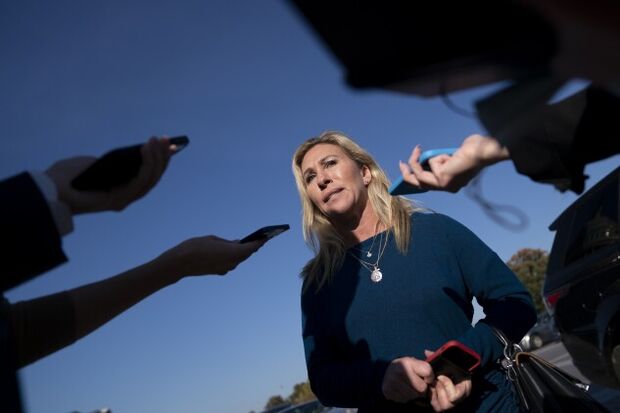 It's part of the increased pressure in both parties to cater to extremes. For Rep. Brian Fitzpatrick (Pa.), the Republican co-chair of the bipartisan Problem Solvers Caucus, the increasing demand for ideological purity could be "the destruction of our nation," and the situation couldn't be more dire. "The biggest threat to that democracy is when Americans turn on Americans," Fitzpatrick said. "And if we are exhibiting that same behavior here inside the people's house, that's very problematic."
Rep. Tom Reed (R-N.Y.), who previously co-chaired the caucus, said that during his decade on the Hill, it has become harder to be willing to work with the Democrats in part due to pressure from lawmakers in his party. "You get chastised more," he said. "The members themselves develop a dislike for what you're doing, and I've seen that on both sides of the aisle."
In past elections, both parties have added lawmakers closer to the ideological edges. Meanwhile, two Republicans who voted to impeach Trump—Reps. Anthony Gonzalez (R-Ohio) and Adam Kinzinger (R-Ill.)—have announced they won't run for re-election next year, as have centrist Democrats like Reps. Cheri Bustos (D-Ill.) and Ron Kind (D-Wis.).
There is "no question it's getting harder" to work across the aisle, Ryan Clancy, the chief strategist at No Labels, a bipartisan political organization, said. "If you're anybody, on either side, who has deviated from the one true path as prescribed by the base, then you got to go," he said. Read more from Emily Wilkins.
Democrats Push for Post-Pandemic Insurance Coverage
A rewrite of Medicaid rules included in House Democrats' spending and tax package would make safety-net programs in red states look closer to their blue-state counterparts. This $270 billion expansion of public health insurance programs for poorer and disabled Americans—which accounts for more than 80% of the health care-related spending in Democrats' package—carries measures to stop states from tightening restrictions on their Medicaid programs when the White House declares an end to the health emergency.
Those changes would forestall a sudden drop in coverage for millions of Americans when the federal government's contributions to state Medicaid programs return to pre-pandemic levels. They're aimed at people who see increases to their income that might disqualify them from Medicaid in several states but aren't enough to afford many private plans. "These are all incredible changes to our health care system that will save lives," Rep. Frank Pallone Jr. (D-N.J.), chair of the House Energy and Commerce Committee, told reporters recently. Alex Ruoff has more.
One little-noticed provision of the House-passed Build Back Better Act that would lower the share of health-care premiums employees have to pay could jeopardize company-sponsored plans, pushing millions of workers into Medicaid or Obamacare coverage, employer groups and the Congressional Budget Office warn. The roughly $2 trillion bill would lower the share of premiums employees have to pay for coverage deemed affordable under the Affordable Care Act to 8.5% of household income for 2022-25. Read more from Sara Hansard.
Drug, Insulin Price Caps Head for Showdown: Senate Democrats expect to defend key portions of their drug-pricing agenda against a technical challenge by Republicans as soon as this week, potentially curtailing key parts of the social spending package. Democrats expect to go before the Senate's parliamentarian—a nonpartisan official who oversees that chamber's rules—early next month to get guidance on whether many of the health policy items qualify under the budget reconciliation process, two senior Democratic aides told Bloomberg Government.
Two aides and one health industry lobbyist familiar with the discussions say three major drug-pricing proposals are most in peril of failing to qualify—caps on drug-price increases, new transparency requirements for pharmaceutical industry middlemen, and a $35 per-month cap on insulin. These items are expected to face challenges because they would make changes to private insurance plans, according to sources familiar with the discussions. Ruoff has more.
Abortion's Future Belongs to Court Reshaped by Trump
U.S. Supreme Court Justices Brett Kavanaugh and Amy Coney Barrett ducked questions on Roe v. Wade during their Senate confirmation hearings. Now, with the court set to reconsider the landmark ruling, abortion-rights supporters are bracing to finally hear the answers. And they have reason to worry.
Kavanaugh and Barrett will be key votes as the Supreme Court Wednesday takes up Mississippi's abortion ban after 15 weeks of pregnancy. The restrictions are far more stringent than any the court has previously upheld, and are all but impossible to square with Roe, which legalized abortion nationwide in 1973. A ruling upholding the law would give states new license to slash abortion access. A dozen states already have laws that would largely bar abortion—and automatically take effect—if Roe is overturned.
The fact that the court took the Mississippi case, rather than one involving a narrower restriction, means at least four of the nine justices want to reconsider the core holdings of Roe and the 1992 Planned Parenthood v. Casey decision. Casey protects abortion rights until the fetus becomes viable, sometime after the 20th week of pregnancy.
Kavanaugh and Barrett were both nominated by President Donald Trump to replace justices who had backed abortion rights. Kavanaugh succeeded the former swing vote Anthony Kennedy in 2018, while Barrett took the seat of the late liberal icon Ruth Bader Ginsburg just before the 2020 election. Their arrival gave the high court a 6-3 conservative majority and three members selected by Trump, who had vowed to appoint only anti-abortion justices. That put the conservative legal movement in striking distance of its long-held dream of overturning Roe. Read more from Greg Stohr.
Related: Here's Where the Supreme Court Justices Stand on Abortion Rights
Around the Administration
Biden to Provide Omicron Updates Today: Biden will provide an update about the new omicron variant and the U.S. response today after meeting with his Covid-19 response team yesterday. The existing Covid-19 vaccines are likely to provide a degree of protection against severe cases of Covid-19 by the omicron strain, Chief Medical Adviser Anthony Fauci told Biden, according to the meeting's readout. It will take two more weeks to have definitive information on the variant's transmissibility, severity, and other characteristics, Fauci told Biden, Max Zimmerman reports.
Fauci said the novel variant may well already have arrived in the U.S. "I would not be surprised if it is," Biden's medical adviser told NBC Saturday. "We have not detected yet," but when a virus shows "this degree of transmissibility" it "almost invariably ultimately is going to go essentially all over," Fauci said. While it's "conceivable" the latest variant may diminish vaccine protection against Covid-19, existing vaccination might be able to contain it, he said. Read more from Tony Czuczka.
Francis Collins, director of the National Institutes of Health, said there's no reason to panic due to the strain just yet, but its spread reinforces the importance of getting a booster. Collins said vaccines have worked against mutations before, and may do so again this time, he said on Fox News. "Given that history, we expect that most likely the current vaccines will be sufficient to provide protection," he said. Read more from Augusta Saraiva.
Former advisers to Biden said travel restrictions will do little to stop the spread of new Covid-19 variants, and the U.S. and other nations would be better off increasing vaccine deliveries to Africa. Andy Slavitt, who served as a Covid-19 adviser to Biden for several months this year, is among those critics and said energy should instead be focused on inoculations in Africa. Read more from Josh Wingrove.
Vaccine Mandate Yields 92% of Federal Workers With a Shot: About 92% of federal government employees have had at least one Covid-19 shot, according to data released by the administration following Biden's vaccine mandate for the workforce. Read more from Josh Wingrove.
Biden Claims U.S. Gas Prices Will Fall Soon: Americans will see prices at the pump fall "before long," Biden said Saturday after tapping America's strategic oil reserves to ease price pressures and risk a battle with OPEC. In a tweet while the president was in Nantucket, Biden said the U.S. effort to ease gasoline prices spans the globe but will soon reach stations across the U.S. "It will take time, but before long you should see the price of gas drop where you fill up your tank," he said. Josh Wingrove has more.
A top Senate Republican urged Biden to support a bipartisan bill allowing U.S. antitrust laws to be enforced against OPEC. The legislation "would provide the Department of Justice with an effective tool to ensure U.S. consumers are no longer beholden to artificially inflated gas prices," Sen.

Chuck Grassley

(R-Iowa) wrote in a letter to Biden last week, Daniela Sirtori-Cortina reports.
MORE HEADLINES:
Biden has discussed inflation with the Federal Reserve and is confident that Chair Jerome Powell, as well as the president's upcoming nominations to the U.S. central bank, are focused on concerns over rising prices. Josh Wingrove has more.
The U.S. and Iran will take part in a seventh round of indirect talks in Vienna today, their latest push to revive the 2015 agreement that imposed limits on Tehran's nuclear program in exchange for reduced sanctions. Read more from David Wainer and Golnar Motevalli.
The Biden administration last week fiercely defended the nomination of Saule Omarova as a top banking regulator after it was reported that five Democratic senators told the White House that they wouldn't support her. John Harney and Josh Wingrove have more. If the five Senate Democrats follow through on their warning in an evenly split chamber, Omarova's nomination would be scuttled. The Democrats are Sens.

Jon Tester

(Mont.),

Mark Warner

(Va.),

Kyrsten Sinema

(Ariz.),

John Hickenlooper

(Colo.), and

Mark Kelly

(Ariz.), Axios reported.
To contact the reporter on this story: Brandon Lee in Washington at blee@bgov.com
To contact the editors responsible for this story: Zachary Sherwood at zsherwood@bgov.com; Giuseppe Macri at gmacri@bgov.com; Michaela Ross at mross@bgov.com