What to Know in Washington: GOP Looks to Pivot From Rocky Start
Bloomberg Government subscribers get the stories like this first. Act now and gain unlimited access to everything you need to know. Learn more.
House Republicans are facing the reality that advancing their legislative agenda with a slim and fractious majority is presenting more challenges than expected as they huddle at their annual policy retreat in Orlando this week.
In the coming months, the GOP must address the challenges of raising the debt limit, producing a budget as well as dealing with threat of China and conflict in Ukraine. There have also been unforeseen problems such as the recent collapse of several banks.
Whether party leaders can unite members and advance legislation could well determine if the party will be in a strong position to bargain with the Senate Democrats and President Joe Biden and give themselves a boost heading into the 2024 elections.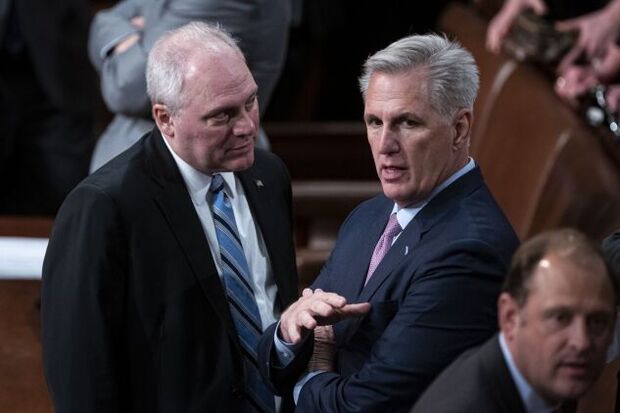 Speaker Kevin McCarthy (R-Calif.) sought to paint Republicans' first three months in charge as a success as he kicked off the three-day session on Sunday evening.
"As the majority, we've already accomplished quite a bit that we promised the American public," he told reporters.
But he also emphasized the need to work in a bipartisan way, a nod to the small margins he is working with and the likely the need to attract Democrats to pass significant legislation.
During the conference, members will hear from leadership and committee chairs, who will present various policy ideas. The conference will also provide one of the first opportunities for lawmakers to be together since the collapse of Silicon Valley Bank, Silvergate and Signature Banks. Emily Wilkins has more.
Congress Eyes Bank Oversight as Turmoil Continues
A key congressional committee has scheduled its first hearing with federal regulators on the failures of Silicon Valley Bank and Signature Bank, the panel's leaders said Friday night. Read more
Meanwhile, a group of US lawmakers from California are asking for a federal probe into what role Goldman Sachs Group might have played in the collapse of Silicon Valley Bank. Read more
Sen. Bernie Sanders (I-Vt.) said he plans to introduce a measure that would prevent big-bank executives from serving on the boards of the regional Federal Reserve banks that oversee them. Read more
Sen. Elizabeth Warren (D-Mass.) is calling for more US deposits to be covered by federal insurance and demanding government probes into whether lax regulation fueled this month's collapse of the banks. Read more
Just weeks ago, they were bit players in the giant US banking system. Now, a handful of regional lenders are at the heart of a crisis that's shaken the country.
President Joe Biden expressed confidence Friday that the turmoil roiling the US banking system is easing after a week that saw markets shaken by bank failures. Read more
Still, at the last tally in the rapidly evolving situation, one of the two collapsed lenders remained for sale while the fate of a third bank looked increasingly bleak. Billionaire investor Warren Buffett was in touch with the Biden administration about potentially providing aid, while smaller banks and lawmakers demanded that the government offer more protection for customer deposits. Read more
Complicating the issue is a two-day Fed meeting starting Tuesday during which Chair Jerome Powell and his colleagues will discuss the strength of US banks and the potential for a recession looming over head. Read more
Also on Lawmakers' Radar
CONGRESS' SCHEDULE
The House returns Wednesday.
The Senate meets again tomorrow.
Members of Congress and their staffers rebounded from pandemic travel anxiety in 2022, accepting more than $6.6 million worth of airline tickets, hotel rooms and meals paid for by special interest groups.
A bipartisan Senate bill introduced by Sens. Jeanne Shaheen (D-N.H.) and Rick Scott (R-Fla.) would require the Treasury Department to annually report to Congress US financial exposure to China, according to a statement.
As the nonpartisan Joint Committee on Taxation prepares its explanation of enacted tax legislation, practitioners are highly anticipating the so-called blue book as the first major piece of legislative history for last year's retirement package and the tax-and-climate law.
Two of Washington's most at-odds politicians had an uncharacteristically friendly exchange at a luncheon Friday celebrating their shared Irish heritage.
Elections, Politics & Probes
Donald Trump's claim of an imminent arrest this week jolted the 2024 Republican primary field, with party leaders rallying to his side while forcing his potential challengers to choose between publicly supporting the former president or backing the moves of a Democratic prosecutor.
Separately, Trump has vowed to fight a court order that reportedly directs one of his lead defense attorneys to testify again before a federal grand jury in an investigation into classified documents found at Mar-a-Lago. Read more
Also, Trump and a New York woman who accused him of rape agreed her separate claims of defamation and battery should be combined in a single trial next month. Read more
Trump's back on Facebook, but the technology giant's data changes are hobbling his ability to wring cash from its users as effectively as he did during his astonishing rise to the White House. Read more
Nikki Haley and Sen. Tim Scott (R-S.C.) made competing pitches to a conservative Christian group in their home state of South Carolina, pitting a declared 2024 Republican presidential candidate against a potential primary rival.
Even before he announces a run for a second term, President Joe Biden faces one of the most consequential decisions of his nascent campaign: Which city will host the 2024 Democratic National Convention.
Two high-profile lawsuits against Fox News over its coverage of the 2020 presidential election aftermath are spurring questions about how much responsibility Fox's board of directors would bear for a court loss.
Some complain the criticism against the Supreme Court's justices is sour grapes after a series of lightning-rod decisions from a bench packed with conservatives. But the pipeline to the high court remains loaded with hot-button cases, the kind likely to stir greater scrutiny on the decision-makers. And reports say the justices are again considering an ethics code.
Around the Administration
BIDEN'S AGENDA
Biden hosts a reception celebrating Nowruz, the Persian new year, at the White House at 1 p.m.
At 3:15 p.m., the president hosts actor Jason Sudeikis and the cast of the show Ted Lasso to discuss the importance of mental health.
White House Press Secretary Karine Jean-Pierre at 2 p.m. hosts a briefing with reporters.
A group representing Uber, Lyft and other app-based services is raising concern about Biden's nominee to lead the Labor Department over her stance on worker-classification rules.
More than 6.7 million children are at risk of losing insurance coverage once pandemic-era restrictions on Medicaid income eligibility checks are lifted on April 1, according to a report by the Georgetown Center for Children and Families.
The Justice Department is investigating whether the Chinese owner of TikTok has been conducting improper surveillance on American citizens and journalists in particular, as the company deals with significant opposition in its efforts to continue operating the popular video-sharing app in the US.
A new child labor enforcement initiative from the Biden administration is putting pressure on employers to reconsider their contract relationships, with the US Department of Labor vowing to go after all companies benefiting from child exploitation.
Several state legislatures are considering bills that would relax child labor restrictions, drawing heated criticism from worker advocates and a federal official who say it's irresponsible to soften protections amid egregious reports of violations. Read more
A new lawsuit over a New Deal era law that requires government contractors to give preference to firms hiring workers with disabilities is the fourth claim of its kind in the last three years. It also highlights the deeper challenge of how the executive branch drags procurement into the 21st century while maintaining a longstanding tradition of using contracts to aid marginalized groups.
To contact the reporter on this story: Michaela Ross in Washington at mross@bgov.com
Stay informed with more news like this – from the largest team of reporters on Capitol Hill – subscribe to Bloomberg Government today. Learn more.