What to Know in Washington: GOP Has Entitlements Identity Crisis
Republican lawmakers spent much of the last four years rebranding as a working-class party, following then-President Donald Trump's lead on things like immigration and tariffs and setting aside their push to cut spending on Social Security, Medicare and Medicaid.
But Trump's campaign pledge to "save" safety-net programs has left conservatives with an identity crisis. With their party now in the minority, key GOP leaders want to bring back the push for entitlement changes that was a top priority under former House Speaker Paul Ryan (R-Wis.), while a younger generation of lawmakers is keen to follow through on Trump's lead and all but ignore budget deficits.
"He made it impossible for Republicans to discuss policies that involved slowing the growth of entitlement spending," said Douglas Holtz-Eakin, president of the GOP-aligned American Action Forum, and a former Congressional Budget Office director and adviser on John McCain's 2008 presidential campaign. "That was just not OK. And that had been one of their core principles of restoring budgetary sustainability."
The path Republicans take could be pivotal on the campaign trail, where many conservatives hope to recast the party as friendlier to the working class. It may also alter the country's long-term fiscal trajectory, as Social Security and health care spending are projected to rise as revenues are expected to stay flat, according to the Congressional Budget Office. Social Security and major health care program spending totaled 53.2% of federal outlays in fiscal 2019, a figure that's projected to increase to 77.9% by 2051, according to the CBO. Far sooner than that, Republicans will have to navigate negotiations over automatic cuts to Medicare set to take place in 2022. Read more from Jack Fitzpatrick.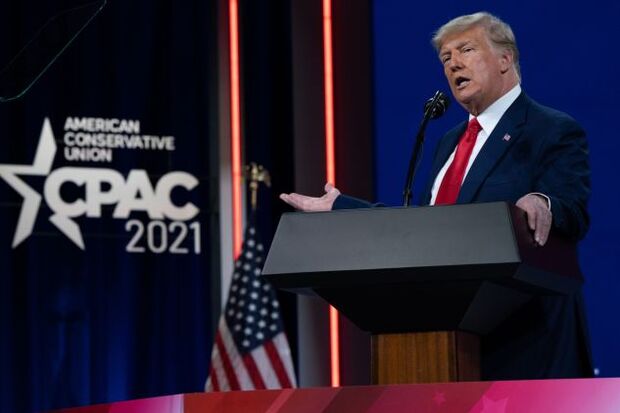 Today's Agenda
President Joe Biden, House Speaker Nancy Pelosi (D-Calif.), Senate Majority Leader Chuck Schumer (D-N.Y.) and other congressional leadership will attend a tribute for U.S. Capitol Police Officer William "Billy" F. Evans at 11 a.m. in the Capitol Rotunda. Evans was slain during an attack on the Capitol perimeter on April 2. Capitol Police and members of Congress can pay their respects from noon to 6 p.m. A departure ceremony will be held at 6:30 p.m.
Biden and Vice President Kamala Harris are scheduled to meet with members of the Congressional Black Caucus at the White House at 2 p.m.
Today's Hearings:Click here for a complete list of today's hearings and markups.
Senate Floor: The Senate plans to vote on confirmation of Polly Trottenberg to be deputy secretary of transportation.
House Floor: The House plans to vote on a measure to postpone scheduled cuts to Medicare for nine months.
Politics & Influence
Cornyn Angles for Senate Eventual Republican Top Job: Sen. John Cornyn just won another six-year term, retains some the $30 million he raised during the campaign, and hasn't ran afoul of Trump. Now, the senior GOP senator from the Lone Star state with a mane of white hair that makes him look every bit a statesman is positioning himself to assume his party's top job in the chamber should Republican Leader Mitch McConnell (R-Ky.) decide to step down. McConnell has downplayed retirement rumors and others, including current Minority Whip John Thune (R-S.D.), might be interested in succeeding him. But experts said Cornyn is well placed to claim the post and would be strongly backed by Texas political and business interests. Read more from Nancy Ognanovich.
GOP Undercuts Vote-Security Push by Going Light on the Security: Republican lawmakers in 47 states have proposed measures to tighten voting laws in the name of electoral integrity, but some of them omit steps that security experts say would do the most to protect elections from equipment malfunctions, fraud, hacking or terrorism. While state lawmakers are largely focused on limiting vote-by-mail, people who study and run elections say they should be considering steps such as automatically registering voters, expanding early voting, using ID numbers to verify mail-in ballots, distributing more ballot drop boxes and processing mail-in ballots before Election Day. Read more from Ryan Teague Beckwith.
Republican Jumps In to Challenge Warnock: Republican Kelvin King announced he would challenge incumbent Sen. Raphael Warnock (D-Ga.) for a Senate seat in Georgia in 2022, becoming the first Republican to enter the race. King was an outspoken Black supporter of Trump in Georgia. He owns a construction company in Marietta, Ga., with his wife Janelle, and they run the political group Speak Georgia. Janelle King is a former deputy state director of the Georgia Republican Party. Read more from Emma Kinery.
Haley Cedes to Potential Trump 2024 Run: Nikki Haley, the former South Carolina governor and United Nations ambassador, said that she won't run for president as expected if Trump makes another White House bid, and would support him if he does. "I would not run if President Trump ran, and I would talk to him about it," Haley told reporters at South Carolina State University. "That's something that we'll have a conversation about, at some point, if that decision is something that has to be made." Read more from Mark Niquette.
Clyde Says Will Sue on House Security Rules: After being hit with $15,000 in fines for sidestepping House metal detectors outside the House chamber, Rep. Andrew Clyde (R-Ga.) will take the matter to federal court, arguing the fines are unconstitutional, he said. Yesterday's announcement came the same day the House Ethics Committee upheld two fines against Clyde: a $5,000 fee for his first time failing to comply with the security measures, and $10,000 for his second time. Clyde is one of two lawmakers to be fined since the metal detectors were put in place after the Jan. 6 attacks – Rep. Louie Gohmert (R-Texas) was previously fined $5,000 by the Ethics Committee, Emily Wilkins reports.
Trump Says N.Y. Tax Law Doesn't Apply: Trump said a New York law enabling Congress to ask for his state tax returns no longer applies because he isn't president. The law, known as the Trust Act, allows the state to share the president's tax information with a congressional committee that asks for it.Trump sued the House and Ways and Means Committee to block it from requesting information. Read more from Joe Schneider.
Around the Administration
Spy Chiefs to Warn of Threats: U.S. intelligence chiefs tomorrow will testify together publicly for the first time in more than two years as the Biden administration confronts early tests of its approach to evolving threats, from Russia's SolarWinds attack and Chinese espionage to the nuclear ambitions of North Korea and Iran. Biden's intelligence team — including Director of National Intelligence Avril Haines and CIA Director William Burns — is under increasing pressure to respond to a widening series of national security threats while defending the administration's continuing reviews and policy approaches even as it nears the 100-day mark in office. Read more from Chris Strohm.
Biden Names First Female Army Secretary: Biden plans to nominate Christine Wormuth as secretary of the Army, the White House announced yesterday, a move which would make her the first woman to oversee the largest and oldest of the U.S. military services. Wormuth, who led Biden's transition team for the Pentagon, is currently director of the International Security and Defense Policy Center at the Rand Corp., a federally funded think tank that does extensive work for the Defense Department. Read more from Roxana Tiron.
Companies Urge Speed on Climate: Microsoft, Walmart, Apple, and hundreds of other companies are asking Biden to update the U.S. pledge under the Paris climate accord to cut U.S. greenhouse gas emissions by at least 50%, arguing that the future of the economy is at stake if climate change isn't adequately addressed. The letter to Biden was signed by 310 companies and comes as the administration prepares a new target to show the rest of the world that the U.S. is serious about confronting climate change after four years of inaction by Trump. People familiar with the deliberations said last week that the White House was considering a target of 50% or higher reductions by 2030 relative to 2005 levels. Read more from Ari Natter.
SEC Faces Uphill Battle to Form ESG Body: The Securities and Exchange Commission is poised for a fight with Republicans and business interests as it looks to develop uniform rules for how public companies report environmental, social, and governance matters to investors. Battle lines are being drawn as the SEC gathers feedback on whether to designate a new or existing organization to set standards for ESG disclosures or establish new reporting rules without one. Acting SEC Chair Allison Lee suggested last month that a standards body could be structured like the Financial Accounting Standards Board. Read more from Andrew Ramonas, Amanda Iacone, and Nicola M. White.
Rhetoric Builds Over Ukraine Tensions With Blinken in Europe: Ukraine and Russia ratcheted up their rhetoric as Secretary of State Antony Blinken arrived in Brussels to discuss the escalating tensions with his European partners. Meeting with NATO chief Jens Stoltenberg, Ukrainian Foreign Minister Dmytro Kuleba said Russia, which has amassed troops near the two countries' border, is threatening to destroy his country. Kremlin spokesman Dmitry Peskov said Russia poses no threat and urged Ukraine's Western allies to stop it carrying out "provocative actions." Read more from John Ainger, Daryna Krasnolutska and Andrey Biryukov.
Meanwhile, Defense Secretary Lloyd Austin announced that 500 additional troops will be stationed in Germany from the fall, marking a reversal of Trump's planned draw down. Biden, said in February he was freezing Trump's plan to withdraw about 9,500 soldiers from Germany — a move that had stunned European and North Atlantic Treaty Organization allies and generated bipartisan protest in Congress, Iain Rogers and Agatha Cantrill report.
Yellen Plans to Spare Beijing From Manipulator Label: Treasury Secretary Janet Yellen will decline to name China as a currency manipulator in her first foreign-exchange report, people familiar with the matter said, a move that allows the U.S. to sidestep a fresh clash with China. The report, which isn't finalized yet, is due on Thursday, although it is unclear when Treasury will release it. During the Trump era, the Treasury Department was accused of politicizing the report after it abruptly designated Beijing a manipulator in mid-2019 outside its usual release schedule. Read more from Saleha Mohsin.
With assistance from Emily Wilkins
To contact the reporters on this story: Zachary Sherwood in Washington at zsherwood@bgov.com; Brandon Lee in Washington at blee@bgov.com
To contact the editors responsible for this story: Giuseppe Macri at gmacri@bgov.com; Michaela Ross at mross@bgov.com