What to Know in Washington: GOP Faces Double Split With Trump
Congressional Republicans, led by Senate Majority Leader Mitch McConnell, face high-stakes decisions in coming days over two giant pieces of bipartisan legislation that President Donald Trump savaged this week.
Trump yesterday vetoed a $740.5 billion annual defense policy bill, which was passed by both chambers of Congress with greater than two-thirds majorities earlier this month. Speaker Nancy Pelosi (D-Calif.) plans a vote to override that veto on Dec. 28, with McConnell's (R-Ky.) office pledging guidance on his intentions after the House acts.
Also in play is a mammoth $2.3 trillion Covid-19 relief and government funding bill, which Trump attacked Tuesday for including "wasteful" spending and for having insufficient stimulus checks. House Majority Leader Steny Hoyer (D-Md.) plans to introduce his call for $2,000 payments — up from the $600 previously authorized — in the House today, but GOP members intend to block it.
If today's attempt fails, Democrats plan to vote Dec. 28 on new legislation to codify the $2,000 payments. They could also vote on another stopgap measure to fund the government past the current spending deadline of midnight that day. While that would avert a government shutdown if the Senate also passes it and the president signs it, it is still unclear what Trump plans to do with the larger pandemic relief and annual spending bill Congress passed Monday.
David Popp, a spokesman for McConnell, didn't respond to questions about Trump's call for increased direct payments and Pelosi's plan to pursue this in the House.
House Minority Leader Kevin McCarthy (R-Calif.) plans to seek unanimous consent on a counter measure to "revisit" part of the government spending bill dealing with foreign aid, echoing a Trump complaint about the federal spending that was combined with pandemic relief. McCarthy, in a letter to colleagues last night, said Congress should "reexamine how our tax dollars are spent overseas," even though those provisions were part of a bipartisan appropriations process.
The House meets at 9 a.m. The Senate will also hold a pro forma session at 10 a.m. Read more from Laura Davison and Billy House.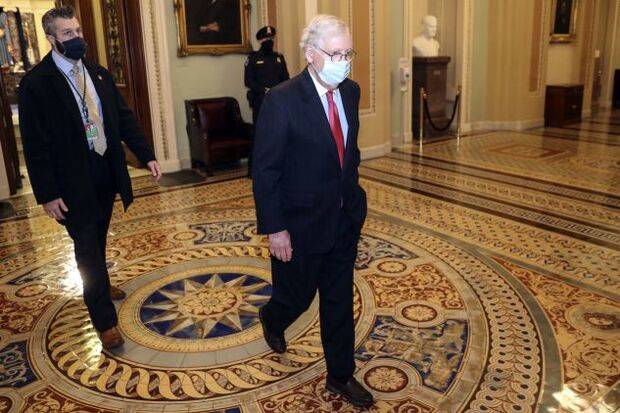 2021 Congressional Calendar: The House and Senate, which will convene for the 117th Congress on Jan. 3, have released their 2021 calendars. Democratic leaders in the House are continuing this year's practice of having dedicated committee work weeks. The House will begin its August recess on Aug. 1, while the Senate starts its break on Aug. 9. Both chambers have a target adjournment date of of Dec. 10. Download the calendar here.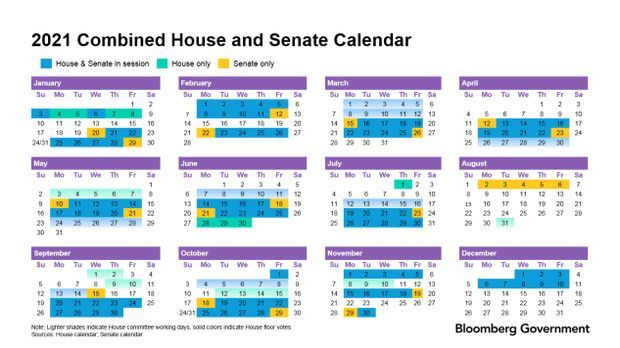 Elections & Politics
Biden Job Listings Run Weeks Late: The federal government has yet to publish its quadrennial "Help Wanted" ad for posts in the incoming administration, marring President-elect Joe Biden's ability to advertise thousands of obscure positions that he'll need to fill as the next chief of the U.S. bureaucracy. The ad, known as the Plum Book, includes a list of some 4,000 political jobs that will become vacant when Trump departs the White House next month. Read more from Courtney Rozen.
Trump Pardons Manafort, Stone: Trump pardoned his 2016 campaign chairman Paul Manafort, using his executive power in his final weeks as president to free an ally convicted of financial crimes and illegal lobbying. He also pardoned Roger Stone, a longtime political adviser whose sentence for a conviction of lying to Congress he'd previously commuted; as well as Charles Kushner, the real estate developer and father of the president's son-in-law, Jared Kushner.
Manafort was sentenced last year to 7 1/2 years in prison and was the highest-profile figure to have been charged and convicted as part of then-Special Counsel Robert Mueller's investigation of Russian attempts to interfere in the 2016 election. Earlier this year Manafort was released from prison to serve his sentence at home due to the coronavirus pandemic. Prosecutors have said Manafort lied to banks to get loans and hid millions of dollars offshore from his work for pro-Russia politicians in Ukraine. Justin Sink has more.
Trump Calls for Special Counsel Again: Trump again called for a special counsel to investigate election fraud, making the demand on Attorney General William Barr's last day in office with baseless claims on Twitter. "After seeing the massive Voter Fraud in the 2020 Presidential Election, I disagree with anyone that thinks a strong, fast, and fair Special Counsel is not needed, IMMEDIATELY," Trump tweeted last night. Read more from John Harney.
Loeffler Doubled Her Fundraising in Georgia Runoff: Sen. Kelly Loeffler's (R-Ga.) campaign to keep her U.S. Senate seat in the Jan. 5 Georgia runoff election took in $64 million over the last two months, more than doubling her campaign coffers compared to the previous 11 months, according to her latest filing with the Federal Election Commission. Loeffler and her fellow Georgia Republican Sen. David Perdue both face high-stakes races. Read more from Bill Allison.
The Coronavirus Pandemic
Vaccination Pace Trails Expectations: The push to get Americans vaccinated against the coronavirus is proceeding more slowly than expected, even as the number of shots given reached 1 million, according to Moncef Slaoui, the chief scientific adviser to the U.S.'s vaccine program Operation Warp Speed. Slaoui said on a call with reporters that getting vaccines into people's arms isn't going as quickly as he had thought. "We're here to help the states to accelerate that appropriately," he said. Read more from Angelica LaVito.
Despite Slaoui's remarks, the U.S. still leads the world in Covid-19 vaccine shots administered, with 1,008,025 doses given in the 10 days since the first doses were approved for use, according to the CDC. State campaigns are rolling out shots from Pfizer-BioNTech and Moderna, focused at first on hundreds of thousands of health-care workers around the country who've been battling the virus on the front lines in hospitals. Read more from Tom Randall and Drew Armstrong.
Virus Weighing Heavy on Deep South: Coronavirus is infecting Americans more quickly in areas of the South, while states in other parts of the country are largely seeing cases tapering off or falling. Alabama, Florida, Texas and Oklahoma all saw their seven-day average of new cases increase over 10% compared with the prior week, according to Covid Tracking Project data. They're four of only seven U.S. states that reported a significant uptick. Read more from Nic Querolo.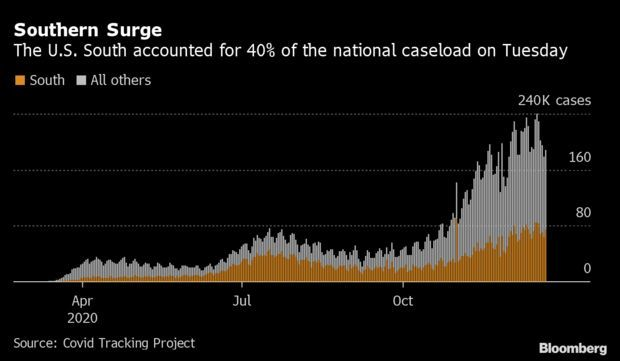 Workplace Vaccine Mandates Targeted by States: Employers considering Covid-19 vaccination plans for their workforces have another potential strike against the option of requiring inoculations—a growing number of state legislative proposals aimed at banning vaccine mandates. In one unusual case, a Minnesota lawmaker proposed 10 years in prison for any government official or business owner who forces vaccinations. State lawmakers are floating proposals aimed at preventing government agencies, employers, or schools from forcing people to get the Covid-19 vaccine, although none of the bills has succeeded yet. Read more from Chris Marr.
Chinese Vaccine More Than 50% Effective: A Covid-19 vaccine developed by Chinese pharmaceutical firm Sinovac Biotech was found to be more than 50% effective in a Brazilian clinical trial, though researchers delayed releasing more information at the request of the company. A 50% efficacy rate is a minimum standard set by U.S. regulators for emergency authorization of Covid vaccines. Messenger RNA vaccines from Moderna and Pfizer have produced far better results, reducing symptomatic Covid cases by well over 90% in giant trials. Read more from Julia Leite and Robert Langreth.
What Else to Know Today
Trump Warns Iran About Attacks on Americans: Trump in a tweet said Iran was responsible for a rocket attack near the U.S. embassy in Baghdad on Sunday. "Now we hear chatter of additional attacks against Americans in Iraq," he tweeted. "Some friendly health advice to Iran: If one American is killed, I will hold Iran responsible. Think it over," he said, Ben Livesey reports.
Trump Wants WeChat Users' Suit Tossed: The Trump administration asked a court to toss out a lawsuit by WeChat users challenging restrictions in the U.S. on the Chinese-owned messaging app. The long-shot request comes three months after the WeChat users persuaded a judge to temporarily block the restrictions that Trump announced in August. The administration is appealing that ruling and a hearing is set in January. Read more from Joel Rosenblatt.
Judge Delays Plan Tying Drug Costs to Foreign Prices: The government has to wait until late January to cut Medicare reimbursements for certain high-cost drugs rather than starting Jan. 1 as initially planned, a federal district judge ruled yesterday. The judge granted a cancer group's request for a temporary delay to the Trump administration's drug price rule linking domestic reimbursement to foreign prices. Read more from Jacquie Lee.
EPA Stays Put on Final Ozone Regulation: The Environmental Protection Agency is standing pat on its current ozone air pollution limits, concluding yesterday that years of scientific review don't justify strengthening the regulation beyond the current 70 parts per billion threshold. Retaining the current limit without revision is almost certain to be challenged in court. Environmental and public health groups also say they will press the Biden administration to tighten the standard. Read more from Dean Scott and Bobby Magill.
U.K., EU Set to Announce Brexit Trade Deal: The U.K. and the European Union are on the verge of unveiling a historic post-Brexit trade accord after negotiators worked through the night putting the finishing touches to a compromise on fishing rights. The agreement, which will formally complete Britain's separation from the bloc four-and-a-half years after the 2016 referendum, will allow for tariff and quota-free trade in goods and cooperation in areas from security to aviation. Read more from Ian Wishart, Alberto Nardelli and Alex Morales.
Trump Asks Court to Toss Niece's Suit: Trump asked a New York state judge to throw out a lawsuit in which his niece accused the president and his siblings of conspiring to defraud her of tens of millions of dollars. Mary Trump, daughter of Trump's late brother Fred. Jr., waited too long to bring her allegations that she was swindled out of a stake in the family businesses, the president said in a filing in Manhattan. Read more from Chris Dolmetsch and Edvard Pettersson.
States Battle Each Other in Work-From-Home Taxes: The worst fiscal crisis in decades is pitting states against states over billions in tax money from residents working from home. New Jersey and Connecticut joined a legal battle on Tuesday to stop neighboring states from taxing people who, due to the pandemic, have stopped commuting over state lines and are now working remotely. The case has drawn more than a dozen friend-of-the-court briefs by states urging the U.S. Supreme Court to take up the challenge. Read more from Stacie Sherman.
Yang Files to Run for New York Mayor: Tech entrepreneur and former presidential contender Andrew Yang has filed the paperwork to explore a possible run for New York City mayor. Yang, 45, joins over two dozen people who have also filed papers with the city Campaign Finance Board, including Ray McGuire, the former vice chairman of Citigroup; city Comptroller Scott Stringer, and former U.S. Housing Secretary Shaun Donovan. Read more from Henry Goldman.
Nuro Gets California Permit for Driverless Delivery: California's Department of Motor Vehicles approved a permit for Nuro allowing commercial use of its driverless delivery service in the Bay Area. The first-of-its-kind permit in California gives Nuro permission to use a fleet of "light-duty driverless vehicles for a commercial delivery service" on surface streets within designated parts of Santa Clara and San Mateo counties, according to a DMV statement, Teaganne Finn reports.
To contact the reporter on this story: Brandon Lee in Washington at blee@bgov.com
To contact the editors responsible for this story: Zachary Sherwood at zsherwood@bgov.com; Michaela Ross at mross@bgov.com