What to Know in Washington: GOP Eyes Midterms in SCOTUS Hearings
Biden's Supreme Court pick goes before Senate next week
Biden Aide Sullivan, China's Jiechi talk Ukraine as war intensifies
Senate Republicans have scant chance of blocking Judge Ketanji Brown Jackson's elevation to the Supreme Court, making her confirmation hearings starting next week as much about laying the groundwork for political campaigns as about vetting her qualifications.
The clearest picture of the Republicans' approach to Jackson's nomination was laid out by Senate Minority Leader Mitch McConnell (R-Ky.), who said her background as a public defender raises questions about her views on "law and order," an issue that dovetails with the party's message for the November midterm election and beyond.
"This is a moment when issues related to the law and the judiciary are directly hitting American families, from skyrocketing murders and hijackings to soft-on-crime prosecutors repealing laws, to open borders," McConnell said after meeting with the nominee earlier this month.
Jackson, 51, is sure to face sharp questioning. But her confirmation won't alter the court's conservative tilt, so Republicans are less likely to expend political capital harshly grilling an experienced jurist who would be the first Black woman on the nation's highest court.
"There's a 6-3 majority on the court and it's assured," said Carl Tobias, a professor at the University of Richmond School of Law and an expert on the judicial selection process. "And the midterms are coming up, and why beat up a nominee who is eminently qualified."
In addition, Jackson's nomination was announced by President Joe Biden a day after Russia began its invasion of Ukraine and the confirmation process is taking place in the shadow of U.S. efforts to respond, sapping some of the attention and energy that a Supreme Court nomination otherwise would draw. Read more from Laura Litvan.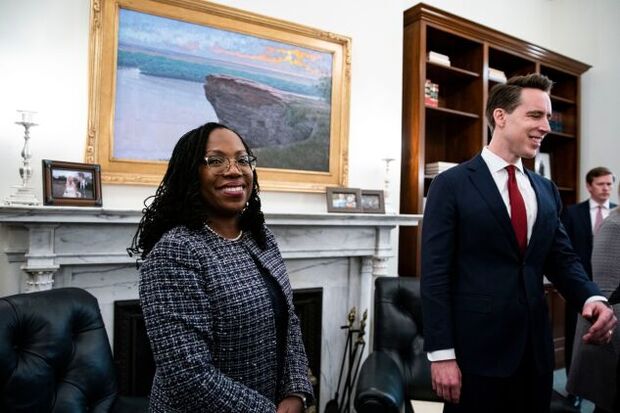 White House, China Meet on Ukraine
The U.S. and China planned the first high-level, in-person talks since Russia's full invasion of Ukraine, as the Biden administration continues to try to enlist Beijing to exert influence on its neighbor to end the war. The White House said National Security Adviser Jake Sullivan planned to meet in Rome on Monday with China's top diplomat, Communist Party Politburo member Yang Jiechi.
Biden's top advisers have been working to increase pressure on China to enforce sanctions on Russia's economy imposed by the U.S. and its European and Asian allies. So far, U.S. officials have said they haven't seen evidence that Beijing has tried to circumvent them, though Sullivan warned China against such a move on Sunday.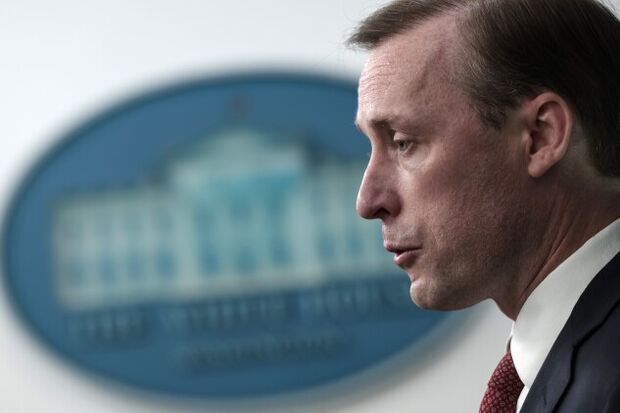 Topics of Monday's conversation were expected to include the impact on regional and global security from Russia's war on Ukraine, National Security Council spokeswoman Emily Horne said, as U.S. officials try to keep lines of communication open between the world's two largest economies. A Chinese Foreign Ministry statement said the two sides would exchange views on global and regional issues of mutual concern, without directly mentioning Ukraine.
While the Biden administration has been careful not to call out China directly for what officials believe was its tacit support of the invasion of Ukraine, the White House continues to stress that history will judge China's actions relating to the war. Weeks before the invasion, Russian President Vladimir Putin and Chinese President Xi Jinping declared in a lengthy joint statement that the two nations' friendship had "no limits."
"We believe that China, in fact, was aware before the invasion took place that Vladimir Putin was planning something," Sullivan told CNN on Sunday. "They may not have understood the full extent of it because it's very possible Putin lied to them the way he lied to Europeans and others." Read more from Jennifer Jacobs.
Ahead of the meeting, U.S. officials said Russia has asked China for military assistance, an unusual request suggesting Vladimir Putin has faced more setbacks than he imagined in his invasion. A U.S. official, speaking on condition of anonymity to discuss delicate matters, did not specify what kind of equipment Russia had requested from its most powerful diplomatic partner. The official declined to say how the administration knows these details. Another U.S. official said the request is not new, and was made just after Russia's Feb. 24 invasion. Read more from Jennifer Jacobs and Peter Martin.
One Republican wants answers on whether federal retirement plans invest in Russian and Chinese securities. Sen.

Tommy Tuberville

(R-Ala.) on Monday sent a letter to the Federal Retirement Thrift Investment Board seeking transparency on the Thrift Savings Plan used by millions of federal workers and military members. He said he wants to know whether the board has policies against investing the funds in Chinese securities, and whether it invests or plans to invest funds in Russian securities. Read more from Ellen M. Gilmer.
Biden is under pressure to invoke Cold War-era powers to force more domestic oil production as the war in Ukraine strains supplies, raising gasoline prices and fueling inflation. Lawmakers and labor activists have urged Biden to compel deployment of drilling rigs and solar panels using the 1950 Defense Production Act, the same authority wielded by Harry Truman to make steel for the Korean War and Donald Trump to spur mask production to battle the coronavirus. So far, however, the White House has shown little enthusiasm for the move. Read more from Jennifer A. Dlouhy.
Senators also sent a bipartisan letter to the White House on Friday asking Biden to invoke the Defense Production Act to accelerate production of battery materials that are needed to power electric vehicles. The letter, signed by Sens.

Joe Manchin

(D-W.Va.),

Lisa Murkowski

(R-Alaska) and others, said doing so would bolster America's critical mineral supply chains by ensuring responsible mining and sourcing. Their letter comes weeks after Biden announced that the U.S. will try to boost domestic extraction of minerals known as rare earths. Read more from Joe Deaux.
Inflation-walloped Americans are largely prepared to withstand the economic pain imposed by Russia's invasion. But that may be little solace for Democrats, who will pay a price at the ballot box for the surging cost of living, if history is any guide. Consumer prices were already surging at their fastest pace in four decades even before the hit to energy and food supply chains caused by the war and sanctions imposed by the U.S. and its allies on Russia. Gasoline prices are already up 20% this month, reaching an unprecedented $4.33 a gallon. Reade Pickert and Gregory Korte have more.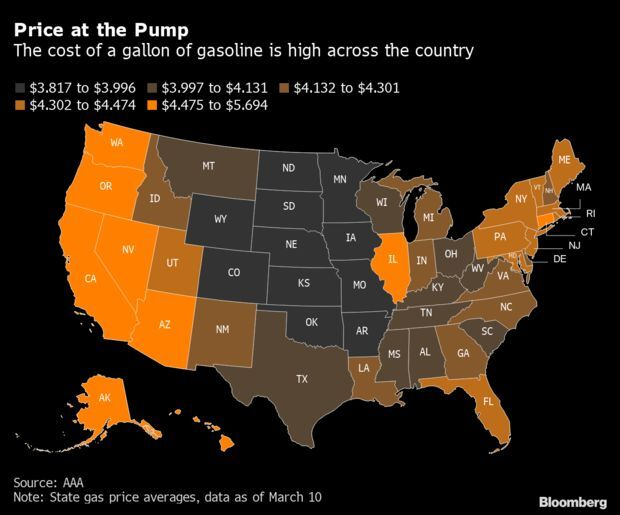 MORE ON THE WAR IN UKRAINE:
Happening on the Hill
CONGRESSIONAL SCHEDULE:
The Senate returns at 3 p.m., with a procedural vote planned on Biden's budget chief nominee.
The House is back Tuesday.
Senate Lines Up Vote on OMB Head: The Senate returns at 3 p.m. to resume consideration of Shalanda Young's nomination to be director of the Office of Management and Budget. A procedural vote to advance her nomination is scheduled for 5:30 p.m. Young, who is OMB's deputy director, has been serving as acting director of the key White House office since a bipartisan majority of senators balked at Neera Tanden's bid for the job. Young's confirmation on a bipartisan basis is expected Tuesday.
Water utilities and shopping malls would have to beef up their cybersecurity to comply with hack reporting requirements set to become law as soon this week. Cyber reporting rules passed in a government spending bill last week would encompass a broad range of businesses in 16 critical infrastructure sectors. Companies would have 72 hours to report a hack and 24 hours to report ransomware payments to the government, once rules are in place. However, "a 72-hour reporting requirement is often a challenge for even large and well-resourced organizations," one analyst said. Read more from Maria Curi.
Around the Administration
BIDEN'S SCHEDULE:
Biden will deliver remarks at the National League of Cities Congressional City Conference in Washington at 2:10 p.m.
Sanctions relief for Venezuela will be tied to "concrete steps" from the President Nicolas Maduro's government, the White House's Sullivan said Sunday. "Any sanctions relief that we provide" has to be "tied to concrete steps that Maduro and the people around him take," Sullivan told NBC when asked about engagements with Venezuela that could help to pump more oil in the market. His comments come after Maduro hosted senior U.S. officials to discuss the easing of sanctions on the country's oil sector. Days later, Caracas released two American prisoners. Peter Martin and Jennifer Jacobs have more.
Biden Signs Stopgap U.S. Federal Government Funding Bill: Biden signed a stopgap spending bill Friday that keeps the federal government funded through March 15, the White House said in a statement, Se Young Lee reports. That will keep the federal government open until the $1.5 trillion spending package passed by Congress is ready to be signed by the president. The package, which includes $13.6 billion for funding the U.S. response to Russia's invasion of Ukraine, is more than 2,700 pages long and needs to be proofread and printed. That legislation will keep the government funded through the rest of the current fiscal year.
BGOV OnPoint: Congress Clears $1.5 Trillion Fiscal 2022 Omnibus
To contact the reporters on this story: Brandon Lee in Washington at blee@bgov.com; Giuseppe Macri in Washington at gmacri@bgov.com
To contact the editors responsible for this story: Loren Duggan at lduggan@bgov.com; Michaela Ross at mross@bgov.com