What to Know in Washington: GOP Crafts Confirmation Strategy
Senate Republicans are moving quickly to set their strategy for confirming President Donald Trump's Supreme Court nominee, focusing on whether they can move fast enough to get it done before Election Day in six weeks.
GOP leaders contacted individual lawmakers over the weekend after the death of Justice Ruth Bader Ginsburg and likely will decide during a lunch meeting today on timing for a confirmation vote, according to Sen. John Thune (S.D.), the chamber's second-ranking Republican.
"Our focus is on trying to determine where our conference is on timing and process," Thune said yesterday.
Judiciary Chairman Lindsey Graham (R-S.C.), said on Fox News last night that "We've got the votes to confirm the judge — the justice — on the floor of the Senate before the election, and that's what's coming."
Several Republicans yesterday expressed public support for getting Trump's nominee before the Senate, though most were silent on whether it should be pushed through before the Nov. 3 election. Putting another conservative on the court is a high priority for most GOP senators and they'll be in favor of moving quickly, Thune said. "That's why a lot of them got elected."
Trump said yesterday he expected to name his choice for the court from as many as five possible candidates by Saturday and he is pushing Senate Republicans to install the new justice before the election. He's leaning toward nominating Amy Coney Barrett, a federal appellate court judge who is a favorite of anti-abortion rights advocates and many GOP senators, according to people familiar with the matter.
Senate Majority Leader Mitch McConnell (R-Ky.) reaffirmed Monday his promise to hold a vote this year. He suggested it could take place by Election Day but didn't commit a timeline.
Two Republican senators, Lisa Murkowski (Alaska) and Susan Collins (Maine), have already said they don't support a confirmation before voters decide between Trump and Democrat Joe Biden in the election. Two more GOP defections would doom any chances for a vote. Sen. Mitt Romney (Utah), a frequent critic of Trump, said he might reveal his intentions after meeting with other Republican senators. Read more from Laura Litvan, Steven T. Dennis and Daniel Flatley.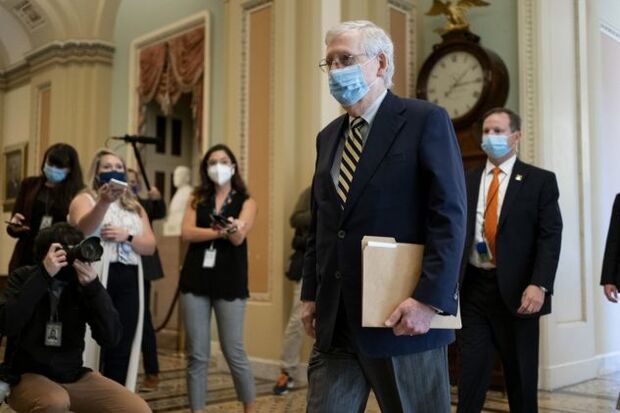 Biden Could Be Roadblock to Court Expansion: If Republicans confirm a new Supreme Court justice before the election but lose the presidency and the Senate, a push by some Democrats to even the score by packing the court during a Biden administration could face an unexpected hurdle in Joe Biden himself.
On the campaign trail this year, Biden—who for eight years on Capitol Hill ran the powerful Senate Judiciary Committee, which vets would-be justices—said he opposed expanding the Supreme Court. Biden yesterday refused to say whether he'd back adding to the court. "It's a legitimate question, but let me tell you why I'm not going answer that question," Biden said during an interview with television station WBAY in Green Bay, Wis. "Because it will shift the focus."
"The discussion should be about why he is moving in a direction that's totally inconsistent with what founders wanted," Biden said of Trump. "The Constitution says voters get to pick a president who gets to make the pick and the Senate gets to decide," said Biden. "We're in the middle of the election right now, you know people are voting now. By the time this Supreme Court hearing would be held, if they hold one, it's estimated 30 to 40% of American people already have voted. It is a fundamental breach of constitutional principle. It must stay on that and it shouldn't happen." Read more from Madison Alder.
High Court Poised to Aim at Regulatory Power: The Roberts Court has been good for business. With a third Trump appointee, it could be even better. The prospect of Republicans increasing their majority to 6-3, after the death of liberal icon Ruth Bader Ginsburg, could make the court more favorable for business on issues including arbitration and employment.
It also boosts conservatives' quest against the so-called administrative state, shorthand for the tangle of New Deal-era regulations and ones that followed that Democrats see as protecting workers, the environment, and more while Republicans see it as unduly burdening free enterprise. Oil and gas drillers, utilities, management interests, and small businesses are among those who stand to benefit if the justices end up reviewing disputes over federal environmental regulations, employment, and other protections. Read more from Jordan S. Rubin, Ellen M. Gilmer, Erin Mulvaney and Cheryl Bolen.
Happening on the Hill
House Set to Vote on Government Funding: The House plans to vote today on legislation that would avert a government shutdown and extend federal funding through Dec. 11. Democrats unveiled the measure yesterday and face resistance from Republicans for the exclusion of aid for farmers. The House will likely pass the measure, but the outlook in the Senate less than one week before the Sept. 30 deadline to keep the government open is uncertain. For a full look at the measure, read the BGOV Bill Summary by Michael Smallberg, Adam M. Taylor, Naoreen Chowdhury and Brittney Washington.
Powell to Say Recovery Has Long Way to Go: Federal Reserve Chair Jerome Powell in the text of testimony he's scheduled to deliver today at a House Financial Services Committee hearing said the U.S. economy is improving but has a long way to go before fully recovering from the coronavirus pandemic. "Many economic indicators show marked improvement," Powell said. "Both employment and overall economic activity, however, remain well below their pre-pandemic levels, and the path ahead continues to be highly uncertain," he said.
Powell will appear alongside Treasury Secretary Steven Mnuchin, a quarterly exercise mandated by the Cares Act passed by Congress in March and which appropriated about $2 trillion to help speed the U.S. recovery. The pair are likely to face questions about their use of Cares Act funds and about what else should still be done. Read more from Christopher Condon.
Airlines, Carriers Could Get $28 Billion in Aid: Passenger air carriers, cargo air carriers and airline contractors would receive another $28 billion in coronavirus pandemic aid under a bill from Senate Commerce, Science, and Transportation Chairman Roger Wicker (R-Miss.) and Sen. Susan Collins. The bill would tap into unused loan money marked for national security businesses under a March stimulus measure. Read more from Courtney Rozen.
Homeland Democrats Eye Better ICE Oversight: House Homeland Security Committee Democrats are looking into how to improve U.S. Immigration and Customs Enforcement's standards at migrant facilities, as well as the agency's oversight of those facilities following allegations of deficient medical care and forced sterilizations. ICE's improper, insufficient oversight of migrant facilities results in substandard care that goes uncorrected, staffers for panel Democrats said in a report released yesterday. Read more from Shaun Courtney.
What Else to Know Today
U.S. to Brief States on Google Suit: The Justice Department is poised to brief states tomorrow on its pending antitrust lawsuit against Alphabet's Google, according to people familiar with the matter. By the end of September, the federal investigation into the company is expected to produce the most significant antitrust lawsuit since the U.S. case against Microsoft, which was filed in 1998. As part of the case, Justice Department officials will brief a coalition of 48 state attorneys general, who are pursuing a parallel inquiry, said the people, who asked not to be named discussing law enforcement deliberations. Read more from Ben Brody and Naomi Nix.
Activist Funds May Not Need Antitrust Nod: Activist investors who buy up to 10% of a company's shares won't need to first get U.S. antitrust approval for the purchases under a new proposal by competition regulators. The Federal Trade Commission yesterday proposed a rule that would exempt such investments in antitrust filing requirements in some circumstances, David McLaughlin reports.
Top White House-HHS Liaisons Cut: The Trump administration has removed the top two liaisons between the White House and HHS, Politico reports, citing three people familiar with the situation. HHS Chief of Staff Brian Harrison told personnel that White House Liaison Emily Newman and her deputy, Catherine Granito, will now work for the U.S. Agency for Global Media.
FAA Engineers Say Fixes to 737 Lacking: The union representing the Federal Aviation Administration engineers overseeing Boeing's redesign of its 737 Max argued the government's proposed fixes to the plane don't go far enough. The National Air Traffic Controllers Association, which represents FAA experts who review and sign off on aircraft certification, said yesterday that the Max should have to adhere to tougher standards on cockpit alerts. Alan Levin has more.
U.S. Is Falling Behind in Meat-Worker Safety: The U.S. government is falling behind global rivals when it comes to protecting meatpacking workers from Covid-19 infections, even though the nation's plants were among the first to confront rampant cases across factories. In Germany, the government is ready to upend a labor contracting system that left poorly paid immigrant workers vulnerable. Australia's second-most populous state, Victoria, slashed slaughterhouse staffing capacity to enforce strict spacing requirements. In Brazil, the federal government has set safety rules, though unions have said they're not strong enough. Read more from Mike Dorning, Brian Parkin and Ainslie Chandler.
Cities Boost Police Budgets: After months of demonstrations, the rallying cry to "defund the police" hasn't translated into reality. While a few major cities like New York and Los Angeles have made large, high profile cuts, more than half actually increased spending or kept it unchanged as a percentage of their discretionary spending, based on a Bloomberg CityLab analysis of 34 of the largest 50 U.S. cities that have finalized 2021 budgets. As a group, the difference between police spending as a share of the general funds fell less than 1% from last year. The city council in Indianapolis is poised to vote on an increase to its police budget in the coming weeks. Read more from Sarah Holder, Fola Akinnibi and Christopher Cannon.
Wisconsin Judge Extends Vote Count Deadline: A Wisconsin judge ruled that ballots mailed by Nov. 3 in the crucial swing state may be counted until Nov. 9, handing another victory to Democrats who have sued across the U.S. to expand access to mail-in voting amid the pandemic. The ruling yesterday by U.S. District Judge William Conley also extended the deadline for registering to vote and for requesting a ballot by one week to Oct. 21. Read more from Erik Larson.
China Threats Push Taiwan to Boost U.S. Ties: Taiwan President Tsai Ing-wen won re-election in January by a landslide, led one of the world's best responses to the coronavirus and helmed an economic recovery that has boosted Taiwan's stock exchange to record heights. But Tsai does have one problem: The Chinese Communist Party is threatening her life, with its Global Times newspaper saying over the weekend she would be "wiped out" in a war if she violated China's anti-secession law. Read more from Chris Horton.
U.S. Dismisses Seville Map Amid Turkey-Greece Friction: The U.S. dismissed a contentious map that's exacerbated competing Turkish and Greek claims to maritime territory, saying it has no legal significance. The Seville map indicates that Greece and Cyprus control far larger territorial waters than Turkey in the gas-rich Mediterranean and Aegean seas. Turkey has accused Greece of using that map, drawn up by Spain's University of Seville on commission from the European Union in the early 2000s, to pursue "maximalist claims" on maritime jurisdiction rights. Read more from Selcan Hacaoglu.
Trump Tax Claims Could Justify Subpoena, D.A. Says: The Manhattan district attorney said press reports suggesting potential misdeeds by Trump and his company could justify a grand jury subpoena of the president's taxes and other financial records. District Attorney Cyrus Vance Jr. is seeking eight years of the president's tax returns and other documents as part of a grand jury investigation that includes payments made to adult film star Stormy Daniels before the 2016 election. Vance has avoided stating publicly what his office is investigating, while trying to defend against Trump's argument that the subpoena is too broad and was issued in bad faith. Read more from Bob Van Voris.
To contact the reporters on this story: Zachary Sherwood in Washington at zsherwood@bgov.com; Brandon Lee in Washington at blee@bgov.com
To contact the editors responsible for this story: Giuseppe Macri at gmacri@bgov.com; Loren Duggan at lduggan@bgov.com; Michaela Ross at mross@bgov.com