What to Know in Washington: GOP Breaks With Chamber of Commerce
Bloomberg Government subscribers get the stories like this first. Act now and gain unlimited access to everything you need to know. Learn more.
One of the most urgent items this year for the Chamber of Commerce was championing a deal between the Biden administration and House Republican leaders to raise the debt ceiling and avoid a government shutdown. So the nation's largest business lobby went into overdrive, huddling with 150 members of Congress and flying state and local chamber officials to Washington to bolster its case with lawmakers.
House Majority Whip Tom Emmer (R-Minnesota) wishes the chamber hadn't bothered. It was his job in early June to round up support for a debt ceiling bill negotiated by GOP leaders, and he says the chamber's involvement made this more difficult.
"That probably cost us numerous votes," he says. "It should have had 218 Republicans voting for it. Instead we got 149. All the chamber did by trying to weigh in was convince them that it was a bad idea. So, yeah, they had influence. Unfortunately it wasn't the influence they think they had."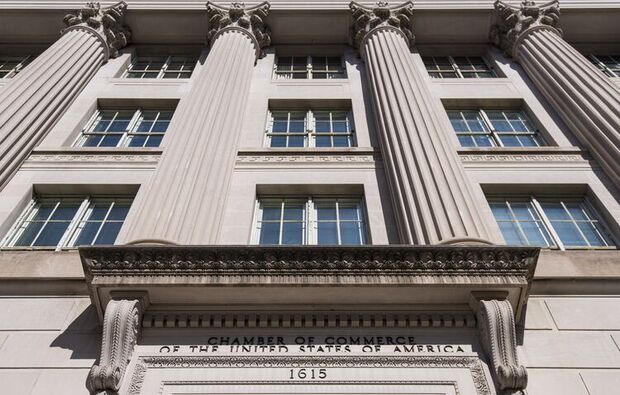 The idea that Republicans might've been voting against a bill promoted by the chamber is a testament to its diminished influence in Washington. For years the GOP often moved in tandem with the business lobby, and woe to any Democrats who stood in their way.
To say the relationship between the chamber and the Republican Party has chilled since then is putting it mildly. Neil Bradley, the chamber's chief policy officer, acknowledges that the rise of populist Republicans and progressive Democrats has made it tougher for his organization to advocate for its traditional causes, including free trade, lower taxes and less regulation.
Still, Bradley argues that the chamber deserves credit for helping to pass the bipartisan infrastructure bill in 2021 and thwart efforts by progressive Democrats to push through Biden's original $3.5 trillion Build Back Better reconciliation proposal. The chamber sees the recent debt ceiling bill — which included an effort to fast-track environmental reviews for oil and gas and clean energy projects — as another triumph. Read the full story from Devin Leonard.
BIDEN'S AGENDA
Around 3 p.m., President Joe Biden meets with his Competition Council to announce a plan to increase economic competition, lower consumer prices, and support entrepreneurs and small businesses. Read a preview of the announcement.
The president and first lady will attend the Congressional Picnic on the White House South Lawn around 6 p.m.
Press Secretary Karine Jean-Pierre delivers a briefing at 1 p.m.
CONGRESS' SCHEDULE
The House is back at 9 a.m. Israeli President Isaac Herzog will address both chambers at 11 a.m. in the House.
The Senate returns at 9:45 a.m. to continue work on the annual defense policy bill.
Under Republican Scrutiny
The top lieutenants of four federal banking regulators rebuffed attacks from House GOP members on Tuesday and defended their broad mandates to ensure the companies they supervise consider climate change-related risks.
The Defense Department is spending $160,000 a month to store border wall materials that have gone unused after halted most construction.
The number of people apprehended at the southern border fell to 144,571 in June from 207,834 a year earlier, according to Customs and Border Protection data. Read more.
Biden is pledging to crack down on high grocery prices he attributes to price-fixing, in the face of Republican efforts to block the Agriculture Department's rulemakings.
Republicans plan to interrogate a top Treasury official about the global tax deal today at a Ways and Means Tax subcommittee hearing, seeing it as a chance to reassert their oversight role and further influence the process.
China Tensions Ebb, Flow
The Chinese military has ignored outreach from the admiral in charge of the Indo-Pacific Command, rebuffing yet another effort by the US to resume defense ties.
Senators cleared an initial trade agreement with Taiwan on Tuesday evening, sending legislation that approves an agreement negotiated by the Biden administration and Taipei to the president's desk.
Climate envoy John Kerry met with China's Vice President Han Zheng on his final day of talks in Beijing, after President Xi Jinping warned the nation won't have its path to curb emissions dictated by others.
The Biden administration formally halted the Wuhan Institute of Virology's access to funding, citing unanswered safety and security questions for the facility at the center of the Covid lab leak theory.
The Pentagon can play a unique role in developing AI because it creates so much data, but it needs to weave standards throughout all procurement and programs and centralize the information, industry participants told lawmakers Tuesday.
Politics, Probes and 2024
Donald Trump potentially faces as many as six criminal and civil cases in the next year against him, his family and his companies. The trials overlap with key primary election dates, raising questions about the obstacles Trump will have to face as he ramps up his 2024 campaign.
The Justice Department appears to be on a fast track to charge Trump with election interference before a potential case is brought in Georgia next month. Read more.
The classified documents case against Trump includes 1,545 pages of classified evidence, 1.1 million pages of unclassified evidence, and at least three years worth of surveillance video — and no trial date yet. Read more.
A super political action committee supporting Sen. Tim Scott's (R-S.C.) presidential run is planning a $40 million advertising campaign in key states.
Republicans in Alabama are counting on some judicial wiggle room after the Supreme Court said their congressional district map shortchanged Black voters.
What Else We're Reading
Antitrust agencies stepped up the Biden administration's crackdown on mergers and acquisitions with a sweeping overhaul of rules the government uses to determine whether deals violate competition law.
Biden administration officials asked executives from major drug and retail chains to counter stiff opposition from the pharmaceutical industry and help promote a law intended to lower drug costs.
North Korea detained a US soldier who intentionally crossed the border from South Korea in an apparent effort to escape being sent home after being charged with assault.
North Korea launched two missiles into waters off its east coast in a show of anger hours after the US brought a submarine capable of firing nuclear ballistic missiles to a port in South Korea for the first time in about four decades. Read more.
To contact the reporter on this story: Brandon Lee in Washington at blee@bgov.com
To contact the editor responsible for this story: Kayla Sharpe at ksharpe@bloombergindustry.com
Stay informed with more news like this – from the largest team of reporters on Capitol Hill – subscribe to Bloomberg Government today. Learn more.