What to Know in Washington: GOP Agenda on Hold Amid Speaker Spat
Bloomberg Government subscribers get the stories like this first. Act now and gain unlimited access to everything you need to know. Learn more.
Republicans spent the last two years crafting a legislative plan in the event they recaptured the House, proposing bills to take to the floor and investigations of the Biden administration they would pursue.
But now those plans are frozen as the battle for the speaker drags on into a third day. Nothing, not even the swearing in of members, can occur until a leader is chosen. Members are growing frustrated as the challenge by conservative hardliners to Kevin McCarthy's bid for the top job continues.
"We have a very ambitious agenda we need to get started from day one," said Rep. Mario Diaz-Balart (R-Fla.) "Every day that we don't have a speaker is a day where the radical left wins."
The delay has already cut into the GOP's proposed timeline. McCarthy (R-Calif.) lamented to reporters that the House was unable to pass legislation to reverse plans in Democrats' major tax and climate law (Public Law 117-169) that would add 87,000 new IRS employees. McCarthy had pledged to bring up that measure on the first day of the 118th Congress.
"We wanted to set up a number of investigations we have going, we wanted to notice the different committee hearings we'd have actually on the border," McCarthy added. "None of that transpired." Read more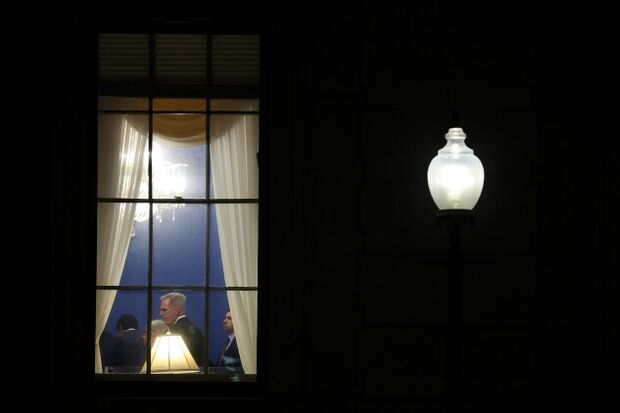 CHAOS SPILLS OUTSIDE CHAMBER
Without a speaker, there are no rules governing day-to-day operations of the 434 House lawmakers, staff, or reporters on the Hill. Members aren't getting paid. Some aides can't log into computer systems. Read more
Votes to raise the debt limit and fund the government could turn into standoffs that shake the economy, lawmakers and congressional experts said, if the GOP standoff over electing a speaker is any indication. Read more
With the House in disarray, Republicans lining up for spots on the prestigious tax-writing Ways and Means Committee also remain in limbo. Read more
The revolt by GOP hardliners has been brewing for years, fueled by anger at party leaders and deep suspicions of McCarthy. Many of the dissenters are opposing McCarthy over grievances about House rules and ire over compromises with Democrats.
"Mr. McCarthy has a history that is off-putting to some people," Rep. Andy Biggs (R-Ariz.), one of the leaders of the rebellion, said. Rep. Dan Bishop (R-N.C.) said his opposition is pegged to a need for a changing of the guard. "If you think Washington has been performing well, you should be mad at me for trying to change it," he said. "It's not entirely his fault."
Donald Trump is losing his sway over the GOP at a key moment. After throwing his weight behind McCarthy on Truth Social—urging members to "VOTE FOR KEVIN, CLOSE THE DEAL"—a handful of conservatives still defied their ideological leader.
"The fact that he did that and not a single one of those 20 changed their standing is interesting," David Winston, a Republican strategist, said in a telephone interview. "If you're looking for a collateral event as to what this all means, that's an important collateral event. Don't look at it as an isolated event."
MORE ON THE SPEAKER BATTLE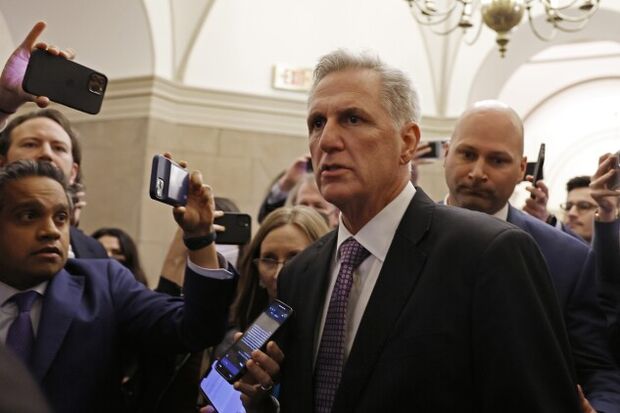 Also in Politics and Probes
CONGRESS' SCHEDULE
The House meets at noon to continue the speaker election process
As McCarthy fought party hardliners in a faltering bid to become House speaker, his GOP counterpart in the Senate was almost 500 miles away from Washington—celebrating a landmark bipartisan accomplishment with the Democratic president.
Trade advocates, forced to settle as Congress wound down last month for a one-year renewal of assistance for US workers idled by foreign competition, are bracing for a steeper climb this year to revive broader trade measures.
A Senate panel will hold hearings on how to "strengthen consumer protections and airline operations" after travel disruptions rocked Southwest Airlines, Sen. Maria Cantwell (D-Wash.) said.
Two days before the midterms, Florida Gov. Ron DeSantis (R) sauntered onstage at a boisterous rally in an airplane hangar in Sarasota and, as Donald Trump likes to do, began tossing hats to the crowd. The similarities between them didn't end there.
Lawyers for Steve Bannon urged a federal judge to sanction the Justice Department lawyers who prosecuted the former Trump adviser, arguing the US's invasive search of the private communications of one of Bannon's lawyers amounted to misconduct.
Shareholder proposals targeting political spending are poised to ramp up in this year's proxy season, pressing companies to unveil if their sometimes tightly-guarded stances on issues line up with their donations.
Defense and Foreign Affairs
President Biden says he intends to visit the US-Mexico border next week for a first-hand look at conditions as his administration contends with a surge in migration. "That's my intention, we're working out the details now," Biden told reporters Wednesday.
Biden was already scheduled to travel to Mexico next week to meet with Mexico's Andres Manuel Lopez Obrador and Canada's Justin Trudeau. The border stop would be added to the Mexico City trip, people familiar with the plans said. One person said the White House is considering El Paso, Texas.
Biden said he's considering sending Ukraine the US's Bradley Fighting Vehicles to aid the country's defense against Russia. The Bradley is capable of transporting soldiers while attacking targets with a 25-millimeter cannon and anti-tank missiles.
The US is significantly expanding consular services and staffing at its embassy in Cuba, after a sharp curtailment driven in part by concern about the so-called Havana syndrome that afflicted diplomats.
Officials from the US and Taiwan plan to hold trade talks in Taipei this month, highlighting the expansion of ties between the two sides in the face of increasingly fraught relations with China.
Around the Administration
BIDEN'S AGENDA
Biden at 11:15 a.m. will give remarks on border security at the White House
At 3 p.m., the president holds a Cabinet meeting
Baby food in stores across the US contains heavy metals in amounts that can lower children's IQ and cause developmental issues. The FDA has known about the problem for years, but even after a 2021 congressional investigation that resulted in two damning reports, little has changed.
Bloomberg Law purchased 33 baby food products in stores and online and mailed them to a laboratory to be tested for heavy metals. All but one contained at least two of three heavy metals—lead, arsenic, and cadmium.
Biden's administration urged the US Supreme Court to uphold his embattled student-debt relief plan, defending a far-reaching program that would affect more than 40 million borrowers at a cost of potentially $400 billion.
Biden's latest rules agenda offers a window into how the administration plans to use 29 cabinet-level departments, executive agencies and federal commissions to advance the administation's priorities.
Biden said he had spoken to the parents of Buffalo Bills safety Damar Hamlin, who collapsed during a game Monday and is in critical condition. Biden said earlier Wednesday that Hamlin's collapse doesn't mean the game is too dangerous.
The Consumer Financial Protection Bureau is considering new rules governing overdraft and nonsufficient funds fees and the credit reporting industry.
Tribes and environmentalists are hailing Biden's commitment to use the Antiquities Act to create a national monument in Nevada to protect tribal sacred sites, preserve wildlife and Joshua tree habitat, and block the approval of a wind farm.
First Lady Jill Biden will undergo an outpatient procedure next week to remove a small lesion found during a skin cancer screening, White House physician Kevin O'Connor said in a statement on Wednesday.
States will be able to introduce initiatives addressing health-related social needs into their Medicaid managed care plans under guidance issued Wednesday by the Biden administration.
To contact the reporter on this story: Brandon Lee in Washington at blee@bgov.com
To contact the editors responsible for this story: Giuseppe Macri at gmacri@bgov.com; Michaela Ross at mross@bgov.com
Stay informed with more news like this – from the largest team of reporters on Capitol Hill – subscribe to Bloomberg Government today. Learn more.