What to Know in Washington: Glimmer of Opening on Stimulus Talks
Bloomberg Government subscribers get the stories like this first. Act now and gain unlimited access to everything you need to know. Learn more.
Democratic and Republican leaders are hinting that they are looking for a path toward reviving stalled negotiations on the next round of pandemic relief for the U.S. economy, even as both sides remain far from any deal.
Speaker Nancy Pelosi (D-Calif.) suggested that Democrats might be willing to cut more from their proposal to reach agreement on immediate needs and — with the party growing more confident of gains in the November elections — return to do more after votes are cast.
Treasury Secretary Steven Mnuchin and Senate Majority Leader Mitch McConnell (R-Ky.), meanwhile, said Pelosi's decision to break out $25 billion in funding for the Postal Service from the original Democratic relief plan could provide an opening for talks.
Although Pelosi is bringing the House back to Washington to vote Saturday on a post office bill that would prevent any cutbacks by the agency as well as provide the extra money, there was no sign McConnell would act to bring back the Senate from its break. Any accord is still likely to wait until September even as the U.S. economy is limping along with many businesses still struggling and millions of Americans out of work.
Pelosi said both sides "have to try to come to that agreement now." She suggested Democrats might go beyond their most recent offer to trim the $3.5 trillion relief package the House passed in May and come back later for the rest.
The Trump administration sees a possibility for Republicans and Democrats to agree on a smaller round of pandemic relief totaling $500 billion that would omit the biggest areas of disagreement, a senior U.S. official said last night. The official, who discussed the matter on the condition of anonymity, said that both parties might be able to reach an accord on issues like financial help for the Postal Service, aid to schools and more money for businesses to keep their workers employed.
That is far short of what Democrats want. Read more from Billy House.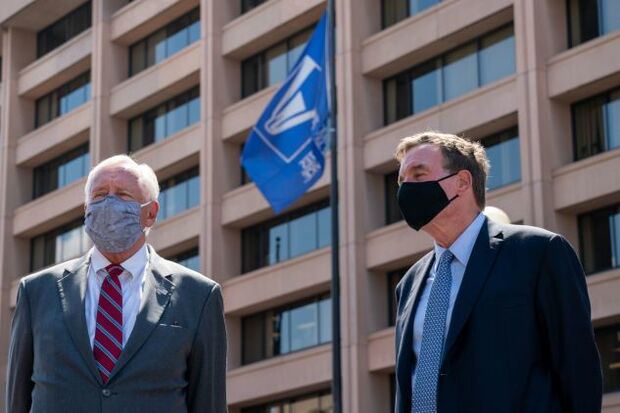 Senate GOP 'Skinny' Virus Plan Funds Education, Unemployment: Senate Republicans are circulating a slimmed-down Covid-19 stimulus package that would provide $300 a week in unemployment benefits and funding for schools, while also changing the terms of funding provided earlier this year to the U.S. Postal Service. The proposal could be used to as a counteroffer to the $25 billion Postal Service funding bill the House will consider on Saturday.
The text obtained by Bloomberg, and confirmed by Senate Republican aides, omits the assistance to state and local governments that Democrats have sought. Read more from Emily Wilkins and Erik Wasson.
Postal Chief Fails to Quell Uproar: President Donald Trump's Postal Service chief tried to neutralize complaints by suspending his operational changes, but he failed to silence accusations that he is hampering the agency's ability to handle voting by mail.
Postmaster General Louis DeJoy's retreat followed mounting pressure from Democrats, including an Aug. 5 exchange with top lawmakers that Senate Minority Leader Chuck Schumer (D-N.Y.) described as "heated." Congress scheduled two hearings with DeJoy in the coming days and the House plans to vote on a postal funding measure on Saturday.
DeJoy said yesterday that he was suspending removals of mail-sorting machines and blue collection boxes in various cities, moves that had been billed as overdue cost-cutting. He pledged that retail hours wouldn't change, mail-processing facilities wouldn't be shut, and equipment would remain where it was. "Overtime has, and will continue to be, approved as needed," he said. But it remains unclear if any of his recent moves would be reversed.
Schumer said he has asked DeJoy to provide him with "a specific, written document" outlining what changes to the Postal Service he is suspending. Schumer said he also asked DeJoy for an "explicit confirmation" that mail-in ballots will continue to be handled as a First Class priority. DeJoy said he'll provide a written response shortly, Schumer said. Read More from Todd Shields and Billy House.
Trump Says Amazon Should Pay Cost of Postal Service: Trump said Amazon should pay higher prices for shipping packages to cover the costs of the U.S. Postal Service. "Amazon is going to pay for the post office," Trump said in Yuma, Ariz., yesterday, repeating a false claim that the USPS loses money on Amazon items because of negotiated rates. "It's part of their model. They think the post office is stupid," Trump said of the company. Read more from Justin Sink.
Meanwhile, Amazon plans to make it harder for merchants to ship products themselves, meaning they'll be more likely to pay the company to handle the task. New shipping performance requirements, announced in an email to merchants yesterday, will require third-party sellers to make deliveries on Saturdays and meet new one- and two-day delivery pledges starting in February. Read more from Spencer Soper.
GOP Drops Challenge to Minnesota Mail Voting Deal: Minnesota Republicans are dropping their challenge to a settlement between state election officials and a Democratic-backed nonprofit organization intended to improve mail-in voting through the pandemic. The state party and the Republican National Committee had appealed to block the July deal, under which the state agreed to extend the deadline for accepting mailed-in votes until a week after Election Day and scrap rules requiring voters to have witnesses sign absentee ballots. Republicans had said the coronavirus threat was speculative. Read more from Erik Larson.
What to Watch Today
Congress: The Senate and House are not scheduled to meet and both chambers will hold their next pro forma sessions Friday.
The Senate Environment and Public Works Committee will hold a field hearing in Wyoming today on the state's efforts to use and store carbon dioxide emissions.
White House: The president has no public events scheduled.
Democratic National Convention: Sen. Kamala Harris (D-Calif.), the vice presidential candidate, will introduce herself to American voters today in her first primetime speech since joining the Democratic ticket.
The evening, themed "A More Perfect Union," focuses on the people who Joe Biden says will help him succeed if elected. Party favorites including former President Barack Obama, 2016 Democratic nominee Hillary Clinton, Speaker Pelosi and Sen. Elizabeth Warren (D-Calif.) will all take star turns.
Emma Kinery lays out the schedule for the main events, starting at 9 p.m. Washington time, and where to see them.
From the Convention
Harris Seeks to Define Role: Harris' prime-time speech at the Democratic convention tonight will be the first glimpse of how Biden's campaign plans to deploy a history-making vice presidential nominee as they work to define her role for a campaign that has largely been grounded by the coronavirus.
The Biden campaign has a clear idea of the people they want Harris to win over in November: Black voters, younger voters and women. But as they strictly abide by health guidelines forced by coronavirus, they are severely limiting the candidates' travel to in-person events and sharing few details about how Harris will engage with voters.
Harris, a senator and former state attorney general, distinguished herself during the primaries with sharp attacks on Biden's civil rights record, nearly turning the race upside-down and exposing a possible liability to Biden's candidacy among liberals, minorities and young people. Now, she'll attempt to rally those same key constituencies around Biden, starting with the day before he accepts his party's nomination. Her speech will be a critical opportunity to re-introduce herself to what will be one of the largest audiences she will reach before November. She is expected to share her cross-cultural origin story which echoes that of Obama. Read more from Gregory Korte, Tyler Pager and Jennifer Epstein.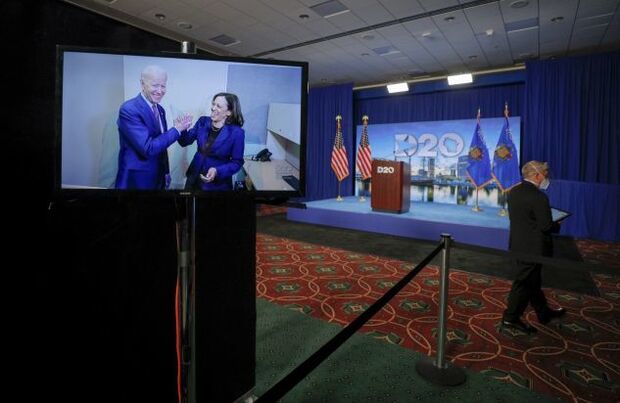 Democrats Make Biden's Nomination Official: Democrats officially nominated Biden for president last night, culminating a comeback that made him their choice to take on Trump with the blessing of the party's past and future stars. Biden received the 2,374 delegate votes necessary for the nomination at a convention that was restyled in the time of Covid-19 into a video tour across the U.S., substituting for the traditional roll call in a crowded convention hall.
In closing remarks from a classroom in Delaware, Jill Biden invoked the personal tragedies endured by the former vice president — who lost his first wife and young daughter in an auto accident and one of his grown sons to cancer. "How do you make a broken family whole?" she asked. "The same way you make a nation whole. With love and understanding — and with small acts of kindness. With bravery. With unwavering faith." Read more from Mark Niquette, Jennifer Epstein and Tyler Pager.
The second night of the convention unfolded as a testament to Biden's brand of centrism, rather than Trump's warnings of a radical agenda. It included testimonials from the party's old guard, like former President Bill Clinton and former Secretary of State John Kerry, along with a joint keynote address by 17 political newcomers, largely hailing from the centrist wing of the party. Josh Wingrove recaps the highlights from last night's speakers.
Conventions Kick Off War on Public Option: Health insurers and hospitals are trying to steer Democrats away from expanding public health insurance options with a blitz of TV ads and analyses premiering just as the party holds its national convention online this week. The industry's latest move comes as insurers flood the campaign coffers of prominent Democrats who favor bolstering Obamacare over expanding government-run insurance programs like Medicare.
Much of the health-care industry is hoping that after the election, Congress will set its sights on adding new money to already existing federal health programs to get more people insured without scaling up the footprint of Medicare. Major trade groups are using the months ahead of the election to lay the groundwork by promoting messages opposing broader public health insurance and backing candidates aligned with their priorities. Read more from Alex Ruoff.
Trump Calls Pro-Biden Ex-Aide 'Lowlife': Trump called a former senior aide in his administration who publicly endorsed Biden on Monday "a lowlife" and said he had never met him. Miles Taylor, who was chief of staff to former Homeland Security Secretary Kirstjen Nielsen, taped an ad for the group Republican Voters Against Trump in which he says Trump "wanted to exploit" the department "for his own political purposes." Justin Sink and Jordan Fabian have more.
More Elections & Politics
Primary Results: Three states held their primaries yesterday.
Discussing Climate Coming More Easily to Local, State Dems: Democrats serving in local offices across the country say they're finding themselves more liberated to talk about climate change and the environment. Their messaging is being driven by mounting evidence of the effects of climate change in their districts and highly visible public figures who have tugged environmental issues into the mainstream. Nationally, 75% of registered voters think global warming is happening, according to Yale University's Program on Climate Change Communication. Read more from Stephen Lee.
The Coronavirus Pandemic
World Virus Cases Top 22 Million: Global virus cases topped 22 million, with the U.S., Brazil and India accounting for more than half the total. South Korea is targeting an uncooperative religious sect that may be spreading infections nationwide. Here's the latest on the virus from around the world by Bloomberg News.
Food Insecurity Stirs Drive for School Meals Aid: Students returning to school or sitting at computers for online learning during the pandemic need sustained access to nutritious meals, lawmakers of both parties are telling the Agriculture Department. "Food insecurity is skyrocketing," Rep. Chellie Pingree (D-Maine) said yesterday. "USDA must take immediate action to extend flexibilities for these programs through the next school year to ensure they're serving every kid who needs them." Read more from Megan U. Boyanton.
Vaccine Costs to Strain States' Medicaid Programs: Getting millions of Covid-19 vaccine doses to the poorest adults in the U.S. will require budget-conscious Medicaid plans to get creative with meager resources and a patchy health-care system not designed for mass inoculation. Extra funding for states to help vaccinate lower-income adults expires when the public health emergency ends, and some Medicaid analysts worry that, without more, states will have to slash budgets for other health programs. Jacquie Lee and Christopher Brown have more.
Mystery Over Spread Via Contaminated Food Packaging: Evidence shows that food is an unlikely route of transmitting the coronavirus across borders, but contaminated items continue to grab the spotlight, deepening the uncertainty over whether the $220 billion cold chain industry could be implicated in the spread of Covid-19. Read more.
Defense & Foreign Affairs
Trump Says He Delayed China Talks: Trump said he called off last weekend's trade discussions with China and that Beijing's handling of the coronavirus was "unthinkable." The trade talks had been aimed at reviewing progress at the six-month mark of the Phase 1 trade deal between the world's largest economies. Chinese Vice Premier Liu He was supposed to hold a conference call with both Mnuchin and Trade Representative Robert Lighthizer, but that was postponed indefinitely. "I don't want to talk to China right now," Trump said in Yuma, Ariz., Justin Sink reports.
Combat Tests on F-35 Jets Slip: A phase of rigorous combat testing meant to evaluate how well the next-generation F-35 jet will fare against sophisticated Russian, Chinese and Iranian air defense threats has slipped five more months due to Covid-19-related delays. Versions of Lockheed Martin's F-35 have flown hundreds of aerial exercises, deployed for overseas operations by the Marines and Air Force and attacked Taliban targets in Afghanistan. Despite all that, the $398 billion fighter program hasn't been evaluated against the most stressing threats in simulators meant to replicate and then go beyond what's likely to occur in real-world flying. Read more from Tony Capaccio.
17 Countries Reject Vote Delay on IDB Chief: Trump's bid to install a close ally to lead one of Latin America's most important lenders won a boost yesterday as the 17 countries with the most voting power at the Inter-American Development Bank opposed postponing its September election. The countries signed a letter rejecting a growing effort to push back the bank's upcoming vote and the likely election of Mauricio Claver-Carone, Trump's top aide for Latin American issues. Read more from Andrew Rosati and Eric Martin.
Trump Says 'Toll' on Border Crossings May Fund Wall: Trump said the White House may impose a "toll" on cars crossing into the U.S. from Mexico to finance construction of his promised wall on the southern border. "They're going to pay at the border, at the gate, cars going through," Trump said at an event in Yuma, Ariz., where he touted construction of the wall. "We are going to do a toll, or we may do a toll." Read more from Justin Sink and Jordan Fabian.
Trump Weighs Tighter Sanctions on Venezuelan Oil: The Trump administration is considering additional sanctions on Venezuela aimed at halting the remaining fuel transactions permitted with the South American nation, according to people familiar with the matter. The measures could target crude swaps with companies in Asia and Europe, said the people. Read more from Ben Bartenstein and Lucia Kassai.
What Else to Know Today
Trump Backs Oracle's TikTok Bid: Oracle's bid for the U.S. operations of TikTok received the backing of Trump, bolstering the software maker's attempt to derail takeover talks led by rival Microsoft. "Oracle is a great company," said Trump in Arizona. "I think its owner is a tremendous guy. He's a tremendous person. I think that Oracle would be certainly somebody that could handle it." Read more from Giles Turner.
Staffing Firms Worried About Payroll Tax Deferral: A trade group representing U.S. staffing agencies wants the IRS and Treasury Department to hold employees, rather than their employers, accountable for paying back deferred payroll taxes if the taxes aren't ultimately forgiven. Trump issued a memorandum earlier this month to temporarily pause collection of the tax normally withheld from employees' paychecks to fund Social Security. The deferred amounts eventually have to be repaid unless Congress acts to forgive them. Read more from Allyson Versprille.
NY MTA Becomes Second to Tap Fed: The Federal Reserve bought $451 million of notes sold by New York's Metropolitan Transportation Authority, making the beleaguered transit agency the second to borrow from the central bank's $500 billion lending program for states and cities. Illinois was the first to tap into the program. Read more from Amanda Albright and Danielle Moran.
What's at State for EPA's Mercury Pollution Rule: The nation's first-ever power plant limits on releasing mercury and other toxic air pollutants may be on shaky ground after an EPA move in late spring. The EPA's final rule in May removed the legal underpinning for the Obama-era mercury limits: a determination that regulating the pollutants is "appropriate and necessary." The decision has given rise to a multipronged attack from various,often unlikely, coalitions of states, electric utilities, mercury control manufacturers, and environmental groups that want to protect the 2012 limits—and a lone coal mining company that wants them tossed out. Read more from Amena H. Saiyid and Ellen M. Gilmer.
States Plan Dividing Purdue Opioid Money: Billions from the Purdue Pharma bankruptcy could fund wider use of opioid overdose treatments, programs for babies born addicted, and support programs for mothers and people in jail, according to a draft proposal obtained by Bloomberg Law. While not all parties have agreed on whether to accept Purdue's proposed $10 billion settlement to end the company's liability for its role in the opioid crisis, the states and local governments have been negotiating a tentative agreement on how to divvy up the money —regardless of the final dollar amount. Read more from Valerie Bauman and Alex Wolf.
To contact the reporters on this story: Zachary Sherwood in Washington at zsherwood@bgov.com; Brandon Lee in Washington at blee@bgov.com
To contact the editors responsible for this story: Giuseppe Macri at gmacri@bgov.com; Loren Duggan at lduggan@bgov.com; Michaela Ross at mross@bgov.com
Stay informed with more news like this – from the largest team of reporters on Capitol Hill – subscribe to Bloomberg Government today. Learn more.