What to Know in Washington: Giuliani Ally to Give Data to Panel
Lev Parnas, the indicted associate of Rudy Giuliani, is set to turn over data from his iPhone and documents seized by the U.S. government to a House committee investigating President Donald Trump.
The material had been subpoenaed by the House Intelligence Committee and is critical to its ability to "corroborate the strength" of Parnas' potential testimony, Parnas's lawyer Joseph Bondy wrote in a letter to a federal judge yesterday. The government plans to produce the data and the documents today and doesn't object to the information being turned over to the committee as long as it gets approval from the judge, Bondy wrote.
U.S. District Judge Paul Oetken had said earlier that he would approve a request to share the material with Congress.
The release of potentially new information comes as Speaker Nancy Pelosi (D-Calif.) is considering whether to send two articles of impeachment of Trump to the Senate for a trial. She's been holding them while Senate Minority Leader Chuck Schumer (D-N.Y.) has been pressing Majority Leader Mitch McConnell (R-Ky.) to allow for witnesses to testify at the trial.
Parnas is a Ukrainian-born U.S. citizen who's charged with illegally funneling foreign money into U.S. elections. He has pleaded not guilty and is out on bail.
Parnas had been working with Giuliani to dig up political dirt in Ukraine against Hunter Biden and his father, former Vice President Joe Biden. Trump's demand on a July phone call with Ukraine's leader to announce an investigation into the Bidens prompted the impeachment inquiry in the U.S. Read more from Edvard Pettersson.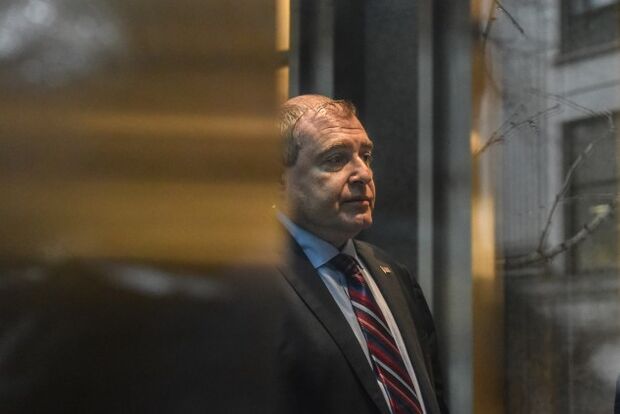 Trump National Security Aide Rebuffed: Separately, a federal judge is taking a pass—at least for now—on whether to require Trump's former deputy national security adviser to comply with a House subpoena to testify in the impeachment hearings. Charles Kupperman, who served under John Bolton, sued Trump and House Democrats in October seeking a ruling on whether the president's order for him to ignore the subpoena was legal. The president claims to have absolute power to decide whether his advisers can testify.
The House ultimately pulled its subpoena, and the White House said it wouldn't go after Kupperman for flouting it, making the dispute moot, U.S. District Judge Richard Leon in Washington said yesterday in dismissing the case. Read more from Erik Larson.
Politics & Policy
Anti-Semitic Terrorism Hearing Scheduled: The House Homeland Security Intelligence and Counterterrorism Subcommittee will hold a Jan. 15 hearing on "the rise of anti-semitic domestic terrorism attacks" and the U.S. government's response, according to statement from Subcommittee Chairman Max Rose (D-N.Y.), Kasia Klimasinska reports. The hearing announcement comes after an intruder in a New York suburb stabbed five people at a rabbi's home during Hanukkah celebrations on Saturday, in addition to other attacks of antisemitic nature in recent months.
Separately,Sen. Bernie Sanders (I-Vt.) helped light a menorah at a "Chanukah on Ice" event at an Iowa ice skating rink on Sunday night, and condemned a rise in anti-semitism in America and "all over the world." It's rare to see Sanders, a secular Jew, in a religious setting while running for the Democratic nomination. Read more from Jennifer Jacobs.
Drugmaker Donors to GOP Campaigns: Executives from five pharmaceutical companies including Pfizer and Amgen have given over $370,000 combined to 2020 political campaigns. The contributions flowed largely to Republicans who pose a bulwark against drug price-control legislation that could hurt companies' revenue. Lawmakers heading into the 2020 elections face increasing pressure to pare back the costs consumers pay for drugs. On the table are proposals that would empower the federal government to demand lower prices for certain medicines. Another aims to overhaul Medicare to reduce what seniors pay.
The campaign of Mitch McConnell and affiliated committees were the leading beneficiaries, raking in over $91,000 from five top industry executives in 2019, Federal Election Commission records show. GOP campaign committees also benefited. Read more from Alex Ruoff.
Biden Holds Edge Over Trump in Florida: Biden holds a narrow edge over the president in a head-to-head match-up in Florida, the only leading Democratic candidate currently presenting serious competition to Trump in the crucial 2020 swing state, according to a poll released today. Biden is supported by 47% of Florida voters, while 45% say they support Trump, according to the survey by Mason-Dixon Polling & Strategy conducted Dec. 11-16. The result is well within the survey's 4 percentage point margin of error, and 8% of registered voters remain undecided. Read more from Joe Sobczyk.
Trump to Counter-Program Debate: Democrats seeking to replace Trump in the White House will have some competition for television viewers during their next debate: The incumbent president himself. Trump's campaign announced yesterday that his next rally would be in Milwaukee on Jan. 14. That's the same day as the Democratic candidates' seventh debate in Des Moines. It's not clear whether the Democratic debate will proceed if the Senate is holding a trial on the articles of impeachment. Read more from Mario Parker.
DNC Denies Yang Poll Request: The Democratic National Committee rejected a request from presidential hopeful Andrew Yang to commission more early state polls before January's debate, The Hill reports, citing a DNC spokesperson. Yang had said the lack of surveys over the holidays might keep him and others from qualifying. Candidates need at least 5% of support from respondents in at least four national or early state polls approved by the DNC.
Sanders Doctors Say He's Fit for Office: Bernie Sanders's campaign for the first time yesterday disclosed information about the severity of the heart attack he suffered in October, but also released letters from doctors describing him as in good health and fit to lead the country. Sanders's heart attack was caused by a blockage in the midportion of his left anterior descending coronary artery, Congress's attending physician, Brian Monahan, said in one of the letters. But since then, his "heart muscle strength has improved" and Sanders doesn't have symptoms of congestive heart failure, a life-threatening condition, Monahan wrote. Read more from Mario Parker and Michelle Fay Cortez.
Bloomberg Touts Maternal Health Plan: Democratic presidential candidate Michael Bloomberg is calling for measures such as a free health insurance plan for low-income women and standardizing data collection to improve maternal health and reduce deaths, especially among women of color. The former New York mayor released his plan yesterday at a campaign stop in Alabama, which he said has one of the highest maternal- and infant-mortality rates in the U.S. Read more from Mark Niquette. Bloomberg is the founder and majority owner of Bloomberg Government's parent company.
What Else to Know
Protesters Storm U.S. Embassy Complex in Iraq: Dozens of protesters stormed the U.S. Embassy complex in Baghdad today to vent their rage over deadly U.S. airstrikes targeting an Iranian-backed Iraqi militia. Guards lobbed tear gas and opened fire to quell the unrest, which was quickly contained. The U.S. ambassador and the diplomatic corps were evacuated two days ago, according to a person familiar with the matter, who spoke on condition of anonymity because he wasn't authorized to speak publicly. The actual embassy building was not attacked, he said.
Protesters streamed into the compound after smashing down the guardpost gate with hammers, according to televised footage. Black smoke billowed from tires the protesters had set on fire. Twenty demonstrators suffered from tear gas inhalation, according to a statement from the umbrella group to which the Kataieb Hezbollah militia belongs. Read more from Abbas Al Lawati.
The U.S. yesterday defended the airstrikes strikes. "This was a defensive action that was designed to protect American forces and American citizens in Iraq," Brian Hook, the U.S. envoy to Iran, said in a briefing yesterday. Sunday's rare direct strike on an Iranian proxy came at an especially tense time and held the potential for escalation. The U.S. and Iran are locked in a standoff over the administration's crippling economic offensive against Tehran and suspected reprisals. Read more from Glen Carey.
Taliban Rejects U.S. Cease-Fire Plan: The Taliban said today it will not accept a nationwide cease-fire proposed by the U.S. government, hours after the militant group killed at least 14 Afghan soldiers. "The Islamic Emirate has no intention of declaring a cease-fire," Taliban spokesman Zabihullah Mujahed said today, using the group's title for Afghanistan. The U.S. "has asked for a reduction in the scale and intensity of violence and discussions being held by the Islamic Emirate are revolving solely around this specific issue." The Taliban's new comment counters Trump's claim that the militant group "wants to make a deal" and "they want to do a cease-fire." Read more from Eltaf Najafizada.
North Korea Signals Escalation Ahead of Kim's Big Speech: For months, North Korean leader Kim Jong Un has been threatening to take a "new path" in nuclear talks if Trump doesn't sweeten the deal by the end of the year. Now, the world might learn where that road leads. Kim's biggest annual speech — a televised New Year's address to the North Korean people — will provide an opportunity hours after his self-imposed deadline passes to signal whether he intends to mend fences or escalate tensions. He has used the event to do both before: previewing a breakthrough intercontinental ballistic missile launch in 2017 and opening the door to talks with South Korea a year later.
This time, most signs point to escalation. North Korea has expressed increasing frustration with the American side since Trump walked out of their last formal summit in February. Kim resumed missile launches at a record-setting pace and repeatedly warned that his two-year freeze on ICBM and nuclear-bomb tests might be coming to an end. Read more from Jon Herskovitz and Jihye Lee.
Huawei Shakeup Amid Trump Penalties: Huawei Technologies will overhaul its executive ranks next year after revenue growth slowed further in the latter half of this year, when U.S. sanctions spooked more customers and suppliers around the globe. China's biggest technology company recorded an 18% rise in sales to 850 billion yuan ($120 billion) this year, down from about 23% in the first half and missing its own internal targets. Huawei should brace for a similar hit in 2020 if the White House maintains curbs on sales of software and circuitry it needs, like essential Android phone apps, Rotating Chairman Eric Xu said in a memo to Huawei's 190,000 employees. Read more from Bloomberg in Beijing.
Meanwhile, findings in a report by Stanford University's Hoover Institution—that China is waging a "covert, coercive or corrupting" influence campaign inside the U.S.—have provided intellectual validation for many of the worst fears about Beijing's activities. The study has already been cited 19 times in academic articles, while also reinforcing an image of Chinese Americans as vulnerable to blandishments and coercion by the Chinese Communist Party and evoking a fraught debate about dual loyalties. Peter Waldman reports on the fallout of the controversial study.
Louisiana Abortion Law Support at SCOTUS: Nearly a dozen briefs have been filed in the U.S. Supreme Court supporting Louisiana's attempt to preserve a law requiring doctors who perform abortions to have admitting privileges at nearby hospitals. The Association of American Physicians and Surgeons, Thomas More Society, Sen. Josh Hawley (R-Mo.), and Priests for Life were among the supporters of Louisiana's law, saying it, though substantially similar to a Texas provision that the high court struck down in 2016, should be upheld. Read more from Mary Anne Pazanowski.
Editor's Note: Bloomberg Government's What to Know in Washington will not publish tomorrow in observance of New Year's Day. We'll resume publication Thursday, Jan. 2.
To contact the reporter on this story: Brandon Lee in Washington at blee@bgov.com
To contact the editors responsible for this story: Zachary Sherwood at zsherwood@bgov.com; Loren Duggan at lduggan@bgov.com