What to Know in Washington: Germany's Scholz Halts Nord Stream 2
The western response to Russia's latest escalation over Ukraine became clearer as Germany halted the certification process for the Nord Stream 2 pipeline following President Vladimir Putin's decision to send troops to two self-proclaimed separatist republics.
German Chancellor Olaf Scholz, who held a call with Putin late yesterday, said that the Russian leader's recognition of the breakaway republics in eastern Ukraine had materially changed the situation so that "no certification of the pipeline can happen right now." Without it, he told reporters in Berlin, the gas pipeline from Russia to Germany "cannot go into operation."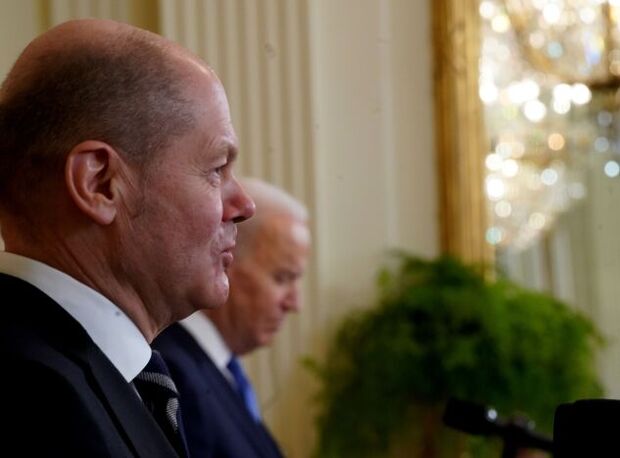 Nord Stream 2 is a priority project for Putin that he has personally pushed from its inception. The decision to put it into limbo demonstrates Germany's determination to shoulder the economic cost of holding Putin to account for his actions, which effectively tear up years of diplomatic efforts spearheaded by Berlin to bring peace to eastern Ukraine. It was the first hint of a round of U.S. and European sanctions due to be announced as soon as Tuesday.
"I expect a very strong and focused package," Scholz said.
President Joe Biden issued an executive order prohibiting U.S. investment, trade, and financing to separatist regions of Ukraine, and Ambassador Linda Thomas-Greenfield said additional American sanctions against Russia would be coming on today. The U.K. is set to impose sanctions on Russia, while the European Union has begun the process of agreeing penalties for Putin's actions.
For the moment, western officials indicated that Russia's recognition wasn't a dramatic enough step to prompt the severe economic sanctions threatened in case of a full-scale invasion. A senior administration official told reporters the sanctions currently planned are separate from the more severe economic measures the Biden administration has said it would impose should Putin move forward with an invasion.
The U.S. said the White House was still open to a meeting between Biden and Putin—predicated on Russia not proceeding with an attack. Secretary of State Antony Blinken is scheduled to meet with Foreign Minister Sergei Lavrov in Geneva Thursday to discuss the crisis. Read more from Henry Meyer.
In the U.S., the response varied across the ideological spectrum with some of the more moderate Republican lawmakers immediately drawing the conclusion that what Putin did was an invasion.
Wyoming Representative Liz Cheney (R) was the most direct and tweeted right out the of the gates: "Russia has invaded Ukraine." U.S. Senator Bill Cassidy (R) of Louisiana said in a statement "Russia invading Ukraine violates every international norm."
Democrats were careful in their choice of words. Chris Coons (D) of Delaware, a member of the Senate Foreign Relations Committee, came out to say "President Putin in a rambling, grievance-fueled speech today has made clear he intends to further invade Ukraine in a blatant effort to redraw the borders of Eastern Europe according to the whims of Moscow." Indeed, the term "further" seems to be the key, the idea being that Russia has simply made official what Ukraine has long called the reality on the ground. Read more from Andrea Dudik, Milda Seputyte and Flavia Krause-Jackson.
MORE DEFENSE & FOREIGN AFFAIRS
Progressive Jayapal Boosts Centrist Democrats' Fundraising
House Democratic moderates facing some of the toughest races next year in swing districts are getting help from the chair of the Congressional Progressive Caucus, whose members have occasionally butted heads with their more centrist colleagues.
Rep. Pramila Jayapal (D-Wash.) has donated tens of thousands of dollars to almost all members in competitive districts identified as frontliners. She also started hitting the campaign trail with these vulnerable incumbents, appearing at a fundraiser earlier this month.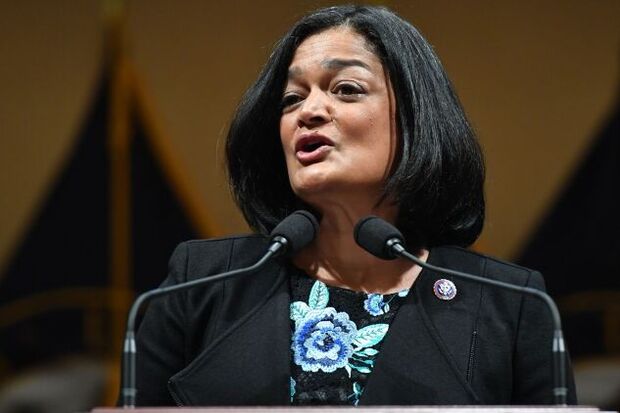 Jayapal said her donations to these members serves a dual purpose: helping Democrats keep control of the House and building alliances across the party to pass parts of the progressive agenda. "Part of our success as the Progressive Caucus over the last year has been that ability to build relationships across the Democratic caucus," she said in an interview. The donations could also be a factor if Jayapal runs for a position in House leadership next year.
Jayapal said she's been "discussing different positions," though it isn't clear which, if any, spots in the Democratic caucus will be open. "There might be an opportunity for me to provide leadership skills, and I'm interested in that potentially if that comes about," she said. Read more from Emily Wilkins.
Trump Must Face Suits Over Jan. 6 Riot, Judge Says
Donald Trump must face lawsuits accusing him of inciting the Jan. 6 U.S. Capitol insurrection, a federal judge ruled, rejecting the former president's immunity and free-speech arguments.
U.S. District Judge Amit Mehta in Washington issued a sweeping 112-page opinion on Friday denying Trump's motions to dismiss three lawsuits. Mehta said Trump's speech at a rally before the riot crossed the lines of both the First Amendment and the protections from civil liability presidents usually have while in office.
"To deny a president immunity from civil damages is no small step," Mehta wrote. "The court well understands the gravity of its decision. But the alleged facts of this case are without precedent."
Two of the three suits over the Jan. 6 riot were filed by Congressional Democrats and one by injured Capitol Police officers. Mehta said he would dismiss the lawsuit against another rally speaker, Rep. Mo Brooks (R-Ala.). Read more from Joe Schneider.
MORE POLITICS & INFLUENCE:
Around the Administration
Biden's Schedule:
Federal Reserve Governor Lael Brainard said the U.S. central bank is ready to raise interest rates next month and begin shrinking its balance sheet in coming meetings. "Given we have seen quite strong data, I do anticipate it will be appropriate at our next meeting to initiate a series of rate increases," Brainard, who has been nominated to become Fed vice chair, said Friday. Read more from Michael McKee.
Permits to drill for oil and gas on U.S. public land will be delayed after a federal judge ruled against the Biden administration's estimates of the social costs of greenhouse gas emissions, the Interior Department said Saturday. At issue is a 2021 executive order directing federal agencies weighing environmental permitting and regulatory decisions to consider a metric for estimating the societal costs from carbon dioxide associated with those moves. Read more from Jennifer A. Dlouhy.
The U.S. Supreme Court will take up a contentious immigration clash, agreeing to decide whether Biden's administration can end a Trump-era policy requiring asylum seekers at the southern border to wait in Mexico for their cases to be processed. The administration rescinded Trump's so-called "remain in Mexico" policy last year, only to have a judge order it reinstated. The Supreme Court indicated it will hear the appeal on an expedited basis, with arguments in late April, so that the justices can rule by the end of their term in late June or early July. Read more from Greg Stohr.
The U.S. Agriculture Secretary Tom Vilsack said some recent price increases were the result of businesses "taking advantage" of the coronavirus pandemic and supply-chain disruptions to push up food costs. Food prices have soared globally in the past year as economies recover from the pandemic and amid a jump in energy and fertilizer costs and transportation delays. Read more from Ben Bartenstein.
The DOJ will argue a high school's policy that barred a transgender student from using the boys' bathroom violated federal law because he was a boy "socially, physically, medically, and on legal documents." The St. John's County School Board's policy restricting bathroom use by "biological sex" is only valid under the Equal Protection Clause of the U.S. Constitution if it serves an important governmental interest, the Justice Department said in a brief in advance of oral argument before the full U.S. Court of Appeals for the Eleventh Circuit. Read more from Patrick Dorrian.
The National Labor Relations Board's Trump-era worker classification test has resulted in a higher rate of employee wins than the broader standard set during the Obama administration, according to a Bloomberg Law analysis conducted as the board considers ditching that more recent precedent. Read more from Robert Iafolla.
To contact the reporters on this story: Michaela Ross in Washington at mross@bgov.com; Brandon Lee in Washington at blee@bgov.com
To contact the editor responsible for this story: Giuseppe Macri at gmacri@bgov.com