What to Know in Washington: Georgia to Shape Biden's Presidency
Bloomberg Government subscribers get the stories like this first. Act now and gain unlimited access to everything you need to know. Learn more.
The outcome of today's Georgia Senate runoff elections will shape Joe Biden's presidency even before it officially begins on Jan. 20, setting the scope of his agenda and the pace of his nominees' confirmations — and previewing whether Republicans can launch robust investigations into him and his family.
Biden won the November election with bold pledges to amplify the federal response to the coronavirus pandemic, release billions more in economic stimulus and raise taxes on corporations and people who make more than $400,000 a year. Those and many others will require legislation.
If Democrats Jon Ossoff and Raphael Warnock both win, the Senate will be divided 50-50 between the parties and Vice President-elect Kamala Harris can cast a tie-breaking vote to help advance that agenda. If Republicans David Perdue or Kelly Loeffler win one of the seats, Republicans will have enough votes to block any Biden initiative, from approving his cabinet onward.
"I don't think it's possible to overstate it," said Casey Dominguez, a political scientist at the University of San Diego. "Who gets the majority leader's office in the Senate is incredibly important."
Without those two Senate seats, Biden would be the first chief executive to begin his presidency under divided government since George H.W. Bush in 1989. In the 32 years since, Washington has only gotten more partisan, and significant factions of the Republican Party have refused to acknowledge Biden's very legitimacy as president.
Perdue underscored the dramatic stakes when he called in to Vice President Mike Pence's rally in Georgia yesterday from where he was quarantining after exposure to Covid-19.
"The very future of our republic is on the line," he said, echoing the sentiments of the other candidates. "This will determine the future of America for a long, long time." Last night, he made a similar appeal on video to a rally in Dalton led by President Donald Trump, who invited Loeffler to address the crowd.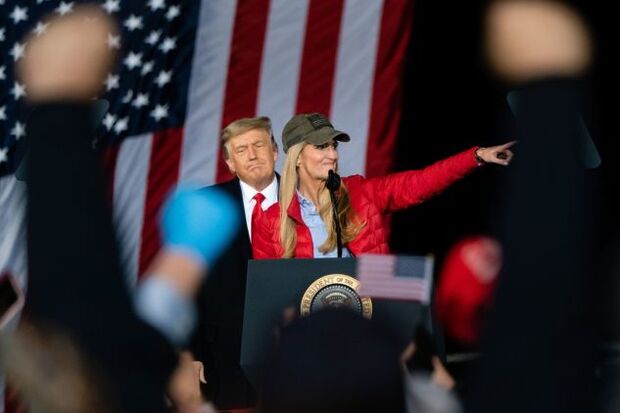 Even if Democrats win that barely-there majority, it may not be enough to result in a blitz of Biden-backed bills, thanks to the Senate filibuster, which requires 60 votes to cut off debate and pass a piece of legislation. But the Senate can pass a taxing and spending bill with a simple majority vote under a process known as budget reconciliation.
A Republican Senate would mean Biden would have to make good on his campaign promise to find common ground. But a chamber led by Mitch McConnell (R-Ky.) would likely preclude any action on taxes, immigration or climate — areas where the ideological distance between the parties is greatest. Read more from Gregory Korte.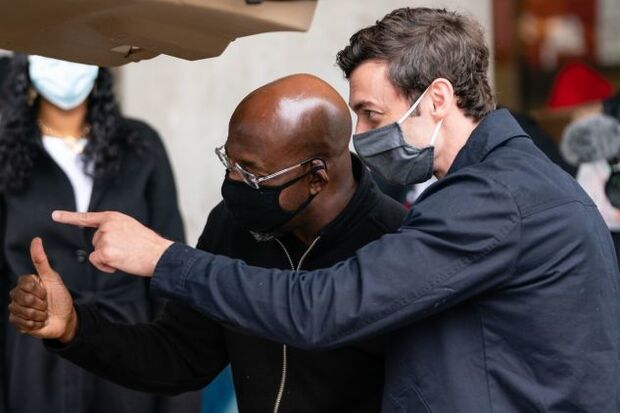 More on Georgia's Elections
Turnout Hits Historic Highs: Georgia voters are turning out in record numbers to cast ballots in the two runoff elections. Three million Georgians have voted ahead of the election, more votes than have ever been cast in a Georgia runoff race. Read more from Allison McCartney.
Biden, Trump Stage Dueling Rallies on Eve of Georgia Election: Biden and Trump held dueling rallies yesterday ahead of the runoff election, where the president-elect promised a Democratic Congress would pass more pandemic relief while the president revisited his claims that vote fraud robbed him of re-election.
At a drive-in rally in Atlanta, Biden said the entire country is looking to Georgia to help him implement his agenda by electing Democrats to both of the state's Senate seats. "The power, the power is literally in your hands," he said. "Unlike any time in my career, one state — one state –can chart the course not just for the next four years but for the next generation."
Trump agreed, in a way, charging that if Democrats win the two seats, "the damage they do will be permanent and will be irreversible. Can't let it happen. These Senate seats are truly the last line of defense." Read more from Jennifer Epstein, Justin Sink and Mario Parker.
'Absurd' Trump Lawsuit in Georgia Blasted By Kemp in Court: Trump's "absurd" demands in a new lawsuit to reverse his election loss in Georgia are too late to be valid and rely on rehashed voter-fraud claims that have already been "flatly rejected" in similar cases, the state's Republican governor said in a court filing. Trump seeks a court order requiring Georgia to "de-certify" its election result and allow the state's GOP-led legislature to declare the winner instead — a strategy that the president and his allies tried without success to force on several swing states after Trump's decisive loss. Doing so would "disenfranchise millions of Georgia voters" and "thrust the State of Georgia into constitutional chaos," Gov. Brian Kemp (R) and Secretary of State Brad Raffensperger, the state's embattled GOP elections chief, said in a filing yesterday in federal court in Atlanta. Read more from Erik Larson.
Meanwhile, Trump's phone call pressing Raffensperger to "find 11,780 votes" to reverse his defeat in the state may have ironically produced what Republicans have failed to put forth in dozens of lawsuits: smoking-gun evidence of election fraud. That's certainly how former military prosecutor Rep.

Ted Lieu

(D-Calif.) is seeing it, calling on FBI Director

Christopher Wray

to open a probe into Trump's suggestion that Raffensperger "recalculate" the election tally. "We believe Donald Trump engaged in solicitation of, or conspiracy to commit, a number of election crimes," Lieu said in a letter joined by fellow Rep.

Kathleen Rice

(D-N.Y.), former district attorney. "Mr. Trump, for purposes of a federal election, solicited Secretary of State Raffensperger to procure ballots that are known to be false." Erik Larson has more.
Happening on the Hill
Security Instructions Ahead of Electoral College Session: U.S. lawmakers are receiving urgent security instructions in advance of potential violence in Washington tied to protests as Congress meets to certify Biden as the next U.S. president. The precautions distributed yesterday to members of the House and Senate include guidance to use underground tunnels while traveling between chambers in the Capitol and to nearby office buildings during the day.
Trump has urged public protests to help pressure lawmakers to reject the Electoral College vote sealing Biden's victory, and ABC News said he plans to speak at a rally near the White House tomorrow. The leader of the Proud Boys, Enrique Tarrio, was arrested by Washington police yesterday and charged with destruction of property "related to an offense" that occurred on Dec. 12, according to Sean Hickman, a police spokesman. He faces additional charges after "he was found to be in possession of two high-capacity firearm magazines," Hickman added. Read more from Billy House.
Business Leaders Urge Congress to Certify Election: More than 170 U.S. business leaders, including the chief executive officers of Goldman Sachs, BlackRock and Pfizer, urged Congress to accept the results of the presidential election. "Attempts to thwart or delay this process run counter to the essential tenets of our democracy," the leaders said in a letter yesterday by the Partnership for New York. Read more from Cecile Daurat.
Meanwhile, Loeffler last night at a rally said she will object to certifying the electoral college vote, Bloomberg News reports.
The Coronavirus Pandemic
Fed's Mester Says Policy Should Hold Steady: The U.S. economy will require steady, continued support from monetary and fiscal policy throughout 2021 as it faces a bleak winter before reaching a vaccine-driven, mid-year rebound, according to Federal Reserve Bank of Cleveland President Loretta Mester. "A slowdown in the economy in the first part of the year along the lines I am expecting would not require a change in monetary policy so long as the medium-run outlook remains intact," Mester said in the text of remarks she was set to deliver last night. Read more from Christopher Condon.
Hahn Says Changes to Covid-19 Dosing Premature: FDA Commissioner Stephen Hahn said suggesting changes to the FDA-authorized dosing or schedules of Covid-19 vaccines at this time is "premature and not rooted solidly in the available evidence." The FDA has been following the discussions and news reports about reducing the number of doses, extending the length of time between doses, changing the dose volume, or mixing and matching vaccines in order to immunize more people. Hahn added these are all reasonable questions to evaluate in clinical trials, reports Hari Govind.
New York State Reports First Case of U.K. Variant: New York state has found its first case of the U.K. variant of coronavirus, Gov. Andrew Cuomo (D) said yesterday. A man in his 60s who lives in Saratoga County in upstate New York tested positive for the B117 variant, Cuomo said. The man had not traveled recently, which suggests it was the result of community spread, he said on a conference call. The state has done about 5,000 tests looking for the strain, Cuomo said. Read more from Keshia Clukey.
What Else to Know Today
Time Is Running Out to Get an Eleventh-Hour Pardon From Trump: The week before Christmas, Trump issued a series of pardons and commutations, many of them for his personal associates and political loyalists: his son-in-law's father, Charles Kushner; former operatives Roger Stone and Paul Manafort; and two former GOP congressmen. Hardly any of the 49 people who received clemency were vetted by the U.S. Department of Justice's pardon office. Trump has largely wrested the clemency process from the Justice Department, turning it into a lobbying bonanza that has outraged Democrats.
The president's willingness to do favors for his friends and to champion causes promoted by conservative media has emboldened everyone from fringe figures in the Mueller investigation to the desperate relatives of lower-profile prisoners to lobby the White House for clemency. Read more from David Yaffe-Bellany.
Pentagon Gets Diversity Watchdog in Defense Bill: The annual defense policy legislation, passed in spite of Trump's veto, will bring a heightened focus on diversity issues and efforts to combat white supremacy and extremist behavior within the U.S. military. Along with billions of dollars for new weapons systems and a pay raise for troops, a new deputy inspector general's position was created by the bipartisan defense authorization bill to carry out audits, investigations and evaluations of military personnel policies, programs and systems to ensure they address diversity priorities. The new watchdog will also have a key role in responding to white supremacist and criminal gang activity by military personnel, according to the legislation passed on Jan. 1 over Trump's veto. Read more from Tony Capaccio.
Peace Talks to Resume Under Shadow of Targeted Afghan Killings: Battling a resurgence in violence including a campaign of targeted killings of journalists, Afghanistan's government is set to resume peace talks with the Taliban today, with efforts expected to be focused on securing a cease-fire agreement in the dying days of Trump's presidency. Read more from Eltaf Najafizada.
Saudi Arabia Opens Its Borders With Qatar: Saudi Arabia will open its land, air and sea borders with Qatar, substantially easing a years-long diplomatic rift on the eve of a summit of regional leaders. The step comes amid efforts to resolve the dispute that's split Qatar from its neighbors since 2017 and complicated U.S. strategy toward Iran under Trump. Read more from Vivian Nereim and Fiona MacDonald.
Trump EPA to Tie Biden Hands on Science: The EPA is set to publish today a long-awaited final rule that fundamentally shifts the way science is considered in agency rulemaking, according to sources familiar with the matter. The Strengthening Transparency in Regulatory Science rule would block the Environmental Protection Agency from using nonpublic epidemiological studies that contain private medical information when it drafts new rules. Read more from Stephen Lee and Jennifer A. Dlouhy.
Banks Say Lending Rule Would Alter Business Models: A Trump-appointed banking regulator's proposal to bar banks from refusing to lend to oil and gas companies, gun makers, and other politically sensitive industries could lead to unsound and unsafe lending practices, a leading Wall Street trade group said. The Office of the Comptroller of the Currency's "fair access" proposal would force some banks to alter their business models to provide credit and other services to industries where they lack "requisite expertise," the Bank Policy Institute said in a letter yesterday, Evan Weinberger reports.
NYSE Says No Longer Plans to Delist China Telco Giants: The New York Stock Exchange Regulation no longer intends to move forward with the delisting action in relation to China Telecom, China Mobile and China Unicom (Hong Kong), according to a statement, Niluksi Koswanage reports. Issuers will continue to be listed and traded on the NYSE.
Ag to Start New Round of Virus Relief Purchase: The Agriculture Department is set to start a fifth round of commodity purchases worth $1.5 billion through the Farmers to Families Food Box Program, according to an announcement yesterday by Secretary Sonny Perdue. More than 132 million food boxes have been distributed thus far, and the most recent Covid-19 relief package allocated extra program funding. The boxes of produce, meat, and dairy products will also include seafood in the upcoming round, with awards for program contractors expected by Jan. 19, Megan Boyanton reports.
With assistance from Megan U. Boyanton
To contact the reporters on this story: Giuseppe Macri in Washington at gmacri@bgov.com; Brandon Lee in Washington at blee@bgov.com
To contact the editors responsible for this story: Giuseppe Macri at zsherwood@bgov.com; Loren Duggan at lduggan@bgov.com; Michaela Ross at mross@bgov.com
Stay informed with more news like this – from the largest team of reporters on Capitol Hill – subscribe to Bloomberg Government today. Learn more.