What to Know in Washington: Gas Prices in Swing States Vex Biden
US pump prices remain stubbornly high just three weeks away from the midterm elections, and the states where the pain is most acute include those poised to determine which party controls Congress.
Nevada and Arizona—swing states with competitive Senate races—are among those grappling with the highest gasoline prices in the country. More than 40% of competitive races rated by Cook Political Report are in states seeing the highest increases in pump prices compared with the 2020 election.
"It doesn't get easier to sell the Democratic brand at a high gasoline price," said Kevin Book, managing director of consulting firm ClearView Energy Partners. "To the extent that Democrats are facing Republicans who are trying to make this a referendum on Biden, the increase from 2020 is going to be unflattering."
Pump prices are America's most visible inflation warning, flashing on street corners in every part of the country. The cost of gasoline is higher than during at least nine of the last election cycles, averaging $3.88 a gallon for the first half of October, according to AAA data. They're nearly 80 cents higher than in October 2008, when equities markets crashed during the Great Recession.
As costs surge, the economy has re-emerged as a top voter concern, with higher gasoline prices linked to lower presidential approval. President Joe Biden has tried to take credit for price declines, noting in a speech Wednesday that prices have fallen 30% from the summer peak. "But," he conceded, "they are not falling fast enough. Families are hurting." Read more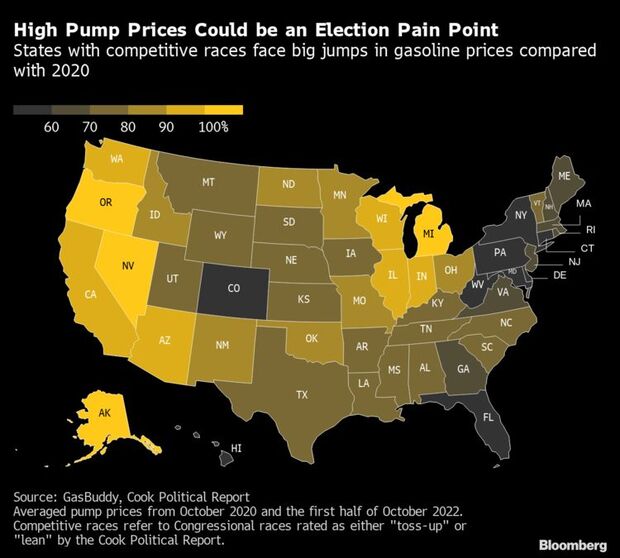 More in Elections & Politics
Reddit AMA with BGOV's Elections Guru: Greg Giroux here. You may have heard me on Bloomberg Government's webinars and our podcast Downballot Counts. I'll be on Reddit's /r/politics tomorrow at 2 p.m. to discuss the over 1,200 US House and Senate campaign ads I've watched since Labor Day. Which ads and issues stand out? AMA!
Just in time for the midterms, a new lawmaker ranking scorecard is taking a holistic look at lawmaker's actions and words when determining whether they're working with lawmakers across the aisle, Emily Wilkins reports.
The Common Ground Scorecard, from the nonpartisan Common Ground Committee, tracks members' statements and press releases for mentions of bipartisanship, notes if they've joined a caucus like the Problem Solvers and also deducts points if a member personally insults a political opponent.
Lawmakers can score anywhere from -20 to 110. The average score is 29. Common Ground CEO Bruce Bond said although scores that track how much bipartisan legislation lawmakers craft is "certainly noteworthy," it's "not the full story." "We want to highlight people out there that are actually making a point to let the world know that this is important to them," Bond said. The top scoring lawmakers, each with a score of 104, are Reps. Don Bacon (R-Neb.) and Dean Phillips (D-Minn.).
South Carolina's five supreme court justices Wednesday engaged attorneys in a lively debate over whether the state constitution guarantees a right to abortion beyond the six weeks allowed by a currently blocked state law.
Voters of color are more likely to be concerned about climate change and more adamant that the US needs to address the issue, according to a poll unveiled Thursday by a green diversity group.
Happening on the Hill
More emails involving Donald Trump's former attorney John Eastman feature evidence of potential postelection criminal activity by Trump and his allies, a federal judge in California found.
MORE OF TRUMP'S LEGAL BATTLES
Trump lost his request to transfer New York's fraud lawsuit against him and his company to a different court division in Manhattan, ensuring the case will remain before the same judge who once held him in contempt. Read more
Trump's legal team is weighing whether to allow federal agents to return to the former President's Florida residence, and potentially conduct a supervised search, CNN reports. Read more
Trump answered questions under oath during a deposition sought by author E. Jean Carroll, who alleges he raped her in a department store dressing room two decades ago and defamed her when he denied it. Read more
Democrats and Republicans are far apart on overhauling federal permitting, leaving little common ground if and when lawmakers take another stab at moving Sen. Joe Manchin's (D-W.Va.) stalled bill, observers say.
The judiciary told lawmakers it's still concerned about funding for legislation that would make the federal electronic court records system, PACER, free to use, even as it called conversations will bill sponsors "productive."
Around the Administration
PRESIDENT'S SCHEDULE
At 2:15 p.m., Biden will give a speech in Pittsburgh, Pennsylvania on rebuilding American infrastructure
The president at 7 p.m. will participate in a reception for Senate candidate John Fetterman (D) in Philadelphia.
The Biden administration updated and extended rules for freight and passenger rail, bolstering operators' efforts to respond to growing cyber threats.
The Consumer Financial Protection Bureau's independent funding through the Federal Reserve violates the Constitution's separation of powers clause, the Fifth Circuit ruled.
President Joe Biden said Wednesday that $2.8 billion to bolster the U.S. battery supply chain will create thousands of good-paying jobs at 20 manufacturing and processing companies while weaning off imports of minerals and components from China.
The EPA needs more extensive data on the extent to which compounds known as forever chemicals are impacting drinking water in communities of color and other disadvantaged areas, the Government Accountability Office said in a report.
Low-income children should be able to receive Covid-19 vaccinations at no cost under the federal Vaccines for Children Program, according to a panel of US health advisers.
Defense & Foreign Affairs
The Justice Department accused seven people of evading US sanctions as part of a purported plot to sell Venezuelan oil to Russia and China and use the proceeds to buy black market chips for Russia to install in high-tech weapons on Ukrainian battlefields.
The US, along with France and the UK has called for a special United Nations Security Council briefing regarding evidence that Russia has procured Iranian drones for its war on Ukraine.
The US has raised concerns with Saudi Arabia about an American citizen whom the kingdom sentenced to 16 years in prison for posting tweets critical of the Saudi government.
The US has decided to support formal UN negotiations over possible compensation and assistance to countries that suffer devastation from storms, floods and droughts made far worse by climate change, senior US officials said Wednesday.
To contact the reporters on this story: Brandon Lee in Washington at blee@bgov.com; Michaela Ross in Washington at mross@bgov.com
To contact the editors responsible for this story: Giuseppe Macri at gmacri@bgov.com; Loren Duggan at lduggan@bgov.com