What to Know in Washington: Garland to Face Senate GOP Critics
Bloomberg Government subscribers get the stories like this first. Act now and gain unlimited access to everything you need to know. Learn more.
Attorney General Merrick Garland will both praise and defend the work of his prosecutors, investigators and other employees during a Senate hearing Wednesday in the face of Republican critics who say that the Justice Department and FBI have become "weaponized" against former President Donald Trump and other conservatives.
"Every day, the 115,000 employees of the Justice Department work tirelessly to fulfill our mission: to uphold the rule of law, to keep our country safe, and to protect civil rights," Garland said in testimony prepared for the Senate Judiciary Committee.
The hearing marks Garland's first time testifying publicly before the new Congress. He's likely to be criticized and pressed by Republicans over a disparate set of issues, from investigations of parents accused of threatening school board members to allegations that President Joe Biden and his family members, particularly his son Hunter, engaged in improper business deals.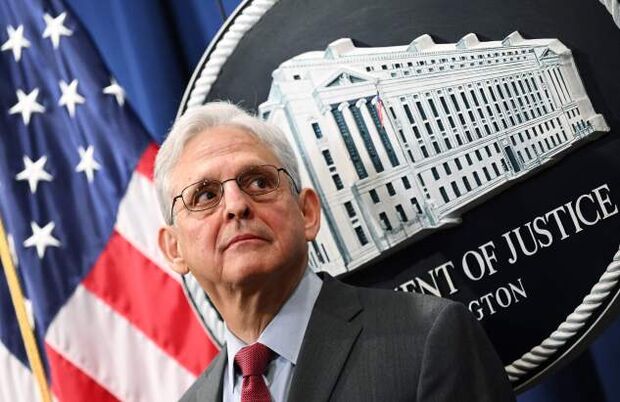 Last fall, Garland appointed a special counsel, Jack Smith, to investigate Trump and his allies regarding the aftermath of the 2020 presidential election, and the discovery of classified documents at the former president's Mar-a-Lago resort in Florida.
"Every day, department employees counter complex threats to our national security. They fiercely protect the civil rights of our citizens," according to Garland's remarks, provided in advance of the hearing. "Every day, in everything we do, the employees of the Justice Department adhere to and uphold the rule of law that is the foundation of our system of government." Chris Strohm has the story
Garland is likely to hear questions about FBI Director Christopher Wray's claim that his department previously concluded that the Covid-19 virus most likely originated from a "potential lab incident" in Wuhan, China. Read more
The Senate Intelligence Committee's top Democrat and top Republican are dissatisfied with a closed-door briefing they received Tuesday about classified documents found at the homes and offices of President

Biden

and former President

Trump

. Read more
Happening on the Hill
CONGRESS' SCHEDULE
The House meets at 9 a.m. to consider legislation to require inflation estimates for some executive orders.
The Senate convenes at 10 a.m. to vote on judicial nominations as well as a measure to block a Department of Labor regulation related to ESG investing.
Biden's nominee to lead the Federal Aviation Administration faces a grilling from Republican senators Wednesday concerned about the level of his aviation experience and his ties to disputes in Denver and Los Angeles.
The House has passed a measure that would tank the Labor Department's new ESG retirement investing rule, teeing up a vote in the Senate and buoying a bill that could force Biden to use his first veto. Sen. Mike Braun (R-Ind.) hopes to bring an identical resolution to the Senate floor as early as today with the support of one or more Democratic caucus members.
In a politically fractured Congress, a spate of hearings on Tuesday demonstrated that going after China has become one of Washington's most unifying causes.
House Republicans are moving quickly on legislation to streamline environmental reviews in the federal permitting process, setting up a committee vote next week on a bill that would impose stricter deadlines to expedite energy and infrastructure projects.
Norfolk Southern CEO Alan Shaw has been asked to testify before the Senate Environment and Public Works Committee about the chemical train derailment in Ohio, NBC reports, citing two congressional aides.
Seattle trial lawyer Jamal Whitehead, the first Biden judicial nominee with a disclosed disability, was confirmed on Tuesday with bipartisan support to a seat on the US District Court for the Western District of Washington.
A top House Republican is setting his sights on a sweeping review of the Department of Homeland Security to restructure and reauthorize the agency — a formidable task amid bitter border politics and longstanding committee turf wars.
Republicans on the House Agriculture Committee took aim at the Biden administration's regulations on food production, previewing the panel's oversight priorities as it writes this year's farm bill legislation.
Proponents of the Equal Rights Amendment in the Senate made a renewed push to ratify the amendment during a heated hearing just as a federal appeals court dealt another blow to its supporters.
The size of the House of Representatives has been at 435 members since Woodrow Wilson was president more than a century ago, even though the US population has since more than tripled.
Rep. George Santos (R-N.Y.) may not be well liked by his colleagues or constituents, but his first bill in Congress deals with something wildly popular in his district on New York's Long Island — the state and local tax deduction.
Rep. Nick LaLota (R-N.Y.) said Monday he hopes Santos will soon be expelled from the House for fraud over his serial fabrications to voters. Read more
Podcast: McCarthy Looks to 'The Godfather' to Unite House GOP
Bloomberg Government reporter Emily Wilkins dives into her latest story on the dynamics of House GOP factions in this episode of On the Merits.
Elections, Politics & Probes
Members of a small board created to coordinate US Capitol security did not share — even among themselves — critical information leading up to the Jan. 6, 2021, insurrection, a government watchdog said in a Tuesday report.
Whatever narrow path the Biden administration has to salvaging its student loan forgiveness plan may depend on the Supreme Court ruling GOP-led states didn't have standing to sue on behalf of loan servicers.
The nine Supreme Court justices who will rule on Biden's student loan forgiveness plan went to college when it cost a fraction of what it does today.
At least five federal lawsuits challenging the EPA's new waters of the US rule are expected to continue even if the US Supreme Court undermines the basis for the rule in an opinion coming this term.
Around the Administration
BIDEN'S AGENDA
Biden at 9:30 a.m. gives a speech on his nomination of Julie Su to be secretary of the Department of Labor.
At noon the president will give a speech at the Department of Homeland Security on its 20th anniversary.
Biden travels to Baltimore, Maryland to address the House Democratic Caucus Issues Conference at 6 p.m.
White House Press Secretary Karine Jean-Pierre gives a briefing at 2 p.m.
Biden will travel to the Department of Homeland Security on Tuesday for an event marking the creation of the agency in the aftermath of the Sept. 11, 2001 terrorist attacks on the US.
The usually sleepy Department of Commerce is not a sought-after perch for those looking to make their mark in Washington. But Secretary Gina Raimondo is injecting new energy into the role and overseeing a lot of what is China policy these days.
A key aide to National Security Advisor Jake Sullivan is leaving the White House, the latest departure from a coterie of officials seen as prominent China hawks at a critical time in Biden's relationship with Beijing.
On the same day in December when Chinese and US diplomats said they'd held constructive talks to reduce military tensions, Russian engineers were delivering a massive load of nuclear fuel to a remote island just 220 kilometers (124 miles) off Taiwan's northern coast.
The top US and Chinese defense officials haven't spoken since November, the Pentagon said Tuesday, a sign of how recent strains over Taiwan and an alleged spy balloon have fractured communications between the world's two most powerful armed forces.
Biden painted congressional Republicans as seeking deep cuts to health-care coverage and prescription drug benefits, as he sought to ratchet up pressure on GOP leaders to outline the spending reductions they'll pursue in negotiations over raising the federal debt ceiling.
Federal contractors would be among the first to experience serious financial consequences in the event Congress fails to raise the debt limit and government agencies can't pay their bills as the fiscal year ends.
The Biden administration is preparing to advance a fuel policy shift demanded by Midwest governors that would encourage filling stations to sell higher-ethanol E15 gasoline and offer it year round.
The US Postal Service is buying more than 9,000 battery-powered delivery vans made by Ford as part of a $10 billion push to electrify its aging fleet.
The White House's supply-chain envoy said the ports and logistics industry must move toward automation, a sticking point in protracted contract talks between US West Coast dockworkers and their employers.
Employer demand for high-skilled foreign workers on temporary visas is expected to reach a new high for a third straight year even as waves of layoffs continue among major tech companies like Meta, Google, and Twitter.
Pfizer's vaccine for respiratory syncytial virus received backing from a panel of US advisers for use in people 60 and older, pushing the company to the forefront once again for immunization against a dangerous respiratory illness.
To contact the reporter on this story: Michaela Ross in Washington at mross@bgov.com
To contact the editors responsible for this story: Andrew Small at asmall@bgov.com; Giuseppe Macri at gmacri@bgov.com
Stay informed with more news like this – from the largest team of reporters on Capitol Hill – subscribe to Bloomberg Government today. Learn more.