What to Know in Washington: Garland Faces Bad Trump Case Options
Attorney General Merrick Garland is rapidly approaching a choice likely to shape American politics and the boundaries of law enforcement for decades: whether Donald Trump will be the first former US president charged with a crime.
Garland has nothing but hard choices. The nation is split, a bare 47% to 43% plurality backing criminal charges for mishandling classified documents, according to a Aug. 29-Sept. 1 Marist poll. Trump, who is mulling another run for the presidency in 2024, is already openly raising the possibility of dark consequences in the event of an indictment.
Asked last week by conservative radio host Hugh Hewitt whether he would be indicted, Trump said, "If it happened, I think you'd have problems in this country the likes of which perhaps we've never seen before."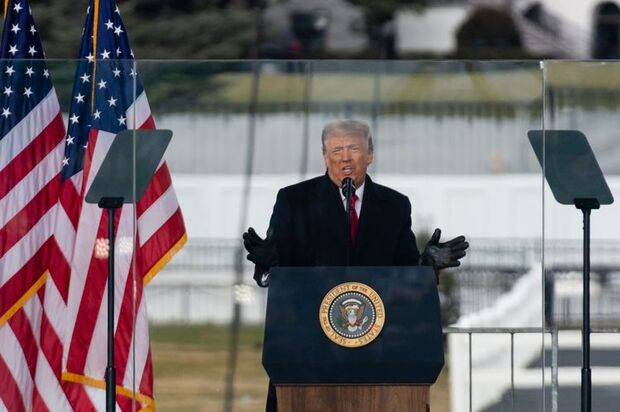 The Justice Department likely already has the evidence that would support indicting Trump for obstructing a federal grand jury investigation into his handling of classified documents, current and former officials said. The probe into whether he compromised sensitive national secrets is also moving swiftly, potentially setting up a prosecution decision after the Nov. 8 midterm elections. But a sprawling investigation into Trump's efforts to overturn the 2020 election likely will take a lot longer.
Any decision by Garland, 69, a former federal appeals court judge known for his by-the-book approach, is sure to stoke political passions in the coming presidential race and set a precedent for whether criminal law extends to presidents. Public confidence in the US justice system is at stake. The prospect of violence looms. Chris Strohm and Mike Dorning lay out the scenarios and consequences of charging the former president.
The Justice Department can use about 100 documents with classified markings seized from Trump's Mar-a-Lago home in an ongoing criminal investigation and national security review, a federal appeals court said.
Happening on the Hill
CONGRESS' SCHEDULE
The House will meet at 9 a.m. to vote on four policing and public safety bills.
Senators gathers at 10 a.m. to consider campaign finance legislation and vote on two nominations.
A stalled $6.6 billion natural gas pipeline would get preferential treatment under legislation intended to fast-track energy projects that was made public on Wednesday evening by Sen. Joe Manchin (D-W.Va.).
Manchin, a crucial Democratic vote in the evenly divided Senate, has been urging his colleagues to streamline and accelerate the process for obtaining federal permits for energy projects, including in his home state of West Virginia.
The House voted Wednesday to dramatically raise the bar for objections to presidential election results, the first step in a drive to overhaul a 135-year-old law and prevent another crisis triggered by false claims of a stolen election.
The Senate voted Wednesday to join more than 130 nations in pledging to phase out the use of super-polluting greenhouse gases found in refrigerators and air conditioners, a step that is expected to avoid as many greenhouse gas emissions as the entire planet emits every two years.
Federal Energy Regulatory Commission Chairman Richard Glick hasn't yet secured Manchin's support to advance his nomination for another five-year term in Congress' waning weeks, which risks pushing Glick's into a post-election lame duck session.
The powerful spending committees on Capitol Hill will almost certainly be led by women next year, a historic first with the potential to right the nation's derailed government funding process.
Immigration policy debates are clouding the prospect of fresh funding for nonprofits and local agencies the federal government depends on to feed and shelter migrants.
The Biden administration is trying to allay concerns about vetting Afghan evacuees as a bipartisan group of lawmakers pushes legislation to give them a path to permanent legal status.
The US military is facing the greatest recruiting challenge in almost half a century, since the inception of the volunteer service, Pentagon leaders are warning Congress.
A group of senators wrote to Secretary of State Antony Blinken and Secretary of Defense Lloyd Austin opposing security assistance to Azerbaijan following what they called "recurring cross-border aggression" against Armenia.
Lawmakers seized on recent political tensions and hot-button social issues in a hearing with the chief executive officers of America's largest retail banks on Wednesday. Representatives on the House Financial Services Committee probed them on everything from the escalation of the Ukraine conflict and racial equity to fossil-fuel financing and their role in slavery.
Sen. Ron Wyden (D-Ore.) is urging government watchdogs for the Department of Homeland Security, Defense Department, and Justice Department to investigate the agencies' purchase of data on Americans' web browsing.
California's trailblazing law directing online services like Instagram and TikTok to protect children's privacy is likely to complicate the path forward for a federal bill safeguarding consumer data.
Staffers in the office of Rep. Andy Levin (D-Mich.) will begin voting Thursday on whether to unionize—the first congressional office to do so.
Elections & Politics
Join Bloomberg Government's Sept. 28 webinar for more on the 2022 midterm elections, with a focus on the House races key to controlling the chamber. Find out more and sign up here .
Virginia "Ginni" Thomas, a conservative activist and the wife of Supreme Court Justice Clarence Thomas, has agreed to sit down for an interview by the House committee investigating the Jan. 6, 2021, insurrection at the US Capitol, according to her lawyer.
From his skyscrapers to golf resorts, Trump allegedly manipulated the value of a range of assets that inflated his net worth for years and defrauded banks, insurance companies and the Internal Revenue Service, according to New York Attorney General Letitia James.
When a union campaign worker knocked on Michael Perry's door in North Philadelphia on a recent afternoon, the 40-year-old seemed disinterested.
Pressure to oust World Bank President David Malpass is ramping up after he dodged questions on climate change and the impact of burning fossil fuels.
Democratic California Governor Gavin Newsom leapt into the immigration debate, slamming Florida's Republican governor for shipping migrants to liberal enclaves, backing President Joe Biden's immigration plan, and praising conservative hero Ronald Reagan for trying to tackle the issue decades ago.
Texas gubernatorial candidate Beto O'Rourke (D) lost a bid to move billionaire energy executive Kelcy Warren's libel lawsuit against him from the Republican donor's county of choice, when a divided state appeals court rejected O'Rourke's argument that the suit was brought in the wrong venue.
Around the Administration
BIDEN'S AGENDA
Biden continues work at the United Nations General Assembly in New York City. At 11 a.m. he meets with President Ferdinand Romualdez Marcos, Jr. of the Philippines.
At 2:15 p.m. Biden is scheduled to receive a briefing on Hurricane Fiona's impact on Puerto Rico.
The president will participate in a Democratic National Committee reception at 4:40 p.m. in New York City before departing for Washington, D.C.
The US and its allies got a new chance to cast Vladimir Putin as a pariah isolated on the global stage with this week's gathering of world leaders in New York, even as the United Nations has failed to stop or even curb Russia's war in Ukraine.
North Korea denied that it has sold arms to Russia and blasted the US and "other hostile forces" for what it saw as spreading rumors that Kim Jong Un's regime was aiding Moscow as it fought in Ukraine.
US intelligence agents gained control of parts of China's telecommunications network after hacking into a government-funded university, a prominent state-backed newspaper reported, issuing Beijing's latest accusation of US cyber-intrusion.
Biden declared that a major disaster exists in Puerto Rico and ordered Federal aid to supplement recovery efforts in areas affected by Hurricane Fiona, according to a statement from the White House.
Federal Reserve officials gave their clearest signal yet that they're willing to tolerate a recession as the necessary trade-off for regaining control of inflation.
Red states are eagerly jumping to secure money from last year's infrastructure law and the recent climate law, marking a shift from those states' earlier rejections of federal funds on political or cultural grounds, a senior White House official said Wednesday.
The water crisis in Jackson, Miss., underscores critical infrastructure's vulnerability to threats ranging from climate change to deferred maintenance and life-threatening cyberattacks, industry officials warned lawmakers Wednesday.
The US Securities and Exchange Commission needs to make investor-focused oversight changes to the group that sets accounting rules for US companies, an SEC investor panel voted Wednesday.
Amazon lost a bid to exclude top executives including billionaire founder Jeff Bezos and Chief Executive Officer Andy Jassy from having to testify in a Federal Trade Commission probe.
Editor's Note: A technical error in emailed newsletters Tuesday and Wednesday prevented access to linked stories. We've corrected the error and apologize. Subscribers can access the stories in those newsletters by clicking on the newsletter headline and accessing the BGOV.com version, where the links are accessible.
To contact the reporters on this story: Brandon Lee in Washington at blee@bgov.com; Michaela Ross in Washington at mross@bgov.com
To contact the editor responsible for this story: Giuseppe Macri at gmacri@bgov.com