What to Know in Washington: Focus on Biden's Economic Agenda
Lawmakers are inching forward with two big agenda items, with Democrats working toward a potential vote on their tax and spending plan in the House and the Senate advancing the annual must pass defense policy bill. President Joe Biden is set to welcome his counterparts from Canada and Mexico for a summit at the White House
Here's what Bloomberg Government is tracking for Thursday.
Biden's Agenda:
The president will sign three measures (S. 1511; S. 1502; S. 921) into law at the White House at 9:45 a.m.
Biden will participate in a bilateral meeting with Canadian Prime Minister Justin Trudeau at 1:15 p.m., followed by a bilateral meeting with Mexican President Andres Manuel Lopez Obrador at 3 p.m. The three North American leaders will hold a group summit at 4:45 p.m.
Congressional Schedule:
The House meets at 10 a.m., with Democrats' working to move forward with a vote on Biden's tax and spending measure.
The Senate at 10 a.m. will convene to resume consideration of the annual defense policy bill.
Click here for a complete list of today's hearings and markups.
Biden's Economic Agenda
The House is scheduled today to begin consideration the $1.75 trillion tax and spending package encompassing much of Biden's economic agenda, but the chamber will only vote once moderate Democrats sign on with their support. The moderates have said that in order to vote on the bill, they need to see scoring from the Congressional Budget Office that is similar to estimates from the White House on the spending and revenue provisions in the package (Read the BGOV Bill Summary).
CBO Director Phillip Swagel has said the office's experts plan to finish scoring the bill by late Friday, but there's a chance they could finish today. That could mean a quick turnaround from when the estimates are released to when the bill is on the floor. The daily schedule from House Majority Leader Steny Hoyer (D-Md.) lists the bill for consideration today, but makes no assertions of vote timing.
Rep. Kurt Schrader (D-Ore.), one of the moderates, told reporters yesterday he would support the reconciliation bill if the bill's offsets come close to covering its expenditures, and that he would be fine with a quick vote after the CBO estimate comes out, Jack Fitzpatrick reports.
Thousands of nursing homes would be forced to close and thousands of others would have to stop taking new admissions if provisions of the spending plan become law, industry officials said. Tony Pugh has more.
Corporate tax changes proposed in the spending plan threaten to undercut Biden's ambitious climate goals and undermine clean-power development, according to energy companies that oppose it. Mark Chediak and Josh Saul have more.
Inflation Concerns About Spending Package: The tax and spending bill will act to push up inflation next year if passed by Congress, according to three senior economists — Mark Zandi at Moody's Analytics, Douglas Holtz-Eakin of the American Action Forum and Harvard University professor Doug Elmendorf — who appeared on a virtual panel sponsored by the National Association for Business Economics yesterday. While they all agreed the bill as presently constituted would add to inflationary pressures in the short run, they differed over how worrying that would be — with Zandi exhibiting the least concern and Holtz-Eakin the most. Read more from Rich Miller.
Biden's economic achievements are being overshadowed by rising inflation. In October, U.S. inflation spiked to a three-decade high, with prices climbing on everything from cars to gasoline to groceries. Voters have noticed—and sent Biden's approval ratings falling further, deepening a slump that began this summer. Only 39% approve of his handling of the economy and about half blame him for rising inflation in a Nov. 10 Washington Post-ABC News poll. Turning that around will be difficult. "There's not much a White House can do to fight inflation," says Jason Furman, who headed the Obama-era White House Council of Economic Advisers. Read more from Joshua Green.
Americans will shell out 14% more than last year when they host their Thanksgiving feasts, a new survey projects. The average cost of a dinner for 10 people this year will hit $53.31, a $6.41 jump from the estimated figure for 2020, according to the American Farm Bureau Federation. AFBF senior economist Veronica Nigh attributed the rise to economic and supply chain pressures, inflation, high global demand for food, and the effects of the coronavirus pandemic on predicting demand. Read more from Megan U. Boyanton.
As inflation surges and threatens to undermine the U.S. economic recovery, the president is in a bind when it comes to Trump-era tariffs on China. Economists say undoing those tariffs would lower prices, offering immediate relief to American consumers. Yet removing the tariffs without getting much in return from Beijing would allow Republicans to castigate Biden as soft on America's biggest competitor—an accusation Trump repeatedly lobbed at his rival during the 2020 presidential race. Read more from David Wainer.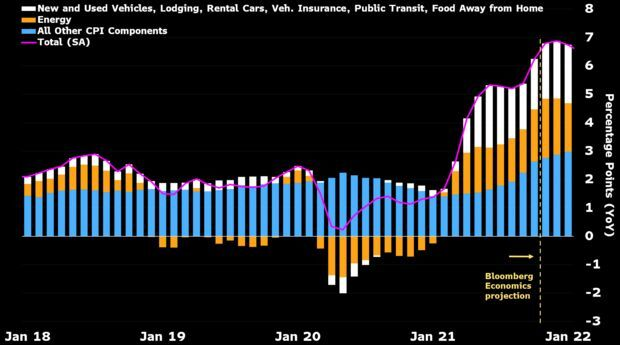 Biden yesterday said the $550 billion infrastructure bill will help propel sales of American-made electric vehicles like the battery-powered Hummers manufactured at the General Motors plant in Detroit he visited yesterday. He said the measure, along with his Build Back Better proposal, would kick-start sales of vehicle batteries, parts and other materials. "We're going to make sure the jobs of the future end up here in Michigan, not halfway around the world," Biden said at the plant. Read more from Justin Sink.
A White House official yesterday touted the infrastructure law as "transformative" for low-income and other communities vulnerable to pollution and climate impacts. The package that Biden signed Monday "will strengthen our resilience to extreme weather and climate change, clean up toxic pollution, expand access to clean drinking water, remediate legacy pollution, deliver electric school buses to support the mayor, and so much more," said Brenda Mallory, who chairs the Council on Environmental Quality. Read more from Dean Scott.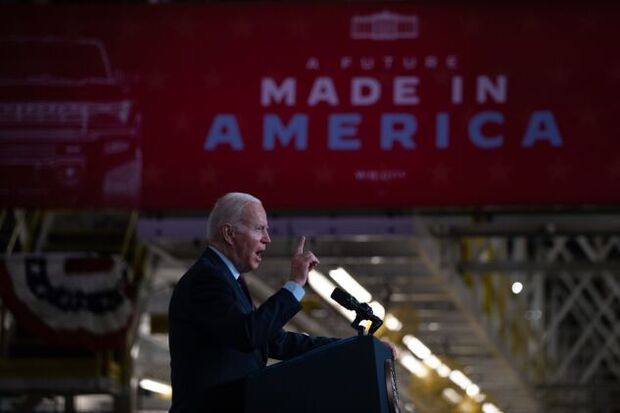 Pentagon Policy Debate Launches in Senate
The Senate took its first step to letting the Pentagon spend $25 billion more than Biden requested when it voted 84-15 last night to begin debate on the annual defense authorization bill. Senate leaders aim to pass the bill before Thanksgiving. Hundreds of amendments await consideration. The House passed its version in September. The measure, which authorizes pay increases for U.S. troops as well as hazard pay, is considered must-pass.
The defense bill suffered a delay yesterday as leaders tried to figure our how to attach a $250 billion bill aimed at making the U.S. more competitive with China and easing a global shortage in microchips, a priority of Senate Majority Leader Chuck Schumer (D-N.Y.). Read more from Roxana Tiron.
ALSO HAPPENING ON THE HILL:
Biden to Meet With Trudeau, AMLO
The leaders of the U.S., Canada and Mexico will hold their first in-person meeting since Biden's election today, with skirmishes looming over energy and trade as the nations emerge from the pandemic.
Biden will host Canadian Prime Minister Justin Trudeau and Mexican President Andres Manuel Lopez Obrador at the White House for what's called the North American Leaders' Summit. Pandemic-related border restrictions have recently begun to ease among the nations, but some hurdles remain, such as the risk of overheating economies, supply chain logjams and vaccine and testing rules for cross-border movement. Read more from Josh Wingrove, Maya Averbuch and Stephen Wicary.
Mexico will likely decide by December on whether to go to arbitration with the U.S. over interpretations of the U.S.-Mexico-Canada trade deal's rules dealing with the origins of car parts, a top trade official said. The conflict, which isn't on the agenda of this week's meetings between leaders from the three countries in Washington, focuses on how to calculate the percentage of a vehicle that comes collectively from North America. Read more from Maya Averbuch and Max de Haldevang.
MORE HEADLINES:
Republicans are optimistic about retaking control of the House and picking up state governors' seats in next year's midterm elections, but some GOP governors are concerned that former President Donald Trump could be an impediment. Republicans gathered in Phoenix this week for the Republican Governors Association's annual conference said Trump's focus on the 2020 presidential election he lost and trying to defeat incumbent GOP governors and House members could hurt the party's efforts. Read more from Mark Niquette.
Biden directed agencies to share information about who is eligible for federal benefits, after $1.4 billion worth of stimulus checks sent to dead people last year put a spotlight on government data silos. The directive, published today, is part of the president's broader strategy to improve how the federal government spends its money and serves Americans. It calls on agencies to share how they decide which Americans to pay, while still protecting individuals' privacy. Read more from Courtney Rozen.
A federal appeals court in Cincinnati could make sure that Republican-appointed judges control the legal challenge to the Biden administration's vaccinate-or-test rule, making defending the regulation more difficult. Read more from Robert Iafolla.
To contact the reporters on this story: Zachary Sherwood in Washington at zsherwood@bgov.com; Brandon Lee in Washington at blee@bgov.com
To contact the editors responsible for this story: Giuseppe Macri at gmacri@bgov.com; Loren Duggan at lduggan@bgov.com; Michaela Ross at mross@bgov.com