What to Know in Washington: Floyd's Brother to Testify in House
The brother of George Floyd, the black man whose death in Minneapolis police custody set off two weeks of protests and inspired renewed demands for change, will testify before the House Judiciary Committee today — a day after Floyd's burial — as lawmakers consider legislation to change policing practices in the U.S.
"Everybody loved George," Philonise Floyd said during a memorial service for his brother last week in Minneapolis. "Everybody wants justice for George. We want justice for George. He's going to get it."
Floyd is one of a dozen witnesses scheduled to testify at a Judiciary hearing on policing practices and law enforcement accountability.
"There are now protests taking place in every state as people take a stand against police brutality and racism," committee Chairman Jerrold Nadler (D-N.Y.) said when he announced the hearing. "People are rightfully upset, they are frustrated, and they want to be heard. They want real change, not meaningless words."
The House is considering a broad slate of proposals that could make it easier to prosecute and sue officers, ban federal officers from using chokeholds, create a national registry for police violations, and require police departments that get federal funds to conduct bias training and use de-escalation tactics.
Read more: BGOV Closer Look: Democrats' Policing Policy Overhaul Legislation
In the Senate, Republicans are studying proposals to improve police practices in response to the massive demonstrations over Floyd's killing, including racial bias training, increased use of body cameras and finally enacting the first federal anti-lynching law.
The task force that will write the GOP proposal will be led by Sen. Tim Scott (R-S.C.), the only black member of the Senate's majority party. White House Chief of Staff Mark Meadows and Jared Kushner, a presidential adviser and Donald Trump's son in law, met with Scott yesterday on Capitol Hill.
House Republicans may unveil their own proposal by Friday in an effort led by Rep. Jim Jordan (R-Ohio), the top GOP member of the Judiciary Committee. Read more from Daniel Flatley.
Cop Disciplinary Records Would be Public Under New York Bill: Police disciplinary records in New York would be made public under a bill the state Legislature passed yesterday. The bills, along with five other criminal justice-related measures the Legislature passed on Monday, now head to the desk of Gov. Andrew Cuomo (D), who has said he would sign them. Read more from Keshia Clukey.
More on Protests & Responses
Probe Sought on Military Use at D.C. Rally: The New York City Bar Association is asking Congress to investigate the use of the U.S. military last week to clear Black Lives Matter protesters from Lafayette Square Park near the White House, including who specifically authorized the use of force. In its letter, the lawyers group sought answers to questions on if there were any specific instructions as to how members of the press should have been treated by the police, and who was responsible for removing identifying insignia from the uniforms of some of the forces that cleared the square. Read more from Greg Farrell.
Confederate Flag to Be Barred on Navy Ships: The U.S. Navy is moving to ban the Confederate battle flag from public spaces on its vessels and bases as the American military steps up its response to widespread protests against racism. Admiral Mike Gilday, chief of naval operations, "has directed his staff to begin crafting an order that would prohibit the Confederate battle flag from all public spaces" aboard Navy installations and vessels, according to a statement from a spokesman. Read more from Bill Faries.
Trump Turns to Favored Cable Network to Prop Up Antifa Claims: Trump tweeted yesterday that a 75-year-old protester who was seriously injured by Buffalo police officers "could be an ANTIFA provocateur." The baseless claim highlighted how fringe ideas make their way from the far reaches of the internet to mainstream consciousness. In this case, a key step was One America News Network, a conservative TV station that increasingly has Trump's ear. Read more from Mark Bergen and Eric Newcomer.
The Coronavirus Pandemic
Fauci Says 'Worst Nightmare' is Far From Over: The top U.S. infectious disease specialist called the coronavirus pandemic his "worst nightmare" and warned that the deadly outbreak is far from over. In just a few months, Covid-19 has devastated countries around the world, Anthony Fauci, director of the National Institute of Allergy and Infectious Diseases, said Tuesday in online comments to the Biotechnology Innovation Organization, an industry group.
Societies, businesses and economies have all suffered as people have sequestered themselves to prevent the spread of the virus and inundation of health systems with severely ill patients. Now that some nations and states are emerging from lockdowns, there's still a risk that the virus will also return, Fauci said. The infection won't "burn itself out with mere public health measures," he said. "We're going to need a vaccine for the entire world, billions and billions of doses." Read more from John Lauerman and Riley Griffin.
U.S. Plans Three Vaccine Studies: The federal government is planning to fund and undertake the studies of three experimental coronavirus vaccines starting this summer, Dow Jones reported today, citing an interview with John Mascola, director of the vaccine research center at the National Institute of Allergy and Infectious Diseases. The phase 3 trials are due to involve tens of thousands of people at dozens of sites around the U.S., Mascola told DJ, Deana Kjuka reports.
Covid Test or Self-Quarantine Urged Before Non-Emergency Surgery: The Trump administration is recommending health-care facilities provide non-emergency care in areas of the country that are in the second phase of their reopening plans. Its recommendations were published yesterday by the Centers for Medicare & Medicaid Services and focus on getting care for patients without access to telehealth, with serious underlying health conditions, or those at risk from complications without in-person care. The CMS also is recommending that patients who are undergoing a procedure or operation, including people giving birth, need to be tested for the coronavirus 24 hours before the procedure or should self-quarantine for 14 days ahead of time. Read more from Shira Stein.
Economic Efforts
Fed Decision-Day Guide: Federal Reserve policy makers will consider penciling in interest rates near zero for this year and next to help the U.S. economy recover from its coronavirus-induced recession. The Federal Open Market Committee is all but certain to keep its benchmark overnight rate in a target range of zero to 0.25% when it wraps up its two-day meeting today. The committee will release a statement at 2 p.m. alongside its first quarterly forecasts since December, including a dot plot of its rate projections. Chairman Jerome Powell will hold a video press conference 30 minutes later. Read more from Steve Matthews.
Acting Office of Management and Budget Director Russell Vought released a memo urging agencies to take steps to ease regulatory requirements and help the U.S. economy as it recovers from the pandemic.
Virus Exposes Inequality Faultlines: The coronavirus pandemic is splintering the world economy, and the extraordinary action needed means policy makers cannot risk a premature withdrawal of lifelines to businesses and the most vulnerable people, the OECD warned. It made the grim assessment in its quarterly outlook, where it forecast a global slump of 6% this year, more than the World Bank earlier this week. That's based on a scenario of the virus continuing to recede. A second wave, which the OECD said is an equally likely scenario, could mean a 7.6% contraction. Read more from William Horobin.
Meanwhile, the head of the International Monetary Fund called on private creditors to join the Group of 20 in providing debt relief for the world's poorest nations, saying that the alternative to suspension and restructuring is defaults. A debt-service suspension would provide time for restructuring debt on a case-by-case basis in countries where debt sustainability needs to be restored, Managing Director Kristalina Georgieva said in a webcast with the U.S. Chamber of Commerce yesterday. Read more from Eric Martin and Enda Curran.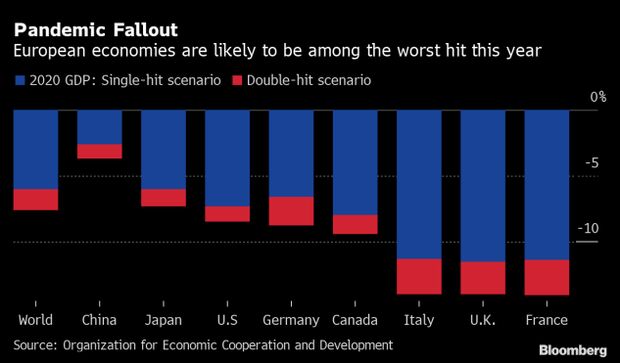 States 'Turned the Corner' on Jobless-Aid Woes: Labor Secretary Eugene Scalia acknowledged states have struggled to promptly pay millions of jobless benefits claims during the coronavirus pandemic, but he told the Senate Finance Committee that he's optimistic they're making progress as the economy shows signs of rebounding. An analysis of DOL data by The Century Foundation, a left-leaning think tank, showed states had paid 47% of new filings through March and April, a significant improvement from the end of March, but one that still left millions of unemployment insurance applicants waiting for checks.
The secretary waded into the partisan debate over whether to extend the extra $600 weekly supplement to unemployment insurance benefits beyond its July 31 deadline. The economy will be deep into reopening by then, requiring a change in policy from the $600 boost, Scalia said. Read more from Ben Penn.
Endangered Restaurants Say Aid Would Pay for Itself: A trade group for independent U.S. restaurants said that its proposal for a $120 billion industry stabilization fund would pay for itself more than twice over as the Republican-controlled Senate signals it wants the next response to the coronavirus crisis to be more limited. The proposed fund could generate more than $270 billion in economic activity through savings of as much as $57 billion on government programs for the unemployed, as well as additional sales and payroll taxes, benefits in the supply chain and tourism spending, according to an analysis released today by the Independent Restaurant Coalition. Read more from Ben Brody.
Record Farm Aid Won't Offset Virus, Study Says: Record federal spending on agricultural support will be no match against the impending declines in farm incomes, a University of Missouri study showed. The outlook shows net farm income will decline by about $3 billion in 2020, and net cash income will decline by $18 billion, with inventory values driving the difference between the two measures. This year's dips come in spite of a record $33 billion in government payouts. Read more from Elizabeth Rembert.
Elections and Influence
BGOV Webinar: Election Season Amid Covid-19: Bloomberg Government's Kyle Trygstad and Greg Giroux will deliver data-driven analysis on the races to watch and their political and policy implications today at 2 p.m. Register here.
Biden Embraces Black Voters: Joe Biden is working to show he's an ally for black voters in their fight against police brutality, yet the likely Democratic nominee is only willing to go so far. Since George Floyd's death, Biden has taken a tough stance against police misconduct, urging additional training for law enforcement and an end to choke-holds. Yet his calls for change stop short of the policies the protesters say they want to see. He has held off on agreeing with demands to "defund the police," making clear instead that he wants community policing and body cameras. He's yet to talk to protest leaders. And he hasn't followed other prominent Democrats in joining marchers on the streets.
With his stance toward police misconduct, Biden is trying to show his support for protesters while preserving his appeal with a more moderate base that sees tougher laws and new training — not funding cuts — as the way to overhaul policing. It resembles the line he's threaded with progressive activists who saw him refuse to support Medicare for All or the Green New Deal but take a few steps in their direction. Read more from Jennifer Epstein and Tyler Pager.
Biden Wins Primaries in Georgia and West Virginia: Biden won the primary in Georgia yesterday. Biden, who also won the West Virginia primary yesterday, had amassed enough delegates to clinch the Democratic nomination by last Friday, but several states still hadn't held contests, which were delayed because of the coronavirus epidemic. Read more from Max Berley, Margaret Newkirk and Ryan Teague Beckwith.
Biden Fundraiser With Harris Nets $3.5 Million: A fundraiser for Biden co-hosted by potential running mate Sen. Kamala Harris (D-Calif.) pulled in over $3.5 million from 1,400 donors yesterday. With in-person campaigning limited, the virtual fundraiser is one of the few opportunities for the Democratic presidential nominee to test out possible vice-presidential picks with audiences. Read more from Jennifer Epstein.
Handel Wins Georgia GOP Primary: Former Rep. Karen Handel won the Republican primary and faces a rematch with incumbent Democratic Rep. Lucy McBath in Georgia's 6th Congressional District, according to AP. Handel, aiming to win back the suburban Atlanta seat, beat four other Republicans in the state's primary, Bradley Davis reports.
Meanwhile, a representative from Georgia's secretary of state's office said it would be opening an investigation into widespread voting problems in some counties, including the malfunctioning of the state's new voting machines, long lines, missing absentee ballots, provisional ballot shortages, and problems with voter registration. National Basketball Association superstar LeBron James said in a tweet that African-American precincts were disproportionately affected by the problems, and tied the issue to protests against systemic racism following George Floyd's death. Read more.
Trump Looms Large in West Virginia: "Big Jim" Justice is betting the governor's mansion that West Virginia voters are happy with Trump and will turn out in November to vote for both the president and the incumbent governor. In the final days before the primary election, Justice's campaign ads bragged that he's "pro-life, pro-gun, pro-Trump." He won the nomination⁠—his first since switching to the Republican Party—and will face a local official in the general election. "Just like President Trump, I'm a business guy, I'm a doer, and I get things done," the incumbent said in emailed comments. "That's why West Virginians support me." Read more from Andrew M. Ballard and Christopher Brown.
TikTok Plans D.C. Office: TikTok is opening a Washington office to share information about security practices as lawmakers question its protections for children's privacy and its ties to China. The company said yesterday it also plans to hire an additional 100 workers for security, data, and privacy protection work by the end of the year and to create "a centralized global security function" based in the U.S. Read more from Andrew Vittorio.
What Else to Know Today
Barr Urges Patience When It Comes to Charges Over Russia Probe: Attorney General William Barr said the investigation into whether crimes were committed during the FBI's Russia probe is moving "aggressively" but would take time to produce charges. Read more from Chris Strohm.
Pompeo Blasts HSBC Over Hong Kong: Secretary of State Michael Pompeo criticized HSBC Holding for backing China's move to impose national security legislation in Hong Kong, underscoring the increasing political pressures on multinationals dependent on the former British colony. Read more from Alfred Liu, Harry Wilson and Benjamin Robertson.
Companies Worry About Impending Anti-Huawei Law: A quiet panic is spreading in Washington and corporate boardrooms that a law taking effect in two months, which bans Huawei gear, will threaten the business of government contractors, Jenny Leonard and Shelly Banjo report.
Judge Seeks Details on Move to Drop Iran Case: A federal judge said she has "serious concerns about the conduct of the government" and wants to know why U.S. prosecutors are seeking to drop a sanctions-violation case against an Iranian banker who was already convicted in March. Chris Dolmetsch has more.
Kim Raises Pressure on Moon to Abandon Trump: Both North Korea and left-leaning supporters of South Korean President Moon Jae-in want him to restore economic ties broken by peninsular security tensions. But pleasing them would mean outraging Trump. Jon Herskovitz, Kanga Kong and Jeong-Ho Lee have more.
Japan Wants to Take Lead for G7 Statement on Hong Kong, Abe Says: Japanese Prime Minister Shinzo Abe said he wanted to take the lead in having the Group of Seven nations issue a statement about Hong Kong. Japan has already expressed its concern about events in Hong Kong, Abe said. Read more from Isabel Reynolds.
To contact the reporters on this story: Zachary Sherwood in Washington at zsherwood@bgov.com; Brandon Lee in Washington at blee@bgov.com
To contact the editors responsible for this story: Giuseppe Macri at gmacri@bgov.com; Loren Duggan at lduggan@bgov.com; Michaela Ross at mross@bgov.com