What to Know in Washington: Fitch Downgrade Stokes Funding Fight
Bloomberg Government subscribers get the stories like this first. Act now and gain unlimited access to everything you need to know. Learn more.
Washington's hostile political factions quickly took up Fitch Ratings' downgrade of US government debt as a new weapon of political combat — highlighting in part why the firm stripped the US of its top-tier credit rating.
Democrats and Republicans on Wednesday traded blame for the downgrade, with a group of hard-right conservatives promising to dig in during a looming spending fight that could shut down the federal government as soon as Oct. 1.
The bitter recriminations echoed the concerns raised by Fitch in announcing its decision after the close of financial markets on Tuesday. In a statement, Fitch cited an "erosion of governance relative to 'AA' and 'AAA' rated peers over the last two decades that has manifested in repeated debt limit standoffs and last-minute resolutions."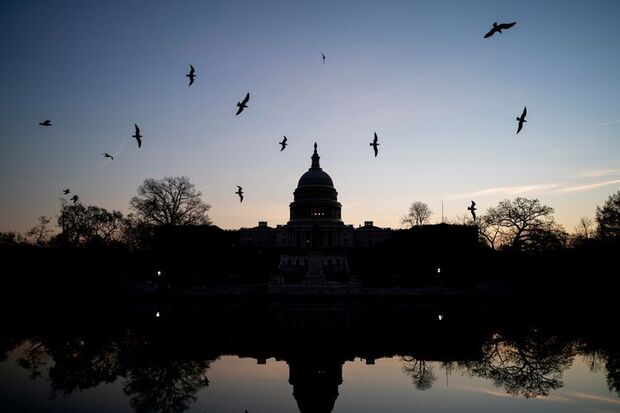 President Joe Biden, who has spent the summer promoting his "Bidenomics" agenda as the economy shows surprising strength, was privately frustrated over the Fitch decision and expressed irritation to his team, according to people familiar with the matter.
Progress on jobs, real wages, and bringing down inflation — all heading in the right direction — typically matter more to voters than a Wall Street credit grader's score. Still, any indicator pointing to shortfalls in stewardship of the economy could damage public perceptions of Biden as he seeks reelection.
Republicans blamed the decision on Biden's policies, saying spending on domestic programs is fueling the national debt. The right-wing House Freedom Caucus portrayed it as further reason to demand lower spending levels during the coming shutdown fight.
Biden's team blamed Donald Trump's efforts to overturn the 2020 election, saying that Fitch's staff in discussions ahead of the announcement repeatedly cited concerns about the effect of the Jan. 6, 2021 attack on the Capitol on Washington's ability to govern.
While Fitch's decision has thus far had minimal impact on the short-term cost of borrowing for the US government, it will likely inflame the fight over government funding levels for next fiscal year. Jordan Fabian, Erik Wasson, and Jennifer Jacobs preview the coming conflict.
BIDEN'S AGENDA
The president has no public events scheduled.
More Downgrade Analysis
Two former Treasury secretaries urged Washington policymakers to address the country's long-term fiscal challenges before they become insurmountable, speaking hours after the government lost its top-tier rating at Fitch Ratings.
David Beers, one of the analysts who cut the US credit grade back in 2011, warned Wednesday that issues dogging the world's top economy now are reminiscent of those that drove S&P's downgrade 12 years ago — and some have escalated.
NDAA Debate Preview
Lawmakers crafting a final defense policy bill are poised to ditch contentious, culture-war provisions, including a ban on the Pentagon guaranteeing abortion access to service members, that conservatives tacked onto the House version.
Global Affairs
Mexico's Foreign Ministry said that Texas authorities found a dead body caught on the southern side of a floating barrier placed in the Rio Grande by the state. Mexico's government said the barrier impacts the human rights and personal security of migrants.
The North Korean government reached out to the UN "just in the last 48 hours" to acknowledge the presence of Private Second Class Travis King, the US Army soldier who bolted across the border from South Korea last month, according to the State Department.
The US "stands with the people of Niger to honor our decades-long partnership rooted in shared democratic values and support for civilian-led governance," Biden says in a statement marking Niger's Independence Day.
Secretary of State Antony Blinken will announce $362 million in new funding to combat food insecurity in almost a dozen African countries and Haiti, sending a message as Russia's withdrawal from an international grain deal worsens a global crisis already exacerbated by its invasion of Ukraine.
Politics & Probes
Roads will be closed and barriers erected near the federal courthouse in Washington Thursday for Donald Trump's return — this time as a criminal defendant. The former president will make his first appearance there at 4 p.m. local time on the new indictment charging him with conspiring to obstruct the 2020 election. He is expected to be fingerprinted, asked for his Social Security number and other personal information and may enter an initial plea.
Hunter Biden earned more than $4 million from a Ukrainian energy company, a Chinese private equity firm and other sources during two years in which he descended deeper into substance abuse, according to his proposed plea agreement to federal tax charges.
What Else We're Reading
Wetlands and waterways in national parks, monuments, forests, and other federal public lands are newly vulnerable to pollution and development in the wake of the Supreme Court's May ruling in Sackett v. EPA, natural resources attorneys say.
In 2021, Teamsters president Sean O'Brien supported a change to the union constitution that made it easier for workers to kill labor agreements negotiated by leadership. Now, as 340,000 workers begin to vote on a high-stakes deal with UPS, O'Brien finds himself bound by the limits on his own power that he helped create.
Ignoring federal student loan bills could be a good option for some when payments come due this fall. A one-year leniency program from the Biden administration will remove the harshest penalties for missed payments after billing resumes in October.
Receding from the spotlight is a strategy that's helped DOJ Civil Rights Division chief Kristen Clarke navigate a very difficult job. But allies want her to get bolder in enforcing anti-discrimination laws.
To contact the reporters on this story: Giuseppe Macri in Washington at gmacri@bgov.com; Brandon Lee in Washington at blee@bgov.com
To contact the editor responsible for this story: Kayla Sharpe at ksharpe@bloombergindustry.com
Stay informed with more news like this – from the largest team of reporters on Capitol Hill – subscribe to Bloomberg Government today. Learn more.