What to Know in Washington: Fiscal Hawks Reemerge for Stimulus
Bloomberg Government subscribers get the stories like this first. Act now and gain unlimited access to everything you need to know. Learn more.
Republican fiscal conservatives are reasserting themselves in the debate over another stimulus bill, attempting to put the brakes on new spending after their party presided over tax cuts and spending that have swelled the federal deficit.
The renewed concern about deficits and debt comes a few months after the House and Senate approved with overwhelming bipartisan votes the biggest economic stimulus package in history, and as Congress wrangles a follow-on measure with the economy staggered by another surge of coronavirus cases and deaths.
Senate Majority Leader Mitch McConnell (R-Ky.) nodded to deficit concerns on his right by declaring a pause on more stimulus after the $2.2 trillion relief plan passed in March. Now he and congressional Republicans face a mad dash to partially restore unemployment checks and other relief that is already running dry with less than 100 days before the election that will decide control of the White House and Congress.
McConnell unveiled the $1 trillion Republican plan on Monday and has largely left negotiations with Speaker Nancy Pelosi (D-Calif.) and Democrats to Treasury Secretary Steven Mnuchin and White House Chief of Staff Mark Meadows. With only two weeks before lawmakers are scheduled to leave for an August break and portions of the previous stimulus expiring, Congress is on a tight timetable to reach a deal. Progress has been slow.
"I don't know that I would characterize it as getting closer," Meadows said after leaving yesterday's negotiating session with Pelosi and Senate Minority Leader Chuck Schumer (D-N.Y.).
While the two administration officials engage with Democrats, McConnell has touted the smaller price tag of the Republican package relative to the $3.5 trillion Democratic proposal as a sign of fiscal prudence. That hasn't sold it to a sizable number of Republicans in the Senate.
"There is significant resistance to yet another trillion dollars," Sen. Ted Cruz (R-Texas), who's been among the most vocal critics, told reporters this week. "The answer to these challenges will not simply be shoveling cash out of Washington."
The federal debt has swelled a staggering $6.6 trillion since President Donald Trump took office in 2017 after he signed a major GOP tax cut and went along with a series of spending hikes. The Congressional Budget Office already forecasts the deficit will hit a record $3.7 trillion in the federal fiscal year ending Sept. 30, and with another round of relief could easily pass $5 trillion. Read more from Steven T. Dennis.
U.S. Readies Ugliest GDP Report Ever: The U.S. economy ground to a halt for almost the entirety of April. Now the world is about to find out the depth of that contraction. Data due tomorrow are forecast to show U.S. gross domestic product plummeted an annualized 34.8% in the second quarter, the most in records dating back to the 1940s, after the spread of Covid-19 prompted Americans to stay home and states to order widespread lockdowns. Even though economic activity picked up in May and June as stay-at-home orders lifted, the scale of the decline in April likely far outweighed any gains later in the quarter. Reade Pickert has some questions, and answers, about the report.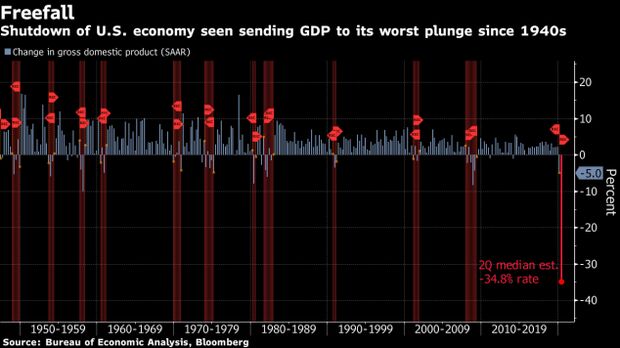 Happening on the Hill
Tech CEOs Testify to Congress: The CEOs of Amazon, Apple, Alphabet and Facebook are set to appear for their first collective questioning by lawmakers during a House hearing today. The Judiciary Committee's antitrust panel, armed with more than a million internal documents, has been investigating for more than a year whether the tech giants are squashing competition. The subcommittee, led by Rep. David Cicilline (D-R.I.), is preparing a report about whether stronger antitrust laws are needed. Democrats are expected to focus on whether the platforms thwart competition, while Republicans are concerned about whether they squelch conservative viewpoints. Read more from Ben Brody.
McConnell Hasn't Set Date on Shelton: McConnell hasn't yet committed to a timetable for a full vote on Trump's contentious nomination of economist Judy Shelton to the Federal Reserve Board of Governors. "We'll let you know when we're in a position to move forward with it," McConnell said when asked about Shelton's nomination yesterday during an interview with CNBC. She's currently opposed by two Republicans. Two more in opposition would scuttle Shelton's chances. Read more from Steven Dennis and Colin Wilhelm.
ID Requirement Sought for Military at Protests: U.S. military and contractors would be banned from assisting in law enforcement actions, such as protests, if they fail to wear clearly visible identification, including rank and name, under a provision House Democrats included in the fiscal 2021 spending package headed to the floor this week. In addition, federal employees and federal law enforcement officers wouldn't get paid if they deploy to demonstrations without clearly identifying uniforms. Should they respond in a civilian capacity, they wouldn't be able to wear combat-style uniforms, Roxana Tiron and Shaun Courtney report.
China Has Anti-Satellite Weapons, U.S. Says: The Chinese military "currently operates and trains with ground-based anti-satellite missiles" that are capable of destroying satellites in low earth orbits, Army Lt. Gen. James Dickinson said in remarks to the Senate Armed Services Committee. Meanwhile, Russia "already fielded ground-based directed energy weapons," said Dickinson, whose nomination to be general and commander of U.S. Space Command will be considered by the panel. Read more from Tony Capaccio.
Crackdown Urged on Noncompete Pacts: Sens. Chris Murphy (D-Conn.) and Elizabeth Warren (D-Mass.) called on the Federal Trade Commission to take emergency action to restrict employers' enforcement of noncompete agreements during and after the Covid-19 pandemic, saying the public health emergency has "exacerbated" problems with the arrangements. They also faulted the FTC for not advancing a rulemaking following a January workshop to consider a rule restricting use of noncompete pacts. Jaclyn Diaz has more.
Redfield, DeVos Probed on Schools: Warren and Rep. Andy Levin (D-Mich.) yesterday asked U.S. Centers for Disease Control and Prevention Director Robert Redfield and Education Secretary Betsy DeVos to provide any correspondence between their agencies and the White House over guidance on opening schools to determine if any proposals were influenced by politics. Read more from Elizabeth Elkin.
Democrats Say DeVos Aide Helped Ineligible Schools Get Funds: A top aide to DeVos improperly pressured a college accreditor to help two for-profit schools keep access to federal student assistance, a report from the House Education and Labor Committee says. Principal Deputy Undersecretary Diane Auer Jones intervened on behalf of the Art Institute of Colorado and the Illinois Institute of Art, the report alleges. Both schools were owned by Dream Center Education Holdings, a larger for-profit chain that collapsed last year, costing the government hundreds of millions. Read more from Andrew Kreighbaum.
The Coronavirus Pandemic
Trump Says Hydroxychloroquine Warnings Were Political: Trump said the medical community's widespread warnings against using the anti-malaria drug hydroxychloroquine to treat Covid-19 patients were politically motivated to damage him. "I think it could have a very positive impact in the early stages," Trump said yesterday during a news conference at the White House. "And I don't think you lose anything by doing it, other than politically it doesn't seem to be too popular. You know why? Because I recommend it. When I recommend something, they like to say 'don't use it.'"
Trump has repeatedly promoted hydroxychloroquine even though a number of studies have shown that it is not an effective treatment for Covid-19, and can have serious side effects, such as heart rhythm problems and kidney and liver damage. The Food and Drug Administration last month pulled an order that allowed the drug to be used as an emergency treatment. Read more from Jordan Fabian and Mario Parker.
Obamacare Surge Will Boost State Health Exchanges: Surging Obamacare enrollment during the pandemic will likely be a boon for states that are launching their own health insurance marketplaces. Obamacare sign-ups spiked after millions of people lost their jobs and work-related coverage due to Covid-19. An increase in enrollees will likely reduce per-person costs for insurers, particularly as more healthy people look to get covered. That in turn could draw more insurers to the exchanges, leading to increased competition and reduced premiums, state health officials and analysts said.
Insurers may be especially drawn to state-based exchanges since states typically spend more money on outreach and marketing and may combine their exchanges with reinsurance programs that lower premiums, as Pennsylvania has done. Read more from Sara Hansard.
SBA Watchdog Issues Fraud Alert for Disaster Loans: The inspector general of the Small Business Administration is raising serious concerns about possible rampant fraud in a federal disaster-loan program providing pandemic aid. The inspector general's office said yesterday it's been "inundated" with complaints, such as over 5,000 instances of suspected fraud from financial institutions that received deposits from the Economic Injury Disaster Loan program. The review identified more than $250 million in aid given to potentially ineligible recipients and $45.6 million in potentially duplicated payments. Mark Niquette has more.
Medicare Data Show Impact on Minorities: American Indian and indigenous Alaskan Medicare beneficiaries have the second highest hospitalization rate for the novel coronavirus among all racial and ethnic cohorts in the program, new federal data show. Only Black beneficiaries have a higher rate. The finding adds to the growing body of research that shows the pandemic is taking a disparate toll on communities of color.
Black beneficiaries on Medicare saw the highest hospitalization rates at 670 per 100,000, according to claims data. American Indians and Alaskan Natives had a rate of 505 hospitalizations per 100,000. Hispanics, who can be of any race, had a hospitalization rate of 401. They were followed by Asians at 207 and Whites at 175 hospitalizations per 100,000. Read more from Tony Pugh.
Moderna Protects Monkeys From Virus: Moderna's vaccine candidate against Covid-19 protected against the virus in a trial that inoculated 16 monkeys, in an encouraging step on the path to a defense for humans against the coronavirus. Two injections of the vaccine protected against heavy exposure to SARS-COV-2 at two different levels of dosage, Moderna said in findings published yesterday in the New England Journal of Medicine. The primates didn't show any signs of creating enhanced disease. Read more from Robert Langreth.
Pfizer is preparing for the novel coronavirus to endure, leading to long-term demand for a seasonal shot to protect against Covid-19. The New York pharmaceutical giant and its German partner BioNTech are front-runners in the race to develop a Covid-19 vaccine, employing a technology known as messenger RNA that can quickly advance through clinical studies. Pfizer said it expects that a Covid-19 vaccine could, like the flu shot, be an inoculation that is needed regularly to be effective. Read more from Riley Griffin.
Food Worker Union Sues to Block Trump Waivers: A food workers' union filed a federal lawsuit yesterday to block the Trump administration waivers that allow poultry plants to operate production lines at a faster pace, saying the faster speeds endanger employees. The suit challenges the Agriculture Department's waivers, saying the agency ignored concerns that increased speeds would boost the risk of injury for workers. Read more from Mike Dorning.
Elections & Politics
Trump Heads to Texas Where Virus Has Made Campaign Competitive: Trump will look to deep-pocketed energy barons to help jump start his sputtering re-election campaign today during a stop in Texas, a traditional Republican bastion that has become increasingly competitive for Democrats. Trump plans to raise money for the Republican National Committee and his campaign at a pair of fundraisers in the west Texas city of Odessa before visiting nearby Midland to deliver a speech at Double Eagle Energy Holdings, the White House said. He'll also tour an oil rig for the first time as president.
Trump has a mixed record addressing oil industry priorities, making his trip all the more crucial. Although he's celebrated American "energy dominance," a theme the White House says he will tout in his speech, he is not a conventional oil-backing Republican president in the mold of George W. Bush, who was raised in Midland and made a career as an oilman like his father before moving to the White House. Read more from Jordan Fabian, Kevin Crowley and Jennifer A. Dlouhy.
Latest on Battle for Congress: With less than 100 days until the elections, Democrats are looking to expand their House majority as Senate Republicans fight to hold on to theirs. Nonpartisan analysts, such as those at the Cook Political Report, have shifted several key Senate races toward Democrats, indicating a widened playing field this November. Bloomberg Government has updated the Election OnPoint, which compiles information about House, Senate and governor races that you can use in your presentations. Read the BGOV Election OnPoint here.
Virus Response Puts Statehouses Into Play: Arizona, once the rock-solid Republican home of party legends John McCain and Barry Goldwater, could well have its first Democratic legislature in almost three decades next year. If it does, Republicans will have Covid-19 to blame. Arizona's Senate and House are among 13 chambers in seven states that the Democratic Legislative Campaign Committee is targeting, as polling suggests the party is poised for its best Election Day in years — and that the pandemic is hurting the GOP.
Cook Political report analyst Louis Jacobson this month shifted his predictions for eight chambers, six held by Republicans, in the Democratic direction. One reason the GOP is on defense is that the party has the most seats to defend. Republicans have held most statehouses for nearly a decade. Even after the 2018 election eroded that dominance, the party controls 60% of legislative chambers nationwide. Read more from Margaret Newkirk and Renata S. Geraldo.
Biden Says Running Mate to Be Picked Next Week: Joe Biden said yesterday he would have his choice for a vice presidential running mate the first week of August. "I'm going to have a choice the first week in August and I promise I'll let you know when I do," Biden told reporters after delivering a speech about the racial-equity part of his economic agenda. Biden previously pushed back his deadline for a decision from Aug. 1 to later in the month. The Democratic National Convention begins Aug. 17. Read more from Jennifer Epstein.
GOP to Nominate Trump in Charlotte: The Republican National Committee is planning to hold the official part of its convention, including the nomination of Trump, in Charlotte, N.C., next month, as previously scheduled. The GOP's plan still calls for 336 delegates to come to Charlotte to conduct formal convention business Aug. 21 to 24. They will formally nominate Trump at midday Aug. 24, according to a Republican National Committee official. Mario Parker has more.
Anxiety in Sunbelt Bodes Poorly for Trump: Trump's hopes of re-election first started falling in the spring, when Covid-19 tore through the Northeast. But the current Sunbelt surge of coronavirus cases and deaths poses a worse threat to Trump—one that could ultimately cost him a second term. As the virus outbreak shifted from the Northeast to the Sunbelt, it moved from the blue states Trump doesn't need to carry to red states such as Arizona, Florida, and Texas that are critical to his reelection hopes. Read more from Joshua Green.
Democrats Score Voting by Mail Court Wins: Democrats yesterday notched two victories in lawsuits aimed at making it easier to vote by mail during the pandemic. The state of Rhode Island agreed to eliminate witness or notary requirements for people voting by mail throughout the 2020 elections due to the Covid-19 pandemic. A judge signed off on the agreement yesterday. Read more from Erik Larson.
Libertarian Party Sues New York for Ballot Access: The Libertarian Party of New York sued New York state's Board of Elections in Manhattan, alleging that Gov. Andrew Cuomo (D) enacted "patently unconstitutional" thresholds to keep minor party candidates from competing against him. The complaint in federal court alleges that until recently, and since 1936, a political party only had to receive 50,000 votes for governor every four years in order to qualify for ballot access. Read more from David McAfee.
Disinformation Actors Gear Up for Elections: Fake news campaigns orchestrated by pro-Russian actors are thriving ahead of the U.S. elections, stoking concerns of a repeat of the large-scale interference that disrupted 2016's ballot, says cybersecurity firm FireEye. Read more from Jamie Tarabay.
Defense & Foreign Affairs
U.S., Australia Tighten Alliance Against China: The U.S. and Australia sought to project unity against an increasingly assertive China in the Indo-Pacific region, announcing some modest defense initiatives while pushing back against Beijing on issues from the Hong Kong national-security law to 5G technology. Top U.S. and Australian officials, meeting over two days in Washington this week, agreed to work toward greater military cooperation and establish an American-funded, commercially operated military fuel reserve in the northern city of Darwin.
The move will make sure "the alliance maintains its capability edge in a rapidly modernizing environment," Australian Defense Minister Linda Reynolds said in Washington, standing alongside Secretary of State Michael Pompeo, Defense Secretary Mark Esper and Australian Foreign Minister Marise Payne. Read more from David Wainer and Glen Carey.
U.S. Pledges to Help Japan With Chinese Ships: The commander of U.S. Forces Japan, Lieutenant General Kevin Schneider, vowed to help ally Japan deal with incursions by Chinese vessels in the East China Sea, accusing Beijing of a maritime intimidation campaign against countries in the region. Read more from Isabel Reynolds.
Hong Kong Election Delay Would Spark Concern: The U.S, Australia, and the U.K. voiced new concern about Hong Kong's upcoming elections, amid a flurry of local media reports that the government was considering postponing the vote for as long as a year, Iain Marlow reports.
China Says It Will Respond 'Firmly and Rationally' to U.S.: Chinese Foreign Minister Wang Yi said Beijing would respond "firmly and rationally" to peremptory U.S. acts and called on other countries to resist what he called America's bullying, as bilateral relations hit multi-decade lows. Read more.
U.S. Set to Escalate Venezuela Sanctions: There's "no doubt" that the Trump administration will escalate sanctions against Nicolas Maduro's regime, Elliott Abrams, the U.S. special envoy for Venezuela, said in a call with reporters. The nation's parliamentary elections set for December are "already rigged" because the electoral council isn't independent, Abrams said. Ben Bartenstein has more.
Afghanistan Withdrawal Could Open Up Terror Alliance: An alliance of terror groups aimed at destabilizing peace in South Asia is emerging in Afghanistan as U.S. soldiers pull out of the war-ravaged nation, security officials said. Sudhi Ranjan Sen, Ragini Saxena, and Eltaf Najafizada have more.
Germany Expects Troop Withdrawal From New Envoy: When Richard Grenell left his post as U.S. ambassador to Germany in February, government officials in Berlin were relieved. But Trump's pick for the position, retired U.S. Army Colonel Douglas Macgregor, has them preparing for the new envoy to be as combative as his predecessor. Read more from Arne Delfs.
To contact the reporters on this story: Zachary Sherwood in Washington at zsherwood@bgov.com; Brandon Lee in Washington at blee@bgov.com
To contact the editors responsible for this story: Giuseppe Macri at gmacri@bgov.com; Loren Duggan at lduggan@bgov.com; Michaela Ross at mross@bgov.com
Stay informed with more news like this – from the largest team of reporters on Capitol Hill – subscribe to Bloomberg Government today. Learn more.