What to Know in Washington: Fiscal Hawks Push Earmark Limits
Bloomberg Government subscribers get the stories like this first. Act now and gain unlimited access to everything you need to know. Learn more.
House Republicans plan to impose stricter limits on earmarks in government funding bills, a move that will likely complicate negotiations with senators on an eventual spending package.
Conservatives have criticized certain earmarks—such as last year's funds for a Michelle Obama hiking trail in Georgia or LGBT San Diego student support—as frivolous glamour projects. They've said they'll block similar proposals from this year's spending bills, even as the vast majority of House Republicans chose to allow the earmarking process to continue.
The anticipated changes could widen discrepancies between House and Senate rules, an obstacle for the earmarking system — revived after a decade-long ban on the practice — in its first year operating in a divided Congress. The modifications also could create another challenge to reaching a bicameral funding deal later this year, already complicated as the GOP House majority looks to roll back spending.
House Republicans have agreed to limit earmarks to projects with a clear "federal nexus," Rep. Andrew Clyde (R-Ga.) said in an interview. Appropriators will release guidance in the next few weeks, which will spell out which funding programs won't be eligible for earmarks, a House Republican aide said, speaking on the condition of anonymity before the plans are announced.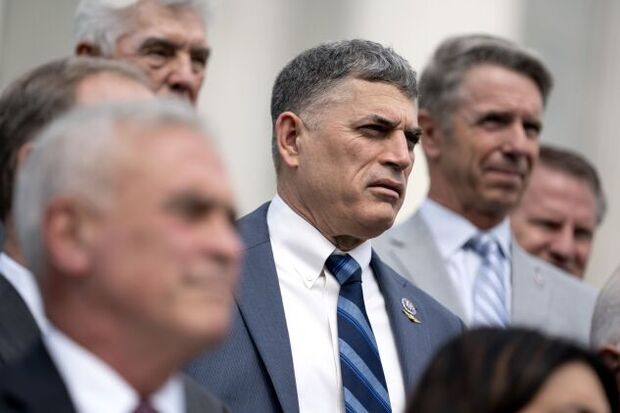 Michael Thorning, director of governance at the Bipartisan Policy Center, said the criticisms of individual earmarks reflects a push by The Heritage Foundation and other conservative groups to delegitimize a process that has garnered support from Republicans. The Bipartisan Policy Center has supported the revival of earmarks and has made recommendations for transparency measures and other rules.
"It's naked partisanship from people hoping to gin up opposition to directed spending," Thorning said in a phone interview. "I fear that in entertaining it, that if you give an inch, they will take a mile." Read more from Jack Fitzpatrick.
Also Happening on the Hill
CONGRESS' SCHEDULE
The House meets at noon to debate five bills under suspension of the rules, including several tech-related measures.
The Senate meets at 3 p.m. with a vote planned on a judicial nominee. Sen. James Lankford (R-Okla.) will deliver the annual reading of George Washington's farewell address in the chamber.
House Republicans are probing the Transportation Department's handling of the Norfolk Southern chemical train derailment earlier this month that released a toxic soup of chemicals in East Palestine, Ohio. Read more
The end of the Covid public health emergency this spring will terminate a program targeting the No. 1 killer of Americans: heart disease. Anecdotal evidence suggests more people were able to participate in virtual services to get supervised exercise and counseling meant to bolster heart health and prevent future heart attacks.
Steel is threatening to become the latest area of commercial conflict between the US and Mexico after a bipartisan group of US lawmakers called on the Biden administration to restore Trump-era tariffs if necessary to stem a surge in imports.
Lawmakers have kicked off work on high-profile legislation and investigations following a slow start to the 118th Congress, with clashes over government spending set to escalate in the months ahead.
Elections, Politics & Probes
The Justice Department is girding for bruising clashes with House Republicans armed with indignation and subpoena power, a drama set to play out between two protagonists who couldn't be more different—a combative former wrestling coach and a taciturn former federal judge.
Former Vice President Mike Pence gave a full-throated defense of assistance to Ukraine and criticized those in his party who have praised Russian President Vladimir Putin, exposing a fault line in the emerging 2024 Republican race between traditional GOP hawks and those skeptical of US support for Kyiv.
Palm Beach — the island playground for billionaires off Florida's southeast coast — is turning into a showcase for the growing rivalry between the GOP's top two presidential contenders.
Donald Trump is seizing on growing objections among Republicans to investments based on environmental, social and governance principles, with a campaign video posted Friday opposing so-called ESG strategies.
A Georgia lawmaker has proposed legislation that would effectively bar the type of news media interviews given this month by the foreperson of a special grand jury that investigated Trump's efforts to overturn the 2020 election.
Defense & Foreign Affairs
Pentagon contract spending could reach another record total in fiscal 2024 if a decade's worth of defense budget and contract spend patterns hold, according to Bloomberg Government analysis based on preliminary defense budget estimates.
Secretary of State Antony Blinken is traveling into Russia's sphere of influence this week as he tries to pull some of Moscow's traditional partners closer to the US position on the war in Ukraine.
China will welcome the leader of Russian ally Belarus for a state visit this week as the US again warned Beijing against supplying Moscow with weapons for its war in Ukraine.
Meanwhile, Biden said he was troubled that China declined to take a call from Pentagon officials over the alleged spy balloon that crossed the US. Read more
Biden said he is ruling out Ukraine's request for F-16 fighter jets at this time, despite increased pressure from Ukrainian President Volodymyr Zelenskiy.
Around the Administration
BIDEN'S AGENDA
Biden and Vice President Kamala Harris at 5 p.m. deliver remarks celebrating Black History Month.
At 2:30 p.m., White House Press Secretary Karine Jean-Pierre gives a briefing.
Americans are saving half a billion dollars per month on home internet costs thanks to a federal benefit passed as part of the bipartisan infrastructure bill, Harris will announce Monday in South Carolina.
The Biden administration rescinded and replaced a controversial memo that had prioritized highway repair over expansion, after more than a year of Republican opposition.
The justices on Tuesday are set to hear arguments in two cases challenging the administration's student-loan forgiveness program. Both land as the federal courts have become increasingly skeptical about the power of the president to act without explicit direction from Congress.
US regulators are proposing limits on telehealth prescriptions of certain medications to combat the country's growing opioid crisis.
SpaceX and NASA scrubbed a rocket launch shortly before liftoff early Monday, postponing a mission to send US astronauts and a Russian cosmonaut to the International Space Station.
To contact the reporter on this story: Brandon Lee in Washington at blee@bgov.com
To contact the editor responsible for this story: Michaela Ross at mross@bgov.com
Stay informed with more news like this – from the largest team of reporters on Capitol Hill – subscribe to Bloomberg Government today. Learn more.