What to Know in Washington: Fiscal Cliff of Pandemic Benefits
Democrats, who are pushing President Joe Biden's $1.75 billion tax and spending plan through Congress, face the end of the pandemic-enacted student loan freeze and expanded child tax credits in the coming weeks, sparking concerns about U.S. family finances already facing high inflation.
Here's what Bloomberg Government is tracking for Thursday.
Congress Agenda:
The late Sen. Bob Dole, who died on Sunday, will lie in state in the Capitol Rotunda today from noon until 8 p.m. A formal ceremony will be held at 9:45 a.m. A congressional tribute ceremony will be held at 10 a.m.
The House is in at noon to consider legislation inspired by former President Donald Trump's administration that would establish additional presidential and executive branch ethics rules. Kenneth P. Doyle has more on the measure.
The Senate meets at 11:30 a.m. with plans to begin consideration of a measure to allow lawmakers to raise the debt limit and temporarily block cuts to Medicare and other mandatory spending programs. Erik Wasson and Billy House have earlier coverage of the House-passed measure.
Biden's Schedule:
Biden this morning delivers remarks and hosts a virtual Summit for Democracy starting at 8 a.m.
The president will attend the ceremony at the Capitol for Bob Dole t 10 a.m. and deliver remarks.
The president will speak at 12:30 p.m. with Ukraine President Volodymyr Zelenskyy to discuss relations with Russia following Biden's virtual call on Tuesday with Russian President Vladimir Putin. Biden will then speak at 1:45 p.m. with the Bucharest Nine group of NATO allies.
Biden and Vice President Kamala Harris will meet at 3:30 p.m. with members of the Covid-19 response team to discuss the omicron variant.
Fiscal Cliff Nears for Families as Pandemic Benefits Fade
For Americans worried about rising prices and shrinking household budgets, January could bring another blow to the bottom line.
At the end of the month, the government's temporary moratorium on federal student loan payments expires, meaning loans will once again accrue interest and borrowers will be expected to resume monthly payments.
And barring congressional action, on Jan. 15 many American families will lose monthly payments from the government totaling hundreds of dollars, gained from a temporary expansion of the child tax credit under President Joe Biden's pandemic relief law.
The looming cutoff of two sources of significant federal pandemic aid to U.S. families threatens to add to Americans' pessimism about the state of the economy, 10 months before they go to the polls to decide whether Biden's party will retain control of Congress.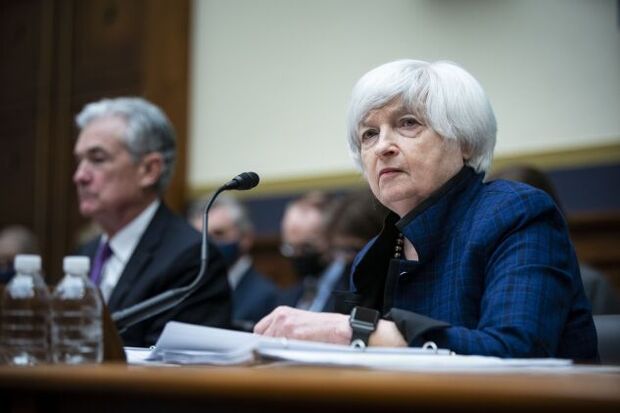 A Gallup poll released Dec. 2 found that 45% of American households say inflation is causing them financial hardship, and a Wall Street Journal poll published Tuesday found that about 60% of Americans think the economy is poor or not good and headed in the wrong direction.
An extension of the expanded child tax credit is included in Biden's Build Back Better legislation, his package of climate, tax and social-spending measures. But the bill is stalled in the Senate. Prospects for an extension of the student loan moratorium are even dimmer—there is little interest internally at the White House, according to two people familiar with discussions on the issue.
Treasury Secretary Janet Yellen said during a hearing last week that the expanded child tax credit has put about $77 billion into the pockets of families, helping 61 million American children so far. The monthly payments can be as much as $300 per child, or $3,600 per year.
The expiration of the payments is already top-of-mind for some congressional Democrats as they work to push through Biden's economic agenda. Read more from Nancy Cook, Janet Lorin and Laura Davison.
Happening on the Hill
A Biden-backed proposal to give an extra tax break for the purchase of electric cars made in the U.S. with union workers will undergo a review by the Senate parliamentarian who will determine whether it qualifies under budget rules to move as part of Biden's $1.75 trillion economic package.
The plan to offer $4,500 more in tax credits to consumers who buy those vehicles has drawn vehement opposition from a variety of people, including Tesla Chief Executive Officer Elon Musk, Sen. Joe Manchin (D-W.Va.) and trade officials in Canada, Mexico and the European Union.
But their lobbying may be unnecessary if the office of Elizabeth MacDonough, the parliamentarian, concludes it doesn't mesh with budget rules. Her office will review the electric vehicle provisions along with other tax credits contained in the bill. Democrats may have to go back the drawing board or scuttle the measure all together if she decides that it violates the so-called Byrd Rule, which prohibits the use of budget reconciliation to advance policy changes with "merely incidental" budgetary impacts. Read more from Ari Natter.
Former President Donald Trump's Chief of Staff Mark Meadows sued Speaker Nancy Pelosi (D-Calif.) and the Jan. 6 committee investigating the Capitol riot to block subpoenas compelling him to testify. Meadows, a former member of Congress, asked a judge to invalidate the subpoenas, calling them "overly broad and unduly burdensome," in a complaint filed yesterday in Washington federal court.
Meadows was scheduled to appear before the Jan. 6 committee in a closed-door session yesterday, but didn't show and now faces criminal contempt of Congress proceedings. The committee will meet next week and recommend to the House that Meadows be cited for contempt and the case referred to the Department of Justice for prosecution, Rep. Bennie Thompson (D-Miss.), the committee's chairman, and Vice Chair Liz Cheney (R-Wyo.), said in a joint statement yesterday. Read more from Erik Larson and Billy House.
Progressives are urging House Democratic leaders to bring a resolution to the floor to strip Rep. Lauren Boebert (R-Colo.) of her committee assignments over anti-Muslim comments she made against Rep. Ilhan Omar (D-Minn.). "Each day that passes without meaningful accountability, we risk normalizing this behavior and endangering the lives of our Muslim colleagues, Muslim staff and every Muslim who calls this country home," Rep. Ayanna Pressley (D-Mass.) said yesterday.
YESTERDAY'S ACTION:
Around the Administration
Former tech executive Meg Whitman is Biden's pick to be U.S. ambassador to Kenya, the White House said yesterday, Jennifer Epstein reports. Whitman, who until earlier this year was chief executive of media content app Quibi, ran for governor of California as a Republican in 2010. She has supported Democrats in the last two presidential elections.
A top American defense official said strengthening Taiwan's ability to defend itself is an "urgent task" for the U.S. as China engages in destabilizing and "intentionally provocative" actions toward the self-governing island. Taiwan should work to defend itself using "credible, resilient, mobile, distributed and cost-effective" asymmetric capabilities, Assistant Secretary of Defense Ely Ratner told the Senate Foreign Relations Committee yesterday. Read more from Peter Martin.
What Else We're Reading
Biden is ready to urge participants at the first White House Summit for Democracy to reverse an ongoing "recession" of democracy that is playing out at a time of rising authoritarianism around the globe and extraordinary strains on foundational institutions in the U.S., the Associated Press reports. The two-day virtual summit that starts today has been billed as an opportunity for leaders and civil society experts from some 110 countries to collaborate on fighting corruption and promoting respect for human rights. But the gathering already has drawn backlash from the U.S.'s chief adversaries and other nations that were not invited to participate, AP's Aamer Madhani and Lisa Mascaro report.
The Biden administration is moving to tighten enforcement of sanctions against Iran, according to senior U.S. officials, the first sign of Washington increasing economic pressure on Tehran as diplomatic efforts to restore the 2015 nuclear deal falter, Laurence Norman reports for Dow Jones.
New York City is expected to pass a bill allowing noncitizens to participate in local elections, expanding rights for about 800,000 residents at a time when other parts of the country are making it harder to vote. The bill is up for a vote today and has sponsorship from 34 of 51 City Council members, making for a veto-proof majority. Read more from Bloomberg's Elaine Chen.
To contact the reporters on this story: Zachary Sherwood in Washington at zsherwood@bgov.com; Brandon Lee in Washington at mross@bgov.com
To contact the editors responsible for this story: Giuseppe Macri at gmacri@bgov.com; Loren Duggan at lduggan@bgov.com