What to Know in Washington: Fifth Circuit Stumbles Before SCOTUS
Bloomberg Government subscribers get the stories like this first. Act now and gain unlimited access to everything you need to know. Learn more.
Decisions coming out of a notably conservative federal appeals court keep getting knocked down by the Supreme Court, most recently in a decision that reinstated President Joe Biden's immigration enforcement policies.
The US Court of Appeals for the Fifth Circuit has had only two of its eight rulings upheld by the justices so far this term with one more decision still to come in a potential blockbuster over Biden's student loan forgiveness plan. It's an unexpected track record for rulings coming from one conservative court up for review by another, and a sign that the justices may be pushing back on an appeals court that refuses to rein in aggressive litigation by the state of Texas and others.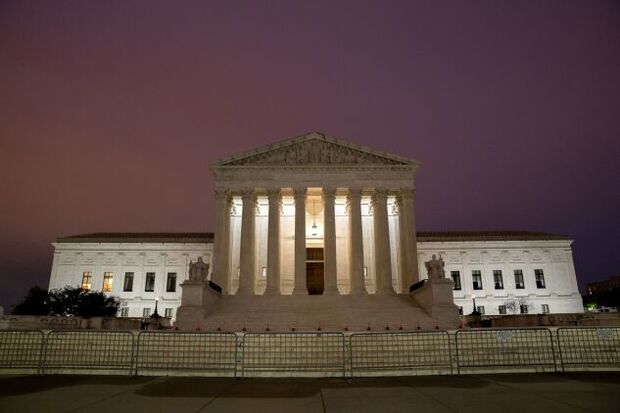 The Fifth Circuit, which covers Texas, Louisiana, and Mississippi has become a magnet for challenges to Biden administration policies, ranging from abortion access to LGBTQ rights and immigration. The cases are often filed by the state of Texas or Republican state attorneys general as a group.
Critics say Republican attorneys general see a path to success by choosing district courts within the Fifth Circuit where they're almost guaranteed to get a sympathetic judge as the first step toward similarly assured outcomes in the Fifth Circuit and Supreme Court. The results this term at the high court, however, suggest victory isn't a sure thing.
That may be, in part, because some members of the Supreme Court's 6-3 conservative wing, including Chief Justice John Roberts and Justices Brett Kavanaugh and Amy Coney Barrett, are being a bit more moderate than the Fifth Circuit. President Donald Trump further tilted the court to the right with six appointments to the New Orleans-based court.
What's most notable isn't that the Fifth Circuit record is two wins and six losses, said University of Texas at Austin School of Law professor Stephen Vladeck. "What's revealing is I think five of the six are ideologically charged cases and so it's not that the Fifth Circuit is getting reserved that often, it's that it's getting reversed in the kinds of cases where you wouldn't expect it," he said. Lydia Wheeler and Kimberly Strawbridge Robinson have more details about the court's record.
BIDEN'S AGENDA
At 11:45 a.m., President Biden and Vice President Kamala Harris will make an announcement about high-speed internet infrastructure at the White House. Commerce Secretary Gina Raimondo will also attend.
Biden and Harris will have lunch together at 12:30 p.m.
Press Secretary Karine Jean-Pierre will give a briefing at 2 p.m.
Weekend Crisis in Russia
Vladimir Putin managed to avert an attack on Moscow with an eleventh-hour deal with his mutinous mercenary commander. But the uprising has pierced his aura of total political control over Russia unlike any other event in his nearly quarter century in power.
Secretary of State Antony Blinken said the Wagner mercenary group's revolt was a "direct challenge" to Putin's authority and provides a battlefield advantage to Ukraine in its war to drive out Russian forces. Read more.
China said it supports Russia's actions to maintain national stability. Read more.
Coming Up on Capitol Hill
Senate appropriators began their work on fiscal 2024 spending bills last week. Download the appropriations update for June 26.
Medical providers are pushing Congress to help them make permanent telehealth provisions they came to rely on during the pandemic.
House Republicans identified eight key areas of environmental, social, and governance policies to focus on for the rest of the 118th Congress.
A bipartisan group of lawmakers agree the US should strengthen business ties with Taiwan and forge a future tax deal. They just disagree on the best legislative approach.
One Year After Roe's Fall
Biden told an audience of abortion-rights advocates the only way to restore Roe v. Wade's protections is for Congress to pass legislation, urging them to keep the issue front-and-center in the 2024 election.
Trump hardened his position on abortion in a speech to evangelical Christian voters, saying there's "a vital role for the federal government in protecting unborn life."
A year after the Supreme Court ended the constitutional right to abortion, the costs associated with ending a pregnancy have soared.
Ensuring access to contraceptives as some states enact state reproductive rights bans will be a major focus of the Health and Human Services Department under a Biden administration executive order announced Friday.
Politics, Probes, and 2024
Biden led Trump in a hypothetical 2024 election rematch in an NBC News poll, though his edge is within the survey's margin of error.
The Justice Department has proposed delaying until December the trial of Trump over his retention of classified documents due to the sensitive nature of some evidence.
Biden promised greater transparency about who was visiting his White House, yet a review of visitor logs from his first two years in office reveals notable gaps in disclosure.
Recent controversies over perks accepted by Supreme Court Justices Clarence Thomas and Samuel Alito have raised questions not only about the justices' conduct off the bench and what they disclose to the public, but also about how the judiciary broadly enforces ethics.
Rudy Giuliani was ordered to pay the attorney fees of two Georgia election workers suing him for defamation, after a judge found he failed to comply with his obligations to turn over evidence in the case.
What Else We're Reading
US intelligence agencies weren't able to determine whether researchers at laboratory in Wuhan, China, who fell sick in the fall of 2019 were infected with Covid-19, according to a declassified report released Friday.
The Biden administration urged a court to dismiss a lawsuit over global warming that's become known as the kids' climate case.
Equitrans' Mountain Valley natural gas pipeline now has all the authorizations it needs to resume construction, having secured a critical water-crossing permit from the Army Corps of Engineers.
To contact the reporter on this story: Brandon Lee in Washington at blee@bgov.com
To contact the editor responsible for this story: Kayla Sharpe at ksharpe@bloombergindustry.com
Stay informed with more news like this – from the largest team of reporters on Capitol Hill – subscribe to Bloomberg Government today. Learn more.