What to Know in Washington: Fetterman-Oz Senate Debate Unfolds
Democratic US Senate candidate John Fetterman's recovery from a May stroke will be a central focus of his debate Tuesday with Republican rival Mehmet Oz as the two men seek an edge in their battle for a bitterly contested seat in Pennsylvania.
Fetterman, the state's lieutenant governor, has been deemed fit for office by his primary care doctor, though he sometimes has trouble processing spoken words, an issue that was put on display in recent weeks as he relied on software during an NBC News interview. He will use a similar closed captioning device for the hour-long televised debate in Harrisburg.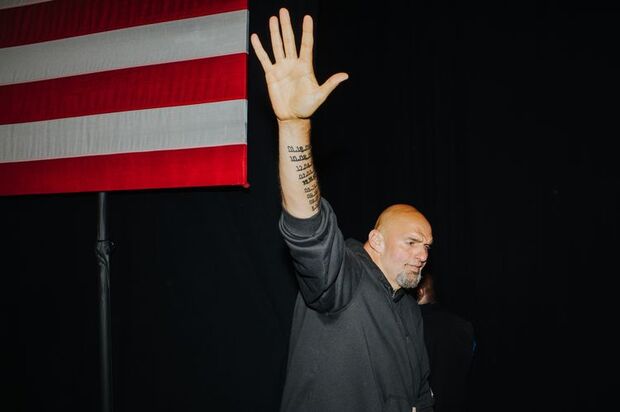 He and Oz, the celebrity physician known for his long-running "Dr. Oz" television show, are locked in one of a handful of toss-up races that will determine control of the US Senate. The double-digit polling lead that Fetterman commanded as recently as August has all but vanished under withering attacks from Oz and his allies on the issues of crime and inflation.
Tuesday's debate takes place amid signs of growing Republican momentum in the final weeks of the Nov. 8 midterm elections as concerns about the economy overwhelm voter angst around the US Supreme Court's rollback of federal abortion rights, an issue that galvanized Democrats over the summer.
More than 556,000 Pennsylvanians have already cast a mail-in or absentee ballot, according to Department of State data, but the debate could decide the race by swaying undecided voters and those supporting a third-party candidate, said Berwood Yost, director of the Franklin & Marshall College Poll. A CNN poll on Monday showed 9% of likely voters and 12% of registered voters said they might change their minds.
Fetterman's campaign is already trying to temper expectations, citing the challenges associated with his recovery, his past lackluster debate performances before the stroke and Oz's sheen from hosting a television show for nearly 13 years.
Aaron Kall, director of debate at the University of Michigan and co-author of "Debating the Donald" about Donald Trump's 2016 debates, said he doesn't recall another high-profile debate when a candidate used a closed-captioning device, and there's a risk of Fetterman losing support if he struggles. Mark Niquette and Gregory Korte preview the matchup.
Happening on the Hill
A group of progressive House Democrats urged President Joe Biden to pursue negotiations with Russia to bring about a diplomatic end to the war in Ukraine, but within hours backpedaled with a statement affirming their support for the president's strategy.
Congress could authorize additional defense funding for Taiwan during the lame-duck session after tensions flared between Taiwan and China on the heels of Speaker Nancy Pelosi's (D-Calif.) visit to Taipei in August.
The linked OnPoint provides a historical overview of US-Taiwan relations, congressional action to address China's regional ambitions, and the Biden administration's views on US policy toward Taiwan.
House Permanent Select Committee on Intelligence Chairman Adam Schiff plans soon to introduce legislation to amend US code to criminalize transnational repression, the Democrat congressman says in a statement.
Elections, Politics & Probes
Join BGOV's Final Pre-Election Webinar: Bloomberg Government's election experts will provide their outlook for the 2022 midterms on a Nov. 1 webinar. They'll offer their take on the issues driving the battle for control of Congress and the key races to watch in the election's final week. Register here .
The House Democrats' campaign arm is shelling out funds to shore up its own chair, Rep. Sean Patrick Maloney (D-N.Y.), as his race tightens amid stiff Republican opposition.
Women are still underrepresented in major political office after steady but slow gains: they account for just 28% of members of Congress and 18% of governors, the highest representation so far in history. How female candidates fare in the Nov. 8 election will depend in part on how well incumbents perform.
Kelly Dittmar, a political scientist and scholar at the Center for American Women and Politics at Rutgers University, spoke about this with Bloomberg Government's Emily Wilkins and Greg Giroux on the "Downballot Counts" podcast.
Listen here or subscribe to Downballot Counts on Apple Podcasts , Audible, Google Podcasts , Megaphone , Spotify , or Stitcher .
Democrat Adam Frisch's quest to unseat Rep. Lauren Boebert makes him a target for the curious and the hostile.
Conservative state efforts to block abortions are colliding with their own guarantees to liberty and privacy, in some cases paradoxically helping activists to fight off abortion restrictions across the US.
Florida Governor Ron DeSantis declined to say whether he'll run for president as Democratic challenger Charlie Crist accused him of being too distracted by a bid for the White House in 2024.
One of Trump's top lawyers has taken on a role as senior adviser for his new political action committee, pressing his MAGA message even as she defends him in a series of high-stakes lawsuits.
Tom Barrack testified that his support for longtime friend Trump's presidency proved "disastrous" for him and his business and suggested it was also the reason he's on trial for allegedly acting as an agent of the United Arab Emirates.
Around the Administration
PRESIDENT'S SCHEDULE
Biden at 2:05 p.m. will receive a Covid booster and give remarks.
At 2:45 p.m., Press Secretary Karine Jean-Pierre will give a briefing.
Government officials including Agriculture Secretary Tom Vilsack and Health and Human Services Secretary Xavier Becerra will speak at a nutrition and health care conference on Tuesday. The event will follow up on recommendations from the White House's first-in-decades summit on hunger, nutrition, and health last month. Speakers are expected to zero in on topics like treating food as medicine and the private sector's efforts to address food insecurity . They're both key aspects of the Biden administration's interagency promise to boost nutrition for Americans, over 40% of whom are obese, Maeve Sheehey reports.
The White House is asking businesses to help employees get updated coronavirus vaccines by hosting on-site clinics and will initiate a new program providing some Americans with free home delivery of Covid-19 treatments before an expected surge of the virus this fall.
The US won't change its stance toward China as a result of Xi Jinping seizing more power in a key Communist Party congress, with advisers still trying to set up a meeting between Biden and the Chinese leader, US officials said.
US-EU Trade and Technology Council co-chairs discussed topics including the electric vehicle provisions in the Inflation Reduction Act of 2022 and the need to continue engagement on the issue, according to a readout provided by the Department of Commerce.
As a group, Native Americans are the country's poorest— with more than twice the poverty rate of Whites—and the digital gap is also stark. Conservative estimates show more than 18% of indigenous people lack internet access, compared with about 4% of people in non-tribal areas.
Congress, championed by the Biden administration, has made a historic investment in connecting all Americans to the internet, including $3 billion for tribal governments to expand broadband access. Most agree it's only a step in the right direction.
Biden heralded the choice of Rishi Sunak as the next UK prime minister as a "groundbreaking milestone" during a Diwali event Monday at the White House.
Dairy farmer Art Schaap had to watch his cows slowly die for over three years before the federal government paid him for the animals — contaminated with toxic "forever chemicals" from a nearby military base.
To contact the reporters on this story: Brandon Lee in Washington at blee@bgov.com; Michaela Ross in Washington at mross@bgov.com
To contact the editor responsible for this story: Giuseppe Macri at gmacri@bgov.com