What to Know in Washington: FBI Warns of Distrust in US Midterms
FBI sees Russia, China sowing division ahead of US elections
Trump correspondence with Kim Jong-un missing, agency says
There are no specific threats to US voting systems for the coming midterm elections, but messages that the result can't be trusted are being amplified online, with Russia the most aggressive influence among foreign foes, the FBI said.
Such messaging, being pushed in states across the country by political candidates and others in the US, is being seized on by foreign adversaries to sow division, Federal Bureau of Investigation officials said Monday in a briefing with reporters in Washington. Russia, China and Iran are all acting opportunistically in the run-up to the Nov. 8 vote to advance their interests, according to the agency.
The agency doesn't see the foreign actors as needing to create divisive content, as Russia did during the 2016 US presidential election. Instead, it said, they are leveraging existing domestic US content, especially material questioning the legitimacy of American elections. The Chinese government has primarily focused on more conventional efforts to advance its interests but is starting to take a page from Russia's playbook to exploit rifts in the US, the FBI said.
It is also tracking threats to election workers across the country and has investigated more than 1,000 of them since June 2021, leading to four arrests so far, according to bureau statistics. Almost 60% of the threats were in states where controversy — and conspiracy theories — over the 2020 election results was hottest, such as Arizona, Georgia and Michigan. Read more from Chris Strohm.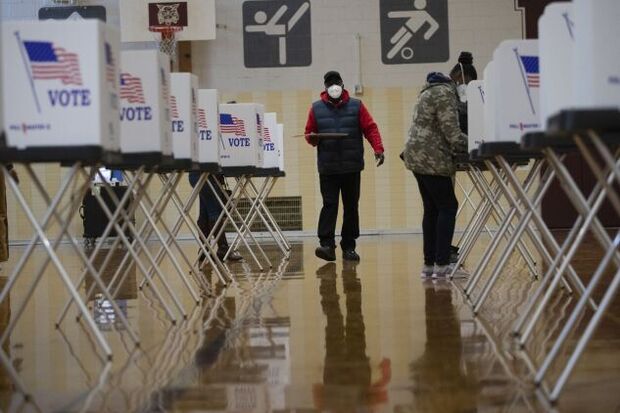 Happening on the Hill
The House committee investigating last year's attack on the US Capitol has tentatively rescheduled its next public hearing for Oct. 13, a person familiar with the planning said, following last week's abrupt postponement as Hurricane Ian made its way toward Florida.
The top US financial regulators want Congress to give them new powers to directly oversee trading in Bitcoin, the world's largest cryptocurrency.
A group of lawmakers is requesting Secretary of Education Miguel Cardona extended Public Service Loan Forgiveness until July 1, 2023, according to a release from Senator Bob Menendez's (D-N.J.) office.
Elections, Politics & Probes
Republicans are fielding a more racially diverse array of candidates in the midterms, hoping to make gains among voters of color and counter criticism their party appeals only to White people.
Louisiana Democrat Katie Darling hopes to jump-start her longshot bid to unseat House Minority Whip Steve Scalise (R) with one of the most intimate campaign ads in recent memory: It features a video of her giving birth.
Senate Finance Chairman Ron Wyden (D-Ore.), in a letter obtained by Bloomberg, told the Treasury Department that the Internal Revenue Service should use its newly authorized $80 billion to improve customer service for taxpayers, audit the wealthy and stamp out offshore tax evasion.
The top attorney at the National Archives emailed former White House lawyers in May 2021 alerting them that the administration had failed to turn over correspondence between President Donald Trump and North Korean leader Kim Jong-un, according to documents obtained by Bloomberg.
A newly unsealed Justice Department report details the range of documents that federal investigators found during the August search of Trump's Florida home and the steps they took to identify documents the government shouldn't access. Read more.
Trump sued CNN for defamation, accusing the network of smearing him — including with frequent comparisons to Adolf Hitler — to undermine a potential run for re-election in 2024.
In a separate case, Trump asked a judge to put a defamation lawsuit by New York columnist E. Jean Carroll on hold — and delay his deposition — after a federal appeals court issued a preliminary ruling that could derail the case. Read more.
Around the Administration
PRESIDENT'S SCHEDULE
At 3:30 p.m., Biden, Harris, and other Cabinet officials will attend a meeting of the Task Force on Reproductive Healthcare Access and give speeches.
At 1 p.m., Press Secretary Karine Jean-Pierre will give a briefing.
The Biden administration plans to announce new restrictions on China's access to U.S. semiconductor technology, according to people with knowledge of the situation, an escalation of Washington's efforts to stifle Beijing's industrial ambitions and a risk to growth for the $550 billion sector.
Biden will unveil new guidance from the Department of Education requiring universities to protect students who terminate their pregnancies from discrimination, in the latest effort by the White House to focus attention on abortion rights in November's midterm elections.
Medicare will now pay more for lower-cost version of certain physician-administered drugs, the first step for the Biden administration implementing a new sweeping drug-pricing law.
Biden assured residents of storm-ravaged Puerto Rico that the island would receive "every single dollar" in promised federal aid as he surveyed the damage from Hurricane Fiona.
The US Centers for Disease Control and Prevention said on Monday it removed its Covid-19 health advisories for international travel due to limited testing and reporting data from around the world.
Celebrities looking to make a quick buck shilling cryptocurrencies got a reminder Monday that regulators are watching.
The Supreme Court's decision to hear a case challenging a legal shield for social media platforms puts the justices in the middle of a politically fraught debate over whether some of the world's most powerful companies should be protected as neutral forums for speech or held accountable for the content.
The test that the federal government has used to determine what waters and wetlands are protected under the Clean Water Act seems poised to be scrapped by the US Supreme Court, natural resources lawyers said.
Defense & Foreign Affairs
Biden and Japanese Prime Minister Fumio Kishida plan to hold talks Tuesday about North Korea firing a missile over Japan. "The United States strongly condemns the Democratic People's Republic of Korea's dangerous and reckless decision to launch a long-range ballistic missile over Japan," US National Security Council spokesperson Adrienne Watson said in a statement, using North Korea's formal name.
Biden said the US will be imposing further costs this week on perpetrators of violence against peaceful protesters in Iran, in a statement released by the White House.
The OPEC+ alliance of oil producing countries are poised to cut production by more than 1 million barrels a day to bolster global oil prices. A decision won't be made until Wednesday.
The Biden administration will continue consultations with Mexico over the nation's energy policy after completing the minimum time period required for talks under their trade deal rather than immediately requesting arbitration.
Former US Secretary of State Rex Tillerson testified at a criminal trial about the Trump administration's seemingly chaotic foreign policy while leveling a veiled criticism at Jared Kushner.
To contact the reporter on this story: Michaela Ross in Washington at mross@bgov.com
To contact the editors responsible for this story: Katrice Eborn at keborn@bgov.com; Giuseppe Macri at gmacri@bgov.com