What to Know in Washington: FAA Releases New Drone Rules
All but the smallest civilian drones would have to broadcast radio tracking data to ensure greater safety and prevent terrorism under a sweeping proposal unveiled by U.S. regulators during an otherwise quiet Thursday in the nation's capital.
The long-awaited draft rules call for a massive new tracking network for everything from toys to larger commercial drones so that law enforcement can spot the devices flying anywhere, from congested urban areas to the most rural zones.
The controversial measure by the Federal Aviation Administration, which is subject to public comment and could change before it becomes final, is a key foundation to advance drone-driven commerce, including deliveries of consumer goods by companies such as Alphabet Inc.'s Wing and Amazon's Prime Air. The rules would come into full force three years after being finalized.
"Remote ID technologies will enhance safety and security by allowing the FAA, law enforcement and federal security agencies to identify drones flying in their jurisdiction," Transportation Secretary Elaine Chao said in a press release.
With only limited exceptions for groups such as model-airplane operators, all drones weighing more than 0.55 pounds (0.25 kilograms) would have to broadcast their position and operator's identity at all times under the FAA proposal.
The FAA is suggesting that private companies approved by the agency would set up tracking systems for drones, replicating the existing air-traffic control system for traditional aircraft. Read more from Alan Levin.
Company Testing: Commercial drone makers and operators cheered the long-awaited release of the proposed tracking system, though they criticized regulators for delaying its implementation. "We need implementation yesterday, not three years from now," said Lisa Ellman, executive director of the Commercial Drone Alliance, a group that represents companies, including AT&T and Apple. Courtney Rozen has more on the reaction.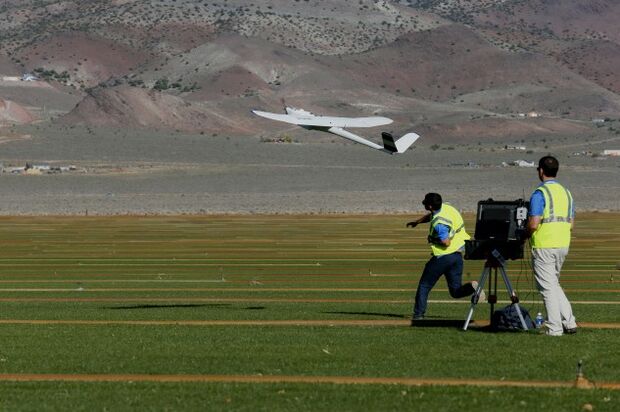 What Else to Know Today
Higher Obamacare Subsidies Expected: Taxpayers will foot the bill over the next few years for higher Obamacare subsidies after Congress locked in an insurer practice to raise some premiums to cover their costs. The tactic benefits insurers because they can sell more plans in the Obamacare exchanges, and more expensive plans, as a result. It also benefits low- and middle-income people who can get nearly free insurance coverage. "Everybody's happy as long as the taxpayers make up the difference," Tom Miller, a resident fellow at the conservative American Enterprise Institute, said in an interview. Read more from Sara Hansard.
Four Unfinished Dodd-Frank Rules to Watch: The biggest rewrite of Wall Street rules since the last financial crisis isn't over at the SEC. The Securities and Exchange Commission still is working on regulations that were part of the post-crisis Dodd-Frank Act—a decade after it became law in 2010. The remaining work includes some of the statute's thornier provisions, like disclosures on executive compensation and payments for extracting oil and gas. Read more from Andrew Ramonas and Andrea Vittorio.
Companies Prepare for California Privacy Law: Companies are scrambling to comply with California's landmark privacy law taking effect Jan. 1, attorneys said. Complicating the effort are actions the state took in October. Attorney General Xavier Becerra (D) published draft rules for implementing the California Consumer Privacy Act. Gov. Gavin Newsom (D) signed bills to amend it. Another potential complication lies ahead—a possible statewide privacy ballot issue in the 2020 election. The actions "make for a very unstable compliance environment," said Lisa Sotto, a partner at Hunton Andrews Kurth who advises companies on privacy and data security matters. Read more from Sara Merken.
Cruz Can Proceed with Candidate Loan Rule Challenge: Sen. Ted Cruz (R-Texas) can proceed with a court challenge to a federal campaign finance law restricting use of contributions to pay back candidate loans, a federal court in Washington ruled. The decision Tuesday by U.S. District Judge Amit Mehta denied the Federal Election Commission's motion to dismiss the case on procedural grounds and said the merits would be decided by a three-judge court, which will schedule further proceedings. But the ruling could put the case on a fast track to the Supreme Court under special procedures for deciding constitutional challenges to campaign finance laws. Read more from Kenneth P. Doyle.
Stocks Hit Fresh Records: Stocks ratcheted up worldwide on Friday and propelled global benchmarks to fresh records, as robust gains in retail and technology shares turned 2019 into a year to remember for risk assets. The dollar slipped for a second day. Todd White rounds up the markets action.
Tour Helicopter Carrying 7 Missing in Hawaii: A tour helicopter with seven people aboard went missing in Hawaii on Thursday evening, the U.S. Coast Guard said. The owner of the helicopter contacted the Coast Guard about 45 minutes after the aircraft was due back from a tour of Kauai's Nā Pali Coast, the Associated Press reports, citing a news release.
Around the World
Duterte Threatens to Tighten Visa Requirements: President Rodrigo Duterte has warned that Americans who want to enter the Philippines will be required to obtain a visa if the U.S. refuses entry to officials involved in the detention of one of his main critics. Duterte also ordered the immigration bureau to ban Sens. Patrick Leahy (D-Vt.) and Dick Durbin (D-Ill.) from the Philippines for introducing a provision in the U.S. 2020 budget supporting Senator Leila de Lima—who has been criticizing Duterte's drug crackdowns since he was a local mayor—presidential spokesman Salvador Panelo said at a briefing today. Read more from Andreo Calonzo.
Netanyahu Wins Party Leadership Race: Israel's legally embattled Prime Minister Benjamin Netanyahu easily fended off a rare challenge to his leadership of the Likud party, reaffirming himself as the dominant figure of Israel's nationalist camp after two humiliating failures to form a government. Israel's political gridlock had thrust Netanyahu into the unfamiliar position of having to defend his stewardship of Likud, with former cabinet minister Gideon Saar mounting the first serious challenge to him in 14 years. Saar, a popular former cabinet minister, won the endorsement of some mayors and lawmakers, but not nearly enough to shunt Netanyahu aside. Read more from Amy Teibel.
Japan Broadcaster Mistakenly Issues North Korea Missile Alert: Amid heightened tensions between North Korea and the U.S., Japan's national broadcaster NHK issued an alert saying the Asian nation had launched a missile—only to retract it in error minutes later. The alert, which NHK says was a mistaken issuance of a practice text, warned that a North Korean missile had fallen 2,000 kilometers east of Hokkaido—a course which, had it been real, would have taken it over Japanese territory similar to North Korea's greatest provocations in the summer of 2017.
The mistaken alert used language similar to the September 2017 launch of an intermediate-range missile, which flew over Japan in a test demonstrating North Korea's ability to hit U.S. forces in Guam. Read more from Gearoid Reidy.
Russia to Appeal 4-year Olympic Ban: Russia confirmed that it will appeal its four-year Olympic ban for manipulating doping data, the Associated Press reports. The Russian anti-doping agency, known as RUSADA, sent a formal letter Friday disagreeing with the sanctions imposed earlier this month by the World Anti-Doping Agency. The case is now heading to the Court of Arbitration for Sport.
Iraq President Willing to Resign: Iraqi President Barham Saleh offered to resign as weeks of deadly anti-government protests show no sign of abating. The president is being torn in opposite directions by politicians who want him to name a prime minister from their ranks and demonstrators who reject any establishment candidate. Adel Abdul-Mahdi stepped down as prime minister last month as protests raged over government corruption, poor services and Iran's sweeping political influence. Mahdi remains in office until a successor is found. Read more from Khalid Al-Ansary.
To contact the reporter on this story: Zachary Sherwood in Washington at zsherwood@bgov.com
To contact the editors responsible for this story: Brandon Lee at blee@bgov.com; Loren Duggan at lduggan@bgov.com