What to Know in Washington: FAA Bill Takes Flight in Congress
Bloomberg Government subscribers get the stories like this first. Act now and gain unlimited access to everything you need to know. Learn more.
Lawmakers will sift through measures around attempts to ease pilot shortfalls, increase flights at Reagan National Airport and ban shrinking plane seat size this week as the House takes up its sweeping aviation legislation.
The House is moving faster than the Senate as the two chambers seek to advance their FAA bills with a looming Sept. 30 deadline until the FAA's current authority expires. Delay of the package could exacerbate flight delays, staff shortages, and the adoption of new technologies as US passenger air travel booms after pandemic-lows, officials have warned.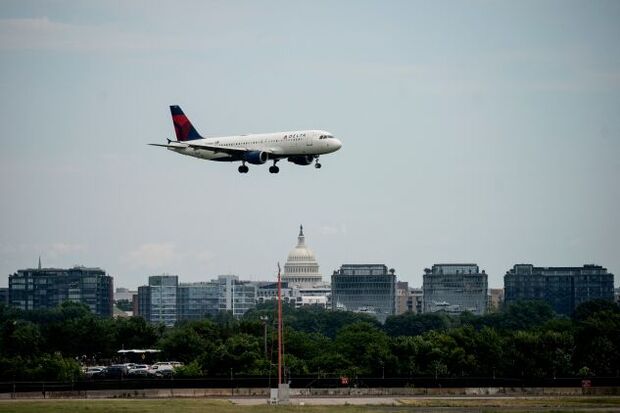 More than 300 amendments were filed to the House Rules Committee on sweeping, five-year legislation reauthorizing the FAA last week. The Rules panel is expected to meet on Monday to decide which amendments will be considered on the House floor.
Transportation and Infrastructure Committee Chair Sam Graves (R-Mo.), who helped shepherd the writing of the bulk of the bill, said lawmakers would work through what could be accepted and "try to cut them down as much as possible." Controversial amendments caused Democrats and a handful of Republicans to oppose must-pass annual defense legislation on the floor last week.
Many of the filed amendments are bipartisan, including ones to ban foreign drones, create a no-fly list for passengers who assault flight crew members, and make it harder for roosters to fly aboard airplanes, but across-the-aisle support won't guarantee consideration. Democrats also submitted amendments to ramp up consumer protections in the legislation, a priority for the party as more delays and cancellations frustrate passengers.
Read more: 'Old School Politicians' Keep FAA Bill Moving as Senate Stalls
Last month, lawmakers worked to limit tricky amendments in the transportation panel as the top four committee and aviation subcommittee leaders agreed to stand together on many proposals. "Largely, we'll take a 'Big Four' approach to amendments to try to maintain the integrity of the bill," Rick Larsen (D-Wash.), ranking member of the transportation panel, said Thursday. Lillianna Byington highlights some of the amendments lawmakers will consider.
CONGRESS' SCHEDULE
The House returns today to vote on FAA reauthorization later this week.
Senators convene tomorrow to take up the annual defense bill.
BIDEN'S AGENDA
President Joe Biden has no public events scheduled today.
Press Secretary Karine Jean-Pierre will give a briefing at 3 p.m.
Also on the Hill
Hundreds of lawmakers have been quick to sign up for Meta CEO Mark Zuckerberg's new app Threads, the world's fastest-growing social media network and potential threat to Twitter.
Two Texas Congressmen are urging the EPA to reject their state's effort to oversee underground carbon storage and are calling for an investigation, arguing local regulators can't be trusted to protect the public.
House and Senate appropriators resumed action on fiscal 2024 spending bills this week, making headway on several bills ahead of the August recess.
Strengthening Global Ties
Treasury Secretary Janet Yellen will participate in a bilateral meeting with India Finance Minister Nirmala Sitharaman today where she'll emphasize the need for concrete progress on global challenges at the G-20 meetings, including on debt and the evolution of the multilateral development banks.
Biden will welcome Israel President Isaac Herzog to the White House on Tuesday. The leaders will discuss opportunities to deepen Israel's regional integration and to create a more peaceful Middle East. Biden will also reaffirm the US' commitment to Israel's security.
US Climate Envoy John Kerry opened his first major climate talks with Chinese officials in almost a year, as both sides pledged to work for tangible results despite deep tensions between the rival superpowers.
America's largest semiconductor companies are embarking on a last-ditch effort to head off new curbs on their sales to China, with senior executives traveling to Washington for talks with administration officials and lawmakers.
Yellen said the US should look for ways to further "de-escalate" tensions with China, though it would be premature to eliminate the tariffs imposed on it by the Trump administration.
Taiwan Vice President Lai Ching-te, a top candidate for president, will stop in the US next month en route to Paraguay, where he'll attend the presidential inauguration of Santiago Peña.
Indonesia's environment and forestry ministry and the US Agency for International Development signed an agreement on climate and conservation partnership, according to a joint statement on Monday.
Regulation, Courts, and Influence
UPS' union president called on workers to be prepared for a strike as the Teamsters push for higher part-time wages, the last major sticking point for renewing a five-year labor agreement that expires on July 31, and said he asked the White House not to intervene in case of a walkout.
A federal appeals court temporarily halted an order that would bar Biden administration officials from communicating with major social media companies while it considers the government's request for a longer-term pause.
An appeals court denied a FTC bid to pause Microsoft's acquisition of Activision Blizzard Friday, clearing a path for the companies to close the largest gaming deal ever in the US.
Equitrans Midstream asked the Supreme Court to allow it to resume construction on its controversial Mountain Valley Pipeline after a federal appeals court issued a pair of orders blocking the $6.6 billion project.
The Biden administration on Friday rejected more than two dozen oil refinery requests for exemptions from US biofuel-blending requirements.
Money, Politics and 2024
The race for presidential hopefuls to lure donors and build up their bank accounts is in full swing as Republican contenders bulk up their campaigns for a long, competitive primary and Biden prepares for the general election.
Big Republican donors seeking an alternative to Donald Trump haven't consolidated around a single candidate, increasing the likelihood of a protracted GOP primary fight with a crowded field of challengers.
The political fundraising appeal has been completely reversed: Some long-shot Republican presidential candidates will now give you money.
Florida Gov. Ron DeSantis' (R) team sought to reassure donors about the rocky start to his presidential campaign bid by summoning them to Tallahassee for a briefing with senior staff and holding a reception at the Florida governor's mansion on Sunday.
DeSantis can count billionaire real estate developer Harlan Crow among a list of wealthy donors who are supporting his campaign. Read more.
At the Family Leadership Summit in Des Moines, DeSantis said that signing a law restricting abortion in his state had cost him donors and support. Read more.
A group supporting Chris Christie is out with a television ad trying to goad Trump into a debate, signaling the former New Jersey governor is betting on a prime-time televised takedown to deny the ex-president the Republican nomination.
Embattled New York Representative George Santos raised $133,078 in campaign contributions last quarter but remains deeply in debt as his fundraising lagged Democratic and Republican challengers.
As the usage of "deepfakes" skyrockets, federal regulators are wrestling with how to reign in the new technology using election laws written for life prior to AI.
To contact the reporters on this story: Giuseppe Macri in Washington at gmacri@bgov.com; Brandon Lee in Washington at blee@bgov.com
To contact the editor responsible for this story: Kayla Sharpe at ksharpe@bloombergindustry.com
Stay informed with more news like this – from the largest team of reporters on Capitol Hill – subscribe to Bloomberg Government today. Learn more.