What to Know in Washington: Electors Meet, Sealing Biden Win
Members of the Electoral College meet today to officially elect Joe Biden, a moment some Republican lawmakers have targeted as the end of President Donald Trump's attempts to overturn the results as far as they're concerned.
The constitutionally mandated procedure across the 50 states and the District of Columbia usually passes with little notice. But this year, it may help conclude a chaotic election season punctuated by Trump's refusal to concede and his frequent insistence, without evidence, that the vote was "rigged" against him.
Many prominent Republicans joined the president in declining to recognize Biden's victory a month ago, saying Trump had a right to pursue legal challenges. That process will have played out once the electors reach a majority of 270 ballots for Biden. Congress will then officially count the Electoral College votes and declare the winner on Jan. 6.
Sen. John Thune (R-S.D.), the chamber's No. 2 Republican, told reporters last week that the election will be "over" once the Electoral College votes.
"The Electoral College obviously brings some finality to this," Thune said. And Sen. Lindsey Graham (R-S.C.), a close Trump ally, said when asked whether the president should concede, "I'll talk to you December the 14th."
Retiring Sen. Lamar Alexander (R-Tenn.) said on NBC's "Meet the Press" yesterday that the election should be over after Monday's vote, and that he hopes Trump then "puts the country first" and congratulates Biden. But asked on "Fox News Sunday" whether he'll stop contesting the election after Monday, Rep. Steve Scalise (R-La.), the House Republican whip, wouldn't say, and insisted "let the legal process play out."
Electors, who are generally selected by their political parties, are committed to vote for the winner of the popular vote in each state. Biden won 306 electoral votes from 25 states and the District of Columbia. Trump captured 232 electoral votes from the 25 states he won. Most electors are meeting in their state capitals with restricted access and social distancing because of the coronavirus pandemic. Arizona isn't publicly disclosing the location of its gathering to keep it "low key." Read more from Mark Niquette.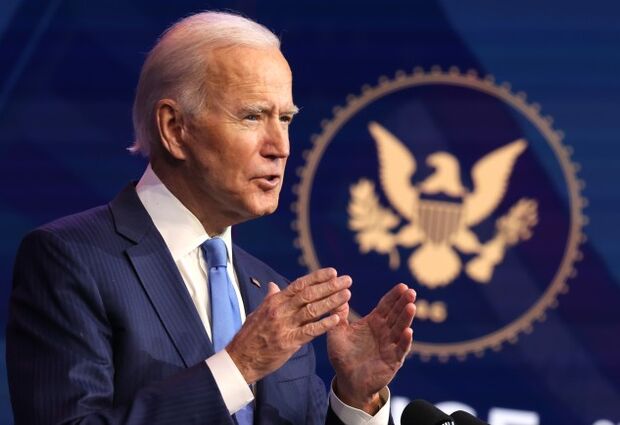 Biden Has 'Clear Mandate,' Aides Say: Biden will enter the White House with a "clear mandate" from the American people, his top advisers said as they took a victory lap to detail his win just before the Electoral College votes. Even as Trump and his supporters continue to reject the outcome, Biden's team expressed confidence that the president-elect will be able to turn the page and follow through on his campaign pledge to unify the country and keep his promises, beginning with fighting Covid-19 and providing economic relief.
"Joe Biden won decisively and has a clear mandate to lead this country," campaign manager Jen O'Malley Dillon, who'll join the Biden White House as deputy chief of staff, said during a Sunday press briefing. "If you look across any metric that we could put together, and in the context of history, it is hard to see anything but a historic victory for the president-elect." Read more from Jennifer Epstein.
High Court Spurns Partisanship in Election Case: In rejecting Trump's push to overturn the outcome of the presidential election, the Supreme Court sent a message about its role in U.S. governance: We do law here, not partisan politics. With a brief, lawyerly order Friday evening, justices effectively eliminated any chance Trump or his allies would succeed in using baseless claims of widespread fraud to reverse Biden's victory. For a conservative court that's been in the political crosshairs lately, the cases were a chance to bolster its credibility and to distance itself from the Republican Party agenda. Greg Stohr has more.
Read more: Supreme Court Punctures Trump Dream of Overturning Election Loss
Senate Runoffs at Center of Fresh GOP Lawsuits: Republicans also have filed a flurry of lawsuits over voting procedures in Georgia, ahead of two Jan. 5 runoffs that will determine which party controls the senate. The suits seek to rein in rules put in place to expand voting access during the pandemic, including the use of drop boxes and checks on mail ballots, as well as boosting access for party observers to watch ballot counting. The suits mirror many of the efforts that were rejected before the presidential election last month. Read more from Erik Larson.
Full $908 Billion Pandemic Bill Coming Today
A bipartisan group of lawmakers will unveil a $908 billion coronavirus pandemic relief bill today, though there's "no guarantee" Congress will pass it, one of the key negotiators said.
"We were on a call all day yesterday, we'll get on a call again this afternoon to finish things up," Sen. Joe Manchin (D-W.Va.) said on Fox News yesterday. "We'll have a bill produced for the American people tomorrow, $908 billion."
Democratic and Republican lawmakers engaged in the negotiations have said they completed detailed proposals on small business help, vaccine-distribution funds and other key areas. The sticking point is how to shield employers from virus-related lawsuits, a top demand of Senate Majority Leader Mitch McConnell (R-Ky.). A competing, $916 billion relief proposal is also circulating from Treasury Secretary Steven Mnuchin.
Manchin, one of eight negotiators from both parties involved in the bill's drafting, expressed confidence that Congress will pass a relief bill before the holiday break. "The plan is alive and well and there's no way, no way that we're going to leave Washington without taking care of the emergency needs of our people," he said. Whether that is enough to clear fiscal stimulus in both houses is an open question. Read more from Tony Czuczka.
Trump Says Will Veto Defense Policy Bill: Trump repeated his threat to veto the annual defense policy bill that last week won enough bipartisan support in Congress to easily overturn his opposition. "THE BIGGEST WINNER OF OUR NEW DEFENSE BILL IS CHINA!. I WILL VETO!" said Trump in a tweet yesterday. Trump had recently threatened to veto the must-pass legislation because of his opposition to renaming bases honoring Confederate generals and his demand that it should strip away liability protections for social media companies.
The 2021 National Defense Authorization Act cleared the Senate 84-13 on Friday after the $740 billion plan passed the House in a 335-78 vote. Those levels of support would defeat a Trump veto by a wide margin, but some of his congressional allies could feel political pressure from the outgoing president to change their vote. Read more from Jesse Hamilton.
More on the Biden Administration
Biden Considering North Carolina Official for EPA: Biden's transition team is considering a North Carolina environmental regulator and EPA veteran to lead the agency, as he assembles a team to move aggressively against climate change and pollution. Michael Regan is now among the top contenders to be Environmental Protection Agency administrator, according to three people familiar with the matter who asked not to be named. Regan spent nearly a decade working under two presidents at the EPA and is now the secretary of North Carolina's Department of Environmental Quality.
The deliberations come as Biden nears final decisions on a slate of nominees to lead key environment and energy posts, a list that may include former EPA chief Gina McCarthy and environmental lawyer Brenda Mallory. The president-elect has been meeting with transition team officials in Delaware this weekend. Also being eyed to lead the EPA is Richard Revesz, a former dean of the New York University School of Law who has been a fierce critic of the Trump administration's environmental policy moves, according to two people familiar with the matter. Read more from Ari Natter and Jennifer A. Dlouhy.
Biden Considers Cuomo for Attorney General: Biden is considering New York Gov. Andrew Cuomo to be his attorney general, a person familiar with the matter said Friday night. Cuomo, a former attorney general of New York State, joins a small list of other candidates who Biden is considering, including outgoing Sen. Doug Jones (D-Ala.), U.S. Circuit Court Judge Merrick Garland and former Deputy Attorney General Sally Yates. Of the contenders, Cuomo would likely face a more difficult path to confirmation, with opponents likely on both sides of the aisle. Read more from Jennifer Epstein.
Biden Pressured on Transportation Pick: Asian members of Congress urged Biden to pick California's transportation secretary David Kim (D) for the equivalent role in his cabinet. Nineteen members of the Congressional Asian Pacific American Caucus said it would be unacceptable of Biden to not appoint at least one Asian person to a Cabinet-level post, noting that four previous administrations combined for a total of six. Read more from Keith Laing and Alan Levin.
Disability Groups Oppose Union Head for Education: National advocates for students with disabilities are trying to put the brakes on a potential Biden administration pick for secretary of education: former teachers' union president Lily Eskelsen García. Eskelsen García, who led the National Education Association, received endorsements from the Congressional Hispanic Caucus and national Hispanic organizations. But disabled students' groups told Biden's team that Eskelsen Garcia failed to steer the nation's largest teachers union toward backing equity and access for such students. Read more from Andrew Kreighbaum.
The Coronavirus Pandemic
Trump, Top Officials To Be Offered Vaccine: Trump and other top U.S. officials will be offered the newly approved coronavirus vaccine within days as part of a plan to ensure continuity in government amid the pandemic, people familiar with the effort said. The vaccinations will be offered to critical personnel in all three branches of government deemed essential, and could start as soon as Monday. The shots will be staggered over the following 10 days to ensure staff don't experience possible side effects all at the same time.
Trump said in a tweet yesterday, following reports about the plan, that he had directed that top government officials would be vaccinated "somewhat later." He said he personally is not "scheduled" to be vaccinated. Read more from Jennifer Jacobs.
Vaccine D-Day Lands With 2.9 Million Doses: The first coronavirus vaccine arrived in record time, an essential step toward ending the pandemic. Now comes another equally challenging phase of the battle: producing enough shots to immunize the majority of the U.S. population and then getting them into everyone's arms by next summer. Army Gen. Gustave Perna, who serves as chief operating officer for Operation Warp Speed, said Saturday that the first doses of the Pfizer-BioNTech vaccine will be delivered today. The initial delivery will be completed in all 50 states by Wednesday, he said.
It's an enormous and historic undertaking that's already been been marked by confusion and uncertainty. As late as last Friday, some states were saying they weren't sure how many doses they'll get. There have also been questions about whether the U.S. has ordered enough shots to meet its ambitious distribution schedule moving into 2021. "We're not taking a victory lap," Perna said on Saturday. "We know that the road ahead of us will be tough." Robert Langreth, John Tozzi, and Angelica LaVito have more.
Moderna Says U.S. to Buy 100 Million More Doses: Moderna said the U.S. tapped its option to buy 100 million additional doses of the company's coronavirus vaccine candidate, doubling the amount of the shot it initially committed to buy and easing concern that the U.S. could be left with a vaccine shortfall. Moderna said Friday that the order, worth $1.65 billion, would be delivered during the second quarter of 2021. Read more from Riley Griffin.
Most of U.S. to Be Vaccinated by June, Slaoui Says: As many as eight in 10 people in the U.S. could be vaccinated by next summer, according to Slaoui. After the FDA authorized emergency use of the the Pfizer-BioNTech shot, the Moderna vaccine "likely will be approved by Friday," Slaoui told Fox News. "We need to have immunized about 75% to 80% of the U.S. population before herd immunity can really be established," said Slaoui, adding that he hopes to achieve that level between May and June. Read more.
What Else to Know Today
U.S. Hit by Suspected Russian Hackers: U.S. government agencies were hit by a "global intrusion campaign" of cyberattacks that exploited a flaw in the update of a software company, cybersecurity firm FireEye said, which the Washington Post reported was a breach by Russian government hackers. The attack was made on systems within the U.S. Treasury and Commerce departments and those of other government agencies in a breach that started months ago, the newspaper reported. They included snooping on emails at the Treasury Department and an arm of the Commerce Department, Reuters reported. Read more from Alyza Sebenius, Kartikay Mehrotra and Michael Riley.
U.S. Proposes $1 Billion Arms Sale to Morocco: The U.S. has proposed selling as much as $1 billion in weapons including Reaper drones to Morocco, just a day after Trump paved the way for a diplomatic deal with Israel by recognizing the nation's sovereignty over Western Sahara. The State Department sent informal notification of the proposed sale on Friday to lawmakers which will start the sale's formal processing. Tony Capaccio and Nick Wadhams have more.
U.S. Lifts Sudan's Terror-Sponsor Listing: The U.S. rescinded Sudan's almost three-decade designation as a state sponsor of terror, paving the way for the North African country to rejoin the global community and boost its ravaged economy. "The congressional notification period of 45 days has lapsed and the secretary of state has signed a notification stating rescission of Sudan's State Sponsor of Terrorism designation is effective as of today," the U.S. Embassy in Khartoum said today on its Facebook page. Read more from Tarek El-Tablawy and Mohammed Alamin.
IRS Backlog Threatens Obamacare Subsidies: An IRS mail backlog jeopardizing the financial assistance millions of Americans rely on each year to help pay for health insurance forced the federal Centers for Medicare and Medicaid Services to act. Individuals and families with low or moderate incomes can qualify for the assistance if they buy insurance off the Affordable Care Act marketplace. Allyson Versprille and Sara Hansard have more.
EEOC Chairwoman Pursues Rule to Slow Bias Suits: The head of the federal workplace anti-discrimination agency is seeking a policy shift that may slow litigation against companies long after Biden takes office. Janet Dhillon, the chairwoman of the Equal Employment Opportunity Commission, has recently circulated a proposal to staff that would strip the general counsel's authority to file lawsuits without a commission vote, according to current and former agency officials. Read more from Josh Eidelson and Paige Smith.
Manhattan DA Questions Deutsche Bank: Prosecutors from the office of Manhattan District Attorney Cyrus Vance Jr. have interviewed employees of Deutsche Bank and insurance broker Aon as part of their investigation of the Trump Organization, according to people familiar with the matter. The interviews, first reported by the New York Times, show that Vance's probe has extended beyond questions over hush money payments to an adult film star to his company's interactions with other businesses. Read more from Greg Farrell.
To contact the reporters on this story: Zachary Sherwood in Washington at zsherwood@bgov.com; Brandon Lee in Washington at blee@bgov.com
To contact the editors responsible for this story: Giuseppe Macri at gmacri@bgov.com; Loren Duggan at lduggan@bgov.com; Michaela Ross at mross@bgov.com