What to Know in Washington: Election Day 2020 Arrives
Election Day 2020 is underway and for American voters the choices couldn't be more stark.
Donald Trump was a novelty four years ago, a reality television star and real estate developer with a penchant for bombast and Twitter insults. The 74-year-old president has erased any notion that the Oval Office would tame him, thrilling Republicans by cutting regulations and taxes, restricting immigration and appointing three Supreme Court justices.
Joe Biden, 77, passed on a chance to run in 2016 but said Trump's reaction to racial protests in Virginia the following year convinced him to return to politics. After lagging in the primaries, the former vice president emerged as a unity candidate, portraying himself as a man of decency who would listen to scientists fighting the Covid-19 pandemic, restore America's overseas alliances and confront climate change.
The election enters its final day with a record-shattering 98 million ballots already cast. It's taking place amid a third deadly wave in the pandemic, warnings about renewed foreign interference and a political environment even more polarized than in 2016, with both sides warning that a vote for the other risks plunging the country into ruin.
"A vote for Biden is a vote to hand the keys to government over to people who despise you and people who want to rob your children of their American dream," Trump told a rally yesterday in Fayetteville, N.C.
National surveys and polls of most key states give Biden the advantage, but Democrats scarred by Hillary Clinton's unexpected defeat in 2016 have taken little solace from their candidate's lead.
Polling stations on the U.S. East Coast started opening at 6 a.m. The key states of Florida, Georgia, North Carolina and Pennsylvania will be among the first to close, starting at 7 p.m. Trump is planning to watch the results in Washington, while Biden will be in his home state of Delaware. Nick Wadhams looks at the state of the race on the final day.
Track the Results: Bloomberg News will report live election results for the presidential, Senate, House and gubernatorial races.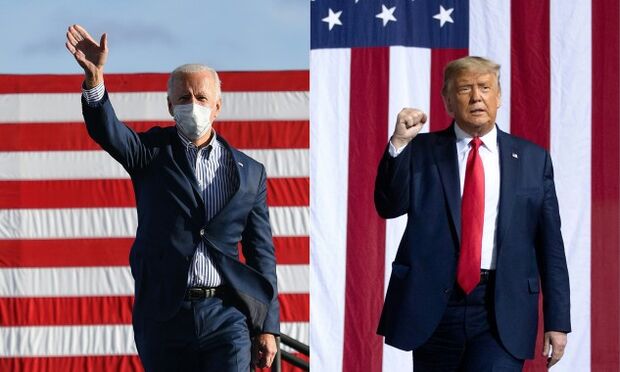 Fight for the Senate
Democrats are on the brink of capturing the Senate to give the party full control of Congress, though the final outcome depends heavily on the strength of Biden's performance. Laura Litvan, Steven T. Dennis and Billy House break down the Senate races to watch.
A few states where voting concludes earlier in the evening are primed to serve as harbingers for the congressional majorities. Dozens of elections stretching from Maine to Alaska will determine if Democrats capture Senate control and expand their hold on the House. The first clue of what kind of night it will be for both parties may come as the initial polls close at 6 p.m. eastern time in eastern Kentucky and in most of Indiana, which is hosting a toss-up House race. Greg Giroux previews a half-dozen races to watch as election night begins to unfold.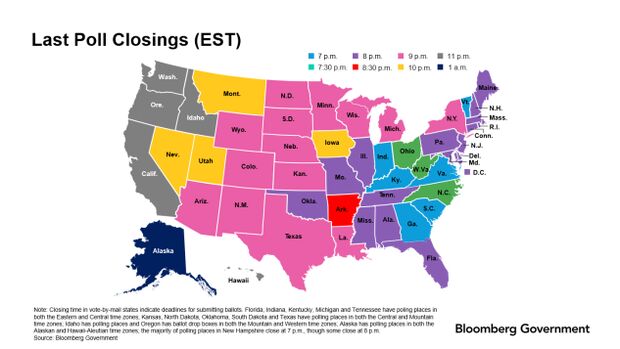 BGOV PODCAST — Taking Stock of the 2020 Cycle: Bloomberg Government's Kyle Trygstad and Greg Giroux discuss the election cycle that was, and what to watch for on election night, on the final episode of Downballot Counts before the polls close. Listen to the latest episode of Downballot Counts. Subscribe and Listen to Downballot Counts from your mobile device: Via Apple Podcasts | Via Overcast | Via Stitcher | Via Spotify
Also on the Ballot
Covid Response Has Been Driving Contests for Governor: Eleven states have gubernatorial contests today with candidates in every race skirmishing over mask mandates, school and business shutdowns, and the balance between protecting public health and trying to jump-start lagging economies during the pandemic. Voters generally have favorable opinions of how their state leaders have handled the virus, polls show, and the governing style of the incumbents has been on display in regular pandemic response briefings. Almost all of the incumbents headed into Election Day with surveys showing comfortable leads.
Montana has the tightest race: A Montana State University poll conducted Oct. 19-24 pegged the race as even. To mask or not to mask has been a campaign issue there; state public health officials criticized the Republican nominee, Rep. Greg Gianforte, for not wearing one at public events, including a rock concert in Helena in early October that was linked to several positive cases of Covid-19. Gianforte has said he's holding off on developing a virus plan until closer to when he'd assume office.
The Democratic nominee, Lt. Gov. Mike Cooney, told voters he's worked tirelessly to fight the virus alongside his boss, term-limited Gov. Steve Bullock (D), who's running for U.S. Senate, and would continue to follow the best science and public health expertise. Read more from Tripp Baltz.
Billion-Dollar Ballot Spending: Uber, DaVita, and General Motors are among the companies pumping millions of dollars into ballot initiatives in a year when the pandemic has upended political campaigning conventions. Voters are casting ballots on 120 statewide proposals including legalizing marijuana, employee rights, and taxing the rich. That's on top of local questions on bond issues, police practices, and more.
There are fewer statewide ballot measures this year than in any previous even-numbered year in the 21st Century, according to the Initiative and Referendum Institute of the University of Southern California. Even so, the fundraising to pass or defeat those questions could end up outpacing 2018's $1.19 billion; at least $1.13 billion had been raised, according to data compiled as of Oct. 28 by the election-tracking site Ballotpedia. Tiffany Stecker and Adrianne Appel take a look at what's on the ballot this year.
What to Watch on Election Day
Voting Begins: Voting and the counting of ballots got underway just after midnight in the tiny community of Dixville Notch in northern New Hampshire near the Canadian border. Biden received five votes to none for Trump. The entire proceeding, broadcast live by WMUR-TV, took just a few minutes. Follow campaign updates throughout the day here.
Trump, Biden Jockey Over How to Parse Results: The Trump and Biden campaigns claimed the inside track to victory on election eve, but girded their supporters to prepare for a photo finish in the hotly contested presidential contest.
Biden's campaign manager Jen O'Malley Dillon argued the former vice president's success banking early votes and his steady polling lead means any path for Trump would rely on eking out victories in three states where vote counting is expected to take days or longer, despite the president's repeated statements he thinks a winner should be declared Tuesday night. And her counterpart on Trump's team argued on Twitter that voters showing up to the polls on Tuesday could more than wipe out Democrats' early advantage, and propel the incumbent over the finish line.
For both sides, setting expectations could prove crucial. The deadly coronavirus pandemic has disrupted the familiar patterns of Election Day, with close to 100 million Americans casting their vote early and turnout expected to challenge historic records. As a result, tallying votes may prove slower and more complicated than in past years—even amid unprecedented excitement and angst for voters. Read more from Jennifer Epstein and Justin Sink.
What Early Voting Says About Turnout: More than two-thirds of the total votes in 2016 have already been cast in the 2020 election—and all before a single voter casts a ballot at the polls on Election Day. As states expanded rules to allow more voters to cast a mail-in ballot or vote early in person as a precaution against Covid-19, early votes have exceeded 98.8 million as of Monday, according to preliminary data that tally mail and early in-person votes, collected by the Associated Press. That's 1.7 times as much as the early vote total in 2016 (58.8 million votes). With many states offering one remaining day of early in-person voting and allowing for mailed ballots to be received on Election Day or several days after, the final early vote tally will be even higher.
It's possible that the surge in early voting won't translate to a higher overall turnout But according to the baseline scenario of a turnout model developed by data scientist Andrew Therriault for Bloomberg News, the total number of votes cast for president are expected to range from roughly 142.4 million to 149.6 million. Read more from Demetrios Pogkas and Rachael Dottle.
Court Denies Texas GOP Bid for Ban on Voting From Car: A federal appeals court denied a request from a group of Texas Republicans for a ban on drive-through voting in the state's most populous county on Election Day. In a three-line order the appeals court in New Orleans yesterday denied the request for a preliminary injunction, without an explanation. The Republicans said they sought the injunction to prevent "election violations which would otherwise occur" on Tuesday. Read more from Joe Schneider and Peter Jeffrey.
N.Y.C., D.C. Storefronts Boarded Up: Temporary extra fencing has been erected around the White House grounds, plywood affixed to storefronts in Manhattan, and the National Guard put on notice in Portland, Ore., as U.S. cities braced for possible unrest on election day. "We are ready for all sorts of challenges," said New York Mayor Bill De Blasio (D). In Washington, likely to be a focus of demonstrations, businesses located within several blocks of the White House already closed their doors yesterday, some planning to stay shuttered the rest of the week or longer. Read more from Kriston Capps and Henry Goldman.
What Else to Know Today
U.S.-Backed 'Quad' Starts Joint Naval Exercises in India Waters: The navies of India, Japan, Australia and the U.S. began their first joint exercises in the Indian Ocean since the revival of the Quad alliance amid heightened tensions with China. The Malabar exercise will see warships exercising in the Bay of Bengal near the Malacca Strait, a natural choke point and later in the Arabian Sea, along some of the world's busiest trade routes. Read more from Sudhi Ranjan Sen, Archana Chaudhary and Jason Scott.
Tencent Seeks to Protect Data in Trump Suit: WeChat's parent company, Tencent, told a judge it'll ask to have confidential business information protected in a lawsuit by users challenging the Trump administration's ban on the Chinese-owned messaging app. Tencent also said in a filing yesterday in a San Francisco federal court that it will seek to keep certain unspecified information sealed from public view as the litigation plays out. Read more from Peter Blumberg.
Suit Seeking Ex-VA Chief's Emails Advances: Activist groups seeking the release of emails sent by former Department of Veterans Affairs Secretary David Shulkin from a private account can proceed with their suit to force the agency to initiate an enforcement action under the Federal Records Act, a federal judge in Washington, D.C. said. Read more from Maeve Allsup.
With assistance from Brandon Lee
To contact the reporters on this story: Zachary Sherwood in Washington at zsherwood@bgov.com;
To contact the editors responsible for this story: Giuseppe Macri at gmacri@bgov.com; Loren Duggan at lduggan@bgov.com; Michaela Ross at mross@bgov.com;