What to Know in Washington: Drive for $2,000 Payments Slows Down
The prospects for boosting stimulus payments for most Americans to $2,000 are fading fast in the Senate even with Republican leaders under pressure by both President Donald Trump and congressional Democrats.
The partisan clash over the payments also is entangling another piece of year-end business in the Senate — a vote to override Trump's veto of a crucial $740.5 billion defense policy bill. Sen. Bernie Sanders (I-Vt.) is attempting to force a delay on the defense legislation unless Senate Majority Leader Mitch McConnell (R-Ky.) relents and allows a vote on a standalone bill on the bigger stimulus checks.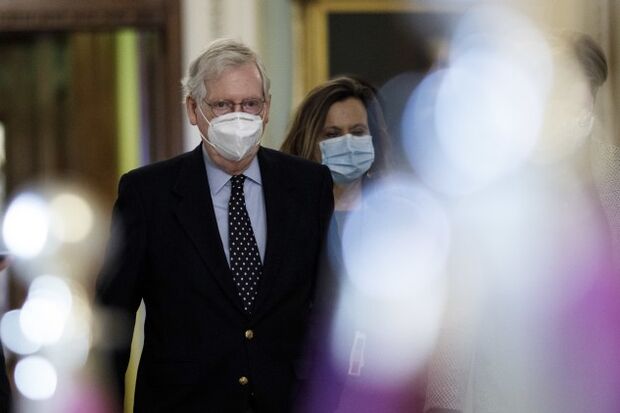 McConnell on Tuesday blocked an attempt by Minority Leader Chuck Schumer (D-N.Y.) to set up a vote on a House-passed bill that would increase the payments to $2,000 from $600 — the amount in the pandemic relief measure Trump signed into law on Sunday.
Instead, McConnell is moving to present an alternative that would add to it a repeal of liability protections for social media companies and creation of a commission to study electoral fraud. McConnell's proposal responds to three issues Trump has said he wants, but a bill combining them likely will alienate enough senators in both parties to collapse under its own weight.
Even though many Democrats and some Republicans want to see changes to the way Facebook, Twitter, Instagram and other social media platforms police content on their sites, many are not likely to support full repeal of liability protections or back jamming it into an unrelated piece of legislation.
Democrats are also loath to give credence to Trump's unfounded assertion that fraud cost him the 2020 election by endorsing a commission to investigate voting security, at least not before President-elect Joe Biden is sworn in.
McConnell's bill is still being drafted and Republicans are expected to discuss its contents when the Senate convenes on Wednesday. Already some senators are pushing for changes. Sen. John Cornyn (R-Texas) said he would like to attach his proposal to shield companies from Covid-19 lawsuits, which Democrats oppose. Read more from Erik Wasson and Roxana Tiron.
Trump Lashes Out at GOP Over Defense Bill: Trump unleashed a bitter attack on fellow Republicans as the effort to override his veto of a $740.5 billion defense policy bill moves to the Senate after passing the House. "Weak and tired Republican 'leadership' will allow the bad Defense Bill to pass," Trump tweeted yesterday morning. "Negotiate a better Bill, or get better leaders, NOW!" he added.
If the Senate follows suit as expected in the waning days of Trump's presidency, it will be the first time one of his vetoes has been surmounted. McConnell made clear that he wants to see the measure become law despite Trump's objections. "Not once in six decades has a Congress let its differences prevent it from completing this work for our national security and our men and women who wear the uniform," McConnell said on the Senate floor. Read more from Roxana Tiron and Erik Wasson.
What to Watch Today
The House is not in session.
The Senate is set to convene at 3 p.m. At 5 p.m. the chamber will begin a live quorum. Once quorum is established, McConnell is expected to make a motion to lay before the Senate the veto message to H.R. 6395, the National Defense Authorization Act, and the chamber will proceed to a roll call vote on the motion.
If that vote is successful, McConnell is expected to file cloture to limit debate on the veto message to H.R. 6395 today. Absent agreements being reached, a vote to invoke cloture to limit debate would occur one hour after the petition ripens on Friday.
But Sanders's bid to get a vote on bigger stimulus payments could drag it out and set up another procedural vote on New Year's Day, with a final vote either Saturday or Sunday if Sanders continues his stand, Tiron and Wasson report.
Pelosi Press Conference: Pelosi is scheduled to give her weekly press conference at 10:45 a.m. today.
Also on Lawmakers' Radars
Louisiana Congressman-elect Dies from Covid-19: A congressman-elect from Louisiana has died of Covid-19, the state's governor, John Bel Edwards, announced last night. Luke Letlow, 41, was elected in November to replace Rep. Ralph Abraham (R), for whom he had been chief of staff, in the Fifth Congressional District, which runs up the center of the state to the Arkansas border.
Edwards (D) on Twitter said that Letlow, a Republican, "felt a calling from a young age to serve the people of his home state." Pelosi, in a statement, praised his dedication to public service and said "as the House grieves Congressman-elect Letlow's passing, our sorrow is compounded by the grief of so many other families who have also suffered lives cut short by this terrible virus." Read more from John Harney.
Some U.S. Congressional Staff Offered Shots: A limited supply of coronavirus vaccine is now available to staff in the House, according to a memo sent to lawmakers from House Attending Physician Brian Monahan. Staffers involved in continuity of operations or who are required to be on site or interact in person for their jobs are eligible. The memo further says Monahan's office "is prepared to vaccinate two staff members from each member's personal office, and four from each committee chair and four from each ranking minority member." Read more from Erik Wasson and Kathleen Miller.
House Coronavirus Subcommittee to Continue: Pelosi yesterday also announced the House Select Subcommittee on the Coronavirus Crisis, which has several open investigations into the Trump administration's handling of the pandemic, will continue in the 117th Congress. House Majority Whip Jim Clyburn (D-S.C.) will continue to chair the panel, Pelosi said.
Court Says Minority Can Issue Subpoenas: Subpoenas by congressional oversight panels don't require the approval of majority members, a federal appeals court in Washington said, in a ruling that could help Republicans and Democrats alike. Yesterday's 2-to-1 decision by a panel of the court could open the way for Republicans in the House to pursue investigations that might be politically damaging to the Biden administration. But it could also give Senate Democrats an advantage in conducting probes of Trump even if they fail to win the chamber. Read more from Christian Berthelsen.
Stimulus Program to Scrub Carbon from Air Draws Critics: Congress has prioritized scrubbing the atmosphere of carbon dioxide as a way to avoid the worst consequences of climate change, earmarking $447 million for carbon removal research and development in the stimulus bill signed into law. But climate scientists and decarbonization advocates disagree about the need for such a program, and the extent to which the money Congress appropriated for it will make a difference for scaling up carbon capture technology. Read more from Bobby Magill.
Federal Circuit Faces Pressure From Congress, High Court: The U.S. Supreme Court and Congress will have eyes on the Federal Circuit in 2021. The high court will review a U.S. Court of Appeals for the Federal Circuit decision about administrative patent judges as Congress may consider making changes to patent law. The circuit will also face pressure from lower courts and the U.S. Patent Trial and Appeal Board. Read more from Perry Cooper.
The Presidential Transition
Biden Faults Trump for Slow Vaccine Rollout: Biden slammed the slow rollout of the coronavirus vaccine by Trump's administration yesterday, saying the plan was falling "far behind" where it needs to be and promising to ramp up vaccinations to 1 million shots a day. "As I long feared and warned, the effort to distribute and administer the vaccine is not progressing as it should," he said. "At the pace the vaccination program is moving now, it would take years, not months, to vaccinate the American people." Read more from Emma Kinery and Gregory Korte.
The U.S. is vaccinating an average of only 200,000 people a day against Covid-19, and many states have used just a small percentage of the shipments sent to them this month.
Data gathered from states and HHS show that while Operation Warp Speed has distributed millions of doses, some states have been slow to get them into people's arms. The nation almost certainly won't hit the Trump administration's goal of 20 million vaccinations by year-end, according to a Bloomberg News analysis.
The CDC's latest tally, as of Monday, showed that despite the distribution of 11.45 million doses from Moderna, and from Pfizer and BioNTech, just 2.13 million people had gotten shots. Read more from Drew Armstrong, Gabrielle Coppola and John Tozzi.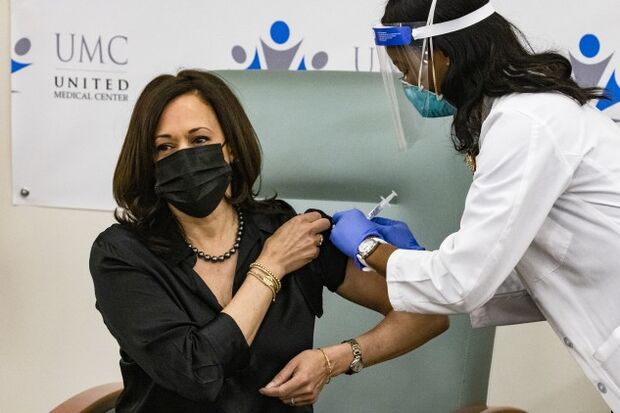 Biden Gets Unlikely Advice on Pardons: Trump's pardons of some of his closest allies have sparked a political firestorm, but criminal justice reform advocates believe he has done one thing right: sideline the Department of Justice from clemency decisions. But rather than use that control the way Trump has, those advocates want to see Biden use it to help non-violent drug offenders with questionable convictions or harsh sentences. Read more from Ayanna Alexander.
Inaugural Lunch Nixed Due to Concern Over Virus: The congressional committee planning Biden's swearing-in ceremonies canceled the traditional inaugural luncheon to honor the new president and vice president, saying a modified event is no longer possible due to Covid-19. The Joint Congressional Committee on Inaugural Ceremonies had been planning a ceremony that would keep the time-honored custom alive while also instituting new health and safety protocols. But the committee announced yesterday it decided to scrap the event after talking to Biden's inaugural planners. Read more from Gregory Korte.
The Coronavirus Pandemic
Trump-Touted Covid Therapy Awaits Proof: One day before the Republican National Convention kicked off, Trump and top drug regulator Stephen Hahn held a White House press conference to tout emergency authorization of a promising Covid-19 treatment.
Convalescent plasma, a soup of immune factors derived from the blood of recovered Covid-19 patients, had shown "an incredible rate of success" and would "save countless lives," Trump said Aug 23. Yet more than four months later and with more than 330,000 U.S. coronavirus deaths reported since the pandemic began, the jury is still out how much the treatment benefits patients, if at all. Read more from Anna Edney.
More Infectious Strain Found in Colorado: Colorado has confirmed the first reported U.S. case of the Covid-19 variant that emerged in the U.K. Colorado Gov. Jared Polis (D) said the U.S. Centers for Disease Control and Prevention have been advised of the case by the state's health department. Cases involving the new strain have been identified in more than a dozen countries, including Australia, Canada, Germany, Italy, Japan, Lebanon, the Netherlands, Singapore and South Korea. Reg Gale has more.
Death Toll to Hit 400,000 by Inauguration: The CDC now predicts the U.S. will see 400,000 coronavirus deaths by Jan. 20, when Trump is to leave office. The country surpassed 100,000 deaths in May, and 200,000 four months later. It passed 300,000 in three months, and 400,000 looks set to take just one month, the CDC determined using a collection of mathematical models. The U.S. has one of the highest mortality ratios of nations hit hardest by the virus, behind only Italy, Spain and the U.K., scaled for population. Read more from Nic Querolo.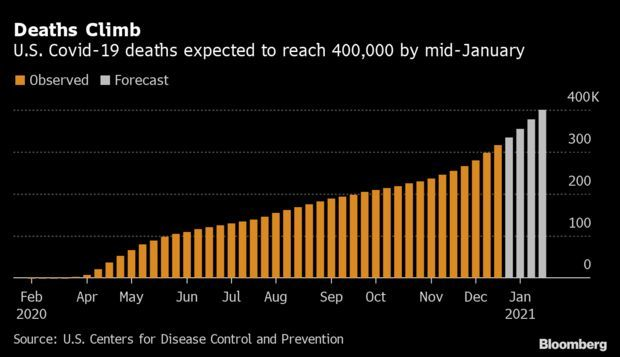 U.K. Authorizes AstraZeneca Vaccine: The U.K. government has today accepted the recommendation from the Medicines and Healthcare products Regulatory Agency to authorize AstraZeneca's Covid-19 vaccine produced with Oxford University, according to a statement. This follows "rigorous clinical trials and a thorough analysis of the data," it said, Colin Keatinge reports.
Vaccine Confidence Media Blitz Coming From HHS: A vaccine marketing campaign aimed at overcoming opposition to government-approved Covid-19 shots will ramp up toward the end of January, health officials said yesterday, presumably around the time non-front line workers become eligible for inoculations. This phase of the campaign—earlier ads on slowing Covid-19's spread are now running in radio, print, and social media—is aimed at assuaging the 50% of Americans hesitant about getting a prophylactic shot. Read more from Warren Rojas.
Regeneron Says Cocktail Passed Futility Analysis: Regeneron says the initial data from a trial for its casirivimab and imdevimab antibody cocktail for Covid-19 is encouraging. The phase 1/2/3 clinical trial has been conducted among hospitalized Covid-19 patients requiring low-flow oxygen. The primary clinical objective of this initial analysis was to determine if there was sufficient efficacy in these patients to warrant continuing the trial, Linly Lin reports.
N.Y. Shortens Quarantine Period to 10 Days: New York Gov. Andrew Cuomo (D) shortened the state's quarantine guidelines to 10 days from 14 to align with recommendations from the CDC. The rule applies to people exposed to Covid-19 who have not tested positive. Those individuals can end their self-quarantine after 10 days without a testing requirement if they have no symptoms, he said, Elizabeth Rember reports.
Elections & Politics
Georgia's Runoffs Likely to Drag Out for Days: The high-stakes Jan. 5 Senate runoffs in Georgia are expected to play out a lot like November's presidential election, with the result delayed for days, or weeks, as near-record numbers of votes are counted. In the Nov. 3 contest, the results were so close that it took 10 days before networks projected Biden won Georgia. With the runoffs set to be similarly tight, control of the Senate may be in doubt well into next month.
"Almost no chance it's called on election night," said Kerwin Swint, a political scientist at Kennesaw State University. Adding to the drama, just as in November, the first returns coming in on election night are likely to favor Republicans, with Democrats gaining ground as mail-in and absentee ballots are counted in subsequent days. Read more from Billy House.
Pence Disagreed With Gohmert Before Lawsuit: Before Vice President Mike Pence was sued by a Republican congressman from Texas in a Hail Mary attempt to reverse the November election, their lawyers held a private meeting in which they disagreed about how the Electoral College vote is formally accepted.
Rep. Louie Gohmert (R-Texas), who claims Pence has the power to hand Trump a second term by rejecting Democratic electors from swing states, described the failed talks in a filing yesterday in federal court in Tyler, Texas. The Senate and House meet jointly on Jan. 6 to open and count certificates of electoral votes. Read more from Erik Larson.
Trump Lobs Supreme Court Challenge to Overturn Wisconsin: Trump is asking the U.S. Supreme Court for an expedited review of a Wisconsin decision that allowed 50,000 absentee ballots to be counted in another long-shot challenge to Biden's victory in the 2020 election. The Trump campaign said in an emailed statement that it wanted the justices to review Wisconsin's election results before Jan. 6— when the Senate and House meet jointly to open and count certificates of Electoral College votes. Read more from Joel Rosenblatt.
The Outgoing White House
Pandemic Complicates Trump Administration Executions: The pandemic has complicated the Trump administration's plan to carry out three more executions before Inauguration Day. A federal judge last week vacated Lisa Montgomery's execution date of Jan. 12 because the judge had a stay pending when the Justice Department set it. The judge put the stay in place after lawyers contracted the virus and sought more time for her clemency efforts. Meanwhile, two other federal inmates scheduled for execution the same week have cited their diagnoses in challenges to their executions. Read more from Jordan S. Rubin.
Trump Gets Court Win in Hospital Pricing Rule: Hospitals will have to publicly disclose the prices they negotiate with insurance companies after a federal appeals court rejected a bid by industry groups to toss a rule that's set to take effect Jan. 1. The U.S. Court of Appeals for the District of Columbia Circuit upheld the rule yesterday, handing Trump a win on a key piece of his health-care agenda at the end of his administration. Read more from Lydia Wheeler.
U.S. Affirms Dietary Guidelines on Sugar, Alcohol: The Trump administration rejected a scientific advisory panel's recommendations to cut alcohol and added sugars consumption in the new dietary guidelines. While the Dietary Guidelines for Americans for 2020-25 advised for the first time that children under 2 years old avoid sugar, the publication issued yesterday left recommendations for sugar and alcoholic consumption unchanged, citing a lack of evidence for a shift. Read more from Megan Boyanton and Michael Hirtzer.
SEC's Investor Advocate Urges Reversal of 'Deregulatory' Agenda: The SEC under former Chairman Jay Clayton frequently engaged in "deregulatory" rulemaking that hurt investors and should be reversed, the agency's in-house investor advocate said in the office's annual report released yesterday, less than a week after Clayton's Dec. 23 departure. Read more from Andrew Ramonas.
Railroads Install Crash-Prevention System: U.S. railroads have completed installation of an automated crash-prevention system that covers 57,536 miles of freight and passenger tracks ahead of an end-of-year deadline that was previously extended, the Federal Railroad Administration announced yesterday. Railroads initially were given until the end of 2015 to install safety technology known as Positive Train Control under a federal law passed in the aftermath of a deadly 2008 commuter rail crash in Los Angeles that killed 25 people. Read more from Keith Laing.
DHS Leaders Drop Appeal of Visa Fee Rule: Acting heads of the Department of Homeland Security have abandoned their appeal of a California federal court ruling that blocked U.S. Citizenship and Immigration Services from raising visa fees for immigrants trying to access benefits. In a filing, Justice Department lawyers representing acting Homeland Secretary Secretary Chad Wolf and interim Deputy Secretary Kenneth Cuccinelli moved for the unopposed voluntary dismissal of their appeal to the San Francisco-based court. Genevieve Douglas has more.
Russia Presses on Pipeline Ahead of U.S. Sanctions: Russia is stepping up work on the Nord Stream 2 pipeline before the U.S. tightens sanctions against the controversial project aimed at feeding more natural gas into Germany. Construction of the 1,230-kilometer pipeline reached a milestone Monday with the completion of pipe-laying in Germany's exclusive economic zone, the project operator said. Vanessa Dezem, Daniel Flatley and Dina Khrennikova have more.
Trump Faces Another Solar Tariff Suit: A Washington-based solar-lobbying group is challenging an October proclamation by Trump that stiffened tariffs on imported solar equipment. Last night, the Solar Energy Industries Association and developers including NextEra Energy and Invenergy Renewables asked the U.S. Court of International Trade for an injunction prohibiting the enforcement of the proclamation, which removed a tariff exemption on two-sided, or bifacial, panels. Read more from Brian Eckhouse.
Boeing's 737 Max Returns in U.S.: Boeing's 737 Max has returned to commercial service in the U.S., with the first flight since two deadly crashes prompted the longest aircraft grounding in the nation's history. American Airlines landed a 737 Max 8 at New York's LaGuardia Airport yesterday. Read more from Justin Bachman.
To contact the reporters on this story: Brandon Lee in Washington at blee@bgov.com; Michaela Ross in Washington at mross@bgov.com
To contact the editors responsible for this story: Giuseppe Macri at gmacri@bgov.com; Zachary Sherwood at zsherwood@bgov.com