What to Know in Washington: DOJ Says More Trump Docs Maybe Moved
Agency raises threat of obstruction in response to Trump suit
Races to lead potential GOP House majority already underway
White House records held in a storage room at Donald Trump's Florida home may have been concealed or removed before an FBI June search for classified documents, suggesting possible attempts to obstruct the investigation, the US Department of Justice said in a filing.
The DOJ made the assertion in a response to Trump's lawsuit seeking the appointment of a special master to review the documents taken from the Mar-a-Lago estate by FBI agents searching for classified White House documents and flag any records subject to attorney-client or executive privilege. A judge had given the government until midnight Tuesday to respond to the suit.
The Justice Department said any such appointment was unnecessary and would delay the ongoing investigation of Trump's retention of highly classified documents at his home. An appointment of a special master would also impede the intelligence community from conducting its review of national security risks that improper storage of the highly sensitive materials may have caused, the department said. Erik Larson has the latest.
A photo included in the filing spoke even louder. "TOP SECRET/SCI" blazed out on cover sheets for at least five sets of papers haphazardly laid out on the carpeting. Another cover sheet at the fore of the government photo said "SECRET/SCI" and "Contains sensitive compartmented information" — a marking for documents that include references to source and methods, which intelligence agencies go to great lengths to protect. Bill Faries has more.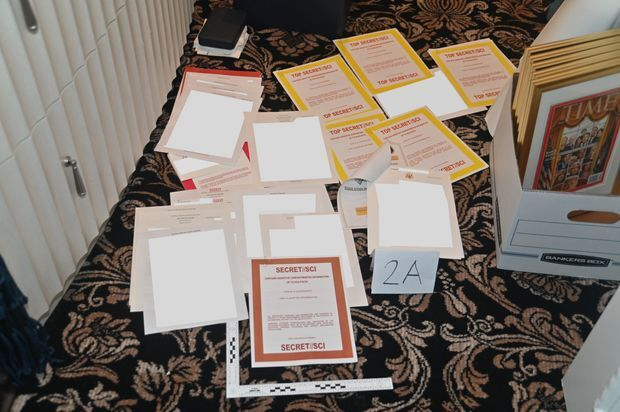 A group of former federal prosecutors and ex-New Jersey Governor Christine Todd Whitman weighed in on Trump's lawsuit seeking a third party expert to review documents seized by the FBI from his home in Florida, calling his executive-privilege claims unprecedented and "frivolous." Erik Larson explains.
President Joe Biden assailed Republicans for joining in rhetorical attacks on the FBI, saying it's "sickening" to see the agency threatened following its search of Trump's Mar-a-Lago residence. "It's sickening to see the new attacks on the FBI, threatening life of law enforcement agents and their families for simply carrying out the law and doing their job," Biden said in Wilkes-Barre, Pennsylvania, in a speech touting safety and policing measures. Read more from Jordan Fabian and Josh Wingrove.
Elections, Politics & Influence
Races to lead a potential GOP House majority are taking place behind the scenes as lawmakers publicly focus on the midterm elections—after which Republicans are likely to take control of the House in the 118th Congress. Competitive races are expected for whip, chair of the National Republican Congressional Committee, and potentially conference chair, with some lawmakers still deliberating what positions they'll run for. Emily Wilkins delves into the leadership races in a BGOV OnPoint.
Every congressional race has its own parochial issue. In New Hampshire, it may be Bitcoin. An outsized number of Republican candidates for federal or state offices in 2022 in the Granite State are either personally or politically invested in cryptocurrencies, setting New Hampshire apart from other battlegrounds heading into the elections. Like the assets they're boosting, these federal candidates are underdogs against establishment favorites in the Sept. 13 primaries. Zach C. Cohen has more.
John Fetterman, the Democratic Senate candidate in Pennsylvania, said Tuesday he won't debate rival Mehmet Oz next week, saying he's still recovering from a stroke and that Oz's team was mocking his medical condition. The episode had escalated after a spokeswoman for Oz, a cardiologist famous for his daytime television show, called Fetterman a "liar, a liberal, and a coward" and agreed to a list of mock concessions, including paying for additional medical staff on standby. Read more from Gregory Korte.
A judge in Arizona has ordered Rep. Paul Gosar (R-Ariz.) and two other Republicans to pay $75,000 in attorney fees after they filed a defamation suit against a former Democratic state lawmaker "primarily for purposes of harassment," the AP reported.
MORE:
Prosecutors who investigated pandemic-related insider trading allegations against Sen.

Richard Burr

(R-N.C.)—but never charged him with a crime—lost their bid to keep certain portions of their search warrant materials under wraps, although a federal judge in Washington did allow limited redactions. Read more from Mike Leonard.
Prosecutors can't show jurors a handwritten note containing the phrase "Death List" found in the home of a defendant in the Oath Keepers seditious conspiracy case, a judge ruled. The note was found at defendant Thomas Caldwell's house some weeks after Jan. 6, 2021. It named two Georgia election workers. Read more from Zoe Tillman.
Around the Administration
PRESIDENT'S SCHEDULE:
Biden has no public events Wednesday.
At 2:45 p.m. White House Press Secretary Karine Jean-Pierre will give a briefing.
The US government anticipates that it won't have funding to purchase or distribute Covid-19 vaccines as soon as January, and is planning to transition the efforts to the commercial market. Federal health officials met on Tuesday with drugmakers and state health departments to discuss the government's plans for allowing commercial sales of Covid shots and therapeutics, said Dawn O'Connell, leader of HHS's preparedness and response. Riley Griffin and Alex Ruoff have more.
The US is shifting its monkeypox response efforts to increasingly target hard-hit sexual and racial minorities bearing the brunt of the nation's outbreak. HHS is launching a pilot program aiming to reach LGBTQ communities of color facing barriers in vaccine access, officials said. The program will offer shots to help local agencies prioritize vaccines through relationships with community members. Madison Muller and Jeannie Baumann have more.
The Biden administration wants to waive requirements that electric-vehicle chargers bought with federal dollars be made in the US — but state officials fear the move won't be enough to stave off project delays. The Federal Highway Administration is seeking feedback on a proposal that would temporarily ease 'Buy America' requirements for electric-vehicle chargers. Read more from Lillianna Byington.
The US Army has grounded its entire fleet of some 400 CH-47 Chinook transport helicopters after engine fires broke out on a few of them, a spokeswoman for the service said Tuesday evening. She added that there had been no deaths or injuries but that the Chinooks would be grounded out of an abundance of caution. Read more from Tony Capaccio and John Harney.
The FBI issued an advisory to crypto investors and exchanges on the perils of cybercrime. "Cyber criminals are increasingly exploiting vulnerabilities in the smart contracts governing DeFi platforms to steal cryptocurrency," the FBI said, David Jolly reports.
Commerce Secretary Gina Raimondo said that with legislation (Public Law 117-167) to bolster the domestic semiconductor industry now enacted, US states should be prepared to contend with one another to lure companies and investment. "This is a race," she said after an event with Senator Mark Kelly, an Arizona Democrat at an Arizona State University research park. Read more from Brenna Goth.
WHAT ELSE:
NASA will try again to launch the space agency's massive new moon rocket on Sept. 3, five days after the initial effort was scrubbed. Read more from Loren Gush.
The governor of Mississippi called in the National Guard to help residents of the state capital after a plant failure left at least 180,000 people in the area without access to safe water, Ella Ceron reports.
Florida sued the US for allegedly blocking cheap drug imports from Canada. The state's Canadian Prescription Drug Importation Program would allow Canadian imports of prescription drugs to treat conditions like HIV and diabetes. But Florida still needs signoff from the FDA, which it says it hasn't gotten for years. Ian Lopez has more.
To contact the reporters on this story: Michaela Ross in Washington at mross@bgov.com; Brandon Lee in Washington at blee@bgov.com
To contact the editors responsible for this story: Giuseppe Macri at gmacri@bgov.com; Loren Duggan at lduggan@bgov.com