What to Know in Washington: Divided GOP Heads to Stimulus Talks
Senate Majority Leader Mitch McConnell is taking the $1 trillion GOP virus relief package into negotiations with Democrats weighed down by a divided party and friction with the White House.
There's fresh urgency for Republicans to act months after McConnell pressed the "pause button" on new aid, as virus cases and deaths have soared and President Donald Trump's poll ratings have slumped, threatening GOP control of both the White House and Senate.
But the Senate Republicans are split sharply, with some conservatives such as Sen. Ted Cruz (R-Texas) wanting to spend far less, if anything, on another stimulus amid record deficits, while others want more aid to state and local governments.
Democrats, who've proposed a $3.5 trillion virus relief package, are eager to exploit those divisions. After meeting for almost two hours last night with Treasury Secretary Steven Mnuchin and White House Chief of Staff Mark Meadows, Speaker Nancy Pelosi (D-Calif.) and Senate Minority Leader Chuck Schumer (D-N.Y.) harshly criticized the GOP proposal and said McConnell wouldn't even be able to count on Republican backing if it was put before the Senate.
"It's pretty clear they don't have 51 votes in the Senate among the Republicans for a proposal," Schumer said.
With supplemental unemployment insurance expiring and other elements of the last stimulus legislation beginning to dry up, Congress has little time for extended negotiations. Lawmakers are set to leave for an August break in two weeks and will be facing a timetable compressed by the looming November election when they return in September.
"The American people need more help, they need it to be comprehensive, and they need it to be carefully tailored to this crossroads," McConnell said as he rolled out the GOP package. Read more from Steven T. Dennis, Erik Wasson and Laura Litvan.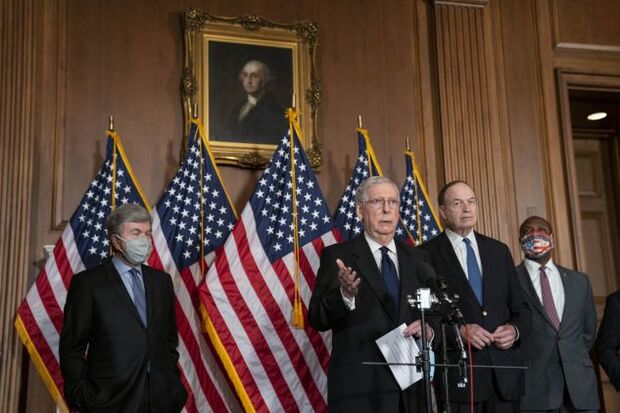 The bill would trim extra unemployment benefits, send $1,200 payments to a majority of Americans and shield schools, businesses, and other groups from lawsuits stemming from infections. Other provisions include:
Not in the stimulus proposal is any new money for states and cities to cope with swelling budget shortfalls, leaving them to contend with a grave financial crisis that's already forcing them to slash spending, furlough workers and delay major projects as tax revenue disappears. That's a stark contrast to the approximately $1 trillion that Democrats included in the bill the House passed last May. Shruti Date Singh and Amanda Albright have more.
Also Happening on the Hill
Barr Denies Letting Trump Dictate to DOJ: William Barr offered a combative defense of his independence from Trump as he prepared to testify before a committee in the Democratic-controlled House for the first time since he became attorney general more than 17 months ago. "The president has not attempted to interfere," Barr said in a six-page prepared statement for a House Judiciary Committee hearing today. "On the contrary, he has told me from the start that he expects me to exercise my independent judgment to make whatever call I think is right."
Barr will walk into a virtual firing chamber when he sits down for hours of testimony in front of the panel that may be hard-pressed to cover all the issues on which Democrats say he's abandoned the Justice Department's political independence to back a president who demands nothing short of strict loyalty. Read more from Chris Strohm.
Officer Challenges Trump on Lafayette Park Clash: A National Guard officer is contradicting the Trump administration's account of the confrontation last month that cleared a park near the White House, denying that demonstrators were violent or threatening. Adam DeMarco, a West Point graduate and a major in the D.C. National Guard, says in prepared testimony for a House hearing today that the use of force to clear Lafayette Square began sooner than he expected and included the use of tear gas and "pepper balls" fired by "paintball-like" weapons. Read more from Daniel Flatley.
Tech Giants Gird For Tough Hearing: Chief executives from four of the biggest U.S. technology companies will face a moment of reckoning tomorrow in an extraordinary joint appearance before Congress that will air bipartisan concerns that they are using their dominance to crush rivals at the expense of consumers. The House antitrust subcommittee will hear testimony livestreamed from Amazon's Jeff Bezos, Facebook's Mark Zuckerberg, Alphabet's Sundar Pichai and Apple's Tim Cook as part of its yearlong inquiry into technology industry competition. The panel is armed with more than a million pages of internal company documents gathered as part of its probe.
Rep. David Cicilline (D-R.I.), the panel's Democratic chairman, wanted to hear from the CEOs together as he concludes his investigation into whether the companies are squashing smaller rivals and foreclosing competition. In a coup for Cicilline, the session will mark the first time these tech leaders will appear before lawmakers together. It's also Bezos's debut on the witness stand. Read more from Ben Brody.
Sen. Josh Hawley (R-Mo.) released his Behavioral Advertising Decisions are Downgrading Service (BAD ADs) Act today, which seeks to remove Section 230 protections for social media companies that display manipulative, behavioral advertising or provide user data for such ads. "Big Tech's manipulative advertising regime comes with a massive hidden price tag for consumers while providing almost no return to anyone but themselves," Hawley said in a statement. There's currently no cosponsors on the bill. Hawley previously announced the bill in June. Read more.
The Trump administration pressed its offensive against online companies it accuses of censoring conservatives, asking regulators to dilute a decades-old law that social media firms like Twitter, Google, and Facebook say is crucial to them. The Commerce Department yesterday called on the Federal Communications Commission to establish a rule weakening protections in Section 230, language in a 1996 law that protects firms from legal liability for users' online posts. Read more from Todd Shields.
The Coronavirus Pandemic
Trump Criticizes Governors on Slow Reopening: Trump said that a number of governors are moving too slowly to open their economies amid the pandemic—a shift from last week when he praised physical distancing measures and efforts by state executives. "I really do believe a lot of the governors should be opening up states that they are not opening," Trump told reporters yesterday. "And we'll see what happens with them." Read more from Mario Parker and Jordan Fabian.
Mask Advocates Point to Plane Transmission Study: The 44-year-old man was chatting with his wife and son on a flight from Singapore to China earlier this year when he let his guard down, allowing his face mask to slip below his nose. That lapse appears to have been how he became infected with Covid-19.
The case, cited in a recently published study of an outbreak among passengers on a January flight, is one of the first to document a probable transmission on an airliner and is reviving calls for government rules requiring masks. It comes as safety concerns raise questions about whether passengers will return in sufficient numbers to keep airline companies from collapsing. Lawmakers and airline unions — which have sought more rigorous standards for months as infections surge across the nation and reports circulate of passengers skirting existing rules — said the study adds new weight to their demands. Read more from Alan Levin.
Pfizer, BioNTech to Start Late-Stage Vaccine Study: Pfizer and BioNTech said they would begin a later-stage trial for their lead coronavirus vaccine candidate, with the goal of submitting it for regulatory review as soon as October. The two drugmakers said yesterday they selected a lead vaccine candidate from within a broader development program and will proceed with a late-stage safety and efficacy trial of the experimental vaccine in a two-dose regimen. Riley Griffin has more.
DeVos Can Exclude from CARES Act Relief: Education Secretary Betsy DeVos may continue enforcing a rule excluding DREAMers and other non-citizens from eligibility for certain grants under the CARES Act's education stabilization fund, according to a federal court ruling. The CARES Act doesn't demonstrate a clear and manifest intent to override restrictions on the distribution of benefits under the Personal Responsibility and Work Opportunity Reconciliation Act, the U.S. District Court for the Eastern District of Washington said. Read more from Holly Barker.
Elections & Politics
BGOV PODCAST—More Incumbents Could Join the Five Who Lost: Bloomberg Government's Kyle Trygstad and Greg Giroux discuss incumbents on the latest episode of Downballot Counts, with a focus on the most competitive primary challenges through the remainder of the summer. Five lawmakers have been denied renomination so far in 2020. An average of three incumbents have lost in primaries in every election cycle over the past three decades, not counting the post-redistricting years of 1992, 2002, and 2012. Listen to the latest episode of Downballot Counts.
Subscribe and Listen to Downballot Counts from your mobile device via:Apple Podcast | Overcast | Stitcher | Spotify
Trump Spends 9-in-10 Ad Dollars Defending States He Won: Trump is spending nearly all of his advertising money to keep states he won in 2016, playing a game of defense in areas a Republican incumbent should be able to count on. More than 92% of his state-based spending in the month of July is in states he won in 2016, according to a Bloomberg analysis of television advertising data compiled by Advertising Analytics.
Joe Biden, leading in all national polls, is spending in seven key states that Trump won in 2016, too, banking on at least some of them swinging Democratic with widespread voter dissatisfaction over Trump's handling of the coronavirus and the accompanying economic crash. Read more from Gregory Korte.
Biden Campaign Bans Staffers From Trading Stocks: The Biden campaign is forbidding employees from trading individual stocks without approval from the campaign's general counsel, according to an email sent by Biden's top lawyer to staff yesterday. Biden's general counsel, Dana Remus, wrote in an email to staff obtained by Bloomberg News that the campaign is updating its employee handbook to make sure workers "do not even inadvertently trade on nonpublic information." Read more from Tyler Pager.
Notre Dame Pulls Out From Hosting Debate: The first presidential debate will move from the University of Notre Dame to Case Western Reserve University in Ohio due to coronavirus concerns, according to the Commission on Presidential Debates. Notre Dame made "this difficult decision because the necessary health precautions would have greatly diminished the educational value of hosting the debate on our campus," President John Jenkins said, Max Berley reports.
Texans Get Extra Time To Cast Ballots: Texas Governor Greg Abbott yesterday extended early voting by nearly a week, citing public safety concerns during the coronavirus pandemic, Paul Stinson reports.
Around the Administration
Energy Picks Face a Race to Confirmation: Trump announced two nominees for the Federal Energy Regulatory Commission, which has been hamstrung by vacancies for two years. But a tight Senate schedule is raising questions about whether they can be confirmed before year's end. Trump tapped Mark Christie, chairman of the Virginia State Corporation Commission, to fill a Republican slot at the agency. He also named Allison Clements, who spent a decade as a lawyer for the Natural Resources Defense Council, for a vacant Democratic seat. Read more from Stephen Cunningham.
Trump Renews Fight to Block N.Y. Tax Subpoena: Trump renewed his fight to prevent a New York grand jury from reviewing his tax filings, after the Supreme Court ruled he doesn't have absolute immunity from state criminal probes. The president's lawyers filed a complaint yesterday raising objections to a subpoena from Manhattan District Attorney Cyrus Vance Jr. Trump said the subpoena was "wildly overbroad" and issued "in bad faith." Read more from Bob Van Voris.
Trump Administration Sued Over Removal of GMO Labels: The Trump Administration was sued over its plan to ban the term "GMO" from food labels and to force consumers to scan QR codes with their phones if they want to find out whether an item contains genetically modified ingredients. Read more from Robert Burnson.
Kim Jong Un Defies Call to Give Up Nukes: North Korean leader Kim Jong Un said being a nuclear state ensured his country's survival, showing no intention of bowing to Trump's demand that he disarm completely. Kim told a meeting of veterans marking the anniversary of the end of Korean War fighting that his country's "trustworthy and effective" nuclear deterrence would ensure its permanent national safety and future, the state-run Korean Central News Agency reported today. Read more from Jihye Lee and Jon Herskovitz.
Next WTO Chief Walks Line Between the U.S. and China: The race for the top post of the World Trade Organization is often characterized as another key battleground in a U.S. versus China struggle for hegemonic supremacy. That may be a bit overblown, but there's certainly a ring of truth to it just a few weeks into the contest. Read more from Bryce Baschuk.
To contact the reporters on this story: Zachary Sherwood in Washington at zsherwood@bgov.com; Brandon Lee in Washington at blee@bgov.com
To contact the editors responsible for this story: Giuseppe Macri at gmacri@bgov.com; Loren Duggan at lduggan@bgov.com; Michaela Ross at mross@bgov.com