What to Know in Washington: Dems Race Clock on Trump Tax Returns
Bloomberg Government subscribers get the stories like this first. Act now and gain unlimited access to everything you need to know. Learn more.
With the Supreme Court refusing to block the House Ways and Means Committee from obtaining former president Trump's tax returns, attention now turns to Congress, where Democrats are racing against the clock before they lose their majority.
Despite the ostensible victory for Democrats, many hurdles stand in the way of them actually making use of the information.
The IRS and Treasury have said they will comply with the order, but it's not clear how quickly they will, and mere weeks remain before Republicans take the majority in the House of Representatives.
Tax documents are carefully protected, and disclosing the information publicly is a step only permitted by tax committees, which must have a legislative purpose or be in the process of conducting oversight to obtain them, according to the Congressional Research Service.
The panel could publicly release Trump's information by opting to send documents or a report including them to the full House. That would presumably be an empty gesture after Republicans formally take the House majority on Jan. 3.
If the committee does not write a report or some other kind of oversight document, Ways and Means Committee chair Richard Neal (D-Mass.) could release some of Trump's tax records by entering them into the Congressional Record, according to Andy Grewal, a University of Iowa law professor who focuses on tax and constitutional issues.
Another potential avenue for Democrats is in the Senate. Finance Committee Chairman Ron Wyden (D-Ore.), who will keep his title in the new Senate, is still weighing whether to step in. A spokesperson for Wyden said the committee is reviewing its options.
But that could take time as well, with Trump's lawyer's likely to object, leading to further litigation and delays; it's not clear, however, that Wyden would need to make another request. Read more.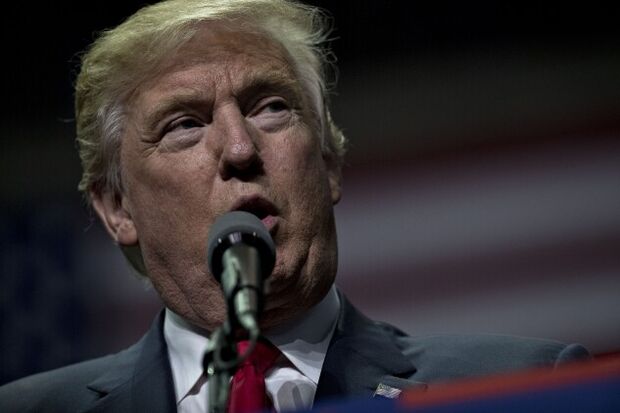 Happening on the Hill
CONGRESS' SCHEDULE:
House votes are scheduled tomorrow through Friday
The Senate meets at 3 p.m. to resume consideration of the same-sex marriage bill, with a procedural vote scheduled at 5:30 p.m.
The energy sector is treading carefully in publicly choosing sides in Sen. Joe Manchin's refusal to advance the renomination of Richard Glick, chair of the Federal Energy Regulatory Commission, torn between two powerful figures with sway over electric and natural gas projects.
A group of 54 Democrats and Republicans is asking congressional leaders of both parties to include an expansion of the Low-Income Housing Tax Credit in any year-end tax package to help increase the housing supply and reduce rents.
Republicans about to take over the US House majority say they'll demand greater oversight of US military aid to Ukraine, though a key GOP lawmaker also backed sending long-range weapons to help defend against Russia.
Elections & Politics
Democrat Raphael Warnock and Republican Herschel Walker are scrambling to get their supporters back to the polls one more time and find any Georgia voters still left to persuade with a little more than a week to go before the state's Dec. 6 US Senate runoff.
Warnock has three times as much cash as Walker heading into the final stretch of their runoff in Georgia, but a Republican super-PAC has plenty of money to help the GOP candidate compete, according to the latest filings with the Federal Election Commission. Read more.
President Joe Biden and his family are tackling a weighty question during their Thanksgiving holiday retreat to the chilly quiet of Nantucket: whether he'll seek a second term in 2024.
California Governor Gavin Newsom has made it clear to Biden he wouldn't challenge him for the 2024 presidential nomination, Politico reported.
Elon Musk said Friday night that he would support Ron DeSantis, the Republican governor of Florida, if he ran for president in 2024.
Former President Donald Trump dined this week at his Mar-a-Lago resort with Ye, the rapper formerly known as Kanye West who's been criticized for recent anti-Semitic remarks, and a white supremacist who accompanied him.
Many of Trump's potential 2024 rivals and some top Republicans have fallen silent on the former president's dinner with a notorious white supremacist, illustrating the party's continuing struggle to escape his grasp. Read more.
Republicans and their longtime corporate allies are going through a messy breakup as companies' equality and climate goals run headlong into a GOP movement exploiting social and cultural issues to fire up conservatives.
FTX US, a part of Sam Bankman-Fried's crypto empire that catered to American customers, contributed to a super-PAC fighting for control of the Senate in the midterm election just days before the company's collapse.
Around the Administration
PRESIDENT'S SCHEDULE
Biden will host the 2022 Nobel Prize winners at 1:30 p.m. in the Oval Office.
At 2:30 p.m., White House Press Secretary Karine Jean-Pierre and National Security Council Coordinator for Strategic Communications John Kirby will hold a press briefing.
The ability of the US government to aim enforcement resources at immigrants considered safety or security threats is on the line with Supreme Court review of whether the Biden administration policy is lawful.
Huawei Technologies Co. and ZTE Corp. were banned from selling electronics in the US by regulators who say they pose a security risk, continuing a years-long effort to limit the reach of Chinese telecommunications companies into US networks.
Microsoft Corp.'s best chance to win approval for its $69 billion Activision Blizzard Inc. deal from US regulators is to persuade the Biden administration to accept a settlement in which the Xbox maker pledges it won't withhold its popular titles from rivals.
US President Joe Biden and Canada's Justin Trudeau will visit Mexico in early January, President Andres Manuel Lopez Obrador said Friday.
The Biden administration granted Chevron Corp. a license to resume oil production in Venezuela after US sanctions halted all drilling activities almost three years ago. The reprieve followed the resumption of talks by Venezuela's political factions on Saturday with adeal to work together on a humanitarian spending plan.
Litigation over the Biden administration's process for resolving surprise medical billing disputes threatens to exacerbate a growing backlog in claims and leave doctors without paychecks, health-care lawyers said.
The Internal Revenue Service is mulling how to spend its new $80 billion in funds, but taxpayers shouldn't expect a sudden, dramatic increase in the number of special agents who investigate criminal tax matters.
President Joe Biden spoke Thursday with the owners of an LGBTQ nightclub in Colorado Springs where five people were killed in a mass shooting, offering a sign of support as he pushes to ban assault weapons.
The US government will send four female advocates to argue five cases during the Supreme Court's December sitting, nearly doubling the number of women who have argued this term.
The government has already evaluated Taiwan's security and defense mechanism after Speaker Nancy Pelosi's visit in August, Taiwan's Minister of Digital Affairs Audrey Tang says at a briefing in Taipei.
Two top US health officials questioned China's Covid Zero policy, saying it's unlikely to rein in the virus on its own and makes little sense without an improved vaccination campaign to broaden immunity.
To contact the reporters on this story: Brandon Lee in Washington at blee@bgov.com; Michaela Ross in Washington at mross@bgov.com
To contact the editor responsible for this story: Katrice Eborn at keborn@bgov.com
Stay informed with more news like this – from the largest team of reporters on Capitol Hill – subscribe to Bloomberg Government today. Learn more.