What to Know in Washington: Democrats Work to Save Biden Agenda
Bloomberg Government subscribers get the stories like this first. Act now and gain unlimited access to everything you need to know. Learn more.
Senate Democrats are scrambling to push President Joe Biden's roughly $2 trillion economic package toward a vote early next year amid hurdles both within their own ranks and from the Senate's parliamentarian. Democrats will continue negotiations on a path forward for the legislation into the weekend, as they also weigh potential action on another priority: voting rights legislation.
Here's what Bloomberg Government is tracking for Friday.
Congressional Schedule:
Senators return at 9:30 a.m. and plans to vote on the nomination of Atul Atmaram Gawande to be an assistant administrator of USAID.
Biden's Agenda:
Biden is scheduled to depart Washington shortly after 7 a.m. for South Carolina, where he will deliver the address at South Carolina State University's fall commencement ceremony at 10 a.m.
At 1:30 p.m. Biden will depart South Carolina and touch down in Philadelphia, Pa., at 3 p.m. before arriving in Wilmington, Del. at 3:25 p.m. for the weekend.
Democrats' Plans Face Opposition
The outlook for Biden's economic agenda is in peril in January if Sen. Joe Manchin (D-W.Va.) sticks by his demands and forces Democrats to choose between dramatically shrinking the bill's benefits or jettisoning most of them.
Democratic leaders yesterday abandoned plans to pass the roughly $2 trillion social spending and climate plan before their Christmas break after it was clear that Manchin wasn't on board. Manchin's support is critical in the evenly divided Senate. But months of negotiations with Biden, including talks this week, have only hardened the resolve of the Senate's most conservative Democrat.
Biden acknowledged that the legislation won't be done before year's end, but he expressed confidence it would eventually pass. He also urged patience as discussions with Manchin continue.
"It takes time to finalize these agreements, prepare the legislative changes, and finish all the parliamentary and procedural steps needed to enable a Senate vote," he said in a statement. "We will advance this work together over the days and weeks ahead."
Democrats expect Majority Leader Chuck Schumer (D-N.Y.) to try again in January. But structuring the bill to meet Manchin's latest conditions — keeping the total cost to $1.75 trillion and extending Biden's signature expanded child tax credit for a decade if at all — would leave only a few hundred billion dollars to be squeezed out for the rest of Biden's agenda. Read more from Steven T. Dennis.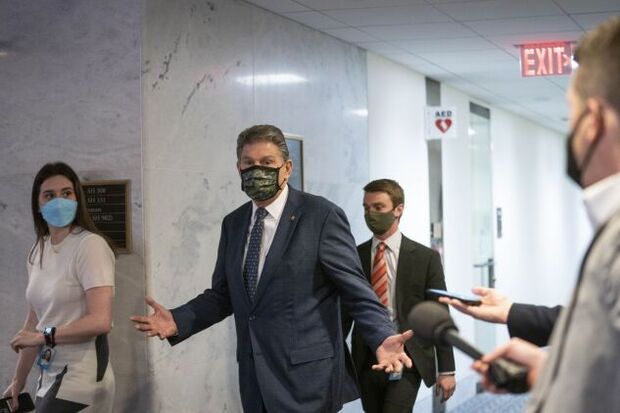 Democrats are desperate for a path forward on immigration in their social spending and tax bill after suffering a potentially fatal procedural blow. Their remaining options are politically and logistically risky: watering down their latest proposal or attempting to sidestep a Senate rules official.
Senate parliamentarian Elizabeth MacDonough issued an opinion yesterday saying a proposal to offer work permits and deportation protections through a status known as parole for some undocumented immigrants conflicts with the chamber's rules. Yesterday's opinion marks the third time the parliamentarian has rejected Democrats' immigration proposals.
Schumer, No. 2 Democrat Dick Durbin (Ill.), and the four Latino Democrats in the Senate—Sens. Bob Menendez (N.J.), Catherine Cortez Masto (Nev.), Ben Ray Luján (N.M.), and Alex Padilla (Calif.)—issued a joint response hinting at their next steps. "We strongly disagree with the Senate parliamentarian's interpretation of our immigration proposal, and we will pursue every means to achieve a path to citizenship in the Build Back Better Act," they said. The statement was notable for its focus on citizenship rather than the downsized parole option—signaling a potential willingness to try to ignore the parliamentarian's advice. Read more from Ellen M. Gilmer.
Biden discussed changing Senate filibuster rules to gain traction on voting rights legislation with a group of Democratic allies yesterday, including Manchin and Schumer, according to a person familiar with the matter. Biden and the Democrats are considering changes to the filibuster, which allows a minority of senators to easily block debate on legislation. Republicans four times this year have denied any Senate consideration of bills drafted by Democrats that would allow automatic voter registration, bar partisan "gerrymandering" of congressional districts and make other changes.
Sen. Amy Klobuchar (D-Minn.), who participated in the video conference with Biden and Vice President Kamala Harris, said that some filibuster changes under consideration "make total common sense." She wouldn't say if Biden backed any particular rules change. The president told the lawmakers that he wants the Senate to function again, she said. "We're just calling for restoring the Senate to debate the fundamental issue of our day, which is our own democracy," she said. Laura Litvan and Justin Sink have more.
ALSO HAPPENING ON THE HILL:
Biden Says Unvaccinated to Face Hard Winter
Biden warned that unvaccinated Americans face "a winter of severe illness and death" as he urged initial doses and booster shots amid a surge of coronavirus cases and the emergence of the omicron variant.
"It's past time" to get shots, the president said yesterday following a briefing with his coronavirus team at the White House. "We're going to protect our economic recovery if we do this. We're going to keep our school and businesses open if we do this."
Infections have surged 40% over the past two weeks across the country, and deaths have increased by more than a third during that same period, with more than 1,300 Americans dying of coronavirus daily. Some universities have already announced a move to online classes as case numbers have surged, while professional sports league and Broadway theaters have canceled games and performances.
Biden maintained that the new, more contagious omicron variant had been slowed because of steps implemented by his administration. Read more from Justin Sink.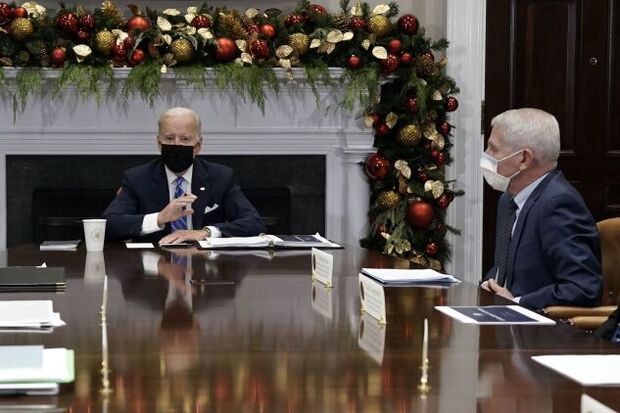 What Else We're Reading
The Biden administration is walking away from negotiations to compensate families who were separated at the U.S.-Mexico border under a Trump-era policy, immigrant rights advocates say. The American Civil Liberties Union, which represents families in the litigation over the Trump-era rules, announced the development yesterday and said that the group will return to court. Ellen M. Gilmer has more.
Many states say they haven't yet made specific plans to distribute any of the new infrastructure law's $15 billion in federal lead pipe replacement funding because there are too many unanswered questions about where and how to spend the money. The timeline for lead pipe replacement is not clear even as the White House yesterday unveiled a long-term plan to remove all the country's nearly 10 million lead pipes over the next decade. Bobby Magill has more.
The U.S. Food and Drug Administration yesterday removed a key restriction on the abortion pill, allowing it to be sent to people's homes instead of requiring patients pick it up at the doctor's office. Read more from Cynthia Koons.
To contact the reporters on this story: Zachary Sherwood in Washington at zsherwood@bgov.com; Brandon Lee in Washington at blee@bgov.com
To contact the editors responsible for this story: Giuseppe Macri at gmacri@bgov.com; Loren Duggan at lduggan@bgov.com; Michaela Ross at mross@bgov.com
Stay informed with more news like this – from the largest team of reporters on Capitol Hill – subscribe to Bloomberg Government today. Learn more.