What to Know in Washington: Democrats Work to Juggle Full Agenda
Bloomberg Government subscribers get the stories like this first. Act now and gain unlimited access to everything you need to know. Learn more.
Democratic leaders on Capitol Hill are running up against multiple critically important deadlines as they navigate a fraught political landscape where any misstep could have dire consequences for the national economy and President Joe Biden's legacy.
While some of the worst-case scenarios — a government shutdown, a federal default or the complete collapse of Biden's economic plan — are unlikely, several obstacles stand in the way as leaders manage intertwining negotiations and competing political agendas.
Democrats, who have slim majorities in both the House and Senate, are trying to balance normal legislative work — funding the federal government and managing the national debt — while simultaneously finalizing two separate bills that contain much of Biden's economic vision.
They are sparring with Republicans over the debt while facing divisions within their own party about how much to spend on new social programs and what taxes to raise to pay for them.
Laura Davison and Erik Wasson offer a rundown of the ongoing battles in Congress.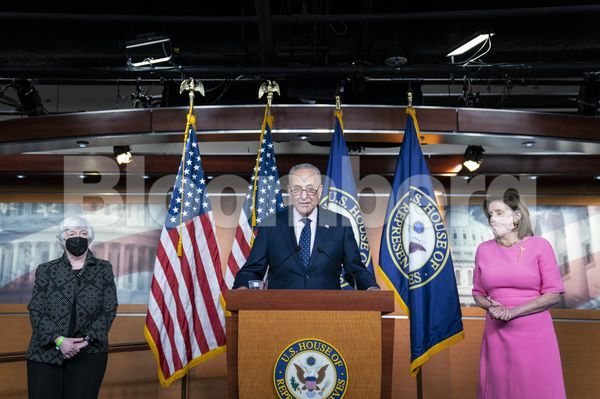 More on Democrats' Economic Agenda
House Panel to Weigh Tax, Spend Plan: House Democrats have scheduled a rare Saturday panel meeting to advance the proposed $3.5 trillion tax-and-spending package. House Budget Committee Chair John Yarmuth said he expects the full House to consider the package next week.
The committee vote on the individual components of the tax and spending bill is a necessary step but does not mean Democrats have resolved all their differences. The panel cannot amend what the other committees voted to approve earlier this month: any changes would come at the Rules Committee or on the House floor. If the House votes on it next week, it could put moderates in a difficult spot, forcing their vote on a bill the Senate will likely amend and send back. Erik Wasson and Jack Fitzpatrick have more.
As part of the plan's revenue mechanism, Democrats reached a deal to narrow the measure to require financial institutions to report account flows to the IRS in a bid to improve tax compliance, according to a key House Democrat. House Ways and Means Chair Richard Neal (D-Mass.) said he and other Democratic leaders are planning to set a threshold higher than the $600 proposed by Biden to trigger a bank to report its total account inflows and outflows. Laura Davison has more.
Democrats Wary of Taxing Rich: New York University law professor David Kamin, who's coordinated Biden's sweeping tax proposals, is finding that in Washington, many Democrats don't share his zeal to soak the rich. The menu of tax hikes that congressional Democratic leaders yesterday agreed to draw from to pay for a sweeping expansion in social spending showcased the unease in some corners of the party. One of Kamin's most daring pitches — to end the practice of letting heirs discount the tax value of inherited assets, called step-up in basis — isn't part of the framework of measures Democratic congressional leaders endorsed yesterday. Read more from Nancy Cook.
Manchin's Reconciliation Questions: Sen. Joe Manchin (D-W.Va.) said yesterday he doesn't support expanding Medicare benefits without first addressing the program's long-term solvency, again putting him at odds with Sen. Bernie Sanders (I-Vt.) and other key liberals as they negotiate President Joe Biden's economic agenda. Asked about Democrats' plans to expand benefits for dental, vision and hearing in the upcoming budget reconciliation bill, Manchin pointed to the program's long-term financial problems instead. Read more from Steven T. Dennis.
Happening on the Hill
State Bans Spur Democrats to Abortion Vote: Congressional Democrats are pushing legislation to cement abortion access into law and protect health-care providers of such services in response to anti-abortion measures in Republican-led states. Democrats in the House are expected to pass a bill today that would preserve the right to abortions across the country. The Senate will likely wait weeks before a vote and it's not likely to pass there, with two centrist holdouts, Alex Ruoff reports.
Meanwhile, reproductive-rights advocates pressed the U.S. Supreme Court to take up an expedited appeal on Texas's ban on most abortions after about six weeks of pregnancy. The appeal challenges the law's novel enforcement structure, which lets private parties sue those who help facilitate abortions. The justices let the ban take effect by a 5-4 vote, but groups want the court to hear an appeal without waiting for a lower court ruling. Greg Stohr has more.
House Defies Biden's Defense Budget With $25 Billion Boost: House Democrats banded with Republicans to back a boost to the Pentagon's budget, rejecting Biden's recommended $715 billion amid concerns about countering an emerging China. The House yesterday passed 316-113 the fiscal 2022 defense policy bill, which would authorize the Pentagon to spend $740 billion, an increase of $25 billion from the administration's request. Read more from Roxana Tiron.
One of the House-passed amendments includes language for the Homeland Security Department to make broad efforts to tackle low morale in its workforce and strengthen its cybersecurity programs. The amendment from Reps.

Bennie Thompson

(D-Miss.) and

John Katko

(R-N.Y.) came as the department consistently ranks at the bottom of federal workplace rankings since its creation following the Sept. 11 attacks. Ellen M. Gilmer and Rebecca Kern have more.
Earlier, Democrats fell short in their effort to slash the Pentagon's budget authorization, laying bare the reality of the party's narrow majority—they need GOP votes to pass national security legislation. Progressives offered two amendments—one to slash more than $70 billion from the Pentagon's authorization and one to cut about $24 billion. They were handily defeated as Democrats joined with Republicans to vote against them. Read more from Roxana Tiron.
Border Photos Spur Calls for DHS Officer Oversight: Lawmakers are using the uproar over the treatment of Haitian migrants as support for proposals to tighten oversight of the Department of Homeland Security's law enforcement work. "The administration needs to hold accountable and have a zero-tolerance policy for those who abuse the dignity of migrants," Rep. Veronica Escobar (D-Texas) said Wednesday. Escobar called on fellow lawmakers to support legislation she reintroduced earlier this year to bring accountability to "an agency that is out of control." Read more from Ellen M. Gilmer.
Biden faces another border crisis as thousands of Haitians seek to enter the U.S. from Mexico, and his administration's response has stirred harsh criticism from fellow Democrats over what they see as inhumane treatment of migrants. Democrats, including Leader Schumer, have joined advocacy groups in demanding the U.S. stop flying hundreds of the migrants back to Haiti a day without hearing their asylum claims. Jennifer Epstein has more.
Biden Sets Up Battle by Nominating Bank Critic for OCC: Biden has selected a vocal critic of big banks and cryptocurrencies to run the Office of the Comptroller of the Currency, likely triggering a contentious Senate confirmation fight over the leadership of a key Wall Street regulator. The White House announced its plans to nominate Saule Omarova in a statement, calling the Cornell University professor "one of the country's leading academic experts" on finance. Jesse Hamilton and Akalyla Gardner have more.
Politics & Influence
Democrats Pressed on Immigration to Boost Hispanic Vote in 2022: Democrats are under pressure to find an immigration proposal that conforms with Senate budget rules ahead of a midterm election in which the party must motivate Hispanic voters to turn out. Party leaders are working on a new plan to bring before the Senate Parliamentarian Elizabeth MacDonough after she issued an opinion that the previous proposal to grant a pathway to citizenship to "Dreamers," essential workers, and those with temporary protected status was a policy change, rather than a budgetary one and couldn't be included in the massive social spending package. Democrats have looked to insert the immigration provisions into the budget reconciliation because that legislation only requires a simple majority vote in the Senate. Read more from Emily Wilkins and Nancy Ognanovich.
Former Trump Aides Subpoenaed by Capitol Riot Probe Committee: Former White House Chief of Staff Mark Meadows and three other of former President Donald Trump's advisers were subpoenaed yesterday by the select House committee investigating the Jan. 6 insurrection at the U.S. Capitol. Along with Meadows, subpoenas were sent to former Trump political adviser Steve Bannon, former deputy chief of staff Dan Scavino and former Defense Department official Kashyap Patel. Read more from Billy House.
Grassley Announces 2022 Run: Sen. Chuck Grassley (R-Iowa), 88, said this morning he will seek another term as a Senator next year. "I'm running for re-election—a lot more to do, for Iowa. We ask and will work for your support," he said in a tweet
Around the Administration
Today's Agenda: Biden will host Indian Prime Minister Narendra Modi for a bilateral meeting at the White House at 11 a.m. The president at 2 p.m. will host the first in-person Quad Leaders summit with Modi, Australian Prime Minister Scott Morrison and Japanese Prime Minister Suga Yoshihide. Shortly after 4 p.m. Biden will meet alone with Yoshihide. The president is scheduled to depart the White House for Camp David just after 5:30 p.m.
Biden will meet with the "Quad" leaders as the members plan to unveil a series of initiatives, from semiconductors to vaccines, that they hope can counteract Chinese influence across the Pacific. Yet success will mean navigating the sort of thorny issues that have dogged the informal alliance since its creation following the 2004 tsunami in the Indian Ocean that killed a quarter million people. Now, those issues include the tumultuous U.S. withdrawal from Afghanistan, complaints about coronavirus vaccine distribution in the developing world and disputes over climate change commitments and 5G technology. Read more from Justin Sink.
Biden Booster Shot Push Limps to Finish, Dogged by Uncertainty: The U.S. will begin giving Covid-19 booster shots to millions of Americans today — a watershed moment in the nation's battle against the pandemic that officials hope will beat back another brutal winter wave of infections. But even after months of internal debate between political appointees and health and science officials in the Biden administration, little consensus has emerged on whether widespread boosters are medically necessary or morally just. Read more from Josh Wingrove and Riley Griffin.
Biden Nearing Methane Crackdown: The free ride for methane, a climate-warming gas 84 times stronger than carbon dioxide, is finally nearing an end in Washington. While one atmosphere-heating pollutant after another has fallen under regulators' sway, powerful petrochemical interests and, until recently, scientific uncertainty about the scale of the problem, have thwarted methane restrictions. That will begin to change in coming weeks when the Biden administration proposes the most aggressive federal methane mandates yet for oil and gas wells. Read more from Jennifer A. Dlouhy,
Haaland Hints at Limits on Fossil Fuel Extraction: Interior Secretary Deb Haaland suggested a sharply limited role for fossil fuel extraction on U.S. federal lands and waters in her most expansive comments yet on the administration's overhaul of oil and gas leasing. She said the review would seek to restore balance on uses of some 245 million acres of federal government land by advancing clean energy projects and ensuring all stakeholders have a say in what happens there. Jennifer A. Dlouhy has more.
Biden Urged by Farmers Against Biofuel Cut: Biden is being urged by farm and renewable fuel groups to "pull EPA back from the brink" and make sure the Environmental Protection Agency doesn't reduce national biofuel-blending requirements. "We are deeply concerned that this administration is favoring the oil industry over the environment, rural communities and hardworking farmers," the Renewable Fuels Association, National Biodiesel Board, and others wrote, Kim Chipman and Jennifer Dlouhy report.
U.S. Weighs Invoking Defense Law to Get Chip Data: The White House is considering invoking a Cold War-era national security law to mandate companies in the semiconductor supply chain to provide information on inventory and sales of chips, Commerce Secretary Gina Raimondo said yesterday. The goal is to ease bottlenecks that have halted U.S. automobile production and caused shortages of consumer electronics and to identify potential hoarding, Raimondo told Bloomberg. Read more from Jenny Leonard.
To contact the reporters on this story: Zachary Sherwood in Washington at zsherwood@bgov.com; Brandon Lee in Washington at blee@bgov.com
To contact the editors responsible for this story: Giuseppe Macri at gmacri@bgov.com; Loren Duggan at lduggan@bgov.com; Michaela Ross at mross@bgov.com
Stay informed with more news like this – from the largest team of reporters on Capitol Hill – subscribe to Bloomberg Government today. Learn more.