What to Know in Washington: Democrats Weigh Options on Abortion
Democrats call on voters to respond in midterms
Biden, lawmakers in Europe for G-7, NATO summit
President Joe Biden and congressional Democrats are under pressure to enact new policies to ensure US women retain access to abortions, but their options are sorely limited and risk generating new court challenges.
Biden said his administration will fight to make sure women can travel from states where abortion is outlawed to obtain the procedure in states where it's legal. He said he also ordered the Health and Human Services Department to ensure medication abortion is available "to the fullest extent possible."
Both moves may wind up in court, as some Republican lawmakers have vowed to try to prevent women from traveling out-of-state for abortions and stop abortion drugs from being prescribed or sold within their states.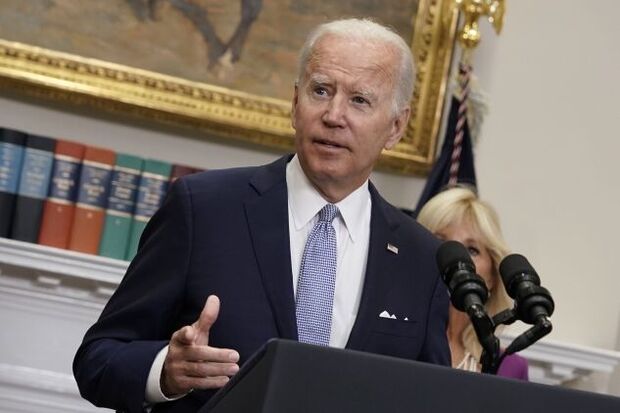 Despite controlling the White House and both chambers of Congress, there's little more Democrats can do via executive action or legislation, legal experts say, after the high court wiped out the constitutional right to abortion in a historic ruling. Senate Republicans can easily filibuster any bill to replace the rights once secured by Roe, while Biden lacks the authority to unilaterally ensure abortion is available nationwide.
Biden acknowledged the limits of his authority in remarks at the White House after the ruling. "The only way we can secure a woman's right to choose, the balance that exists, is for Congress to restore the protections of Roe v. Wade as federal law," Biden said. "No executive actions from the president can do that." And in a further admission that the current session of Congress won't be able to make Roe law, he added: "Voters need to make their voices heard this fall."
The White House has held daily calls on the subject since the ruling first leaked, plotting out its options, and met regularly with groups like Planned Parenthood and Emily's List, an official familiar with the process said, speaking on condition of anonymity. The White House counsel's office was closely involved, studying what legal recourse they have, but the official reiterated what Biden said: no executive actions can restore Roe or come close to it. Read more from Jordan Fabian.
MORE FROM THE WHITE HOUSE:
The HHS is considering transportation services for women seeking to terminate their pregnancy in another state, an unprecedented move for the federal health department following the ruling. "We're looking at every option, and among those is transportation," Secretary Xavier Becerra said Saturday during the Aspen Ideas: Health conference, acknowledging that it would be "something that HHS doesn't typically do." Read more from Jeannie Baumann.
The decision puts immediate pressure on the Pentagon, which has struggled to clarify how it might address the health-care expectations of female troops, and female spouses of troops. Read more from Roxana Tiron and Bill Faries.
MORE ON THE RULING:
California, Washington and Oregon formed an alliance to ensure abortion access on the West Coast. Michigan's leader asked the state's top court to rule quickly on her suit aiming to codify rights to the procedure. And in Illinois, the governor demanded a special legislative session. As conservatives celebrated the decision, Democratic leaders moved to make sure they could enshrine access where the politics allow. Brendan Walsh, Ngai Yeung, and Michael Sasso have more.
District attorneys and other local prosecutors from 85 jurisdictions across the country said Friday they will not prosecute abortions sought in their jurisdictions. "We stand together in our firm belief that prosecutors have a responsibility to refrain from using limited criminal legal system resources to criminalize personal medical decisions," the officials wrote in a release issued by Fair and Just Prosecution, showing how abortion access is poised to vary state by state. Catarina Saraiva has more.
The decision also sets the stage for states to restrict access to a pill used to end early pregnancies. The verdict puts the authority to regulate the procedure back in the hands of state governments. Legal scholars argue that the move could spur conservative states to go after mifepristone, a medication that's used for the majority of abortions in the US. Read more from Ian Lopez.
The Supreme Court pushed abortion firmly to the forefront of US elections, with Democrats hoping that voter outrage over the end of Roe v. Wade will eclipse economic angst weighing on the party's fortunes.
While Biden called on voters to elect more Democrats to codify Roe, the view in competitive congressional races is trickier, with candidates placing varying emphasis on abortion as voters show more concern about inflation. "The smart messaging in all of these states will be highlighting how truly extreme the Republicans are," said Lis Smith, a Democratic strategist.
If the ruling energizes their voters, Democrats could reap the benefit even as the party suffers from decades-high inflation and Biden's poor approval ratings. Josh Wingrove, Gregory Korte and Emily Wilkins have more.
Vice President Kamala Harris said voters will have "the final word" on whether federally guaranteed access to abortion is reinstated. "This is not over," she said Friday in Illinois. "You have the power to elect leaders who will defend and protect your rights," she said. Even before the ruling, Harris had established herself as the Biden administration's most prominent voice on abortion rights. Read more from Jenny Leonard and Akayla Gardner.
MORE ON ABORTION POLITICS: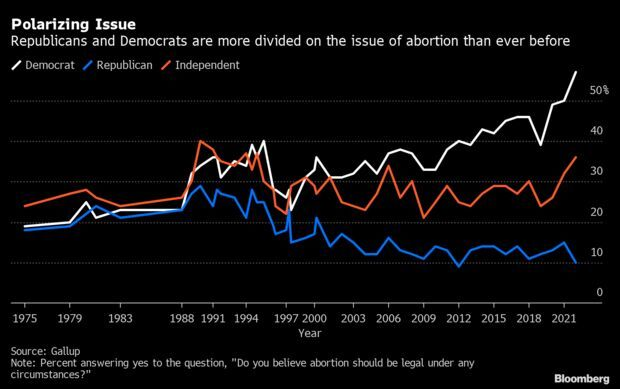 Politics, Policy & Probes
A bipartisan Senate group is headed back to Europe this week to attend the North America Treaty Organization's summit in Madrid as it evaluates Russia's ongoing war in Ukraine and the broader threat to other European countries, Nancy Ognanovich reports. Sens. Jeanne Shaheen (D-N.H.) and Thom Tillis (R-N.C.), chairs of the Senate NATO Observer Group, said they plan to lead a group that will represent the chamber at the summit, which starts Tuesday and runs through Thursday.
Other lawmakers traveling in the congressional delegation include Sens. Chris Coons (D-Del.), Deb Fischer (R-Neb.), Dick Durbin (D-Ill.), Mike Rounds (R-S.D.), Joni Ernst (R-Iowa), and Roy Blunt (R-Mo.).
Shaheen's office said the lawmakers will begin their official trip at week's start with visits to Finland and Sweden, where both announced after Russia's invasion of Ukraine their intention to join NATO. Lawmakers will participate in bilateral meetings with the heads of state, parliament, and other officials. Following those meetings lawmakers will head to Madrid, where the two nations' bid to join NATO will be a focus.
Senate Foreign Relations Chairman Bob Menendez (D-N.J.) and ranking member Sen. Jim Risch (R-Idaho) both said at a hearing last week they support the two nations' applications to join NATO and want to move quickly on the matter. Menendez predicted the alliance will soon prepare the accession protocols.
A pandemic-related immigration restriction called Title 42 would effectively stay in place until after the Covid public health emergency is over under an annual Homeland Security funding bill. The House Appropriations Committee advanced its fiscal 2023 Homeland Security spending bill in a 32-25 vote on Friday, after adding an amendment to ban the processing of migrants who would've been expelled under Title 42 authority. Jack Fitzpatrick has more.
The House Appropriations Committee is set to mark up its Labor-HHS-Education spending bill for fiscal 2023 Thursday. The measure plays host to the fight over the Hyde amendment, a decades-old restriction on federal funding for abortion. Democrats eliminated the ban in their appropriations bills last year, but agreed to add them back for the final fiscal 2022 legislation. They may be more motivated to eliminate it this year following the Supreme Court ruling. Read more from Jack Fitzpatrick.
BGOV OnPoint: House Panel Continues Appropriations Markups
The biggest question in Tuesday's special election primary for a Senate seat in Oklahoma is which one of the dozen other Republicans will face Rep. Markwayne Mullin in a runoff. Top contenders include T.W. Shannon, a former Oklahoma House speaker who ran second to Mullin in a poll released this month; Nathan Dahm, a state senator who says he's the most conservative in a deeply conservative field; and Luke Holland, former chief of staff to Sen. Jim Inhofe (R).
Despite Mullin's likely edge, a runoff will allow candidates to sharpen their messages after a primary that was mainly about who's the most conservative on social issues. All the leading primary candidates tout religious values while opposing abortion access and gun control. They all espouse loyalty to former President Donald Trump, though Trump hasn't endorsed anyone in the race. Read more from Kenneth P. Doyle.
Around the Administration
BIDEN'S SCHEDULE:
The president is in Europe to attend the G-7 Summit in Schloss Elmau, Germany.
Biden has rebooted his effort to counter China's flagship trade-and-infrastructure initiative after an earlier campaign faltered, enlisting the support of Group of Seven leaders at their summit in Germany. The measure has been re-branded the "Partnership for Global Infrastructure and Investment" and the US is calling on leaders to agree to fund the launch of projects in middle- and lower-income countries to the tune of $600 billion over five years. Jenny Leonard, Alberto Nardelli and Jordan Fabian have more.
Biden is set to announce the purchase of an advanced surface-to-air missile system for Ukraine. NASAMS are an advanced medium to long range surface-to-air missile defense system. Ukraine is suffering from missile attacks and can only strike down a fraction of incoming missiles. The problem remains how quickly Kyiv can get them, how many will come and how long will it take to train people to use them. Bloomberg News is tracking the latest developments on the war in Ukraine.
The president signed bipartisan gun legislation into law that he called the most significant of its kind in decades, restricting access to firearms for the youngest buyers and offering incentives for states to establish "red flag" laws. "How many times have we heard that: 'Just do something,'" Biden said at the White House on Saturday. "Well today, we did. While this bill doesn't do everything I want, it does include actions I've long called for." Read more from Jennifer Jacobs and Kate Queram.
Negotiations between the US and Iran to revive the 2015 nuclear deal will restart in the "coming days," the European Union's top diplomat Josep Borrell said on Saturday during a press conference in Tehran with his Iranian counterpart. Many members of Congress and Israel oppose a return of the JCPOA, arguing it could give Iran an oil windfall and lead it to rearm its proxies in the Middle East. Read more from Arsalan Shahla.
Federal Reserve Chair Jerome Powell sees two possible paths for the economy and monetary policy over the next year: With some luck, inflation will cool with the help of more supply. If that fails, the Fed won't hesitate to impose a more painful solution. In the best-case scenario, the Fed's front-loaded interest-rate hikes slow demand for rate-sensitive sectors such as housing, cars and other durable goods bought on credit. Read more from Craig Torres and Matthew Boesler.
Juul Labs persuaded a federal court to approve an emergency order blocking the Food and Drug Administration's decision to ban its e-cigarette products from the US market. The US Circuit Court of Appeals in Washington on Friday said the ban should be "administratively stayed" while Juul's lawyers prepare a full appeal of the FDA's finding it must stop selling its products. Read more from Anthony Lin and Jef Feeley.
With assistance from Nancy Ognanovich
To contact the reporter on this story: Brandon Lee in Washington at blee@bgov.com
To contact the editors responsible for this story: Giuseppe Macri at gmacri@bgov.com; Michaela Ross at mross@bgov.com