What to Know in Washington: Democrats Turn to Voting Rights Push
Democrats this week will shift their focus from President Joe Biden's stalled economic package toward legislation to overhaul U.S. elections and voting rights. The November midterm elections loom large as the House and Senate get the 2022 legislative session underway with debates over voting rights, fiscal 2022 spending plans, and other issues.
Here's what Bloomberg Government is tracking for Monday.
Congressional Schedule:
The Senate meets at 3 p.m. with plans to vote on a Commerce Department nominee.
The House returns at 6:30 p.m. with a vote to establish a quorum for start of the second session of the 117th Congress.
Biden's Schedule:
Biden returns from Camp David to the White House at 9:30 a.m. He has no public events scheduled today.
White House Press Secretary Jen Psaki will hold a briefing at 1:30 p.m.
Biden, Democrats Shift Focus to Voting Rights
President Biden called for vigilance in protecting democracy in a tribute to former Senate Majority Leader Harry Reid (D-Nev.) as he seeks to rally allies behind voting-rights legislation. "Harry knew better than most how difficult democracy is—that the idea of America itself is under attack," Biden said Saturday during a Las Vegas memorial service for the longtime senator. "Protecting democracy requires vigilant stewardship."
The appeal came as Biden ratchets up his rhetoric around voting rights, including with a fiery condemnation of former President Donald Trump in marking the anniversary of the Jan. 6 insurrection.
Biden and other Democrats are hoping to convince Republicans to allow them to pass laws that would push back against state-level efforts that limit absentee balloting and tighten identification requirements, or change the rules in the Senate to allow them to bypass a GOP filibuster. Republicans have increasingly pursued such efforts after Trump's defeat in 2020 and his unsubstantiated claims of vote fraud.
Democrats have spent recent days furiously lobbying moderate Democrats—including Sens. Kyrsten Sinema (D-Ariz.) and Joe Manchin (D-W.Va.)—who say they support voting rights legislation but are reticent to roll back filibuster rules. The Freedom to Vote Act would make Election Day a public holiday, force states to allow same-day voter registration and guarantee that all voters can request mail-in ballots. The John Lewis Voting Rights Advancement Act, named for the late Georgia congressman, would extend federal "pre-clearance" of voter laws in states with a history of discrimination. Read more from Justin Sink.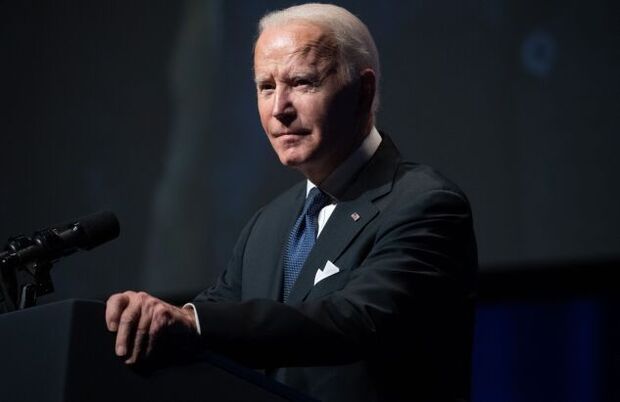 ON THE CAMPAIGN TRAIL:
Pelosi Floats Virus Help in Spending Plan
House Speaker Nancy Pelosi (D-Calif.) said there's an "opportunity" to add federal coronavirus relief aid to a package of legislation funding the government as a February deadline looms. "It is clear from the opportunity that is there and the challenge that is there," Pelosi told CBS, noting that Biden's administration "has not made a formal request for more funding."
Additional funding to help mitigate the effects of the pandemic could be added to a bill that's needed to fund the government after a stopgap measure runs out on Feb. 18, she said. "I believe that left to their own devices, the appropriators can get the job done," Pelosi said. "Something like additional funding can be in there, can be fenced off for emergency, as would be Covid."
Two lawmakers last week suggested that additional relief for U.S. restaurants and other service industries hurt by the surge of infections could be added to the spending bills. Sens. Ben Cardin (D-Md.) and head of the Small Business Committee, and Roger Wicker (R-Miss.), said they are working to build support for the plan among their colleagues. Pelosi didn't specify what any extra funding might be used for. Read more from Daniel Flatley.
ALSO HAPPENING ON THE HILL:
Rep. Jim Jordan (R-Ohio) indicated last night that he won't voluntarily testify to the House committee investigating the insurrection at the U.S. Capitol, writing the inquiry isn't "fair-minded and objective." The committee's Dec. 22 request that he appear "is far outside the bounds of any legitimate inquiry, violates core Constitutional principles, and would serve to further erode legislative norms," Jordan wrote in a letter to committee chairman

Bennie Thompson

(D-Miss.). Jordan is one of Trump's highest profile congressional allies and has publicly acknowledged talking on the phone with Trump on Jan. 6. Read more form Billy House.
Rep. Alexandria Ocasio-Cortez (D-N.Y.) tested positive for Covid-19, according to her office. Ocasio-Cortez, who is fully vaccinated and has had a booster shot, is "experiencing symptoms and recovering at home," her office said in a statement yesterday, Ian Fisher and Derek Wallbank report. The House is back in session today for the first time this year.
Congressional Agenda Webinar
Join Bloomberg Government's legislative analysts on Wednesday at 11 a.m. for a deep dive into the policy areas, spending fights, and other activity to watch on Capitol Hill this year.
The analysts will discuss Democrats' social spending package, fiscal 2022 spending negotiations, and legislation to address U.S. competition with China. Register here.
Around the Administration
Prominent economists from both sides of the political spectrum argued at this year's annual meeting of the American Economic Association that the Federal Reserve is behind the curve in the battle to contain an outburst of inflation in an economy still beset by a pandemic. And while they generally welcomed the Fed's pivot toward a tighter monetary stance and expect price pressures to ease this year, they sounded doubtful that inflation will decelerate as much as central bankers are forecasting. They saw it remaining well above monetary policy makers' 2% target.
Among those that chimed in at the three-day virtual conference that ended yesterday: Former Treasury Secretary Lawrence Summers and ex-White House chief economist Jason Furman—both Democrats—and noted monetary economist John Taylor and former Council of Economic Advisers Chairman Glenn Hubbard, who served in Republican administrations. To be sure, not all economists—especially some on the left—are raising alarms about the inflation threat and the Fed's delayed response to it. Read more from Rich Miller.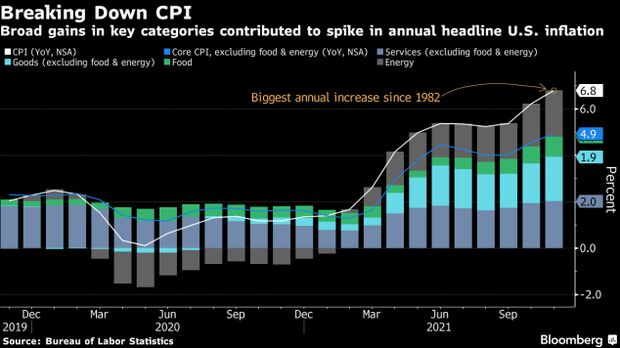 Amid the omicron wave, the economic recovery is facing a new threat policymakers have little control over: people calling in sick. What started as a series of flight cancellations as pilots and other staff fell ill or were forced into self-quarantine is becoming a reality in factories, grocery stores and ports, and again testing American supply chains. The widespread absenteeism is already constraining output, and several economists began the new year by downgrading their Q1 forecasts. Even if the hit is temporary, the closures may slow rebound in some sectors. Shawn Donna, Sarah McGregor, and Mary Schlangenstein have more.
Clearance to boost younger Americans amid the omicron surge bumps up against a pharmacy system that's already being overwhelmed with vaccine appointments and staffing shortages, potentially leading to delays in accessing the additional shots. The CDC last week recommended adolescents ages 12 to 17 get booster shots at least five months after their second dose. But expanded eligibility puts further stress on pharmacies struggling to keep up, according to pharmacists and industry groups say. Read more from Celine Castronuovo and Jeannie Baumann.
The push to get boosters into nursing home staff is proving a tough sell. While over 72 million Americans have received Covid booster shots, including 62% of nursing home residents, only 28% of nursing home staff nationwide have received a booster shot, said Janell Routh, co-lead of the Covid-19 Vaccine Task Force at the CDC. Read more from Tony Pugh.
The U.S. and allies are discussing possible export controls on Russia, including curbs on sensitive technology and electronics, to be imposed if President Vladimir Putin seizes more of Ukraine, a person familiar with the discussions said. While no decisions have been made, the trade restrictions could apply to exports from the U.S. to Russia and possibly to some foreign-made goods, the person said. Also being considered are measures to deprive Russia of microelectronics made with or based on U.S. software or technology, the person said. Read more from Jennifer Jacobs.
Putin today vowed to protect Russia and its ex-Soviet allies from what he called outside efforts to destabilize their governments with public protests, just days after Russian-led troops helped Kazakh authorities subdue nationwide demonstrations. "We won't let anyone disturb the situation in our homes and won't allow scenarios of so-called color revolutions to be played out," Putin told a televised video conference of leaders of the six-nation Collective Security Treaty Organization, a Moscow-dominated bloc whose deployment of troops to Kazakhstan was the first time it had sent forces to shore up a government under pressure from popular unrest. Read more from Olga Tanas.
The Justice Department's environmental division won't necessarily conduct detailed investigations of a company's supply chain partners as long as the company is making good-faith efforts to comply with the law, an agency spokesman told Bloomberg Law. Those remarks clarify comments from Todd Kim, assistant attorney general for Justice's Environment and Natural Resources Division, who said at an American Bar Association conference in December that if a corporate supply chain "originates from a criminally tainted source, then my division will consider the criminal responsibility of all parts of that supply chain." Read more from Stephen Lee.
To contact the reporters on this story: Zachary Sherwood in Washington at zsherwood@bgov.com; Brandon Lee in Washington at blee@bgov.com
To contact the editors responsible for this story: Giuseppe Macri at gmacri@bgov.com; Loren Duggan at lduggan@bgov.com; Michaela Ross at mross@bgov.com