What to Know in Washington: Democrats Struggle to Deliver Agenda
Bloomberg Government subscribers get the stories like this first. Act now and gain unlimited access to everything you need to know. Learn more.
President Joe Biden needs Democrats in Congress to give him a political boost by passing his $4 trillion economic agenda, but deepening divisions in the party threaten the chances of that happening any time soon.
Lawmakers are attempting to craft one of the most complex tax and spending bills ever contemplated, with virtually no area of the budget or tax code left untouched, during just a handful of work days this month.
The tax-writing House Ways and Means Committee is set to start working on its portion of Biden's $3.5 trillion plan this week as other committees plow through their components, including education, health care and climate.
Democratic leaders' goal is to have the tax and spending package wrapped up by the end of the month, so that the House can give final passage to a separate $550 billion bipartisan infrastructure bill.
That schedule risks getting sidetracked, though, by a widening rift between Democratic progressives and moderates over the size of the tax and spending package — known as reconciliation — and a looming battle with Republicans over raising the federal debt limit.
"Right now there is no way I can see Congress meeting the September deadline," said Jim Manley, who was top aide to former Senate Majority Leader Harry Reid. "This reconciliation bill is far more difficult than anything else I have seen." Read more from Erik Wasson and Mike Dorning.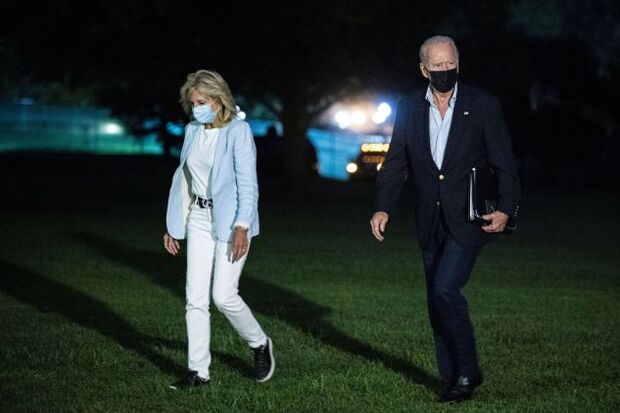 Student-Aid Advocates Jockey for Priorities in Spending Package: Colleges and student aid champions are pressing lawmakers for a substantial boost to grants for low-income college students as Democrats hammer out details of a $3.5 trillion social spending package over the next week. Securing a large increase to student aid such as Pell Grants will be complicated as key committees seek to include costly priorities such as free community college, universal pre-kindergarten, and expanded child care. Limited resources in the unprecedented money package will confront Democrats with tough choices.
Biden has backed a $1,475 increase to the maximum Pell Grant as part of the spending package, a "down payment" on eventually doubling the current cap, which is $6,495 for the 2021-2022 school year and could go up slightly next year. His other policy priorities could compete for money as the House Education and Labor Committee and Senate Health, Education, Labor and Pensions Committee craft their pieces of the package. Read more from Andrew Kreighbaum.
Democrats Appear to Back Corporate Rate Boost to 25%: Democrats appear to support raising corporate tax rate to 25% as part of their $3.5 trillion package, according to Punchbowl, Kasia Klimasinska reports. Biden proposed to increase the corporate tax rate to 28%, up from the 21% in current law. Rep. Thomas Suozzi (D-N.Y.) wants the package to restore full deduction for state and local taxes and predicts that SALT language will be included in the proposal released by the House Ways and Means panel.
Gas Groups Want Regulation, Not Taxes: The threat of a new fee on methane emissions has put the oil and gas industry in the unusual position of pleading with lawmakers for more federal regulation instead.
More than 100 trade groups, local chambers of commerce and other organizations from New Mexico to Pennsylvania are warning that the fee proposed to help pay for Democrats' $3.5 trillion spending plan would roil energy markets and boost consumer bills nationwide. In a letter to Senate leaders today, they argue a far better approach is to rely on existing federal regulations and tougher new mandates the Environmental Protection Agency is set to propose within weeks.
"If the objective is to reduce methane emissions, direct regulation of methane is the best method to implement such a government policy and do so in an equitable manner that is tied to actual emissions," the groups said. By contrast, the congressional plan "would levy an unreasonable, punitive fee on methane emissions only from oil and natural gas facilities that could jeopardize affordable and reliable energy with likely little reduction in greenhouse gas emissions." Read more from Jennifer A. Dlouhy.
Biden to Visit Storm-Hit New York City, New Jersey
Biden plans to visit parts of New York City and New Jersey that suffered damage when remnants of Hurricane Ida hit the region with flash flooding that killed at least 40 people. Biden will travel to Manville, New Jersey and New York's Queens borough today to survey storm damage, the White House said in a statement on Saturday.
Biden is scheduled to arrive in New York after 11 a.m. He plans to attend a briefing at 12:15 p.m. at the Somerset County Emergency Management Training Center in Hillsborough Towship, N.J. He'll tour Manville, N.J. at 2:10 p.m. Biden is scheduled to deliver remarks on the administration's hurricane response in Queens at 4 p.m. Read more from Tony Czuczka.
The governors of New York and New Jersey said the Biden administration has approved financial relief for areas devastated by the recent floods. The funds, part of the expedited major disaster declaration approved by Biden, will cover individual and public assistance in Bronx, Queens, Kings, Richmond and Westchester counties in New York, Gov. Kathy Hochul (D) said yesterday in a press release. New York County is included for public assistance only. Read more from Olga Kharif.
Biden Says DOJ May Be Able to Limit Texas Abortion Law
Biden said the Justice Department may be able to "limit" a Texas law that's outraged abortion-rights supporters, after the Supreme Court declined this week to stop the measure from taking effect. "I was told that there are possibilities within the existing law to have the Justice Department look and see whether there are things that can be done that can limit the independent action of individuals and enforcing a federal — a state law," Biden told reporters at the White House. "I don't know enough to give you an answer yet. I've asked that to be checked." Read more from Jennifer Epstein and Jennifer Jacobs.
Attorney General Merrick Garland said the DOJ will challenge the Texas law in order to protect the constitutional rights of women and other persons, according to an emailed statement from DOJ, Sunil Kesur reports. The department added it will use powers under the FACE Act to provide support from federal law enforcement when an abortion clinic or reproductive health center is under attack.
Texas abortion providers won a temporary restraining order against Texas Right to Life and its associates Friday, blocking them from suing providers and health care workers at Planned Parenthood health centers in the state under a new law. Planned Parenthood sued the anti-abortion group in state court to stop the group from enforcing Texas' new six-week abortion ban. Read more from Mary Anne Pazanowski.
Left Braces for New Supreme Court Term: There was no question that progressives would struggle for "wins" in the next Supreme Court term, but the latest conservative-majority ruling allowing a Texas law restricting abortions to go forward signals that things could be even harder than expected. While the court's liberals were able to convince Chief Justice John G. Roberts to join their side, five conservatives went the other way in the midnight order that raised new questions, including Roberts's influence and ability to stake out compromise and take the court out of the political spotlight. Read more from Kimberly Strawbridge Robinson.
The Senate Judiciary Committee plans a hearing on what majority Democrats are calling potential "abuse" of the Supreme Court "shadow docket" following last week's surprise ruling allowing a Texas law restricting abortions to take effect. "At a time when public confidence in government institutions has greatly eroded, we must examine not just the constitutional impact of allowing the Texas law to take effect, but also the conservative Court's abuse of the shadow docket," Judiciary Chair

Dick Durbin

(D-Ill.) said in a statement. Read more from Madison Alder.
Covid-19 Pandemic Update
White House Taps Vaccine Leader in Pandemic Preparedness Push: The U.S. government's director for Covid-19 vaccine development has been tapped by the White House to take on a role focused on preparing for future pandemics. Matthew Hepburn, the director of Covid vaccine development for the Countermeasures Acceleration Group, formerly known as Operation Warp Speed, is preparing to take on the new position Oct. 1, according to people familiar with the matter.
Hepburn will focus on the development of vaccines, therapies and tests to tackle pandemic threats, reporting directly to Office of Science and Technology Policy Director Eric Lander, said the people, who asked not to be named as details of the appointment are not yet public. Read more from Riley Griffin.
The Biden administration unveiled a $65.3 billion plan to prepare for future pandemics threats, likening the ambitious proposal to the Apollo mission to the moon. The proposal announced Friday by the OSTP and National Security Council focuses on protecting the U.S. against potentially catastrophic biological threats, including those that are naturally occurring, accidental or deliberately set in motion by bad actors. Read more from Riley Griffin and Shira Stein.
Fauci Says Boosters to Start With Pfizer: Biden's chief medical adviser said U.S. booster shots against Covid-19 are likely to start only with the vaccine by Pfizer and BioNTech, while the Moderna shot may be delayed. "The bottom line is very likely at least part of the plan will be implemented, but ultimately the entire plan will be," Anthony Fauci said Sunday on CBS's "Face the Nation." Read more from Ian Fisher.
The fast-spreading delta variant has flooded hospitals across the South. It's killed more people in Florida and Louisiana than the darkest days of the pandemic winter, and left so many Covid-19 patients gasping for breath that some places face shortages of medical oxygen. This harsh reality, likely fueled by a failure to adequately vaccinate the most vulnerable, has undercut the best efforts of Florida Gov. Ron DeSantis (R) and other Republican leaders to simply move past Covid. Read more from Jonathan Levin and Michael Smith.
U.S. Struggles to Learn Who's Who in Afghan Airlift
Days after the Biden administration finished evacuating about 124,000 people from Afghanistan, it's coming to grips with the reality that it doesn't know who many of those people are. What's emerging, according to government officials and advocates, is that a small percentage of the Afghan citizens who got out are the ones the U.S. pledged to place at the top of its priority list: the thousands who had worked for the U.S. and its allies as well as employees of nongovernmental groups and media organizations.
Instead, initial findings suggest that while some who escaped were locally employed staff, many got out because they were part of the initial crush of people who made it to Kabul's airport as the city fell to the Taliban or secured passage through airport gates thanks to luck or help from people in the U.S. or elsewhere. Read more from Nick Wadhams.
Four Americans Flee Afghanistan: The U.S. helped four American citizens flee Afghanistan by land to an unspecified country, a senior State Department official said. The four Americans were greeted by U.S. diplomats at the border after leaving Afghanistan. It was the first time the State Department has facilitated such a move, though U.S. personnel weren't involved inside Afghanistan, according to the official. Read more from Nick Wadhams and Peter Martin.
Resettlement Procedures: The Biden administration and more than 200 private agencies are rushing to establish a system for the resettlement of tens of thousands of Afghans, many of whom fled their country with little more than the clothes they were wearing. The State Department plans to spend as much as $2,275 for each evacuee as the relocation effort unfolds in communities across the country over the next few months, according to a department official. The money is to be used for housing, food, other necessities and enrolling children in school. Read more from Sophia Cai.
GOP Don't Want Evacuees in U.S.: Republicans who criticized Biden for stranding those who helped the U.S. are now taking issue with his effort to bring them into the country. Looking to keep the troubled exit from Afghanistan alive in voters' minds once the 2022 campaigns heat up, the conservative candidates are using the same strategy that former President Donald Trump used successfully in his 2016 campaign—play on voters' fears of criminal or terrorist immigrants and bank that those fears will outlast Americans' sympathy for the evacuees' plight. Read more from Ryan Teague Beckwith, Mark Niquette and Gregory Korte.
To contact the reporter on this story: Giuseppe Macri in Washington at gmacri@bgov.com
To contact the editors responsible for this story: Zachary Sherwood at zsherwood@bgov.com; Michaela Ross at mross@bgov.com
Stay informed with more news like this – from the largest team of reporters on Capitol Hill – subscribe to Bloomberg Government today. Learn more.