What to Know in Washington: Democrats Sort Out Details of Deal
Bloomberg Government subscribers get the stories like this first. Act now and gain unlimited access to everything you need to know. Learn more.
Congressional Democrats began a new round of haggling on President Joe Biden's $1.75 trillion spending framework as they worked to fill in details and deal with last-minute attempts to restore priorities that had been left out.
With Biden on his way to European summit meetings, House Democrats yesterday released a rough draft of legislation to enact the plan, but it likely will take days or even weeks before it might be ready for a vote. Neither the House nor Senate is scheduled to be in session today but negotiations were set to continue through the weekend.
In a setback for Speaker Nancy Pelosi (D-Calif.), House progressives again blocked a vote on a separate infrastructure bill, a second piece of Biden's agenda, until the larger package is ready. After she scrapped a plan to act on the infrastructure measure, the House passed another temporary extension for highway funding until Dec. 3, the same day as deadlines that could provoke a government shutdown and a debt ceiling default.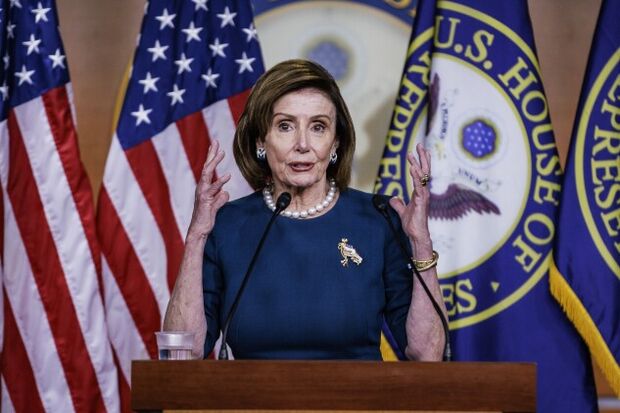 But the Biden framework triggered movement forward in the House when progressives formally endorsed a bill that is half the size they originally wanted. Rep. Pramila Jayapal (D-Wash), head of the Congressional Progressive Caucus, said the group's endorsement of it means that even if other priorities like paid leave are not added, CPC members would vote for it.
Pelosi, in a letter to her members last night, tried to put the continuing delays in a positive light. "As you know by now, the House will postpone the vote" on the Bipartisan Infrastructure Framework," she wrote. "The good news is that most members who were not prepared to vote yes today have expressed their commitment to support the BIF."
During the meeting at the Capitol, Biden assured the House lawmakers that the framework would win the votes of all 50 Senate Democrats. But several of them declined to commit to it. Read more from Billy House and Erik Wasson.
Fault Lines on Drug Price Negotiations: Democrats remain at odds over how to design legislation to allow the government to negotiate for lower drug prices, a divide that may keep a solution out of their sweeping domestic policy package. The White House omitted measures meant to lower drug prices from its framework for a $1.75 trillion domestic spending package released yesterday. There isn't enough agreement among Democrats on drug price negotiation to include it in the framework, a Biden administration official told reporters. Alex Ruoff has more on the talks.
Biden's Revamped Plan Relies on Easier Way to Tax Rich: The new framework for Biden's tax and social spending agenda relies on a straightforward way to tax the wealthy that comes with fewer administrative and political challenges than previous options. The proposed revenue raisers include a new 5% surtax on incomes above $10 million and an additional 3% on incomes above $25 million, on top of the current 37% top individual income tax rate. Read more from David Hood and Colin Wilhelm.
The revamped tax and spending plan the president released yesterday attempts to bring U.S. taxes on foreign income into alignment with the recent global tax agreement. It would raise the U.S. minimum tax on foreign income—known as global intangible low-taxed income (GILTI)—to 15%, the same as a global minimum tax rate that 136 countries agreed to earlier this month. Read more from Isabel Gottlieb and Michael Rapoport.
Treasury Secretary Janet Yellen said today today in an interview with CNN at the G20 summit in Rome she's still confident U.S. lawmakers will overcome the current impasse in Washington and pass Biden's economic agenda. In a separate interview with CNBC, Yellen added that she does not expect Biden's additional spending package will cause inflation to remain high. That spending is paid for by tax increases and will be spread over a decade, she said, reducing its impact on prices. Read more from Christopher Condon.
Happening on the Hill
Surface Transportation Extension Heads to Biden: A bill to extend federal highway and transit programs through Dec. 3 is headed to Biden's desk, as a long-term reauthorization remains tied up in negotiations over Democrats' broader agenda. The measure (H.R. 5763), which would push surface transportation programs' expiration back to the day broader federal government funding runs out, was passed in the House on a 358-59 vote. Senators agreed by unanimous consent to clear the extension for the president without further action when they receive it from the House. The current surface transportation authorization expires after Oct. 31, so lawmakers needed to act before Nov. 1 to ensure funds keep flowing to state transportation departments and employees aren't furloughed. Read more from Lillianna Byington.
Schumer Moves to Advance Labor Pick: Senate Majority Leader Chuck Schumer (D-N.Y.) has filed a motion to limit debate on the nomination of Rajesh Nayak to head the Labor Department's policy office, an action likely to trigger a final confirmation vote. Nayak, an advocate for progressive regulatory policy who served in the Obama administration, was approved by the Senate Health, Education, Labor and Pensions Committee by a vote of 14-8 on June 16. He is nominated for the position of assistant secretary of labor for policy, Ben Penn reports.
Powell Talks Fed Ethics, Trading Curbs With Brown: Federal Reserve Chair Jerome Powell called Sen. Sherrod Brown (D-Ohio), the head of the Senate panel that oversees the central bank, this week to discuss Powell's sweeping proposal to limit securities trading by senior Fed officials, as well as Brown's new legislation on the subject. "He called me to just give me an update on what they're doing, what I'm doing on the ethics thing," Brown said in a brief interview yesterday. "I like what he's been saying, I like what we're doing, and I think it needs to be codified." Read more from Steven T. Dennis.
Democrats Urge Kellogg CEO on Strike: A group of Democratic senators sent a letter to the chief executive officer of Kellogg that voiced support for its striking workers and called the company's tactics "outrageous." In the letter to CEO Steve Cahillane, dated Thursday and signed by Sens. Bernie Sanders (I-Vt.), Elizabeth Warren (D-Mass.) and five other Democrats, the senators backed the workers' position on changes to the current two-tier system. That's a key sticking point for the members of the Bakery, Confectionery, Tobacco Workers and Grain Millers International Union. Read more from Deena Shanker.
Politics & Influence
Iowa Legislature Approves Congressional Map: Iowa's Republican-controlled state legislature approved a new congressional map that gives the GOP an opportunity to win all four House districts in the 2022 election. The map, drafted by the state's nonpartisan legislative agency, created three districts where Donald Trump would've narrowly defeated Joe Biden in the 2020 election and a fourth that's heavily Republican. The Iowa Senate voted 48-1 for the new district lines yesterday, followed hours later by the Iowa House's approval on a 93-2 vote, sending the map to Gov. Kim Reynolds (R) for her signature. Read more from Greg Giroux.
Trump Plans Monday Tele-Rally for Youngkin: Donald Trump plans to hold a tele-rally for Glenn Youngkin on Monday night, a day before the Virginia gubernatorial election and as Democrats, including Biden, seek to goad the former president into campaigning for the Republican candidate. Youngkin has tight-roped between embracing the former president, while also keeping him at a distance. Trump on Wednesday teased the possibility that he would campaign in Virginia before the election but will do the tele-rally, typically a call with supporters to generate support for the candidate, according to a person familiar with his plans. Read more from Mark Niquette.
Meanwhile, Youngkin doubled down on his themes of greater parental influence over schools and rejection of big government, at a rally just days before the Nov. 2 election. Youngkin, on a 10-day bus tour around the state, told several hundred voters in Augusta County in the Shenandoah Valley, that they face a stark choice between him and his Democratic rival, former Governor Terry McAuliffe: "Over the course of the next five days, Virginians are going to decide if we are going to allow a progressive liberal big government agenda to continue to drive Virginia into the California East." Read more from Emma Kinery.
Around the Administration
Today's Agenda: Biden today met with Pope Francis and later Cardinal Pietro Parolin, Secretary of State in Vatican City. He will also hold separate meetings with Italian President Sergio Mattarella, Italian Prime Minister Mario Draghi and French President Emmanuel Macron.
Biden Visits Pope Amid Scrutiny at Home: Biden's meeting with Pope Francis brought the second U.S. Catholic president face-to-face with a leader he admires even as some church officials at home seek to punish him for his political beliefs. The U.S. Conference of Catholic Bishops has weighed whether to deny Biden communion over his support of abortion rights, though Biden has long said he personally opposes the procedure. Read more from Jennifer Epstein and Justin Sink.
Biden to Meet With Germany, France and U.K. Leaders: Biden will meet Saturday with U.K. Prime Minister Boris Johnson, Macron and German Chancellor Angela Merkel to discuss a path on resuming negotiations for a return to the 2015 Iran nuclear deal, according to White House guidance. The leaders will also discuss shared concerns about the stake of Iran's nuclear program. Biden will also hold an event Sunday on global supply chain resilience through the pandemic and recovery on the margins of G20, Max Zimmerman reports.
A Guide to G-20 Leaders and Why a Climate Deal Is So Hard: The Group of 20 came into its own during the 2008 financial crisis in order to avoid a global depression. It was a turning point that made clear that big decisions could no longer be taken without the fastest growing economies.
Fast forward to now, and the leaders of the nations that account for 75% of global carbon emissions are again being called to arms to avert another catastrophe — a climate one. The G-20 is meeting in Rome this weekend right before COP26 in Glasgow, the United Nations gathering that aims to set specific goals to wean nations off coal and other noxious substances for good. Read more from Flavia Krause-Jackson.
Afghanistan Watchdog Seeks Reasons for Collapse: The congressionally mandated Special Inspector General for Afghanistan Reconstruction is diving into the most head-scratching foreign policy debate in Washington: How could an Afghanistan security force of more than 330,000, at least on paper, collapse within 11 days after the U.S. spent at least $83 billion over almost 20 years to prop it up? "This outcome, which General Mark Milley, the chairman of the Joint Chiefs of Staff, has called 'a strategic failure,' took place after the United States appropriated $146 billion to rebuild Afghanistan," John Sopko, the inspector general, wrote in the quarterly report dated Oct. 30. "More important, it took place after some 2,400 American service members, and at least 1,233 contractors, including 45 Americans, lost their lives in that country." Read more from Roxana Tiron.
Vaccine Rule Will Let Employers Make Workers Pay for Tests: The Biden administration's highly anticipated vaccine mandate rule for private-sector employers will allow businesses to force workers who refuse to get the Covid-19 shot to pay for required weekly tests and masks, two sources familiar with the matter said. The emergency rule, which will apply to companies with at least 100 employees and is expected to be released next week, will give employers the option of paying for testing and masks for unvaccinated workers or compelling those employees to foot the bill themselves, according to the sources, who requested anonymity because they didn't have approval to discuss the rulemaking. Read more from Ben Penn.
Meanwhile, fake Covid-19 vaccine cards are presenting a fresh quandary for enforcement efforts: Unlike most consumer fraud, neither the buyer nor seller is taking advantage of the other. From August to September, the number of sellers on the darknet and hacking forums offering forged vaccination records or test results went from about 1,000 to 10,000, according to cybersecurity firm Check Point Research. Read more from Andrew Vittorio, Christopher Brown and Jake Holland.
U.S. Says Working With Taiwan to Secure Chip Supply Chain: The U.S and Taiwan are working together to secure supply chains, Washington's envoy to Taipei said, as global chip manufacturers face a looming deadline to meet the Biden administration's request for company data. U.S. officials have met leaders of local semiconductor firms, Sandra Oudkirk, director of the American Institute in Taiwan, told reporters today in Taipei, adding that they had "excellent safeguards" to protect proprietary information. "The Commerce Department's request for information is designed to better understand the semiconductor supply chain," Oudkirk, who is the U.S.'s de facto ambassador in the absence of official ties, said at her first news conference since being appointed in July. Read more from Debby Wu.
Biden-Xi Thaw Quietly Takes Hold: Biden pledges to defend Taiwan against a Chinese attack. Beijing warns of "game-changing and huge risks." Chinese warplanes fly by the island democracy almost daily, and state media warns American actions could "trigger a war." Recent headlines make it seem as if the nuclear-armed powers are hurtling toward conflict. More and more analysts warn that China's President Xi Jinping is preparing for war sometime in the next few years to seize an island that Beijing has threatened to overrun ever since the Communist Party took power in 1949. Read more from Iain Marlow.
Wray Seeks More Help From Companies to Fight China Hacking: FBI Director Chris Wray urged companies to work more closely with law enforcement to stop foreign hacking, as he reiterated warnings about Chinese infiltration of American information networks. Wray, addressing the Economic Club of New York by video yesterday, said hackers backed by the Chinese government made up the lion's share of cyber attacks on American enterprises and that their methods and strategies were becoming more sophisticated. Hackers often work with company insiders to target proprietary information, while foreign companies sometimes try to use transactions like a joint venture partnerships to gain access, Wray said. Read more from Bloomberg News.
To contact the reporters on this story: Zachary Sherwood in Washington at zsherwood@bgov.com; Brandon Lee in Washington at blee@bgov.com
To contact the editors responsible for this story: Giuseppe Macri at gmacri@bgov.com; Loren Duggan at lduggan@bgov.com
Stay informed with more news like this – from the largest team of reporters on Capitol Hill – subscribe to Bloomberg Government today. Learn more.