What to Know in Washington: Democrats Shelve Wage Hike Tax Plan
Senate Democrats are jettisoning a proposal to use the tax code to penalize corporations that don't raise the minimum wage for their lowest-paid workers in an effort to keep President Joe Biden's broader stimulus plan on track for quick passage, according to two people familiar with the matter.
Democrats were left seeking alternatives after the Senate parliamentarian ruled Thursday that raising the federal minimum wage to $15 an hour as part of the $1.9 trillion pandemic relief legislation failed to qualify under fast-track budget rules that Democrats are using to pass the stimulus without Republican support.
Senate Finance Chairman Ron Wyden (D-Ore.) and Budget Chairman Bernie Sanders (I-Vt.) proposed tax penalties on big companies that pay low wages along with incentives for smaller companies as an alternative. But it became clear over the weekend that getting all 50 Senate Democrats to agree on specific language would risk missing the March 14 deadline for extending expiring supplemental unemployment benefits, said one of the people, who spoke on condition of anonymity to describe private discussions.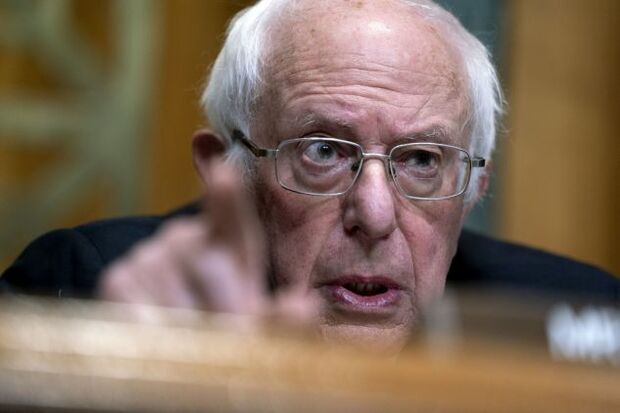 The decision removes a major complication in the Senate and could speed approval of the rest of the package in the chamber. In addition to getting the backing of all 50 senators who caucus with Democrats, the tax language also would have had to pass muster with the parliamentarian, the House and the administration and be signed by Biden — all in a two-week period. Read more from Steven T. Dennis and Erik Wasson.
Also on Lawmakers' Radars
Garland Disputes Claims of Widespread Voter Fraud: Merrick Garland, Biden's nominee for attorney general, said he's not aware of evidence of large-scale voter fraud in U.S. elections, while acknowledging limited instances. "There have been documented, isolated instances of voter fraud," Garland said in written answers submitted late yesterday to questions from senators considering his nomination. "Fortunately, I have not seen evidence of widespread voter fraud." The answers clear the way for the Senate Judiciary Committee to vote today on his nomination. Read more from Chris Strohm.
Earmarks Return as House Democrats Set New Guidelines: Earmarks are coming back for Congress's next round of annual funding bills, but for-profit companies will be excluded and the money available will only be a small slice of appropriations. House Appropriations Chair Rosa DeLauro (D-Conn.) announced on Friday her panel's plan to solicit members' requests for earmarks, the system of designating funds for specific local projects that's been banned for a decade. Read more from Jack Fitzpatrick.
Trump Immigration Head Finds Temporary Home in Senate: L. Francis Cissna, a former top Trump administration immigration official, has been detailed to Sen. Chuck Grassley (R-Iowa) on the Judiciary Committee, a role he previously held as Grassley launched attacks against Obama-era immigration policies. A Senate aide confirmed Cissna's current status as a detailee to the minority staff of the Judiciary panel, and a Homeland Security Department spokesperson said Cissna is still employed by the department. It's an unusual arrangement for a former agency head, especially given Cissna's track record helping in congressional oversight of DHS. Read more from Shaun Courtney.
Biden Justifies U.S. Strike on Syria to Democrats: Biden provided an official explanation of the airstrike that targeted Iranian-backed fighters in eastern Syria, claiming he was using his authority to deter attacks on U.S. and allies in Iraq. Biden's letter to Speaker Nancy Pelosi (D-Calif.) and Sen. Patrick Leahy (D-Vt.) followed criticism by several Democrats of the circumstances of his first overt use of military force around five weeks after taking office. Read more from Tony Czuczka.
GOP Against Iranian Nuclear Deal: Senior Republican senators called on Biden to keep the U.S. out of the nuclear deal with Iran, joining some Democrats who've voiced reservations about the agreement. Five GOP lawmakers — Sens. James Inhofe (Okla.), James Risch (Idaho), Rob Portman (Ohio), Pat Toomey (Pa.) and Marco Rubio (Fla.) — said the agreement "remains riddled with problems" and sets timelines for restrictions on Iranian nuclear activities that "were far too short in the original deal and are unrealistic now," in a letter that was released yesterday. Read more from Daniel Flatley and Tony Czuczka.
Trump's Presence Endures
Trump Teases Possible 2024 Run, Rejects Third-Party Idea at CPAC: Former President Donald Trump rejected the idea of starting a third political party and instead teased the idea of a 2024 run in a speech yesterday at a conservative conference. Trump rattled off the accomplishments of his term in the White House, repeated his false claim that he won the 2020 election and added, "Who knows? I may even decide to beat them a third time." Read more from Gregory Korte and Emma Kinery.
Trump didn't formally announce his candidacy for president at the year's marquee conservative gathering, but inched close enough to effectively freeze the 2024 Republican field and put would-be rivals on notice that he remains both king and kingmaker. The former president's central argument at CPAC was that he's the best candidate to win in 2024 because, he claims, he never lost in 2020. Read more from Gregory Korte.
Meanwhile, Trump is looking into the possibility of a super PAC, CNN reported, citing spokesman Jason Miller. Elizabeth Rembert has more.
More Highlights from CPAC:
Around the Administration
Biden Putting Tech, Not Troops, at Center of U.S.-China Strategy: The Biden administration is moving to put semiconductors, artificial intelligence and next-generation networks at the heart of U.S. strategy toward Asia, attempting to rally what officials are calling "techno-democracies" to stand up to China and other "techno-autocracies." The new framing for the U.S. rivalry with China has been given added urgency by the sudden global shortage of microchips needed in products such as cars, mobile phones and refrigerators. Read more from Nick Wadhams.
The U.S. signaled it currently intends to go ahead with a Trump administration-proposed rule to secure the information-technology supply chain next month, a move that gives the Department of Commerce broad authority to prohibit transactions involving "foreign adversaries." Read more from Jenny Leonard.
Pot Industry Opposes Kennedy for Drug Czar: The marijuana lobby has a new foe, and this time it's not a Republican but a Kennedy. Rep. Patrick Kennedy (D-Mass.), a former eight-term lawmaker and son of the late Sen. Ted Kennedy, wants to be the next White House drug czar but the marijuana industry is dead-set against him. Kennedy, who's spoken openly about his struggle with abuse, is now an advocate for those with mental health problems. He favors allowing medical weed, but opposes legalizing recreational use. Alex Ruoff and Valerie Bauman have more.
Agency 'Winners and Losers' at Stake at Court: The Supreme Court will take up a pair of cases exploring the power of administrative agencies, a topic of renewed interest among the expanded majority of conservative justices. The cases this week involving a federal patent appeals board and the Social Security Administration are the latest in a string of separation of powers challenges questioning how much authority agencies can wield independent from the president. Read more from Kimberly Strawbridge Robinson.
Biden's Climate Pledge Takes Shape: The Biden Administration's decision to throw out the Trump White House's method for calculating the social cost of carbon was one of the first tangible actions on the president's lengthy climate change to-do list as he works to convince the world that the White House is once again serious about a global response to warming temperatures. The approach, announced Friday, pegs the social cost of carbon at $51 a ton for 2021 after adjusting for inflation at a 3% discount rate. Several earlier executive orders signed by the president so far also address climate change, many incorporating dozens of separate directives. Read more from Courtney Rozen and Aaron Kessler.
Buttigieg Says Biden Opposes Gas-Tax Bump: Transportation Secretary Pete Buttigieg said Friday that Biden opposes raising the federal gasoline tax because it would violate his pledge to not raise taxes on middle-class Americans. "The President's made a commitment that this administration will not raise taxes on people making less than $400,000 a year," he said on a Friday appearance on Bloomberg Radio's "Sound On" show. "That rules out approaches like the old fashioned gas tax." Read more from Keith Laing and Kevin Cirilli.
Biden Urges Amazon Workers to Vote in Alabama Unionization Drive: Biden is voicing support for organizing efforts at an Amazon warehouse in Alabama, saying workers should be able to make their own choice about whether to join a union, free from pressure and threats from the company. "Let me be really clear: It's not up to me to decide whether anyone should join a union. But let me be even more clear: It's not up to an employer to decide that either," Biden said in a direct-to-camera video produced by the White House and given first to Bloomberg News. "The choice to join a union is up to the workers — full stop, full stop." Read more from Jennifer Epstein.
White House Defends Not Sanctioning Saudi Prince: The Biden administration defended its decision not to sanction Saudi Crown Prince Mohammed bin Salman personally for his role in the murder of Washington Post columnist Jamal Khashoggi, as the White House confirmed no more actions against the kingdom are imminent. But despite Biden's remark on Univision on Friday that "we're going to be announcing significant changes today and on Monday" and a similar comment from at the White House on Saturday, the administration said it isn't planning steps beyond the limited sanctions already introduced against some Saudi officials. Read more from Elizabeth Dexheimer and Nick Wadhams.
Blinken Talks With Mexico, Canada: Secretary of State Antony Blinken Blinken pledged deeper cooperation with Mexico and Canada in what the U.S. billed as "virtual travel" to its two neighbors, an effort to emphasize the administration's engagement with allies who were sometimes snubbed during the Trump era. The White House also announced that Biden would hold an online meeting with Mexican President Andres Manuel Lopez Obrador later today. Read more from Nick Wadhams.
Johnson & Johnson Vaccine Cleared
The Biden administration was set to start shipping almost 4 million doses of Johnson & Johnson's Covid-19 vaccine yesterday after the Centers for Disease Control and Prevention formally recommended the shot for adults ages 18 and up.
CDC Director Rochelle Walensky signed off on the recommendation yesterday following a unanimous decision from an advisory panel. The CDC's Advisory Committee on Immunization Practices voted 12-0 during an emergency meeting the same day to review J&J's shot, which the Food and Drug Administration cleared late Saturday.
The U.S. administration was slated yesterday to begin shipping 3.9 million doses that were already available, with the first deliveries arriving as early as Tuesday, according to senior administration officials who held a briefing call on condition on anonymity. Read more from Angelica LaVito and Josh Wingrove.
Vaccine Equity Effort Hits Blind Spot: The White House is struggling to address a persistent racial disparity in the U.S.'s vaccination push that has seen Whites receive a disproportionate share of shots, even in places that have large minority populations. A patchwork approach in states to both administering the vaccines and reporting data on who's inoculated has left the federal government with major blind spots and only partial control over who gets immunized. Read more from Josh Wingrove.
Biden said his administration would undertake a major effort to reassure the public of the safety and efficacy of coronavirus vaccines, in order to overcome reticence among some people to take the shots that could end the crisis. "We're going to launch a massive campaign to educate people about the vaccines," Biden said. "That they're safe and effective." Read more from Mario Parker and Wingrove.
Politics & Influence
Voting Rights Challenged at Supreme Court as States Change Rules: Voting-rights advocates are worried as the U.S. Supreme Court prepares to hear arguments tomorrow in an Arizona case that could undercut the landmark law that's protected the rights of minorities at the polls for a half century. Read more from Greg Stohr.
Cuomo Agrees to Sex-Harassment Investigation: New York Gov. Andrew Cuomo (D) yesterday agreed to an independent probe by a special investigator after a second former aide accused him of sexual harassment. Cuomo has denied both claims. In a statement on yesterday responding to accusations from Charlotte Bennett published Saturday in the New York Times, Cuomo said interactions he considered "playful" may have made others uncomfortable. Read more from Shelly Banjo, Yueqi Yang and Erik Larson.
Former Google Lobbyist, Lawmaker Molinari Joins Food Coalition: Susan Molinari, the former New York Republican congresswoman and ex-top lobbyist at Google, is joining the American Italian Food Coalition as a co-chair. Former Rep. Lou Barletta (R-Pa.) is the other co-chair, having been at the coalition since its creation in 2019. In a statement Molinari, a second generation Italian-American, said the Biden administration's recent trade decisions regarding Airbus and Boeing in Europe were a "step in the right direction" and that she's confident the administration "will continue to rebuild our ties with Italy and Europe at this critical time," Megan Wilson reports.
Editor's Note: Monday's What to Know in Washington corrected the party affiliation of former Rep. Susan Molinari.
With assistance from Megan R. Wilson
To contact the reporters on this story: Zachary Sherwood in Washington at zsherwood@bgov.com; Brandon Lee in Washington at blee@bgov.com
To contact the editors responsible for this story: Giuseppe Macri at gmacri@bgov.com; Loren Duggan at lduggan@bgov.com; Michaela Ross at mross@bgov.com