What to Know in Washington: Democrats Set to Lose Fight on Hyde
Senate debates amendments with government funding deadline near
Democrats poised for defeat on Hyde amendment in spending talks
Senators aim to send a stopgap government funding bill to the president's desk today, as they negotiate amendment votes on vaccine mandates and a balanced budget.
Lawmakers need to get the continuing resolution to the president's desk before the Friday night deadline as they look to extend funding through March 11.
Both Senate Majority Leader Chuck Schumer (D-N.Y.) and Minority Leader Mitch McConnell (R-Ky.) said they want action on the House-passed continuing resolution before lawmakers leave town for the Presidents' Day recess, a move that will avoid a government shutdown and buy time for appropriators in both chambers to finish work on a 12-bill omnibus spending package for fiscal 2022.
Jack Fitzpatrick has the latest in this morning's BGOV Budget Briefing.
Inside the wider omnibus negotiations, Democrats are nearing defeat on their effort to eliminate longstanding amendments that limit federal funds for abortions—even after liberals spent years trying to end those restrictions. Democratic leaders vowed to end language restricting funding for abortion and needle aid when they took control of the House, Senate, and White House in 2021. But senators say they will have to give up on that promise due to the reality of their slim majority in the Senate and rushing to find agreement on a 12-bill appropriations package ahead of the next funding deadline on March 11.
"It's a 50-50 Senate. If you want to change riders, get 60 people," said Sen. Jon Tester (D-Mont.), a member of the Senate Appropriations Committee.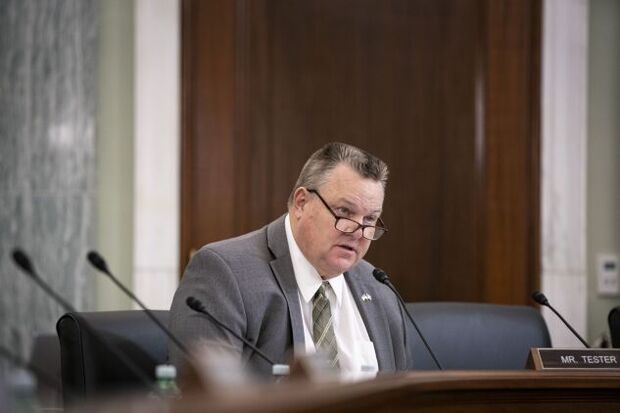 Two abortion restrictions—the so-called Hyde and Weldon amendments—have been added to funding bills for the departments of Labor and Health and Human Services for several decades. The Hyde amendment bars federal funding for abortion, except in cases of rape, incest, or to save the mother's life. The Weldon amendment bars funding for state and local governments if those entities refuse to work with health insurance plans or professionals that refuse to provide, pay for, cover, or refer abortions.
Joe Biden pledged to scrap the Hyde amendment while campaigning for president, and failing to fulfill those promises could hurt Democrats' chances with voters.
Democratic aides caution that negotiations on the omnibus are ongoing, and lawmakers haven't worked out which riders will be attached. But Sen. Joe Manchin (D-W.Va.) largely closed the door on Democrats' plans to end Hyde last year when he announced he'll support the existing policy "in every way possible." Read more from Alex Ruoff.
In another appropriations challenge targeted by Democrats, House Majority Leader Steny Hoyer (D-Md.) backed a push by his party to "abolish the debt limit as it exists today," following last year's standoff that led Democrats to call for an end to tense debt ceiling negotiations. Hoyer said at a House Budget Committee hearing yesterday that recent bills to abolish the debt limit—or a bipartisan proposal to automatically suspend the limit by adopting a budget resolution—are possible solutions. But Republicans on the committee opposed abolishing the ceiling. Read more from Jack Fitzpatrick.
The Senate meets at 10:30 a.m. Click here for a complete list of today's hearings and markups.
Around the Administration
BIDEN'S SCHEDULE:
The president travels to Ohio to talk up the bipartisan infrastructure law, with remarks set for 12:15 p.m.
The Kremlin's claims this week that it had begun to remove troops from Ukraine's borders were false, according to senior U.S. administration officials. Instead, Russia has added as many as 7,000 troops to forces already encircling its neighbor, the officials said. The officials said that U.S. indications are that Russia continues to seek a false pretext to invade Ukraine, such as a provocation in the eastern Donbas region or other military activity on the part of Ukraine or NATO. Read more.
With his climate agenda facing an uncertain future in Congress, Biden's vow to slash greenhouse gas emissions depends on environmental regulations that the Supreme Court may gut even before they're written. The nation's top court hears arguments Feb. 28 from coal plants and Republican-led states trying to curb the Environmental Protection Agency's authority to regulate carbon dioxide emissions from the power sector. The case could jeopardize the ability of the U.S. to meet Biden's pledge to halve greenhouse gas emissions by the end of the decade. Read more from Jennifer A. Dlouhy and Greg Stohr.
Biden's cryptocurrency policy rollout was delayed by a dispute between White House officials and Treasury Secretary Janet Yellen over the scope of a pending executive order that could include a digital dollar, according to people familiar with the matter. The order, intended to set a government-wide strategy for digital assets, was expected to be signed at the start of the year but the squabble between Yellen's staff and officials on the National Economic Council slowed its progress, the people said, speaking on the condition of anonymity. Senior administration officials have now completed a draft version that is ready for Biden's consideration, though further action could be delayed because of the Ukraine crisis. Read more from Saleha Mohsin, Jennifer Jacobs and Jennifer Epstein.
The U.S. Navy's new version of the tilt-rotor Osprey aircraft designed for missions at sea isn't yet "operationally suitable" because it has only "partially met reliability requirements," according to the Pentagon's testing office. Among the problems: Its ice protection system "accounted for 25% of the operational mission failures, which will result in mission aborts," the Defense Department's director of operational test and evaluation said in a non-public assessment marked "Controlled Unclassified Information" and obtained by Bloomberg News. Read more from Tony Capaccio.
Steve Dickson, who led the FAA through a tumultuous period following fatal crashes of Boeing's 737 Max and the Covid-19 pandemic, is stepping down from the agency at the end of March. Dickson informed FAA's employees in an email yesterday of his plan to depart less than three years into his five-year term. He called the decision "very difficult," but said he was motivated by the long periods he'd been forced to spend away from his family in Georgia as a result of the job and the pandemic. Dickson, 64, was appointed head of the FAA by President Donald Trump and sworn in on August 12, 2019. Read more from Alan Levin.
The U.S. is investigating complaints of Tesla cars that suddenly brake at high speeds, the latest in a string of confrontations between the company and safety regulators. The National Highway Traffic Safety Administration said it is lunching a preliminary investigation after receiving 354 complaints that "unexpected activation of braking system may cause rapid deceleration." The NHTSA previously confirmed it was reviewing complains about the phenomenon, which has been dubbed "phantom braking." No crashes or injuries stemming from the braking issue have been reported. Read more from Keith Laing.
World Watches Covid, Inflation
Finance chiefs from the world's biggest economies are holding their first gathering of the year today and tomorrow, with the pandemic, inflation and taxes set to dominate talks. Discussions on capital flows, financial stability and sustainable finance are also on the agenda when central bank governors and finance ministers from the Group of 20 hold virtual and in-person meetings in Jakarta.
Many of the events will be behind closed doors, and much is likely to be discussed on the side, including surging oil prices and tensions with Russia over Ukraine. Since the communique scheduled to be issued tomorrow afternoon in Indonesia must be agreed on by all members, it's likely to shun finger-pointing in favor of calls for cohesion around shared goals. Enda Curran and Eric Martin offer a guide to the talks.
Treasury Secretary Yellen urged her G-20 counterparts to support the establishment of a new World Bank fund intended to prevent and prepare for future global health crises. A new "financial intermediary fund" under the auspices of the World Bank would help address gaps in pandemic preparedness, particularly among low-income countries, Yellen said, according to prepared remarks she's scheduled to deliver virtually today to the meeting of G-20 finance ministers and central bank governors. Read more from Christopher Condon.
Omicron loosened its hold on the U.S. labor market in recent weeks as millions of workers returned to their jobs after being sick or caring for loved ones, according to the latest Census Bureau Household Pulse survey. About 5 million fewer people reported not working in the Jan. 26 to Feb. 7 period compared with a month earlier. The highly contagious Covid-19 variant caused a surge of absenteeism at the end of last year and into 2022. Read more from Alex Tanzi and Katia Dmitrieva.
Federal Reserve officials concluded in January that they would start raising interest rates soon and were on alert for persistent inflation that would justify a faster pace of tightening. Minutes of the Jan. 25-26 Federal Open Market Committee meeting, released yesterday, said most policy makers "noted that, if inflation does not move down as they expect, it would be appropriate for the Committee to remove policy accommodation at a faster pace than they currently anticipate." Read more from Craig Torres and Steve Matthews.
Texas sued to block the Biden administration's mask mandate for all U.S. travel on airplanes, trains and buses, saying the Centers for Disease Control and Prevention had exceeded its authority with a rule intended to limit the spread of Covid-19. The mandate, which has been in effect for almost a year, was implemented without following proper rulemaking steps, such as allowing a public comment period, Texas claimed in a federal complaint filed yesterday in Fort Worth. Read more from Laurel Brubaker Calkins.
To contact the reporters on this story: Zachary Sherwood in Washington at zsherwood@bgov.com; Brandon Lee in Washington at blee@bgov.com
To contact the editors responsible for this story: Giuseppe Macri at gmacri@bgov.com; Loren Duggan at lduggan@bgov.com